We backed the coast guard, where we get two packs and two young writing partner get a deck of cards.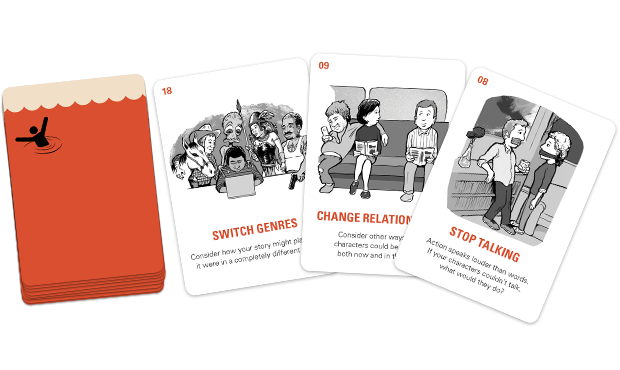 Only another 16 days for you to grab on Kickstarter your own Writer Emergency Pack, which is a tool to help get your story back on track.
The Cards
Writer Emergency Pack contains 26 illustrated cards, each featuring a different idea for getting unstuck.
The notion of using cards to help you write isn't new. Writers have long used tarot cards, looking for meaning in the illustrations, or decks like Oblique Strategies, with its koan-like prompts ("Repetition is a form of change").
The ideas in Writer Emergency Pack are designed to be less abstract, and more immediately useful. They're specifically tailored to people writing fiction, from novels to scripts, poems to plays.
The cards focus on story, character, and conflict.
For each illustrated Idea card, there's a matching Detail card with more specific suggestions. And on the back, you'll find tips to try.
John's goal is to get these packs into the hands of as many writers as possible — both the backers of the project and young writers just learning their craft. That's why we are committing to donate one deck for each backer deck we send out.
John August  is based in Los Angeles, so his initial outreach will be with programs he can visit to see what works. Ultimately, John August want to send these packs all over the world. John has identified several youth writing programs he would  like to work with — but John want your suggestions as well.