MOVEMENT by OUTPUT updated to v.1.1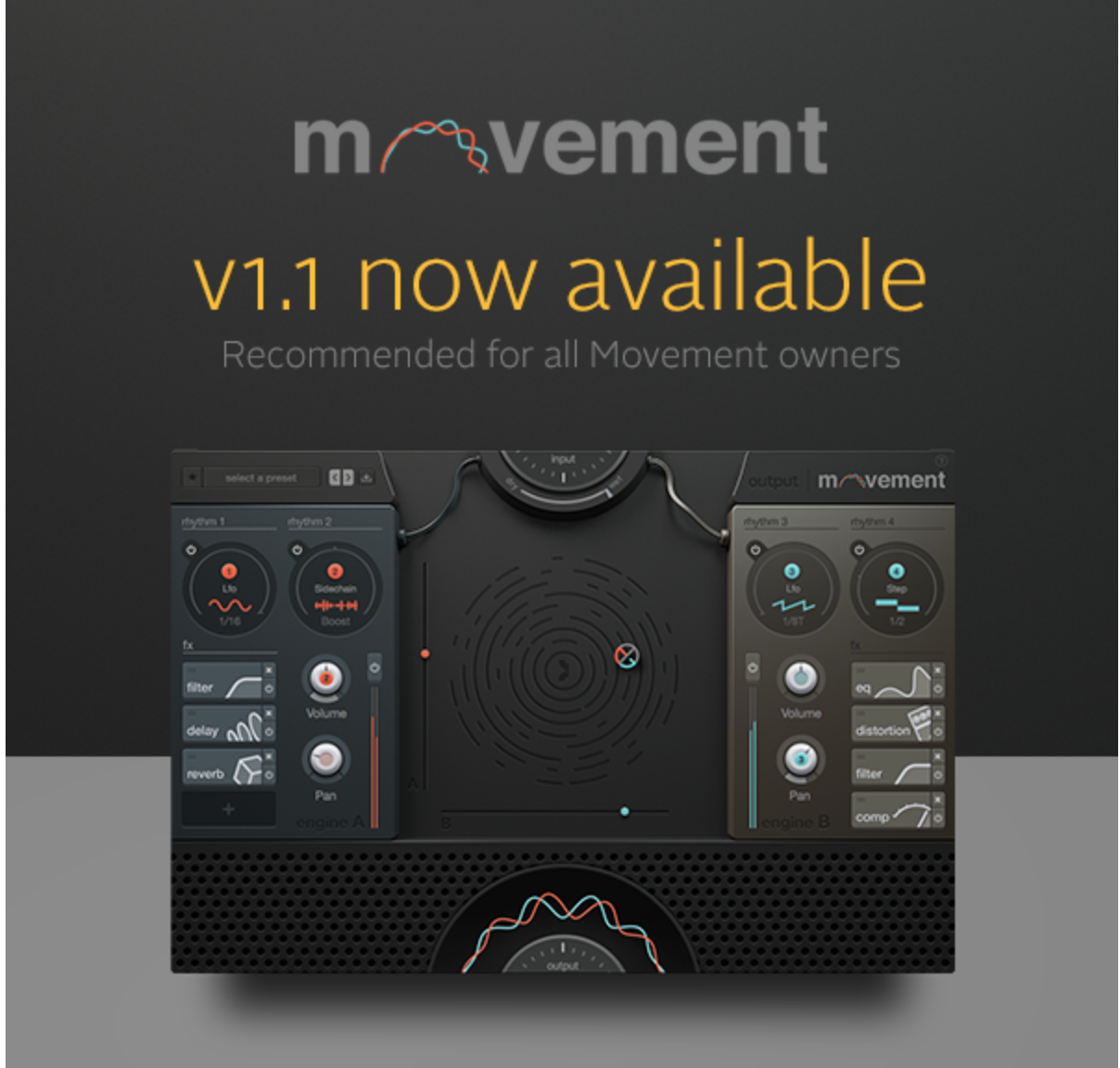 Movement is an inspiring FX plugin that adds compelling RHYTHMS to any input in real-time and an engine to exhale life into any performance.
New in V1.1 is Reverse Delay, Hi-Pass/Low-Pass EQ Mode, Faster Load Time and less CPU load while using the plugin.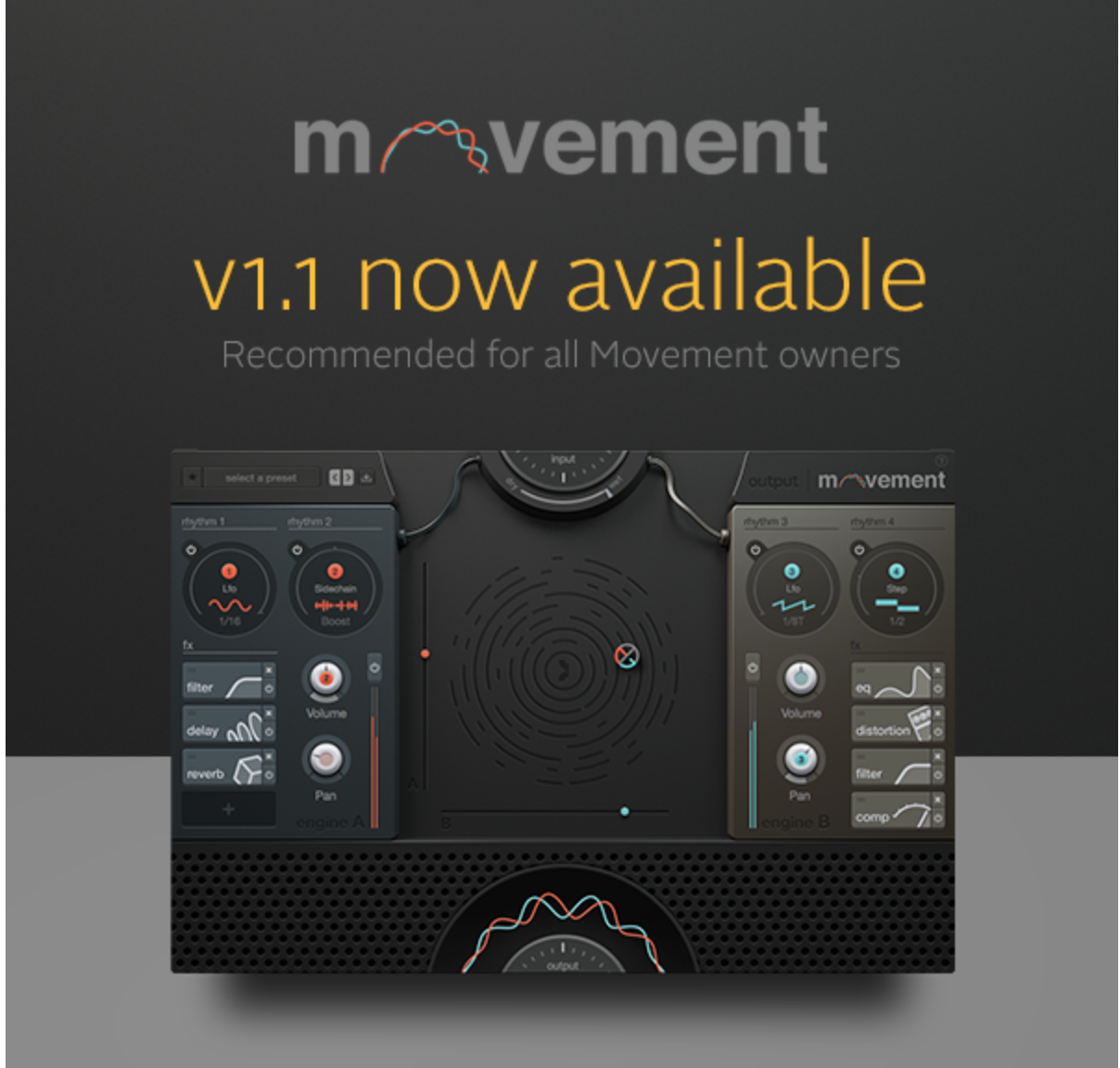 Movement features
300+ Presets for instant playability
Input any sound, instrument, or track
Modulate any parameter with any rhythm in real time
Sidechain, LFO, Step Sequencer rhythm modulation
Output's proprietary Flux and Randomizer
Advanced sidechain modulation – modulate any parameter
Analog filters, EQ, delay, reverse delay, distortion, compression and reverb effects
XY pad for performance
Built for live performance and for the studio
Simple design and ease of use
Output Spring Sale
For a limited time only, save 35% off Output's world-renowned music-making software in their spring sale, with prices from £20 / $22.
Output Black Friday Sale
Output launched their Black Friday Sale (Affiliate Link) featuring unique Vocal, Bass, Strings and Brass sound engines ready to be used within the free Kontakt Player.
Save 35% off the creative instruments and expansions from Output (Affiliate Link).
Output EXHALE
Welcome to EXHALE, the world's first truly Modern Vocal Engine. From the team behind acclaimed products REV and SIGNAL, comes EXHALE – an engine built for every composer, producer and artist seeking that cutting-edge sound in today's most creative music. 
For years, vocal instruments have provided a way to portray the sound of a real live singer or choir in a track. In speaking with music makers, Output found the number one frustration with vocal instruments was that nothing was modern, or in line with today's current records, film scores and sound design. That is the world of EXHALE.
Key Ingredients in the Development of EXHALE:
Top producers recording real singers (no session musicians) and a choir.
Sounds crafted with endless analog and vintage gear, tape machines, vocoders and more.
Engine built from the ground up with industry leading modulation, tempo synced FX, pitch shifting and more.
An immense focus on musicality.
Learn more about EXHALE (Affiliate Link).
EXHALE is the ultimate cutting edge vocal engine designed for the modern producer. Save 30% off and buy now for only £125 / $139 (Affiliate Link).
Check out the Exhale+ Bundle (Affiliate Link) along with the limited time Output Exhale and iZotope VocalSynth 2 Bundle! Along with Output's unique Vocal Engine EXHALE, the bundle comes with an additional 100 x Ambient Vocals Expansion. Producertech's comprehensive guide to vocal production course and Loopmasters Minimal Tech Vox Sample Pack ready to be loaded into EXHALE and morphed into exciting new vocal sounds. 
As an affiliate, we may earn a commission from qualifying purchases. We get commissions for purchases made through links on this website from Amazon and other third parties.
StrongMocha is a magazine for music producers, audio engineers, and sound designers. StrongMocha Magazine provides the latest industry news, reviews of gear and software, tutorials on recording techniques, and tips for mixing.