V Collection 5  includes 17 true recreations of the fabulous synths, organs, electric pianos. Utilizing Arturia's TAE (True Analogue Emulation) algorithmic modeling. V Collection 5 promises authentic, detailed sounds. In addition, the Arturia software allows you to expand the set of features beyond what was found on the original's synths. TAE® is "True Analog Emulation" – Arturia's exclusive technology aims to accurately reproduce analog oscillators & filters and allows the modeled instrument to add punch and present through soft clipping.
Arturia has been developing emulations of vintage synthesizers that have a reputation for authenticity and excellence. Arturia is a team of passionate people was founded in Grenoble, France and specializes in the development of music software and hardware for professional and amateur musicians. Arturia did send me a review copy with no strings attached. 
V Collection 5 includes several products : Analog Lab, Synclavier V, B-3 V, Mini V, Piano V, Stage-73 V, Matrix-12 V, Farfisa V, Solina V, SEM V, Wurli V, Jup-8 V, ARP 2600 V, CS-80 V, Prophet V, VOX Continental V,  and Modular V.
Analog Lab 2
Analog Lab 2 gives you instant access to over 5000 selected designer sounds from 17 vintage keyboards. Incorporated are sounds from eight emulated analogue synthesizers (ARP 2600 V, CS-80V, JUP-8V, Matrix-12 V, Mini V, Modular V, Prophet V, and SEM V), two digital synthesizers (Prophet VS and Synclavier V), two electric pianos (Stage-73 V and Wurli V), an acoustic piano (Piano V), and three electronic organs (B-3 V, Farfisa V, and VOX Continental V). Accessing the included sounds is simple, thanks to a preset browser. You can browse the presets by TYPES, BANKS, sonic CHARACTERISTICS, and INSTRUMENTS (crossing categories) or search by name.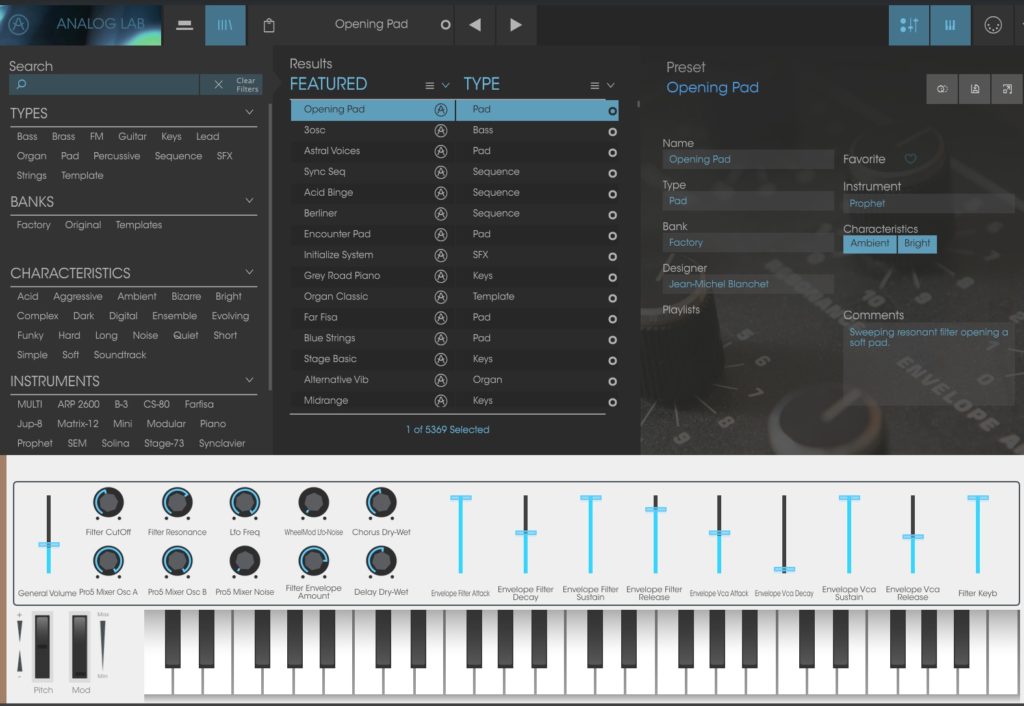 ARP2600 V
Arturia's 2600 V is your original ARP 2600 as a software plugin. Alan R. Pearlman, whose initials would form the name of ARP Instruments, became interested in instruments for electronic music in 1948. The VST retains the character of the original ARP 2600. It is an extremely convincing and flexible ARP emulation. There are so many extra features you can use to shape the sounds you are generating.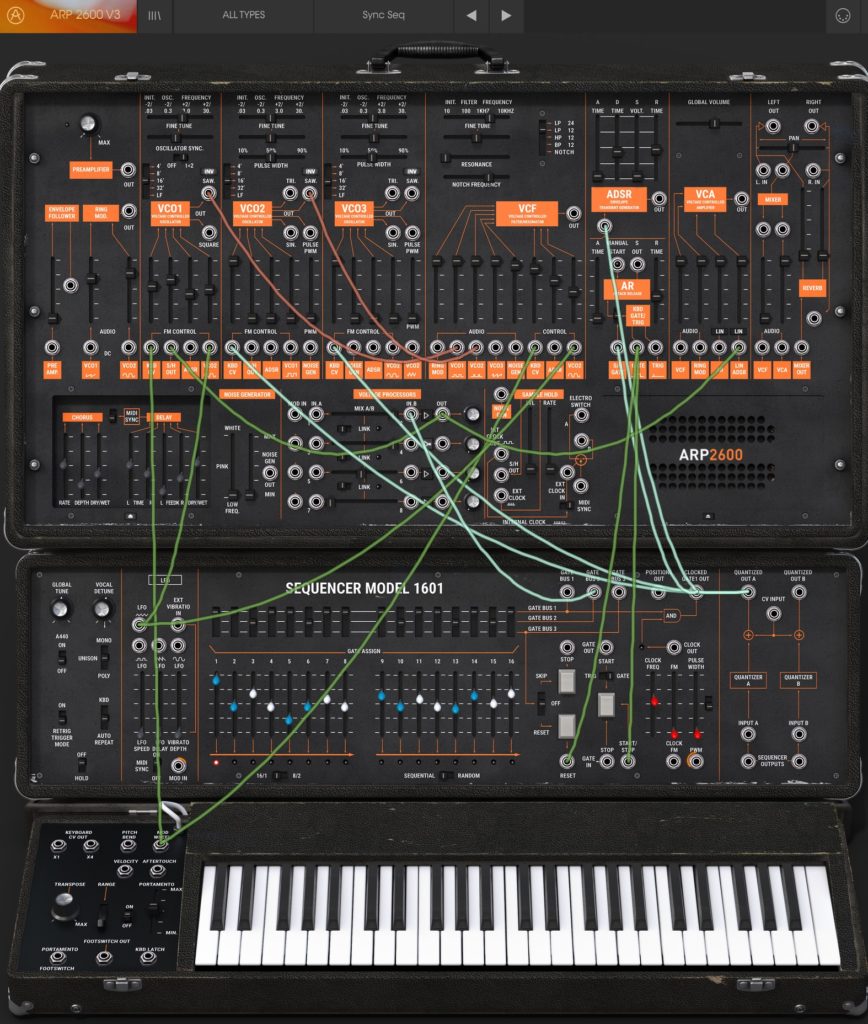 B-3 V
This is an authentic-sounding software simulation of the classic B-3 tonewheel organ and Leslie rotary speaker combo. Arturia added effect pedals that allow you to mix in analog delay, chorus, flanger, overdrive, and phase effects. B-3 V works well in many compositions and works very well in  jazz, gospel, rock, reggae and R&B.
CS-80 V
The modeled  CS-80 was a front runner synthesizer of the 1970's. Used by ABBA, Electric Light Orchestra, Jean-Michel Jarre,  Stevie Wonder, Toto, Vangelis, Ultravox and Peter Gabriel the Yamaha CS-80 was probably one of the most colorful synthesizers created. Arturia modeled all the original parameter of a Yamaha CS-80 (2 oscillators, 4 filters (high pass, low pass), 2 LFOs, 4 envelopes, 2 VCAs, 1 sub-oscillator, 1 ring modulator, chorus, and tremolo) and included more than 500 presets. The CS-80 is a wonderful synth model greatly by Arturia which allows you without breaking the bank (and spend all you money on eBay) to use one of the finest analog polysynths of all time.
Farfisa V
With the Farfisa V instrument, you can play Farfisa Compact Deluxe electronic organ which was manufactured in Italy between 1964-1968, there are more than 140 presets included which give you different perspectives on a legendary organ and will amaze you with the versatility of this instruments.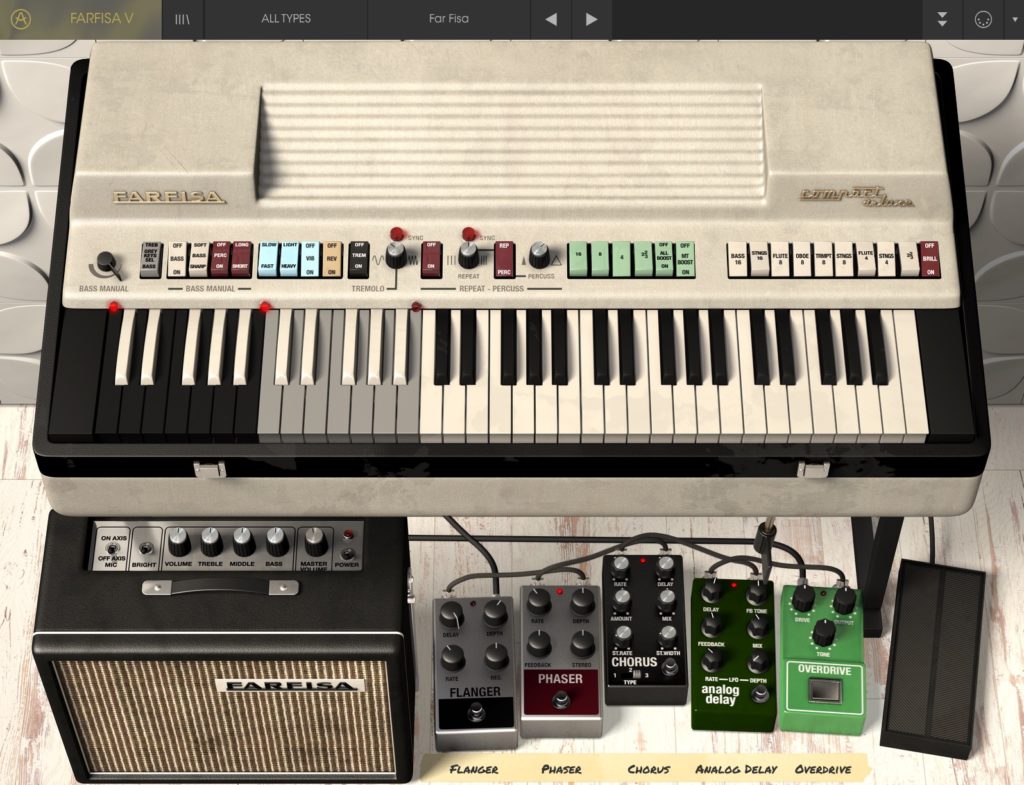 Like with the other included instruments you can further mangle and change the sound created by using the advanced controls (see below)

Jup-8 V
Tthe Jup-8 V is part of my personal top 3 across all available synth in the V Collection. In addition to the original features, the modeled Roland Jupiter 8 did have Arturia added a sequencer, a Galaxy module where you can create motion based on the different LFOs and additional effects.
Arturia captured the magic of this classical Roland synth in this software masterpiece. Another of the included synths that allow you to reduce the spend on rather expensive used hardware synths without the need to repair it. The Jup-( V is one of the best software based replicas.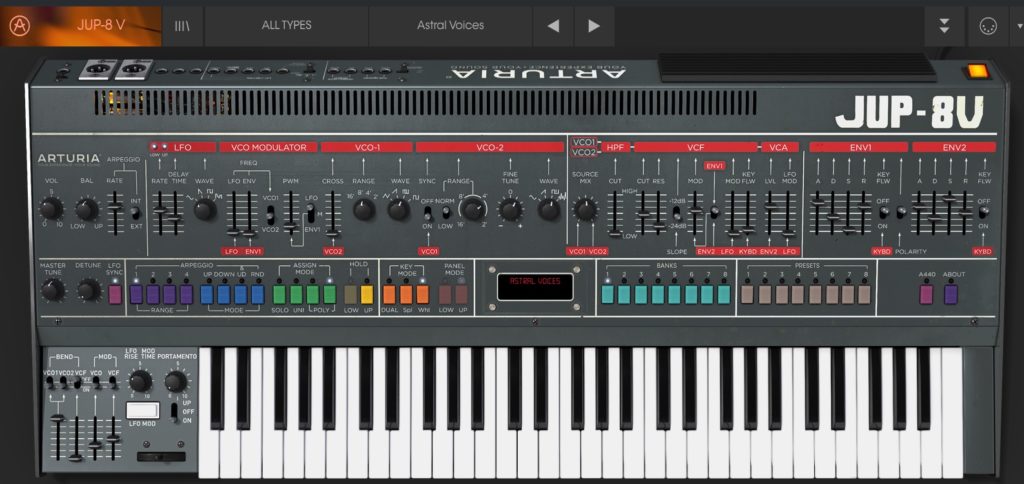 Matrix-12 V
Matrix-12 V is Arturia attempt in modeling the  Oberheim Matrix 12 which has been known for his fattest,  and roundest sounds. Great for brass, pads, textures or mysterious sound design

Mini V
The original hardware synth has been played Depeche Mode, Jean-Michel Jarre, Kraftwerk, Tangerine Dream and others and is known for his lead and bass sounds. The Mini V sounds like the original Minimoog however without the burden of the vintage hardware. You will not need to take this synth like the Minimoog to the hardware doctor. Like other synths, the Mini V goes beyond what a Minimoog could do and provides you with three oscillators but is polyphonic and stereo.
Modular V
It is a software modeled similar of the Moog Modular, you can start without the investment in a synth wall to experience with a modular synth. Arturia has updated the software synth recently and improved the audio quality and added new modules. To start using the Modular V you may spend your time in the included presets. If you are preparing yourself for an adventure you can and learn the fundamental concept of a modular synth you will discover the enormous opportunities of sound.
Piano V
With Piano V you get access to nine different pianos that can be further changed to your needs. Some are rather exotic as they are modeled after a glass or metal pianos. Overall you have access to Classical Upright, Concert Grand, Glass Grand, Intimate Grand, Jazz Upright, Metal Grand, Piano-bar Upright, Pop Grand, and Pop Upright. You can control the microphone setup, used reverb and room, supplement hammer or pedal noises, change the tone by making the sound softer, you can create pad like sounds with some additional effects.
Prophet V
This modeled synth Prophet V emulates the Prophet 5 and Prophet VS is known for its analog warmth and unique sound. You can use both classics in a hybrid mode which sounds completely fabulous.
SEM V
It includes all the initial parameters of the and classical Oberheim SEM: two oscillators, each offering sawtooth wave and variable-width pulse wave with PWM, sine wave LFO, 12dB/oct multi mode Filter with low-pass, high-pass, band-pass and notch, two ADS envelope generators. Arturia has added new functionality (LFO, Noise, Sub oscillator, on board effects (overdrive, chorus, and delay), Arpeggiator, Portamento). The SEM V is great for a beefy bass line.
Solina V
Solina V is a classic String Machine which offers additional controls when compared to the original. As in other Arturia products the development team has added features that greatly enhance the synth that has been modeled. The hard this instruments is been modeled after is an ARP Solina String Ensemble which has been used in many hits in the past. You can recreate the Solina sound or use it as a staring point to come up with new unheared sounds. Shimmering ensemble effect.
Stage-73 V
Stage-73 V is an actual sounding simulation of the Stage and  Suitcase 73-key electric pianos. Modeled after the great electric pianos from Rhodes. It is a good modeled Rhodes instrument where other available instruments are sample based. The market penetration with Rhodes soft plugin is however large and you can select out of many available emulations today.
Synclavier V
Recreated in partnership with original programmer Cameron Jones a Synclavier V was created and comes with an additive and FM synthesis. In the old days, a Synclavier was just out of the reach of many musicians due to its price and maintenance effort. However, it has been used in major music production and was part of many larger studio. Of course, Arturia improved the developed version where possible to allow you to create aggressive leads and long evolving sounds and scapes. Synclavier V promptly went to the top of my preferred Arturia instruments.
VOX Continental V
Vox V is a 60s classic used in many songs in 1960s time period. After you play through the more than 190 included presets I recommend you use the sounds to do some sound mangling and sound design using additional 3rd party plugins.
Wurli V
With the Wurli V, you get access to the bright mellow and hard tone of a Wurlitzer.
Installation
After purchasing a license you can rather easy and simple install all needed software by using the Arturia Software Center. The Arturia Software Center tools also keep the software up to date. Run the tool regularly to get the latest updates.
Sound
The modeled synthesizer sounds are great, close to the original and with the added features you can create sounds that have not been possible with the vintage hardware synths. Arturia has found a way through their proprietary True Analog Emulation to reproduce the sonic qualities of analog synthesizers by recreating hardware components with marvelous detail. Overall there are more than 5000 presets included across all available instruments. With the master preset browser, Arturia calls it Analog Lab 2 you have an easy way to find the sound you need without needing to go through all instruments and load them one by one.
The sound overall in each instrument is remarkably close to its original hardware from which Arturia modeled the instrument. I would recommend that you after browsing through the presets you use the additional features that have not been available in the hardware and take the sounds to new realms which have not been possible before. Arturia includes in picked instrument distinct tools like arpeggiators, modulators, motion recorders, effects and other effects and features not included in the original hardware. 

User interface & Usability
The interfaces for all instruments is resizable, making it easy to work with any High-Resolution screen, UHD or Retina. Simply put this is a must need when you need glasses like myself. The look and feel of each instrument are based on the retro look of the modeled hardware. The benefit is that you get the look and feel of such hardware, the drawback is that it is not optimized and you have to learn different interfaces.
V Collection 5 is compatible with Native Instruments' NKS control standard. With the available MIDI Learn functionality you can easily map controls to different MIDI controllers.
Rating:  Five out of five stars
V Collection 5 includes an extensive collection of 17 vintage synths of excellent sounding, truly replicated vintage keyboards through Arturia proprietary modeling algorithm. One of the great features besides the sound is that you can resize the instruments and adjust the interface and experience to your high-resolution monitor. Compared with the previous Arturia has taken a large step forward.
One of the killer arguments could be to prevent eBay purchases that result in vintage hardware synth that could work for a long time or be dead on arrival or weeks later which make you cover the additional costs. While the software synth is not always sounding exactly the same you have a great sound in your arsenal and can use the additional features that have not been available in the hardware.
Analog Lab 2 is a great tool allowing you to browse the presets across all included instruments.

Areas of improvement: Spark 2 a drum machine is no longer included and should be added back into the next version. The ease of use for some of the included instruments can be enhanced and improved, a harmonization across all plugins would be helpful. Compared to other instruments Wurli, Stage 73 is not as top-notch as for example the Synclavier V, SC-80 or Jup-8 V.