Mega Pack by Groove Monkee Review
Mega Pack by Groove Monkee is a large MIDI pack for producers and songwriters. The value-add of this bundle and the included single MIDI packs comes from the quality of the recording and the available mapping for your drum instrument. You may have run into the issue before with a random midi file where you do have a spend additional time to modify the MIDI information before the midi sounded right in you instrument used. Groove Monkee did send a review copy with no strings attached.
Groove Monkee developed and offers premium loops for most used VST instruments like Abbey Road, Addictive Drums, BFD, EZdrummer, GM, IMAP, Live, Reason, Session Drummer, Steven Slate Drums, Studio Drummer, Superior Drummer, and Cakewalk Groove Clip. Different drummers performed the  recorded to midi:
Chris Coleman through his 30 years of experience he played with Prince, Christina Aguilera, Chaka Khan, Beck, and Stanley Clarke
Mike Adamo a veteran studio drummer, musician, and producer
Joe Babiak played with  Kill Hannah, Geno Lenardo (Device, FILTER, Chevelle), Joe Grah (Loser, Jibe), Bill Gower (Boy Hits Car), Cage9 (with members of Powerman 5000)
Chris Morrow  performer with experience in jazz, rock, blues, fusion and more
Rory Faciane performed with  Charlie Daniels, David Allen Coe, Black Oak Arkansas, Marshall Tucker, Dixie All-stars, Travis Tritt, Slaughter, Survivor, Quiet Riot, Blue Oyster Cult, Blessed Union of Souls, The Misfits, Vince Neil, Social Burn, Dokken, Days of the New, Judas Priest and 3 Doors Down
Patrick Doody performed with Buddy Guy, Koko Taylor, Jr. Wells, Magic Slim, Kenny Wayne Sheppard, Otis Rush, J. Geiles, Chris Robinson and the Black Crows Band, Blues Traveler's John Popper, Taj Mahal, Ronnie Baker Brooks and many more.
Installation

After purchase you need to download the Mega Pack and can start using the included MIDIs, there is plenty of guidance and tutorials available teaching you how to integrate the MIDI loop into your Drum Instrument of choice.
Sound

The sound generates from your used (and not included) Drum instrument. You need to provide a drum instrument to hear any drum sound from the MIDI loops. The incorporated grooves spanned across a large variety of genres and are performed with the excellence of experienced real drum player.
The included MIDI loops are a collection of all MIDI Drum Packs that are sold separately by Groove Monkee.  The individual packs come with a different tempo, time signatures, parts of a song structure, and styles. You should also look at the drum pattern as inspiration and change the design to create your variation of the song.
The different products include a subset of Intro, Verse, Chorus, Bridge, Solo, Outro, Endings or some do include all.
The MIDI information is not quantized, and you get grooves with a human feel. If needed your DAW can help to quantize the MIDI information.
User interface & Usability

The end-user experience when using the MIDI loops depends highly on the used Drum Instrument. Groove Monkee assists you by going the extra mile and provides written and video tutorials on how you can use the MIDI loops in your VST Drum Instrument. Groove Monkee also did include new products launched recently like Superior Drummer 3.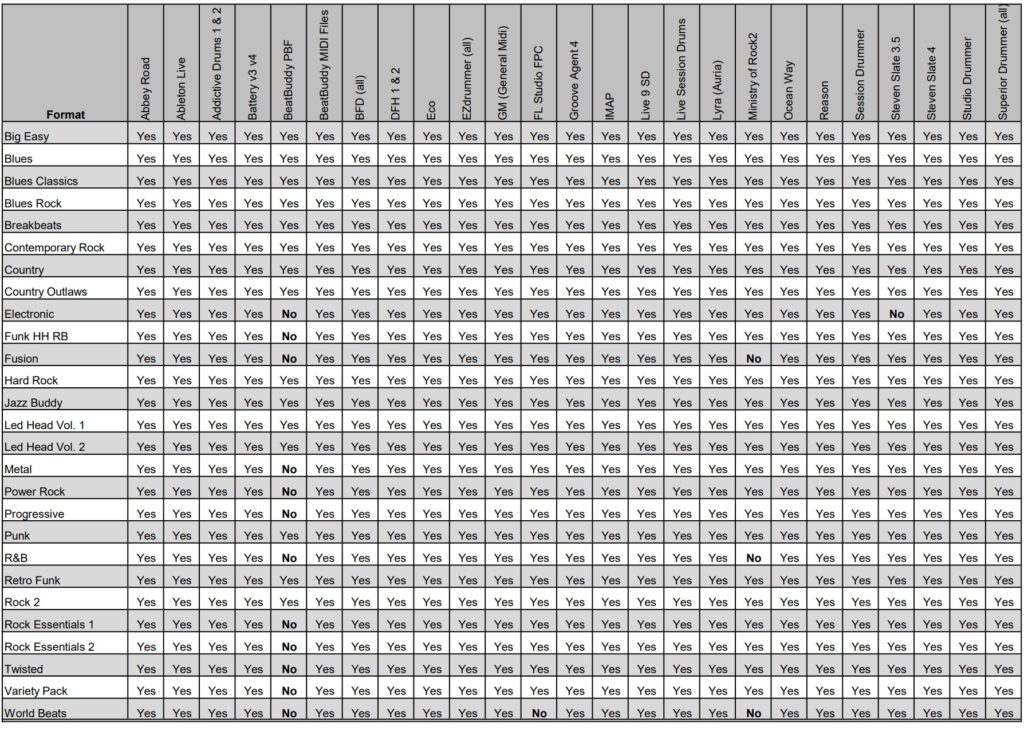 Rating:  Five out of five stars
The quality of the loops is extraordinary. With this MIDI Groove Monkee bundle, you get Drum Midi recordings across such a wide variety to get you playing with those loops for many tracks to produce.
The included rhythms are very usable, and the many styles included make this an exceptional starting pack to dive into the drum world. You get cool drum patterns that are easy to use and change according to your needs.