Omnisphere Colossus II by The Unfinished Review
The Unfinished is Matt Bowdler. Matt is a prosperous composer and sound designer. The Unfinished products are regularly used in Hollywood movies, AAA game scores and TV shows around the globe. Matt releases libraries for Absynth, Bazille, Diva, FM8, Kontakt, Massive, Omnisphere, Phonec 2, Trillian,  and Zebra2. Some libraries have been produced for specific commercial projects and made available to other composers. The libraries overall have a high quality and excellent value for the money. I do own Omnisphere Colossus II as one of my Omnisphere 2 extensions since 2016.
There are several boutique companies which are very well known in the industry. Producer, composer and sound designer recognize The Unfinished for their outstanding products.
Installation
After download, you add the Omnisphere through the install Omnisphere patch in the VST instrument.
Sound
The Unfinished (Matt) developed this library for cinematic action scores, textures, and underscore. Matt's craftsmanship was inspired by the music of Harry Gregson-Williams and James Newton Howard.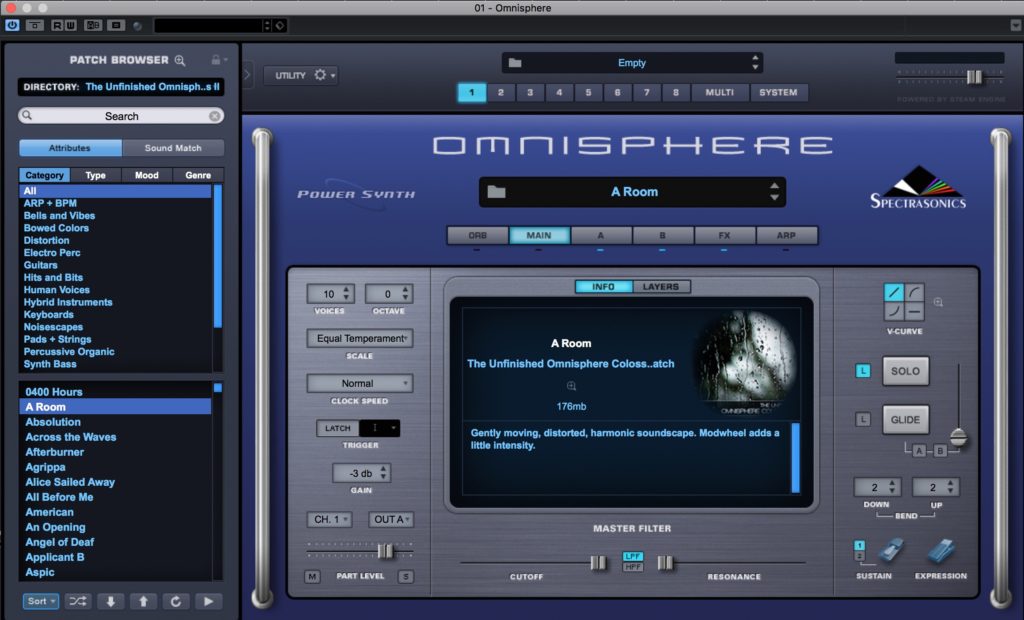 Omnisphere Colossus II is a collection of 400 patches and 70 multis for Omnisphere 2. Matt created the patches of Colossus II to be in line with soundtracks from Deja Vu, The Martian, Phone Booth, The Equalizer, Man on Fire, Bourne Legacy, Salt, Michael Clayton, and Nightcrawler.
Matt runs through all included patches in his Walkthrough Video. This gives you an extensive overview of what is included.
With Omnisphere Colossus II you receive lots of soundscapes and developing textures, nuclear percussion, and valuable arpeggiator. Always use the mod wheel to experience the movement and changes the used mod wheel function can apply.
Colossus II has been released in 2016 and still holds up and is an inspiring resource for new ideas, Colossus I and Colossus III are also available. The solo patches and multis have a great vibe and are nicely fitting in your score and are an excellent source for underscore.
User interface & Usability
It is the Omnisphere Interface. You browse through the patches which Matt sorted into meaningful categories.
Rating:  Five out of five stars
Colossus II is a comprehensive and stellar sound collection for Omnisphere 2. The library is vibrating with punchy, forceful drama and sophisticated sound and can also serve as implied anxiety underscore. If you own Omnisphere 2, it is an excellent addition to your sound sets.