Triple Spiral Audio Season Pass 2018 – 2019 available until end of June 2018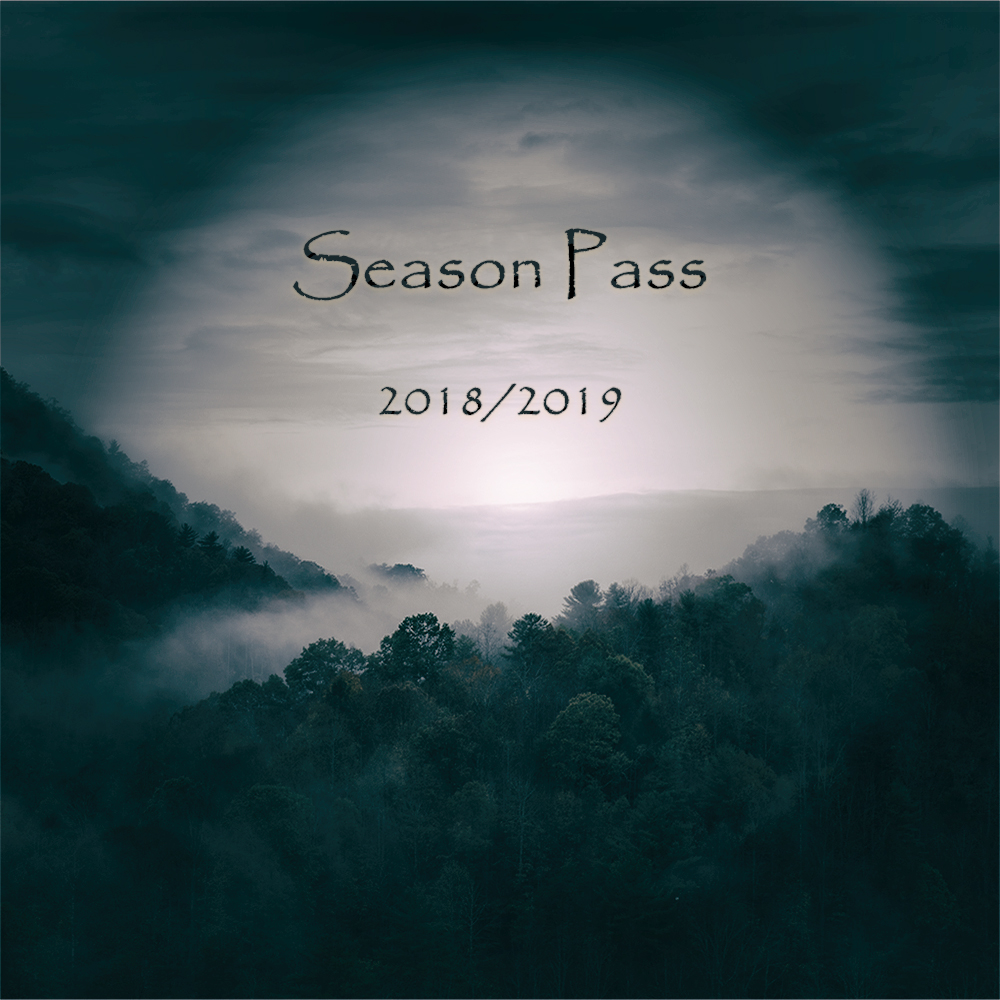 Triple Spiral Audio Season Pass 2018 – 2019
Triple Spiral Audio has released the option to purchase their upcoming libraries for Omnisphere 2, Kontakt, Falcon/UVI workstation, Repro 1 and 5, Diva, VPS Avenger, Iris 2 and Serum. The new Season Pass is on pre-order until June 2018 is an investment into the future, from my experience I did purchase several subscription libraries and with the ones from Triple Spiral Audio I have been very happy about finding excellent quality in what has been released so far. See Empty Fields – F.2 for Omnisphere 2 by Triple Spiral Audio Review and Journeys – Omnisphere 2 Soundset by Triple Spiral Audio Review.
Triple Spiral Audio guarantees these sound sets and libraries in the purchase of their Season Pass. The releases of new packs for the Empty Fields F.2 and F.3 series are not included and only available if you purchased one of these sound sets before.
Omnisphere 2 Sound Sets
Cloud Atlas
Inspired by the famous book by David Mitchell, Cloud Atlas for Omnisphere 2 takes you on a journey filled with mysterious leads, haunting basses, lush and evolving analog pads, neo-futuristic and dystopian soundscapes and raw and tribal arpeggiated sounds. This soundset is the first to be released (June 2018) and I plan also an update when the new Omnisphere 2.5 is released.
Traveller
Traveller is the sequel to the Journeys soundset and continues the exploration of rich and unknown worlds with a more focus on movement. The soundset will be created for the new Omnisphere 2.5 update and using material from the Core library
Hardangervidda
An ambient, rich soundset inspired by the beautiful area in Norway with actual recordings from the place. This soundset uses a hybrid setup and will be developed for the new Omnisphere 2.5
Kontakt Libraries
Forrest and Field Guitar 1.0
A library for Kontakt is currently being recorded and programmed with a beautiful sounding Tanglewood steel stringed guitar. The recordings take place in different forrests and fields and those are used to create a library that is both natural sounding and used to create beautiful lush and ambient sounds. The release is planned for the beginning of 2019
Falcon/UVI workstation
Flow
Flow is a library with different ethnic woodwinds being recorded in combination with recordings from various analog synths to create a stunnishing new world of sound. At the moment the library is planned to be created for use in Falcon and the UVI workstation. Release – Q2 of 2019
Repro 1 and 5
Heroes
This soundset is a tribute to one of my biggest musical inspirators, David Bowie. A soundset with a focus on experimental analog sounds.
Diva
The Ancient
The painting the Ancient of Days by William Blake inspired me many times for my music. Now I use it as inspiration to create a soundset which explores a rich sonic pallet with both divine and dystopian sounding analog sounds.
VPS Avenger
The Stand
Maybe strange to let a soundset be inspired by a book of Stephen King, but this is a world of its own, leading us back to a dystopian world with with a great good/evil theme setting in the 80's. For this soundset I am recording various synths from that era to use as a source to re-create this world. Release scheduled for Q4 of 2018
Iris 2
Boreal
An ambient soundset using the great synth Iris 2
Serum
Moondust
This soundset will be aimed towards the more darker and cinematic type of music with new and fresh source material from various electrical guitars being recorded for this set
The estimated value of all of these sound sets and libraries will be roughly €475,00 (can be a bit higher, not lower) and with this Seasonal Pass, you will have a great discount of around 40/50%. The Seasonal Pass is only available for purchase until the end of June 2018. The new releases will be sent automatically to you and you need to have a registered account where the products will be added to.
The Guitar God Called, and Stingray Instruments Answered – Introducing the Majesty Soundpack for Omnisphere 2

What if you could take the sounds of vaporizing concentrates and make them into a melody or rhythm? At Stingray Instruments, they like to find creative ways to let off steam.
At Stingray Instruments, they take their music very seriously. Stingray Instruments actively encourage rocking out during their board meetings. It helps Stingray Instruments decide what direction to go in! Stingray Instruments' latest product, the Majesty for Omnisphere 2, results from hours of intense rocking.
Rocking on Board Meetings
Stingray Instruments believe that rocking out is the best way to make crucial decisions. They find that when Stingray Instruments are shredded on their guitars, they can think more creatively and develop new ideas. Plus, it's just a lot of fun!
After a 37-minute rendition of "Don't Fear The Reaper," Stingray Instruments noticed one of their guitars didn't want to stop. It played itself like a magical force, relentless yet beautiful. Like a calling from the Omnisphere gods, it gave them a spiffing idea. That guitar was an Ernie Ball Majesty, so Stingray Instruments created this sound pack, Majesty. The collection contains over 500 sounds carefully crafted to explore the possibilities of what this fantastic instrument is capable of. From aggressive staccato picking to beautiful sustains, this Omnisphere soundset has it all.
Cinematic Scores, Crime, Drama
Stingray Instruments knows that when it comes to creating an emotionally charged cinematic experience, there is no better tool than the majesty of the electric guitar. That's why they've made the Majesty soundtrack for Omnisphere 2. With 120 lush cinematic sounds, you can create evocative and intense scores. From the dark and brooding to the triumphant and uplifting, this Omnisphere 2 soundset has everything you need to make your films stand out.
But the Majesty soundset isn't just for film scoring. It's also perfect for creating TV crime dramas, trailers, Ads, and intense action scenes. With its aggressive sounds and powerful rhythms, you can make music that will get your audience's heart racing. So if you're looking for a way to add extra excitement to your productions, then the Majesty sound is perfect.
Stingray Instruments – Majesty SE for Omnisphere 2
In the mood for some regal Expansion? Introducing Stingray Instruments – Majesty SE for Omnisphere 2, the Sonic Extension Edition, which requires, besides Omnisphere 2, the Undercurrent and Nylon Sky Sonic Extension. Stingray Instruments' award-winning sound designers have crafted 64 brand-new patches, exploiting the full potential of the latest features in Omnisphere 2.8.3.
From classic analog polys to substantial evolving pads, bubbly arpeggios to distorted Leads, this soundset has it all. Majesty SE will transform your Omnisphere 2 into a potent sonic weapon fit for any producer in need of some fresh expansion content. So if you don't have the Undercurrent and Nylon Sky Sonic Extension yet, please check out the regular Majesty soundset.
The Sonic Extension edition of Majesty for Omnisphere 2 is available, packed with even more guitar-centric goodness. With (additional) 120 new patches using the Undercurrent and Nylon Sky effects and samples, you'll have plenty of new sounds to explore.
Requires Omnisphere 2.8.3
Stingray Instruments – Majesty for Omnisphere 2 requires Omnisphere 2.8.3. You know you'll have access to the latest and greatest features and technologies. So if you're ready to take your music production to the next level, check out Stingray Instruments' Majesty for Omnisphere 2. You won't be disappointed.
Stingray Instruments – Majesty for Omnisphere 2
If you are looking for the perfect guitar sound for your next film score, look no further than the new 120 cinematic guitar sounds sample pack. This pack covers the king and queen of electric guitars, based upon not only a Majesty but also an Ibanez JEM 7V.
And with Omnisphere 2 as your sound source, you'll be able to create brilliant soundscapes that will take your audiences on a journey. This sample pack has everything from vintage Marshall JCM2000 tones to all-out Mooer craziness. So don't wait any longer. Add the 120 cinematic guitar sounds sample pack to your arsenal today.
Chapter 2: Ages for Pigments 3 – A Soundset That Will Enhance Your Productions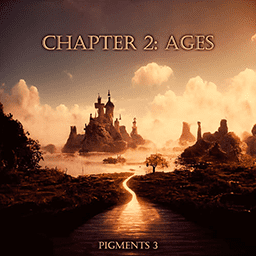 Chapter 2: Ages for Pigments 3. This is the second installment in a series of soundsets for Pigments 3, designed to enhance your productions. Ages is a soundset that offers a lot of sounds that will add character and flavor to your music, whether you're working on soundtracks for film, TV, or games or on your next pop, rock, EDM, or ambient production.
Filled with solid and experimental ARPs, sequences and pulses, rich and floating pads and textures, supporting basses, keys, and classic synth sounds, this soundset contains 100 presets created using all of the features in Pigments 3. You'll find presets using the new Harmonic Engine, the new 3rd Noise Oscillator, modulation effects, and multi-samples with round-robin or random triggering. Dive into this soundset and add a new level of depth and complexity to your music. Experience the power of Pigments 3 with Ages.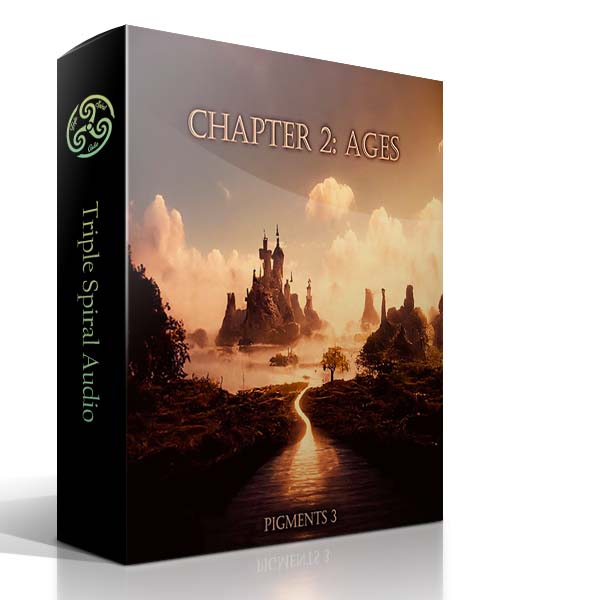 Chapter 2: Ages for Pigments 3
A sound set filled with solid and experimental ARPs, (drum) sequences, and pulses. Rich floating pads and textures support basses, keys, and classic synth sounds to create a range of sounds perfect for any soundtrack. Whether you're working on a film, series, game, or pop production, this sound set offers something. So dive in and add some depth to your next project!
This soundset contains 100 presets created with the full use of all the features in Pigments 3. You will find presets using the new Harmonic Engine, the new 3rd Noise Oscillator, and the new modulation effects and routings. Also, many pads and textures use multi-samples.
Experimental, Ambient Sounds
It can be easy to get lost in the noise in a fast-paced world. But for some people, the constant din is a source of inspiration. For composers, ambient sounds can provide a wealth of material to work with. By experimenting with different sounds and textures, they can create new and exciting pieces of music. And by incorporating ambient sound into their work, they can add an element of realism that can engage listeners on a whole new level.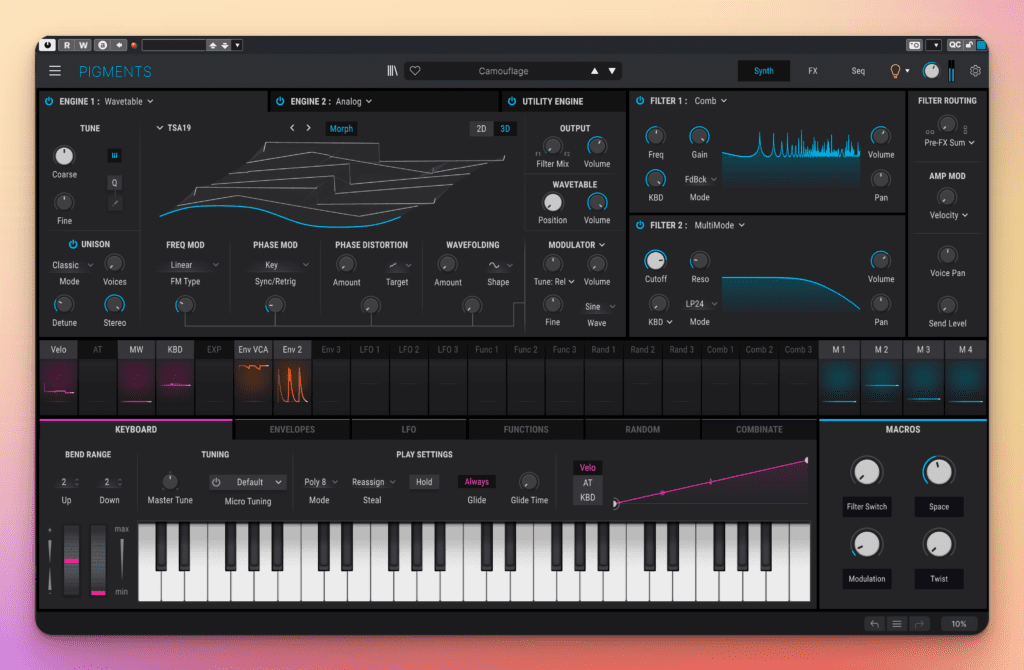 Cinematic, Electronic Sounds
In today's music landscape, it's not uncommon to hear cinematic, electronic sounds in various genres. But why do composers use these types of sounds? Sometimes, it may be because they're trying to create a particular atmosphere or emotion. For example, suspenseful music often uses spooky sound effects to heighten the sense of unease. Similarly, sad music might incorporate heartbreaking (and sometimes sob-inducing) melodies to perfectly capture the feeling of heartbreak. In other cases, composers may use different types of sound effects for experimentation.
After all, with technology constantly evolving, there are always new sounds to explore. Ultimately, cinematic and electronic sounds are becoming increasingly prevalent in today's music, whether for practical or creative reasons.
Chapter 2: Ages for Pigments 3 soundset for Pigments 3 by Triple Spiral Audio
Chapter 2: Ages for Pigments 3 is the second installment in a series of soundsets for Pigments 3 by Triple Spiral Audio. As the name suggests, this collection is focused on creating sounds that evoke the feel of different eras, from the distant past to the far future.
Whether you're looking for airy pads to evoke a sense of ancient mystery or dark, throbbing basses to depict the grim reality of a dystopian future, Chapter 2 has you covered. With a total of 100 preset sounds, this soundset is sure to keep you inspired for many hours to come. So fire up your DAW and get ready to explore the ages with Chapter 2: Ages for Pigments 3.
This soundset requires Pigments Version 3.5+ and is 2 GB in size.
Fractal Sounds – Vapor Voices – Create Immersive Soundscapes With These Vocal Effects for Pigment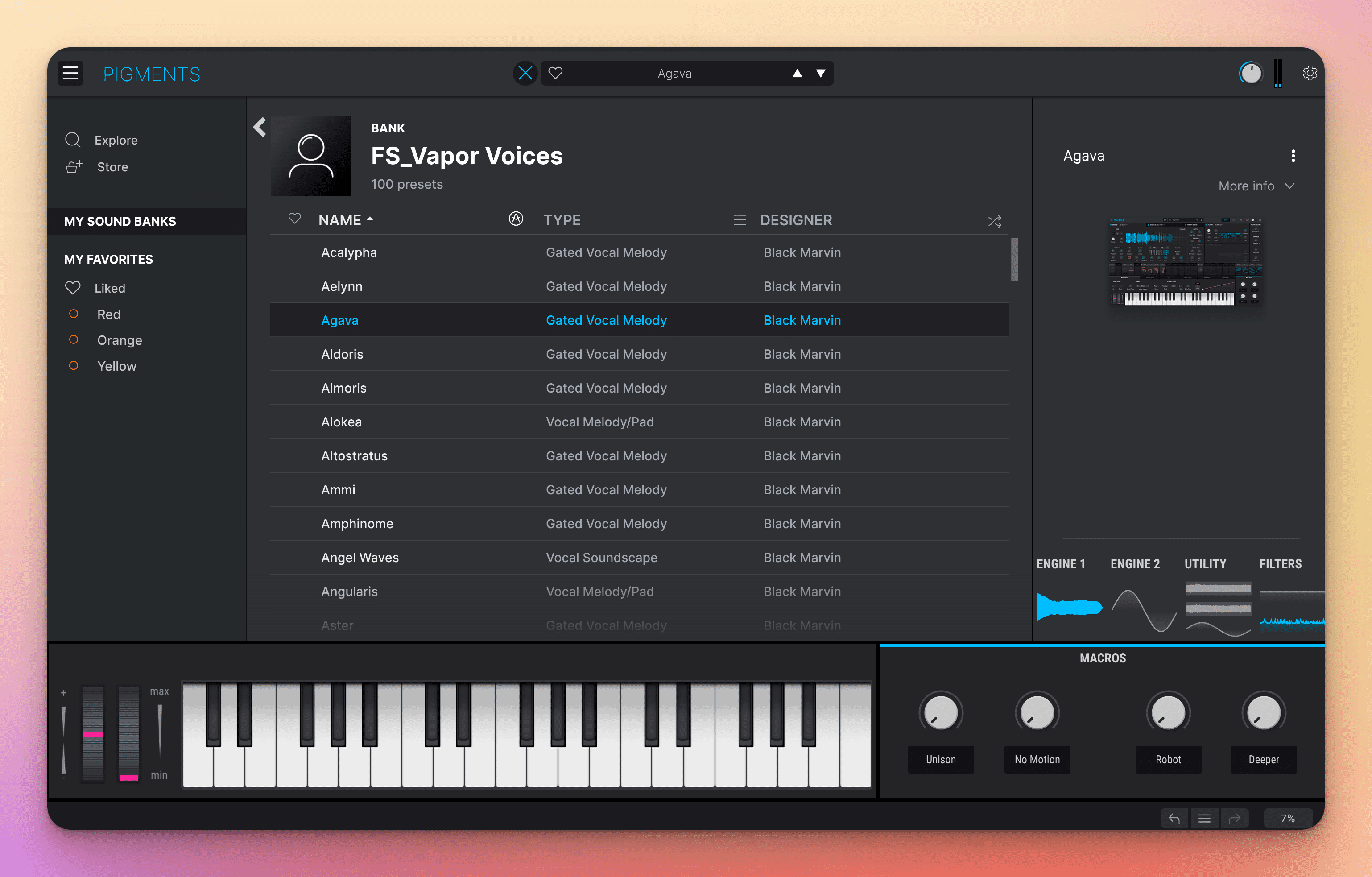 Fractal Sounds – Vapor Voices for Pigments 3
What do you get when you mix vaporwave and modern classical music? The answer is something that sounds like a coloring book coming to life. Fractal Sounds is an electronic artist who creates these mesmerizing soundscapes with influences from both genres.
If you're looking for something to relax your mind and take you on a journey, the latest release, Fractal Sounds – Vapor Voices for Pigments 3, is worth a "look". Each "soundset" feels like its painting, with layers of pads and synthesizers that create an ethereal atmosphere. Whether you're new to the genre or just looking for some new music to relax to, be sure to check out the soundset for Pigments 3 below!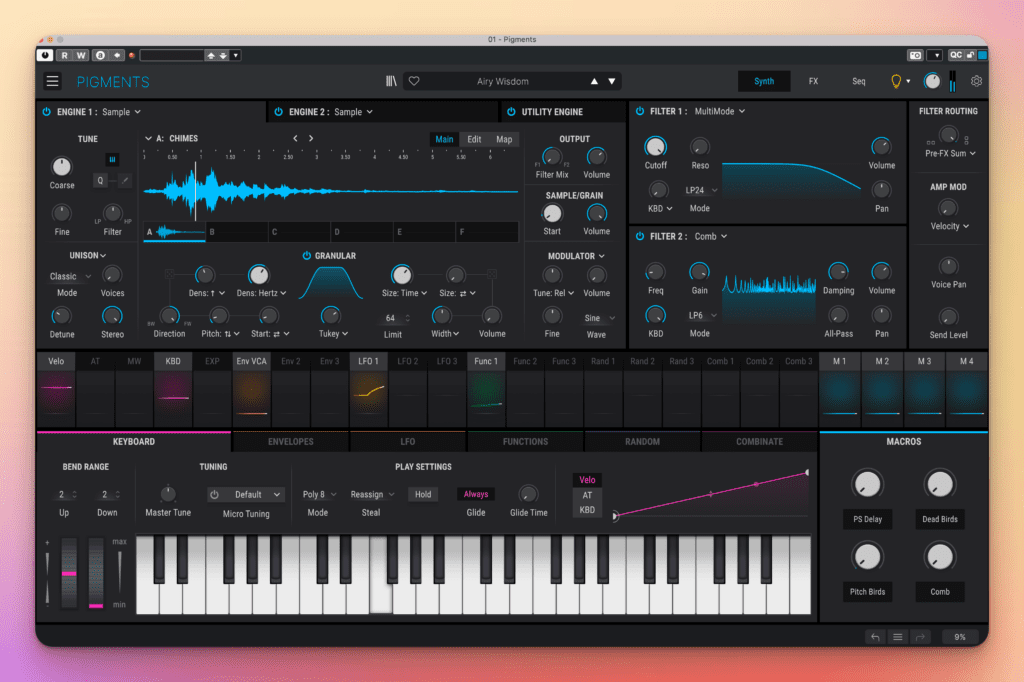 Shamanic Voices and Vapor Voices
Shamanic Voices and Vapor Voices for Pigments may not share the same universe, but they offer readers a unique and engaging experience. Shamanic Voices tells the story of a young woman who discovers her shamanic powers and must use them to defeat an evil spirit. Vapor Voices for Pigments, on the other hand, follows the adventures of a group of teens who discover they can control pigments with their minds.
Despite their differences, both soundsets share a sense of adventure and intrigue to appeal to readers. In addition, both Pigment soundsets are designed in an alluring and engaging style that will keep listeners occupied from beginning to end. Whether you're looking for an exciting new world to explore or want to be considered, Shamanic Voices and Vapor Voices for Pigments are sure to please your audience.
Zoe Sol's Voice
Fractal Sounds is always looking for new talent, and they struck gold when they found Zoe Sol. She's a classically trained opera singer with a powerful voice that can fill any room. But what Fractal Sounds loved about her was her versatility. Zoe can sing in various styles, from metal to pop to jazz. And she's not afraid to experiment with her voice, which is why Fractal Sounds knew she was the perfect person to provide vocals for their latest preset pack. With her incredible range and willingness to try new things, Zoe Sol is sure to become a favorite among Fractal Sounds fans.
Fractal Sounds – Vapor Voices Soundset for Pigments 3
Vapor Voices is an ethereal and mesmerizing vocal soundscape that will transport you to another realm. Zoe Sol's voice is beautifully integrated within Pigment's granular synthesis engine, creating a lush and deep soundscape that is both dreamy and futuristic. The result is a truly unique and otherworldly experience perfect for relaxation or deep meditation tracks.
If you're looking to add a little zen to your youtube channel, why not try creating your relaxation or deep meditation tracks? You can use anything from classical music to nature sounds to create a calming and soothing atmosphere. Just make sure to choose a style that fits your overall channel theme. You don't want your viewers to be confused when they stumble across your relaxation tracks while trying to watch a funny cat video!
Once you've created your tracks, all you need to do is add some visualizations or relaxation techniques, and you're good to go. Your viewers will appreciate having a place to relax and unwind, and you'll provide them with valuable content that they can use repeatedly. So why not give it a try? You might get a little calmer and more relaxed in the process!
Whether you are looking to escape the hustle and bustle of everyday life or connect with your higher self, Vapor Voices will take you on a journey you will never forget.
As an affiliate, we may earn a commission from qualifying purchases. We get commissions for purchases made through links on this website from Amazon and other third parties.
StrongMocha is a magazine for music producers, audio engineers, and sound designers. StrongMocha Magazine provides the latest industry news, reviews of gear and software, tutorials on recording techniques, and tips for mixing.