Omnisphere 2.5 update is available to the public now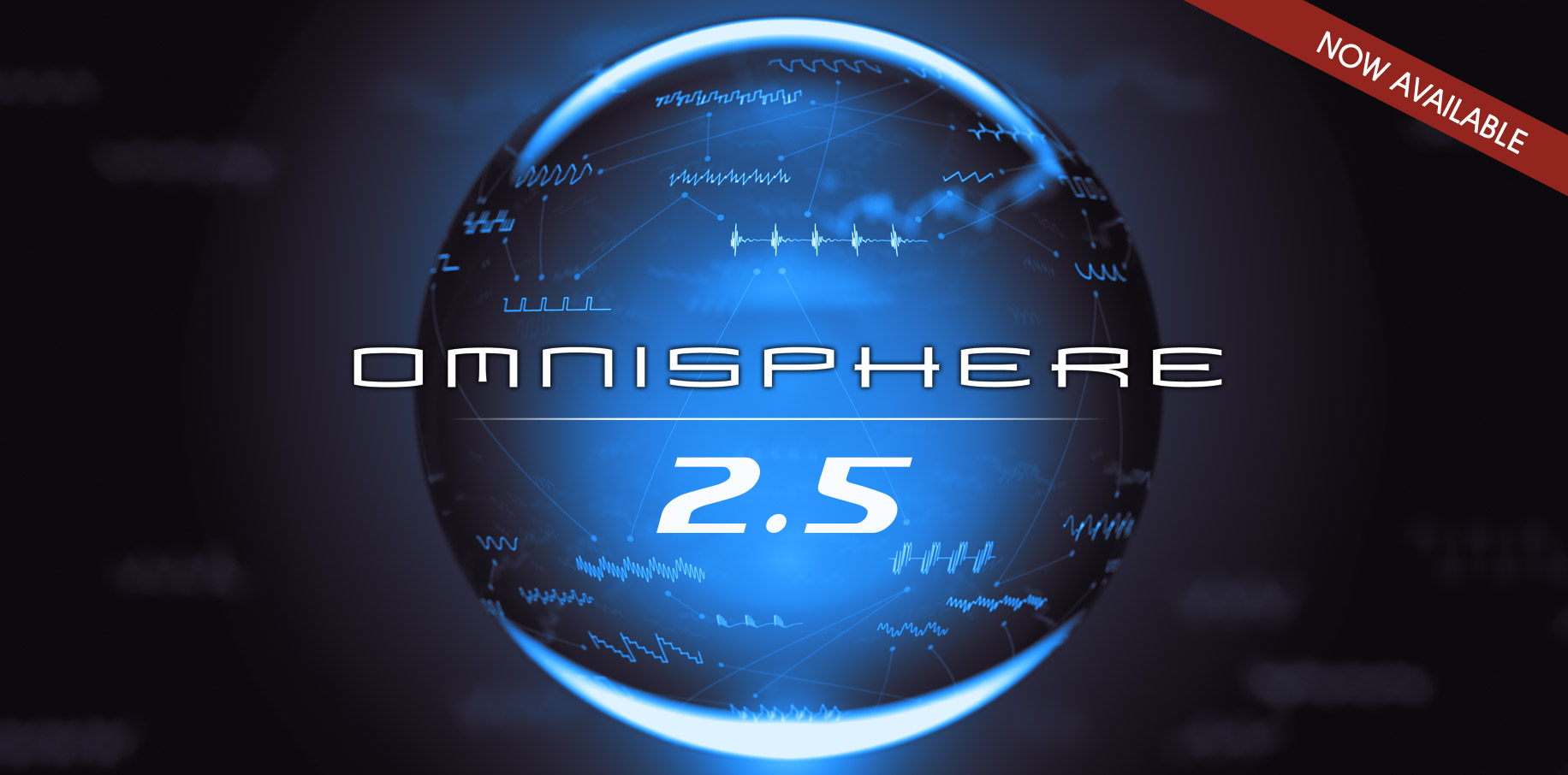 With the new version 2.5, Omnisphere becomes the first software synth in the world to offer a Hardware Synth Integration feature, which transforms over 30 well-known hardware synthesizers into extensive hands-on controllers that unlock Omnisphere's newly expanded synthesis capabilities. Simply put, this ground-breaking new feature makes using Omnisphere feel just like using a hardware synth! The extensive new FREE update also features a newly announced hi-resolution interface, support for Windows Multitouch, new Granular Synthesis capabilities and a stunning new sound library of over 1000 brand new sounds, bringing the total number of included sounds to over 14,000.
Hardware Synth Integration
This remarkable innovation bridges the physical experience gap between software and hardware, giving users intuitive control of Omnisphere by using the familiar layout of their supported hardware synth. The initial release officially supports over 30 popular hardware synthesizers from Moog®, Dave Smith Instruments®, Roland®, Korg®, Novation®, Nord, Access, Studiologic, Sequential® and more to come. The supported hardware synths cover a wide range of types and price ranges for different types of users.
On the technical side, the new Hardware Synth Integration feature in version 2.5 goes far beyond the typical "MIDI Learn" approaches that most software synthesizers employ. Under the hood, our development team has carefully designed unique "Hardware Profiles" for each supported hardware synthesizer, making the special features of that synthesizer work seamlessly with Omnisphere by translating MIDI messages from the hardware into satisfying sonic results in Omnisphere. This new system allows us to enable sophisticated interactions from a single touch of a knob, including the ability for Omnisphere to automatically switch interface pages, recall entire FX racks, assign multiple scaled parameters and even instantly create complex modulation matrix routings on-the-fly! This new development system also allows us to add new profiles for new hardware synths in the future. Most importantly, it's easy for musicians to use – simply select the hardware synth from the drop-down HW menu and Omnisphere is now linked to that hardware synth!
Expanded Synthesis Capabilities
The new version 2.5 vastly expands the synthesis capabilities of Omnisphere by doubling its voice architecture to Four Layers per patch! Each patch can now utilize up to 12 envelopes, 8 LFOs and the Modulation Matrix has been doubled to 48 modulation routings. Newly designed State Variable Filters are included, which were specially created for the OB-6 hardware profile and can seamlessly blend between lowpass, notch and hipass filter modes. Over 100 New DSP Oscillator Wavetables based on the supported hardware are included and featured in the new hardware profiles.
New Hardware Sound Library
Omnisphere 2.5 includes a stunning new "Hardware Library" with over 1,000 new patches created by Eric Persingand the renowned Spectrasonics Sound Development team. Each hardware profile has a corresponding set of sounds in the Hardware Library which were specially designed using that hardware synth as an Omnisphere controller. These inspiring new sounds feature a wide range of categories and many have a distinctly 'classic analog' flavor! Best of all, the new sounds are available for ALL users, regardless of using the hardware or not!
New High-Resolution Interface
Omnisphere 2.5 features a newly designed graphic user interface, which includes Retina/hi res graphics for 4K monitors. The new interface has been given an aesthetic refresh for a cleaner, more modern look and features larger controls. The new GUI is now easier to use and scalable to fit comfortably into your workspace. The Live Mode page has also been redesigned to show much more relevant information onstage at a single glance.
New Granular Layout
The Granular page of Omnisphere 2.5 now sports a full waveform display and a clearer view of what each of the grains are doing at any moment. This new layout makes it far more intuitive to grasp how Omnisphere's powerful Granular Synthesis engine is working on the audio source.
Windows Multitouch Support
Spectrasonics is proud to announce that version 2.5 of Omnisphere is now fully supporting Windows X Multitouch computers and tablets. This means that the new Live Mode page can function as a fully functional stage interface when used fullscreen on a Windows computer.
"Since the beginning of computer-based music, the biggest limitation of software synthesizers has been the lack of physical interaction. It's hard to beat the immediacy of a physical synthesizer that you can touch! We are very excited to be able to finally eliminate that problem by utilizing the world's finest hardware synthesizers to fully control Omnisphere." said Eric Persing, President of Spectrasonics. "We've never felt that the worlds of software and hardware synths should be divided into different 'camps'. Our virtual instrument users can now experience the joy of the hardware synth workflow and hardware synth users can now fully expand their capabilities into the vast sonic world of Omnisphere!"
Omnisphere v2.5 features:
Hardware Synth Integration!
• New Hardware Library adds over 1,000 new patches for all users:
– Over 14,000 Sounds total now included
• Vastly Expanded Synthesis:
– Four Layers per patch
– Doubled Mod Matrix
– Over 100 New Wavetables
– New State Variable Filters
– 8 LFOs, 12 Envelopes
• New Hi-res, Resizable Interface
• New Granular Layout
• Improved Live Mode Page
• New Shared Signal Path routing
• New System Tuning/Scale functions
• Windows Multitouch support
• FREE for all Omnisphere 2 users!
Hardware Synths supported include:
• Sequential Prophet X
• Sequential Prophet 6
• Dave Smith Prophet 12
• Dave Smith OB-6
• Dave Smith REV2
• Moog Sub 37
• Moog Subsequent 37
• Moog Voyager
• Moog Sub Phatty
• Moog Little Phatty
• Moog Slim Phatty
• Korg Minilogue
• Korg Monologue
• Korg Prologue
• Roland System-1
• Roland System-1m
• Roland System-8
• Roland SE-02
• Roland SH-01A
• Roland JP-08
• Roland JU-06
• Roland JX-03
• Roland VP-03
• Novation Peak
• Novation Bass Station II
• Novation Circuit Mono Station
• Access Virus A
• Access Virus B
• Clavia Nord Lead 1
• Clavia Nord Lead 2
• Studiologic Sledge
All specifications subject to change without notice.
Pricing and Availability
Omnisphere 2.5 is available now as a FREE update for all registered Omnisphere 2 users!
How to get Omnisphere 2.5:
Current Omnisphere 2.4 users: Simply use the "Get Updates" feature on Omnisphere's splash page!
Earlier Omnisphere 2 users: Download and install the 2.5 updates from your User Account.
Omnisphere 1 users: You can upgrade to v2.5 directly for the same standard upgrade price!
Just launch you existing Omnisphere in your DAW and follow the update process, downloading the updates is slow as there a so many existing users download it.
Spectrasonics Keyscape Video Review [Extended Version]
Spectrasonics Keyscape Video Review
KEYSCAPE® is an extraordinary virtual instrument featuring the largest selection of collector keyboards in the world. From "holy grail" pianos to stunning keyboards you didn't even know existed, this is a keyboardist's dream come true.
Ten years in the making, each of these sought-after keyboards was carefully restored and then deeply multisampled by the renowned Spectrasonics Sound Development Team. These compelling and highly expressive sounds will inspire you to PLAY!
Spectrasonics Releases Trilian 1.5
Major Free Update with Expanded Features, New Patches and More
With the new version 1.5, Spectrasonics added major new enhancements to Trilian's Arpeggiator, dramatically expanded the synthesis features and the interface has a whole new, refreshed look and feel! The 1.5 update also includes over 200 brand new patches and is FREE for all registered Trilian users.
With its comprehensive design, Spectrasonics Trilian Total Bass Module® brings many different types of Bass together into one extraordinary-sounding virtual instrument. Trilian has long been recognized as the most versatile bass virtual instrument available and has become an industry standard. Whether you need production-ready sounds or prefer to carefully craft your own tones, Trilian is the ultimate bass tool for serious producers.
Major Arpeggiator Update
Trilian's Arpeggiator has received a major update in v1.5 with all new creative tools, making it one of the most flexible arpeggiators ever. The many innovations include inspiring new Step Modifiers including Pattern Modes, Step Dividers, Pitch Slides and the unique ability to have altered Chord Voicings and Chord Inversions per step. Also included is a new Arpeggiator Preset Library that showcases all the creative possibilities. Best of all, Trilian 1.5 can now capture the MIDI data of the arpeggiator as a standard MIDI file, which can be dragged to any DAW for further editing!
Expanded Synthesis Features
Trilian 1.5 includes newly expanded synthesis features including many New Filter Types, Enhanced FM, Ring Modulation, Doubled Harmonia Voices and Polyphonic Waveshaping – which have been added for extra tonal shaping capabilities. Full FX Modulation, double the amount of Mod Matrix slots and new modulation sources have been added for even more sonic control.
New Sounds
Trilian 1.5 features a newly expanded sound library with over 200 brand new patches produced by Eric Persing and the acclaimed Spectrasonics Sound Development team. The 1.5 update also includes the new "Trilian Creative" library, a cutting-edge collection of Omnisphere patches specially designed for users who also have both instruments. Trilian's richly detailed bass sounds can be dramatically transformed using Omnisphere's deep synthesis capabilities. The new Trilian Creative library features unique and surprising sounds that showcase the power of this killer combination. The new patches offer an extremely wide variety of incredible sounds for modern music producers.
Additional Features
Trilian 1.5 also features a newly redesigned Hi-res Resizable User Interface, a New Mini-Browser and New Full Browser and innovative production/browsing features like Sound Match™ to instantly locate any related sounds in the library, and Sound Lock™ to create endless useful patch variations by locking sound aspects while browsing other patches.
Pricing and Availability
Trilian 1.5 is available now as a FREE update for all registered Trilian users!
Distorted Evolution 4 for Omnisphere – Movement
Distorted Evolution 4 for Omnisphere – Movement
Distorted Evolution Movement is a new cinematic soundset for the Omnisphere Synth which sets the focus on cinematic sounds with lots of movement in them.
When creating this new series of sound expanders, the primary design goal from Plughugger was to draw inspiration from the early works of Spectrasonics. Back in the day when sound libraries came on CD-ROMs for big clunky hardware samplers, Spectrasonics quickly became a name in the movie and TV-scoring world thanks to their Distorted Reality sound libraries. Distorted Evolution is based on the three most significant sound libraries Spectrasonics did in that time: Distorted Reality, Distorted Reality 2 and Bizarre Guitar.
Distorted Evolution 4: Movement contains 285 sounds.
124 Arpeggios & Rhythmic sounds
3 Pads & Strings
108 Textures and Soundscapes
50 Multi patches
Availability
The Distorted Evolution Movement library is available now at an introductory price of €9.90 / 60% off until the 12th of April, 2020. (normal price €24.90). Use coupon code MOVEMENT to get the discount.
As an affiliate, we may earn a commission from qualifying purchases. We get commissions for purchases made through links on this website from Amazon and other third parties.
StrongMocha is a magazine for music producers, audio engineers, and sound designers. StrongMocha Magazine provides the latest industry news, reviews of gear and software, tutorials on recording techniques, and tips for mixing.