HEXERACT Review by Auddict
HEXERACT by Auddict Review
HEXERACT was released in late 2017 as an early release and has been substantially improved by Auddict in the last months.  I did start the review some months ago (Dec 2017) and waited for its release until a major change in the software. Now as Hexeract.1.1.0 has been released it is time to update and released the review of this now fine synth.
Hexeract is a compelling software synth, which can extend the sound palette of composers, producers,  and songwriters.
A big part of the latest released is a long time awaited MPE-compatibility. Use a ROLI or other MPE controller and assign gestures (slide, press, glide etc) to Hex parameters. An MPE modulator tab has been added to facilitate control via an MPE controller. Auddict did send a review copy with no strings attached.
Sound
With Hexeract you produce sounds, arp, sequences or just play the included instruments to enrich your composition.
With the latest released the presets have been actual increased. Now a huge preset collection crossing various styles have been included and sound surpassing.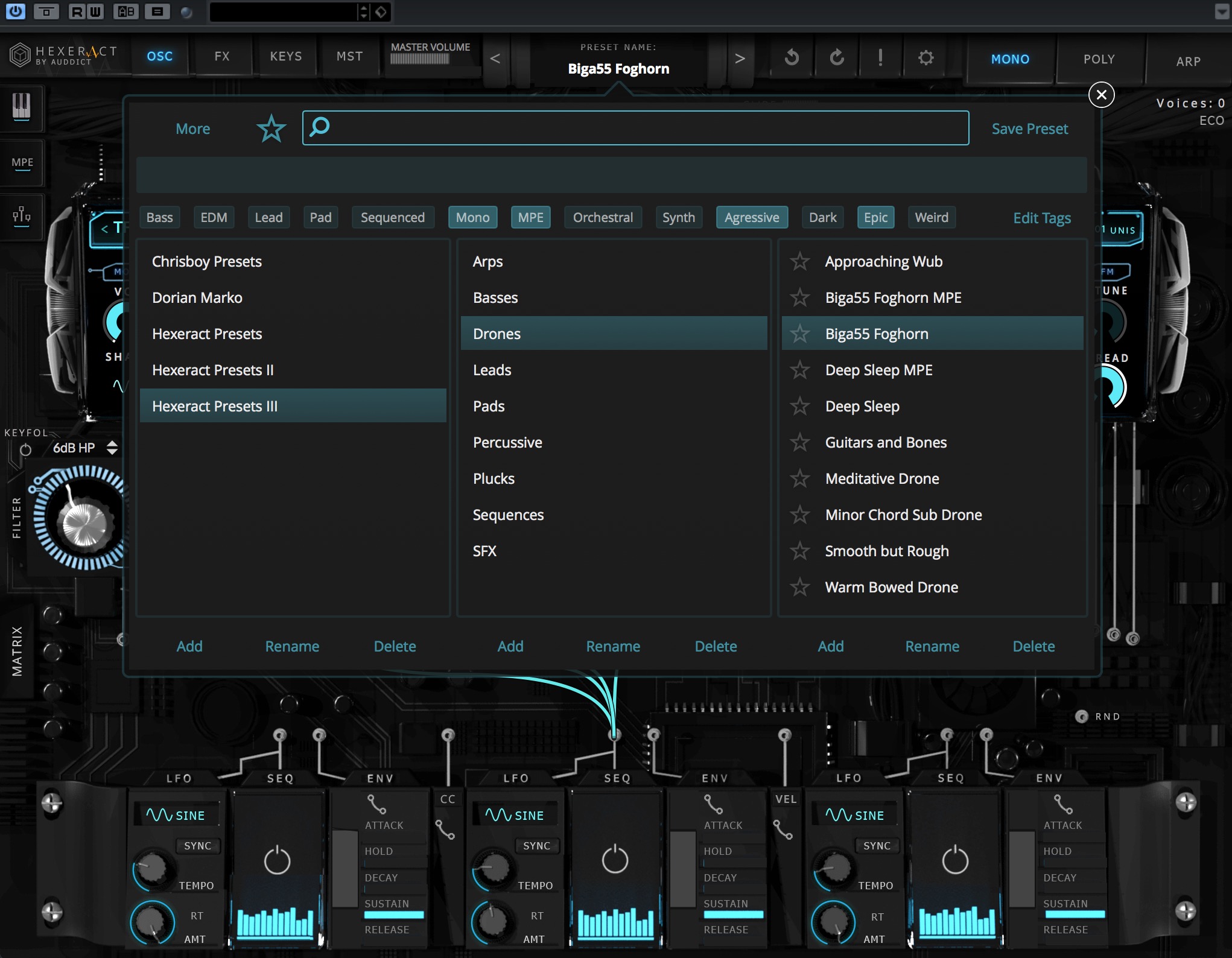 Hexeract by Auddict stretches far further than simple analog or modern software synth. It is working towards the needs of the modern Composer,  Sound Designer, and Musician.
If you do invest the time you find a modular working synth with an Auddict specific way to produce huge and excellent sounding vibes. If you are looking for a relished excellent synthesizer and want to be part of the modular movement you found yourself a modular (sampler) synth. 
User interface & Usability
The UI is complicated and could be made easier to use. It is not to complicated to prevent you from producing great-sounding scores and underscore. 
Version 1.1.0 introduces a huge amount of new features and presets, as well as massive improvements in performance. 
Wave-shaping (modulate-able)
MPE Compatibility. Assign parameters to MPE gestures such as slide, glide, press, stroke and more. Will work with ROLI or any other compatible MIDI device.
Overdrive FX module
Convolution Master Reverb
MIDI Routing – have the arpeggiator control only select oscillators. Split keyboards/MIDI channels among OSC's etc.
Dedicated envelope popup windows, with an attack curve added. Attack, level, curve, hold, decay, sustain and release functions.
Majority of bugs and crashes fixed
The new released Hexeract 1.1.0 comes with a 50isch% CPU usage reduction.
 Hexeract v1.1.0 includes wave-shaping and MPE-compatibility. Use a ROLI or other MPE controller and assign gestures (slide, press, glide etc) to Hex parameters. An MPE modulator tab has been added to facilitate control via an MPE controller.
A MIDI Routing tab has been added, allowing the user to route the arpeggiator to only select oscillators, assign MIDI channels select oscillators and adjust whether the keyboards in the KEYS tab control all, or select oscillators. This feature is mainly aimed at iOS users (iPad version coming soon).
Other 1.1.0 features include an envelope tab with more stage parameters (e.g. attack curve), a fantastic sounding overdrive FX module and master convolution reverb. Various UI improvements have also been added.
Rating:  Four out of five stars
HEXERACT has a great sounding engine and comes with a good selection of some included presets. It does have a niche where it is most used, that is a good position to be in.
I liked the atmospheric presets/soundscapes HEXERACT can create, also I just love the new include presets in Release 1.10 and the support of my ROLI board.. With the latest update published this week, it has risen up in the rating and is now a highly recommended synth.
Hexeract is a software tool that allows you a composer or producers to generate excellent results fast. You can produce cinematic soundscapes, moving basses and vintage vibes.
60% OFF Virtuosic Violin by Auddict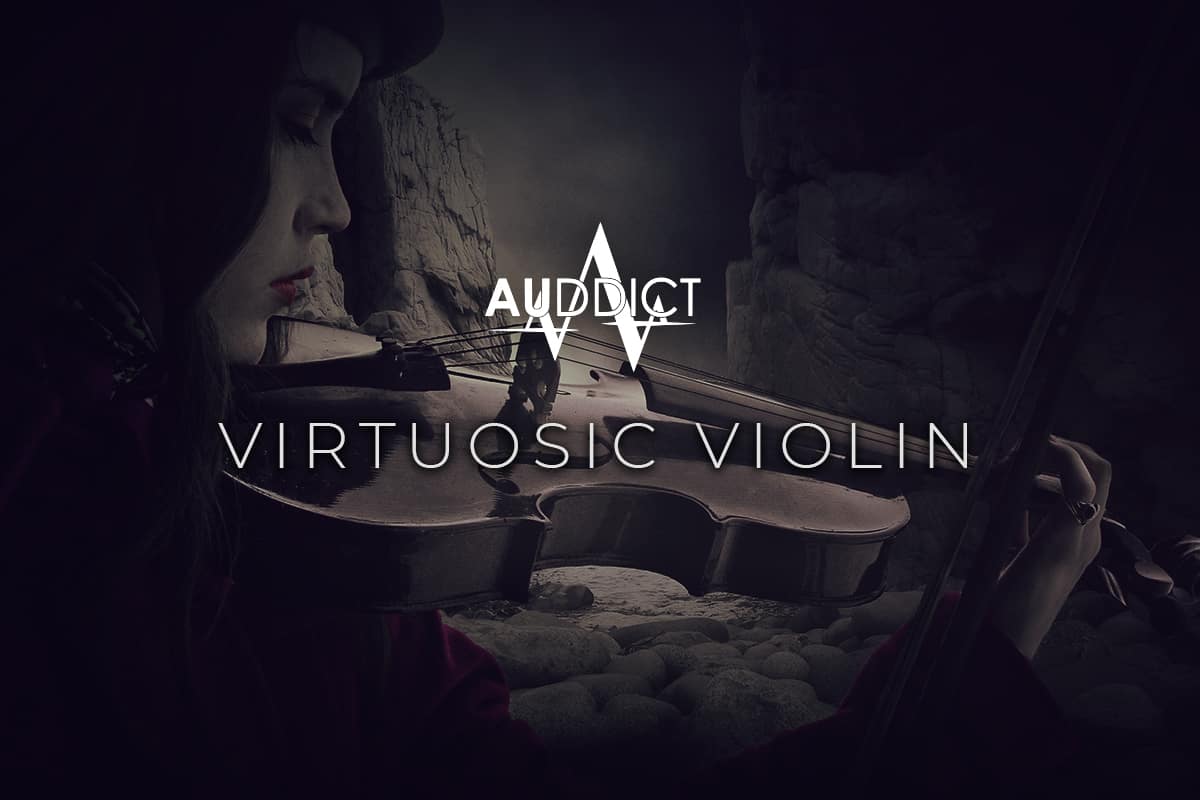 Virtuosic Violin by Auddict Sale
Weighing in at a massive 60 GB, The virtuosic violin by Auddict is a content-rich instrument, with many different articulations, legato modes, and other features, and much like a real violin, takes special care to ensure you get the most out of the instrument.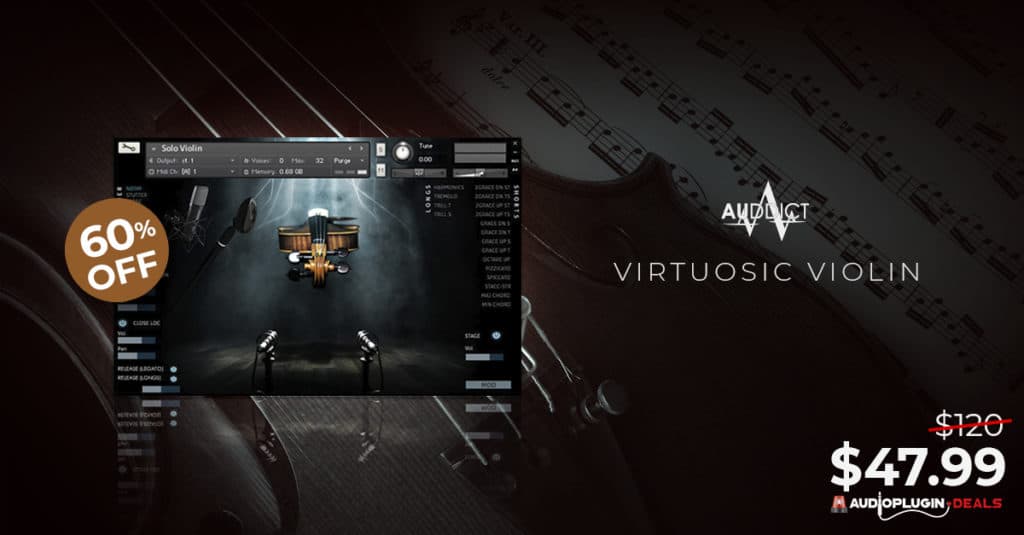 Everything in VIRTUOSIC VIOLIN (Affiliate Link) has been skilfully programmed to ensure everything is easily and readily accessible, to minimize any "learning time", and let you get on to writing music with virtuosic violin as soon as possible.
Slurred and bowed legato were specially sampled so you can correctly and realistically phrase passages. You also get a specially sampled "fast legato" set of intervals, which will allow you to play virtuosic runs and scale passages.
Auddict wanted to make VIRTUOSIC VIOLIN (Affiliate Link) even more musical, so they have once again used their idea of the "phrase builder", which allows you to select the attack, or beginning sound of a phrase, and then switch around the type of legato throughout a musical phrase.

One huge give-away that an instrument is a sampled one and not a real instrument is how the beginning of every musical phrase sounds the same. A great performer will not sound like this. They will vary the phrase beginnings, and perhaps start some quietly, some with an FP, some with a stutter, and so we have included five options for this, to ensure that your compositions sound evolving, musical, and extremely convincing.
The width of the stereo mic perspective can be changed by dragging the bottom pair of microphones in the interface, and dynamics can be brought up and down by either the mod wheel or expression Midi CC – depending on whether you have MOD or EXP selected in the bottom right hand corner of the instrument GUI, and the shorts' dynamics are controlled by velocity.
Pricing and Availability
This is a limited-time offer you should not miss, hurry and save! For only $47.99 (normally $120), get VIRTUOSIC VIOLIN (Affiliate Link), The most living, breathing solo violin virtual instrument by Auddict!
63% OFF Angel Strings Vol. 2 – FLURRIES by Auddict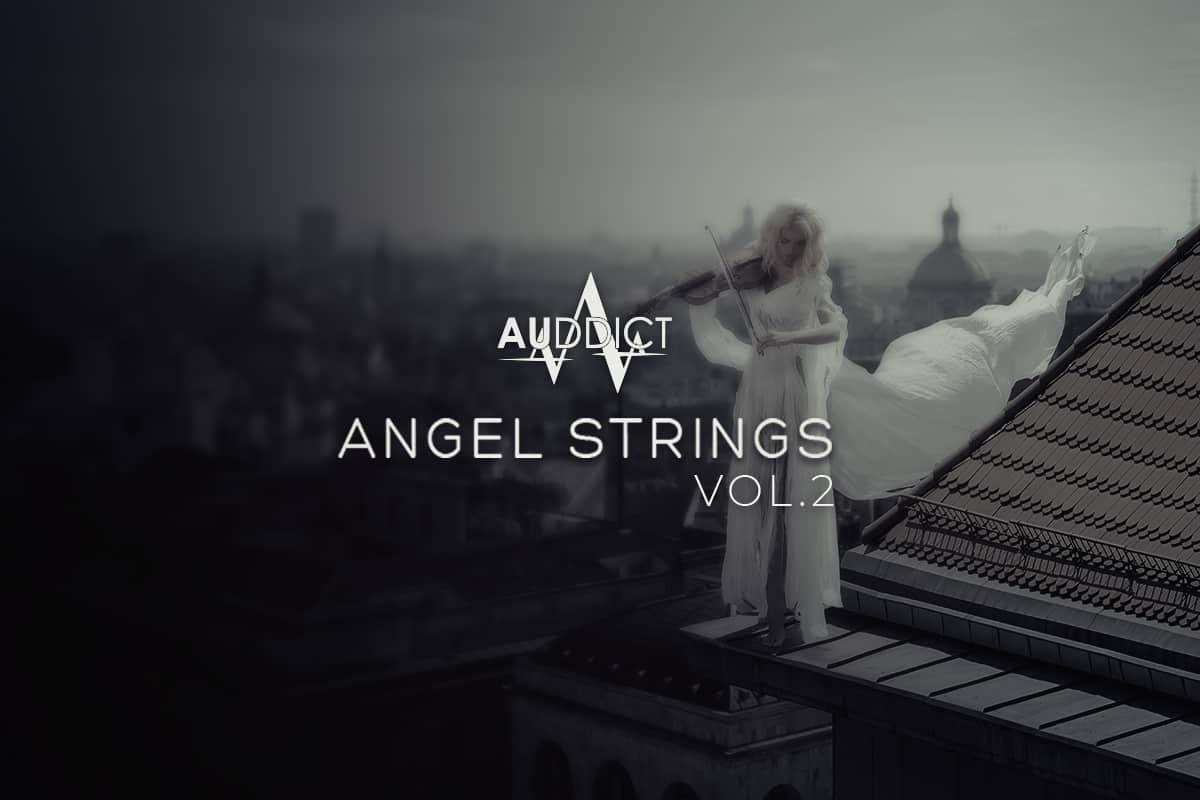 Angel Strings Vol. 2 (FLURRIES) by Auddict
For only $54.99 (normally $150), get ANGEL STRINGS VOL. 2 (Affiliate Link) by AUDDICT!
Weighing in at a massive 10GB, ANGEL STRINGS VOL. 2 (Affiliate Link) explores even more specialized string articulations and various orchestral textures. which includes completely unique, never before sampled articulations and an entire string orchestra range playable via keyboard-wide sample maps.
This library was recorded at Angel Studios in London, where countless pop/rock stars have recorded (notably Adele's "21"), and many major film and video game scores have been recorded, including The Lion King, Jackie, Blue Planet, Planet Earth, Horizon: Zero Dawn and many more.

ANGEL STRINGS: VOL.2 BEGINS
With this Vol.2 of ANGEL STRINGS (Affiliate Link) exploring even more specialized string articulations and various orchestral textures, the Auddict team decided that it will be released as a series of slightly smaller, expansion-pack style libraries. The advantage of this is that you can now choose exactly which articulations and techniques you'd like to purchase and add to your composing palette. These libraries will run separately and do not require Angel Strings Vol.1 to run.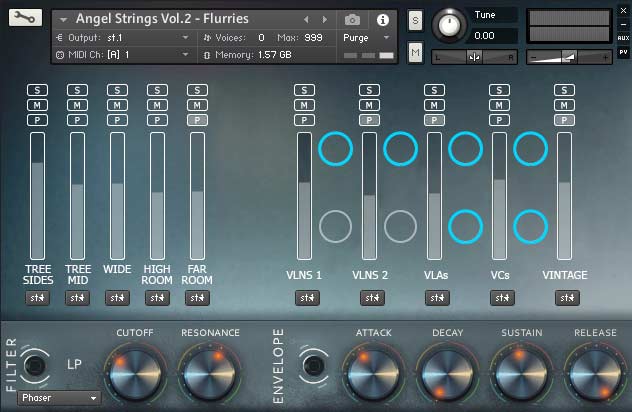 FLURRIES
The "flurries" refer to specially orchestrated sequences of notes played in quick succession by each player, creating a beautiful and lush string sound, which – due to the subtle spontaneity of the individual players – can really create the feeling of a real orchestra playing. We recommend watching the videos and listening to the demos as this is best demonstrated with music rather than words!
The flurries were orchestrated, recorded and programmed/mapped very carefully so that they can be performed, layered in different combinations and blend with other instruments smoothly. The techniques heard in this library are regularly written into orchestral music, whether it be modern film scores or romantic symphonies; however they are not sounds you can simulate even remotely with per-note sample libraries; they require specific orchestration and recording dedicated specially to these techniques, and we have done just that.
HOW DOES IT WORK?
This instrument is organised into five main articulations, each one having an almost keyboard-wide palette of sounds to choose from. The five articulations are named:
Ionian Flurries 3/5's
Aeolian Flurries 3/5's
Ionian Flurries + Bar
Aeolian Flurries + Bar
Fifths and Unis

The different articulation names refer simply to major and minor tonalities, as well as the notes used/techniques included. "Bar" stands for bariolage, which is a string technique where players quickly sweep the bow up and down the different strings to create quick arpeggios. Ionian can simply be thought of as "major" and Aeolian as "minor", so depending on whether your music/chord is major or minor, you'd know which articulations to use. Fifths and unis are just that, and can be used in any tonality!.
There is a lot to be explored in this library. Different articulations and flurries can even be used to add interesting harmonic content to your music, beyond the standard root-position chords, but we will leave this up to you; the composer!
Kontakt VST / AU / AAX (full version only – Player/Free version will run for 10 minutes at a time before plugin needs to be re-loaded)
Pricing and Availability
This is a limited time offer you should not miss! ANGEL STRINGS VOL. 2 (Affiliate Link) is available now for just $54.99 from January 11th until January 24th, 2021.
Checking Out Celestial Voices – Calypso by Auddict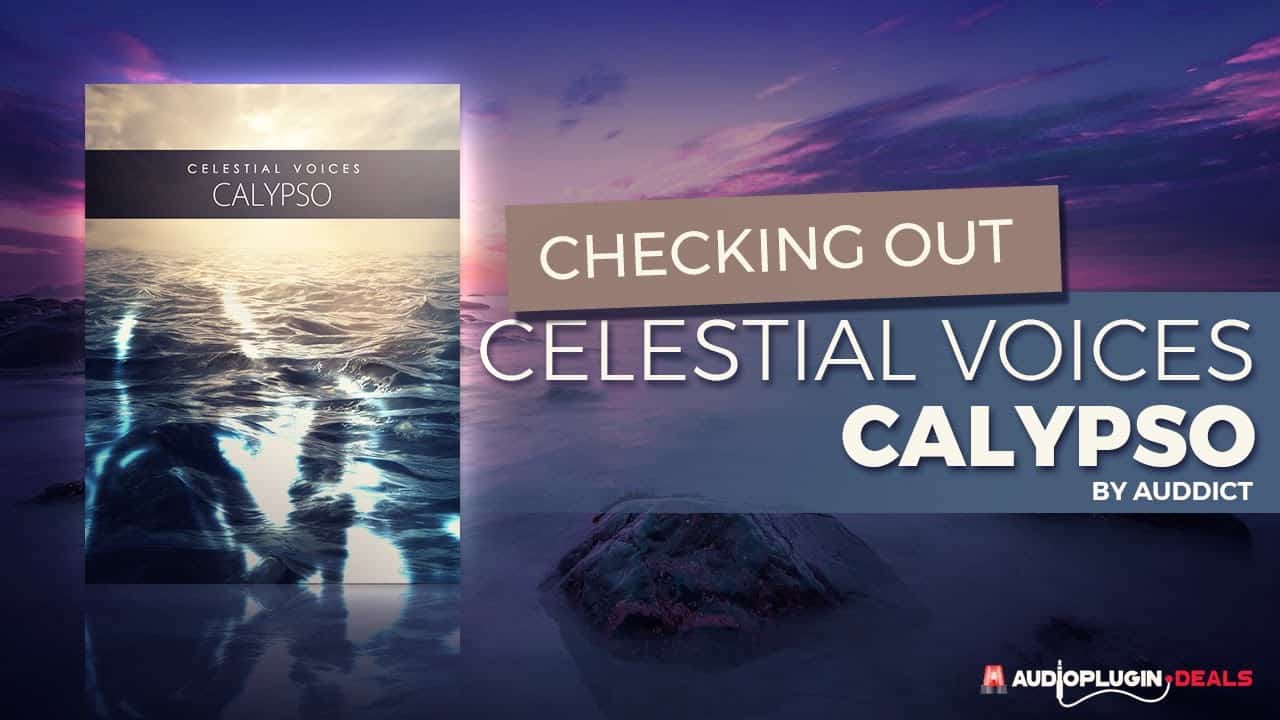 Checking Out Celestial Voices – Calypso
Celestial Voices – Calypso by Auddict is a beautiful and versatile female vocal sample library for Kontakt (FULL version required). The library includes true legato and multiple vowels (Mm, Ah, Eh, Ee, Oh) and even multiple consonants sounds for a unique, true-to-life performance every time.
The voice we have is perfect for nuanced. ethereal cinematic music, as well as bold, epic lines and even, can cover more operatic and ethnic territory as well. There's a really nice resonance in the upper range that can be very powerful depending on the articulation selected (for instance, Mm is almost always intimate and subdued, where Oh and Ah can be quite powerful and bold!)
There are 5 true legato modes, and in a nice touch, you are also able to select from multiple consonant sounds (sah, lah, rah, reh, leh, meh, fee, ree, tee, soh, roh, doh).
This selection will apply to the first word of the legato sequence only, and you can use the included keyswitches to create/morph your own phrases on the fly, all while retaining the super smooth and fluid legato transitions in between each note.
In addition to these features, they've recorded multiple mic positions, so you can totally sculpt the sound to be as dry, wet, up close, or as distant as possible. The stage mics allow you to dial in a magical, ethereal sound, while the spot mics offer more detail and power for something bold and epic.
Pricing and Availability
For only $39.99 (normally $106.18), get Celestial Voices – Calypso by AUDDICT!
As an affiliate, we may earn a commission from qualifying purchases. We get commissions for purchases made through links on this website from Amazon and other third parties.
StrongMocha is a magazine for music producers, audio engineers, and sound designers. StrongMocha Magazine provides the latest industry news, reviews of gear and software, tutorials on recording techniques, and tips for mixing.