Alder Violin
A solo violin library featuring expressive playing techniques. Performed by American violinist Jenavieve Vaga (after a chance meeting under a giant blue whale).
Jenavieve Varga is an American violinist and composer. Her work is collaborative, multi-genre, complex and cutting-edge. Taking up the violin at age 3, Jenavieve and her instrument have toured, scored, and recorded across 4 different continents.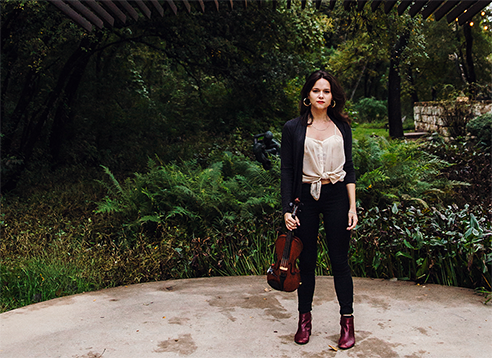 Notable performances include appearances at the Lincoln Center, Madison Square Garden, and All Tomorrow's Parties. She has been covered by Vogue, Billboard, and NPR, and is currently the Music Director for The Big Quiet.
Waverunner Audio is releasing seven sample libraries each one per day for seven days. Each Library is just £10 each for the fundraising period. For every sale, Hometree plant a tree. Each library part of the Seven Days will be £10 until the 18th of November, after which they'll go up to £25.
The Alder Violin Articulations: 
Expressive
Harmonic brush 
Harmonic sustains 
Low tide 
Trill maj 
Trill min
Expressive: a highly expressive medium sustain patch, a small swell into aching vibrato

Harmonic Brush: 'Brushing' the bow to create delicate, light and dancing harmonic shorts

Harmonic Sustain: held harmonic notes

Low Tide: held notes starting with a swell, then going to a delicate tremolo followed by random swells

Trills Maj: a major second interval trill

Trills Min: a minor second interval trill

Specifications:
6 articulations
Recorded at 96k, presented at 24bit/48k
140mb (Kontakt compressed from 330)
Requires the full version of Native Instruments Kontakt 5.6 +

Individually watermarked to you
Requires Pulse to download
If you want to support this initiative and plant a tree purchase Alder Violin and help to grow some new trees.
All libraries currently require the full version of Kontakt (5.6+).
All libraries are using the new Pulse downloader app to download the Seven Days libraries. Download Pulse here.
Hometree is a pretty essential idea, plant more trees. Hometree is on the Atlantic coast of Ireland, it's wet, windy and cold and it's where they first started a community garden, in an unused plot of ground about 100m elevation and about 600m from the coast. When Hometree planted the first apple trees the NGO were told they were mad, that trees found it difficult to grow here, but they didn't, they grew tall and strong and produce delicious fruits.
This was Hometree's reconnection to trees, they saw the birds come back and the soil in the garden improves, biodiversity, more life on the hill and the seeds of change blew in all directions. One direction was here to Hometree, a group of people inspired by the lack of trees in County Clare in West Ireland and hope that they could do our part in regenerating and reforesting this beautiful mythical part of Mother Earth.