LUMI by ROLI Now on Kickstarter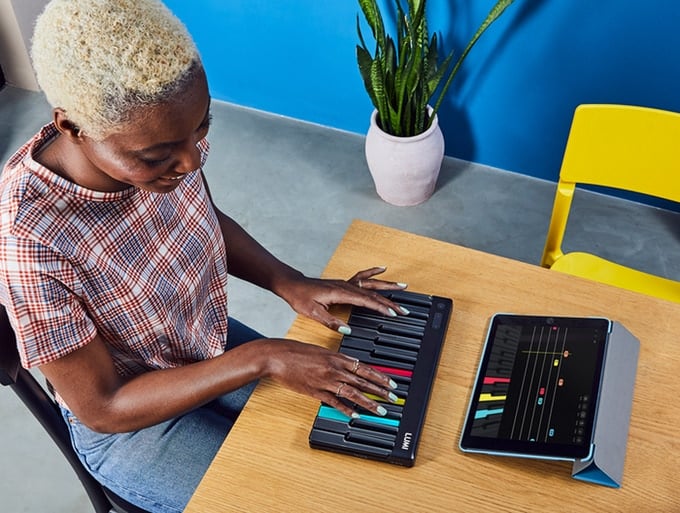 LUMI – The Smarter Way to Learn and Play Music
LUMI takes music learning to the next level. You can see it the moment you turn on LUMI Keys. The world's first modular, fully illuminated keyboard is different from any other midi keyboard you've seen. Shipping will begin in October, you can back it on Kickstarter. Update: In less than two hours the LUMI Kickstarter project has had over 600 pledges and crushed the £100,000 target.
Playing a musical instrument is one of the great joys of life. The only problem is, it takes years of practice. That's why a lot of people don't learn, even though they love music. ROLI has figured out a new, smarter way to learn and play. LUMI lets everyone play and jam along to hit songs. You'll be more musical in minutes — and amazed at how quickly you progress!   
ULL-COLOR ILLUMINATION
Play anywhere. LUMI Keys glows, even outdoors. ROLI Brightkey™ technology makes it the brightest keyboard ever made. State-of-the-art ray trace analysis and a Fresnel Lens-inspired design create 10,800 millicandela of light in each key distributed from end to end.  LUMI Keys is a MIDI controller, so you can connect via USB to any of your favorite DAWs (Digital Audio Workstations), plug-ins and apps, on desktop or mobile.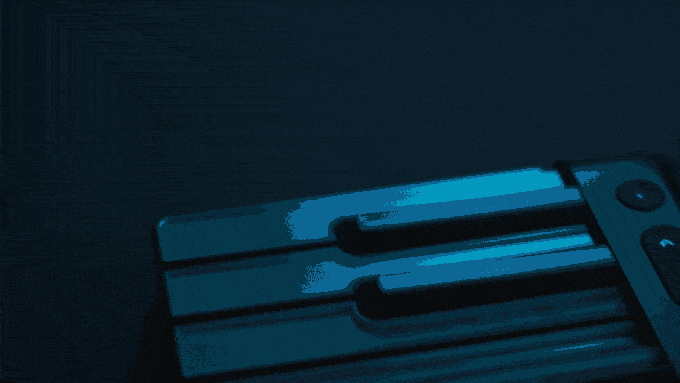 LUMI is a fully illuminated keyboard and interactive app. Everything is connected by light and color. Just follow the colors in the app and the lights on the keyboard, and you can't go wrong. LUMI Keys and the LUMI app work together so you can learn while playing with LUMI. The LUMI app will be available for the latest versions of both iOS and Android.
ROLI is putting together an amazing library of 100s of songs that span the range from pop to classical for the LUMI App. LUMI Keys is a MIDI controller rather than a standalone synthesizer. That means you will need to connect to the LUMI app — or other desktop or mobile music making software — to make a sound. The LUMI app is only compatible with LUMI Keys — it will not work with ROLI Seaboards or BLOCKS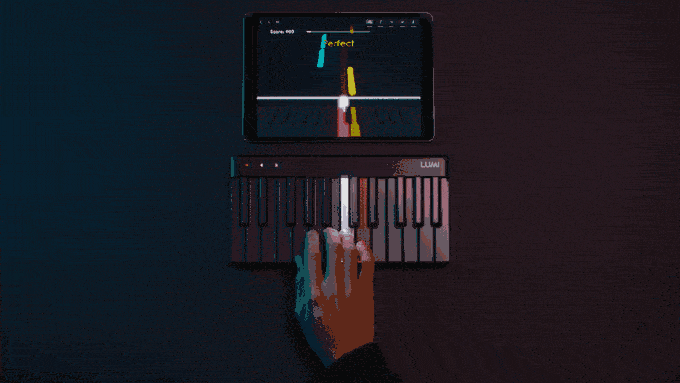 ROLI Equator2 & Upgrade Introductory Sale
ROLI Equator2
Equator2 is ROLI's revolutionary MPE synthesizer, taken to the next level. Create and sculpt any sound imaginable using a vast collection of contemporary synthesis techniques, effects and modulators. Explore an extensive, diverse library of presets, as well as carefully recorded multi-samples. Push the boundaries of expressive sound design with Equator2.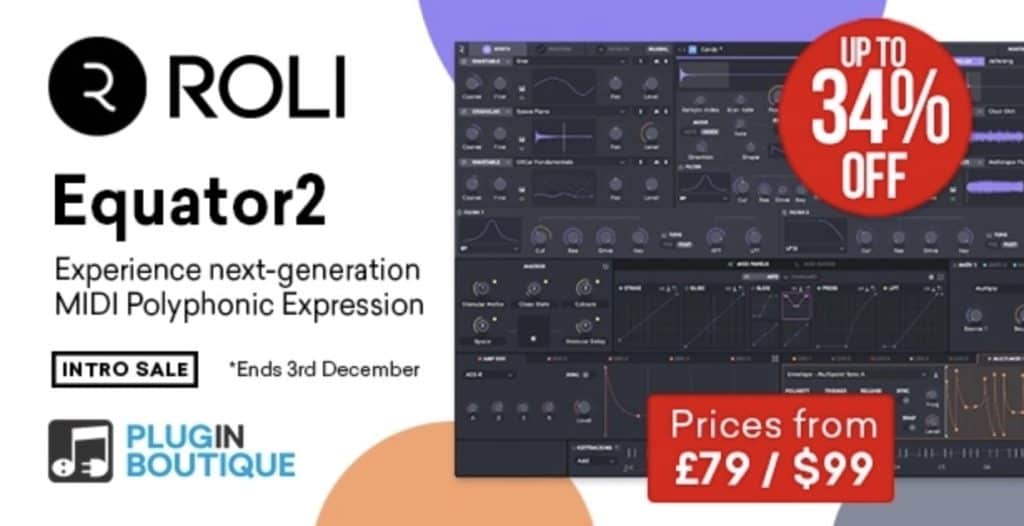 Equator2 (Affiliate Link) is ROLI's revolutionary MPE synthesizer, taken to the next level. Save % and upgrade from Equator, ROLI Studio, Strobe2, or Cypher2 for only £79 / $99.
Plugin Boutique ROLI Introductory Sale
ROLI Sale
ROLI are creating the musical instruments of the future. Plugin Boutique welcomes ROLI (Affiliate Link) to their selection of available synths and products with 30% off their innovative production tools and expansion packs, including their complete production suite ROLI Studio.
10 Best Midi Controller Keyboards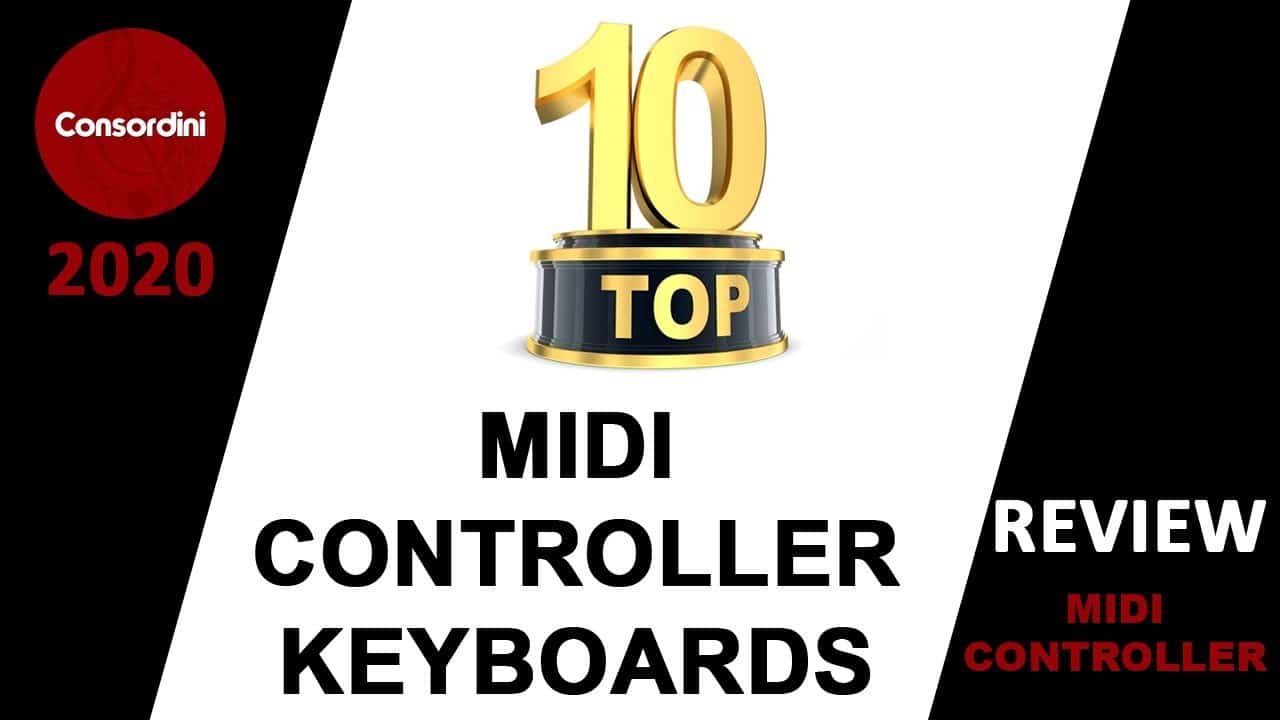 10 Best Midi Controller Keyboards
This midi keyboards review is sorted by price, from the cheapest to the most expensive, ranging from $100 up to over a $1000, including brands such as AKAI, Native Instruments, Novation, M-Audio and many more.
Anything from best studio midi keyboard to professional midi keyboard for people who want durability during their tours and shows.
What makes a good midi will always be a topic of debate, but that's why we tried to include as many different midis as possible. Hence, this list includes top midi controllers for any purpose.
As the price becomes a main aspect of the listings the midi keyboard keys become a significant aspect of identification. As some entries are 2 octave midi keyboards, they highlight an important difference in price and purpose.
While one of the 2 octave entries might be a good midi keyboard for production, other is a high end midi controller for a very specific use with 5D VSTs (the first being a popular option from AKAI – the MPK Mini MkII and the latter the inventive ROLI Seaboard Block).
When reaching the upper end of 8 octaves we start encountering the best midi keyboards for live performance, from AKAI Road 88 to M-Audio Hammer 88 which are not just great choices for musicians but are also the best midi synthesizer and the best touch sensitive midi keyboard that replicate a piano to the highest standard.
But that's not all you'll find on the list, as we also focus on the best small midi keyboard controllers, that allow you to travel with ease, not worrying about big, cluttered setups.
We end up with a mix of midis designed for comfort and midis design for the comfort of production.
From both the start and the end of the list, we have the best mini keyboard for music production and the best music production keyboards in general – reaching the high mark of over $1000.
We also didn't forget about ease of access, some of these are desktop midi controller while others studio midi controller, showing a wide range of keyboards, guaranteeing you'll find at least one that will grab your attention.
At the end of the video, we also include comprehensive charts that show that if you're looking for the best midi controller keyboard with drum pads, you might not need to shell out that much money, as the price doesn't always translate to the number of knobs or buttons you get, but if you look into all of them individually, you'll quickly realise that they are the best midi keyboard for a reason.
We hope you enjoy our midi controllers reviews and find at least one keyboard you would like to grab for yourself.
We tried to include as many options as we could, looking at the top midi keyboard controllers from the most prestigious brands in the market.
Obviously, trying to cover everything in one list, might have lead us to not include a keyboard that you would regard as the best midi keyboard out there, but please understand that we are limited by only 10 slots, so we have to carefully choose what to include, to cover as much as we can.
But if you feel like you have a better entry for the best midi keyboard controller for live performance or the best midi keyboard with drum pads, we encourage you to share your opinion in the comment section below so we can see your opinions and see what else would be a good choice.
Also, don't forget that all of these are great midi keyboards and even though some are more expensive than the rest, it doesn't mean that a cheap option is worse.
Depending on your budget or skillset, a lower end midi might just be exactly what you're looking for as midi controllers with aftertouch might be a just what you're looking for or that sentence didn't even make any sense.
As an affiliate, we may earn a commission from qualifying purchases. We get commissions for purchases made through links on this website from Amazon and other third parties.
StrongMocha is a magazine for music producers, audio engineers, and sound designers. StrongMocha Magazine provides the latest industry news, reviews of gear and software, tutorials on recording techniques, and tips for mixing.