Thousands of records have inherited their "sound character" from the British gear Acustica Audio sampled for this incredible suite. You're going to love Navy's extensive limiting and compression capabilities, thanks to our faithful emulations of two cherished modern dynamic processors made in the UK: a 2254 reissue and a modern 33609 (an evolution of 2254 itself). Over the years, the unique sound quality and ease of use of these devices have made them a de-facto standard in recording studios.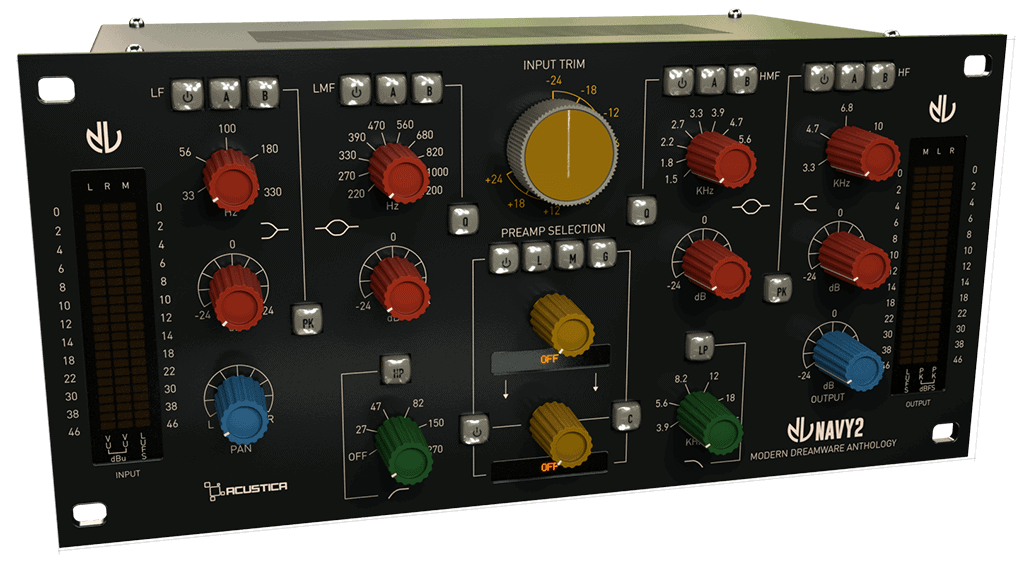 THE EQ SECTION
Navy2 EQ consists of two switchable 4-band parametric equalizers (A-B) plus an additional high and low-pass filter set. Model A is derived from a modern British recreation of a vintage console EQ module (built by the original manufacturer brand). Model B, instead, is based on an original, highly sought-after vintage British EQ module.
Both A and B equalizers deliver a clear, smooth and musical sound, but there are sound differences between them that deserve further explanation:
Model A is the perfect choice to satisfy your need for a classic sounding, high-quality equalizer. Their emulation reflects exactly the behavior of the EQ section of a celebrated modern console based on this trademark British EQ circuitry. This contemporary recreation of a classic topology gives the same 'musical' sonic qualities as the original, only much cleaner and quieter. Acustica Audio just love the warm qualities it possesses as well as its ability to boost without getting harsh or unmusical
Model B embodies the essence of the original unit that has lent its big, wide and characterful analog color to countless hit records. Acustica Audio is confident that it is going to be one of your main mixing weapons, given its capability to effortlessly add a warm low end and a pleasing top end. Many celebrated sound engineers simply love this equalizer because of its classic sound and sheer ability to handle a variety of sources with musicality and ease.
THE PREAMP SECTION
It is based on a collection of various hardware units; it emulates the frequency/phase response and harmonic distortion of their corresponding circuits. Equipped with the newest Core 14 AI engine, Navy2 is capable of executing any combination of these pre-amps by generating a single impulse response program; this helps to dramatically reduce the CPU consumption of the plug-in.
This carefully chosen collection of pre-amps is intended to provide you with a complete virtual console emulation with all its flexible and colorful options.
THE COMP SECTION
NAVY2 COMP is a plug-in emulation inspired by 2 different British units.
The first compressor emulation is a faithful and improved reissue of a classic vintage British dynamic processor, a true piece of recording history. The mere fact that this device is still built and sold after 50 years from its first appearance (1969) speaks volumes about its sonic qualities.
It can work as a compressor (with a fixed attack time, 3 release times and 6 ratios) or as a limiter (with 2 attack times, 3 release times and a fixed 8:1 ratio).
The second compressor emulation included in Navy2 is, again, a modern recreation of a British classic.
The model Acustica Audio sampled for this emulation was first designed in 1973 as an evolution of the compressor/limiter cited above. At first, it was intended simply as a rack version of the dynamic processor previously included in the mixing console, but then it evolved into a more refined device.
This emulation offers the same controls as Comp/Lim1, except for an additional fourth Release Time setting, both in compressor and limiter modes.