Auburn Sounds Panagement 2
Auburn Sounds Panagement 2 is a spatialization plug-in that carefully integrates Binaural positioning, Reverb, and Delay. The effect plugin Panagement is remarkably realistic and also works for unnatural sound shaping. With Panagement's algorithmic reverb, as opposed to being lush and diffusive, is rather tame and sparse, in order to easily fits in the mix.
Panagement is the spatialization laboratory that has found its way to thousands of studios around the world. Panagement gives you raw power over your stereo tracks.
The Binaural Distance Panner lets you position a track anywhere in the sound field
The Reverb increases the realism of distance modeling with automatic early and late reflections
Width and Tilt open your mix to unforeseen decisions
The LFO dramatically extends the possibilities (eg: reverb ducking)
The Binaural Delay revisit the product, allowing more spatial complexity
Comes with the sought-after PGMT-400 chip mod
Panagement 2 Features
Binaural panning and Distance modeling,
Reverb (automatic early and late reflections) with 5 realistic room models,
Binaural Delay (FULL Edition only),
LFO that modulates pan/distance/gain/tilt and can duck reverb,
Stereo Width control,
Tilt filter for broad mix changes,
Alternative processing unit with the PGMT-400 mod (FULL Edition only)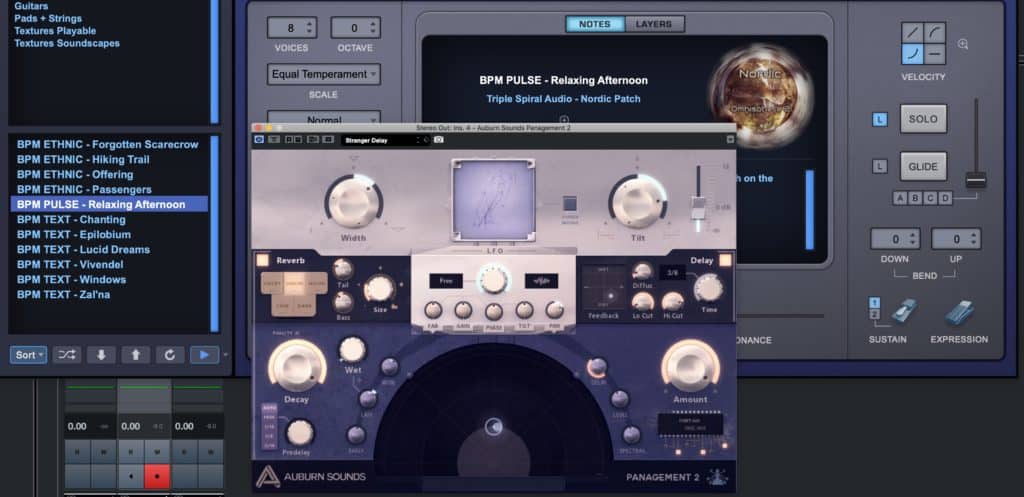 Ideas for the use of Panagement 2
Position a source in the binaural field in one click
Produce tracks enter/exit the mix, fading into the reverb
Compose it seem like you are in a real room
Make lush hall reverbs or realistic rooms
Create tempo-synced modulations
Create a delay where each tap is placed binaurally.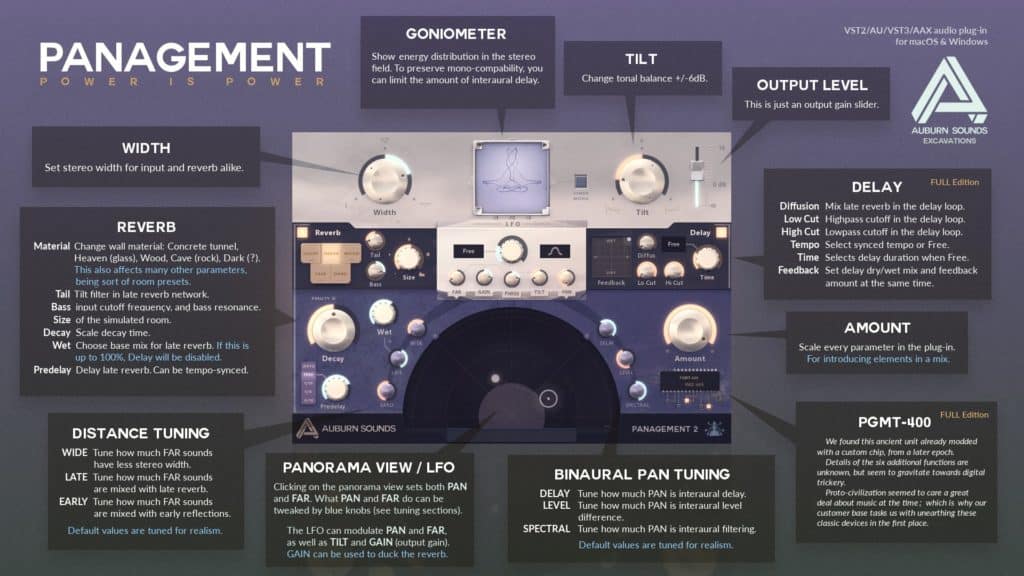 Availibility
Panagement 2 is available now. There is special pricing available for a limited time. The tool is a VST2, VST3, AAX, and Audio Unit plug-in both for Windows and macOS.