New Toy Piano for Creepy Halloween Scores
Toy Piano Released Fracture Sounds 
The sound of the Toy Piano is produced by hammers striking metal rods (tines), resulting in a unique bell-like tone. The instrument was close mic'd in stereo, in a dry studio, giving you the flexibility to add as much or little reverb as you like.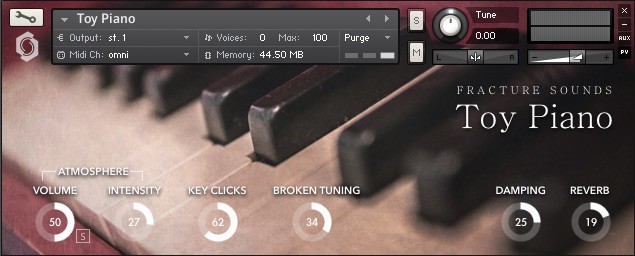 The original instrument has some natural tuning deviations due to its age. Although this adds a certain charm and authenticity, Fracture Sounds know everyone's tastes is different. After sampling the instrument Fracture Sounds painstakingly optimized the tuning note-by-note. To restore some of these natural tuning deviations, they added the 'broken tuning' dial, which allows you to choose how in-tune the instrument sounds. Set it to 0 for a modern/pristine sound for upbeat children's music, or all the way up to 100 for your creepy Halloween scores.
Toy Piano Features
Traditional upright Toy Piano
Deep sampled with up to 8 round-robins and release samples
3-octave playable range (extended from the 2-octave range of the original instrument).
Adjustable 'atmosphere' sound design layer.
Simple and user-friendly interface.
150MB download size (NCW compressed from a 300MB sample pool).
Requires the full version of Kontakt 5.3 or above.
The newest extension to Fracture Sounds range of affordable and lightweight instruments, ready to play straight out of the box and easily tweakable with the familiar easy-to-use GUI design you've come to expect from Fracture Sounds products. This product requires the full version of Kontakt 5.3 or above. It will NOT work in the free Kontakt Player.
Atmosphere Layer
Fracture Sounds added an 'atmosphere layer', specially designed for this instrument, which can be blended with the raw Toy Piano to create an eerie ambiance. The mod wheel gives you control over the intensity of the layer, allowing you to ride the dynamics and add additional expression. Fracture Sounds has added the option to solo the atmosphere layer, so you can use it as a pad in isolation, or blend it with other instruments.
Availability and Pricing
The Kontakt library is available now at and reduced Intro price of €11.99 (ex. VAT). The Toy Piano Intro sale ends on October 31st.
Fractal Sounds – Vapor Voices – Create Immersive Soundscapes With These Vocal Effects for Pigment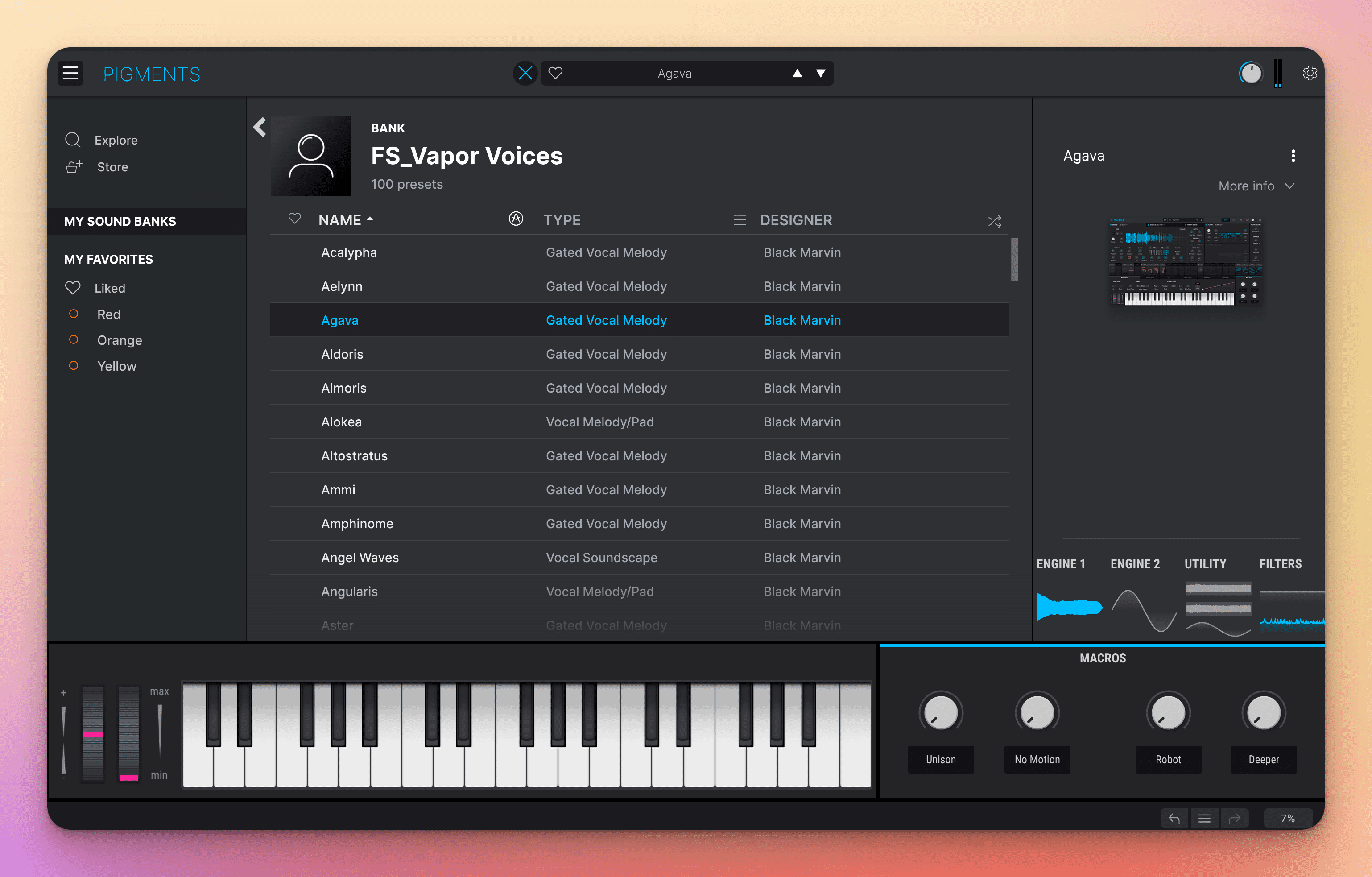 Fractal Sounds – Vapor Voices for Pigments 3
What do you get when you mix vaporwave and modern classical music? The answer is something that sounds like a coloring book coming to life. Fractal Sounds is an electronic artist who creates these mesmerizing soundscapes with influences from both genres.
If you're looking for something to relax your mind and take you on a journey, the latest release, Fractal Sounds – Vapor Voices for Pigments 3, is worth a "look". Each "soundset" feels like its painting, with layers of pads and synthesizers that create an ethereal atmosphere. Whether you're new to the genre or just looking for some new music to relax to, be sure to check out the soundset for Pigments 3 below!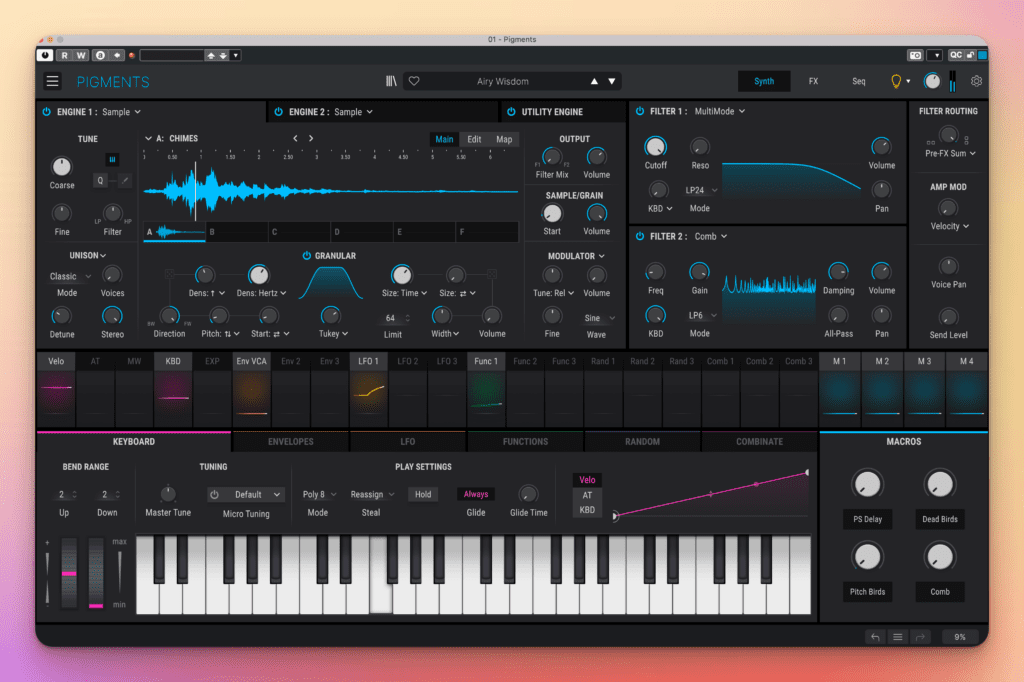 Shamanic Voices and Vapor Voices
Shamanic Voices and Vapor Voices for Pigments may not share the same universe, but they offer readers a unique and engaging experience. Shamanic Voices tells the story of a young woman who discovers her shamanic powers and must use them to defeat an evil spirit. Vapor Voices for Pigments, on the other hand, follows the adventures of a group of teens who discover they can control pigments with their minds.
Despite their differences, both soundsets share a sense of adventure and intrigue to appeal to readers. In addition, both Pigment soundsets are designed in an alluring and engaging style that will keep listeners occupied from beginning to end. Whether you're looking for an exciting new world to explore or want to be considered, Shamanic Voices and Vapor Voices for Pigments are sure to please your audience.
Zoe Sol's Voice
Fractal Sounds is always looking for new talent, and they struck gold when they found Zoe Sol. She's a classically trained opera singer with a powerful voice that can fill any room. But what Fractal Sounds loved about her was her versatility. Zoe can sing in various styles, from metal to pop to jazz. And she's not afraid to experiment with her voice, which is why Fractal Sounds knew she was the perfect person to provide vocals for their latest preset pack. With her incredible range and willingness to try new things, Zoe Sol is sure to become a favorite among Fractal Sounds fans.
Fractal Sounds – Vapor Voices Soundset for Pigments 3
Vapor Voices is an ethereal and mesmerizing vocal soundscape that will transport you to another realm. Zoe Sol's voice is beautifully integrated within Pigment's granular synthesis engine, creating a lush and deep soundscape that is both dreamy and futuristic. The result is a truly unique and otherworldly experience perfect for relaxation or deep meditation tracks.
If you're looking to add a little zen to your youtube channel, why not try creating your relaxation or deep meditation tracks? You can use anything from classical music to nature sounds to create a calming and soothing atmosphere. Just make sure to choose a style that fits your overall channel theme. You don't want your viewers to be confused when they stumble across your relaxation tracks while trying to watch a funny cat video!
Once you've created your tracks, all you need to do is add some visualizations or relaxation techniques, and you're good to go. Your viewers will appreciate having a place to relax and unwind, and you'll provide them with valuable content that they can use repeatedly. So why not give it a try? You might get a little calmer and more relaxed in the process!
Whether you are looking to escape the hustle and bustle of everyday life or connect with your higher self, Vapor Voices will take you on a journey you will never forget.
Percussion Sample Library made of Cardboard Boxes? | Fracture Sounds Box Factory
Fracture Sounds Box Factory
Ok, I was skeptical when I heard of that Kontakt percussion sample library made of cardboard boxes. In this video, let's explore Fracture Sounds Box Factory and how to spice up your existing compositions and percussion sample libs.
Box Factory an Unprecedented Cinematic Percussion Kontakt Library
Box Factory by Fracture Sounds
Fracture Sounds released a new Kontakt library for the free Kontakt Player. Box Factory is an unusual cinematic percussion library prepared for professional composers and producers alike, featuring a huge 40-piece ensemble of cardboard boxes, masterfully sampled in a concert hall.
Fracture Sounds assembled six performers and 40 boxes of different shapes and sizes in a concert hall and curated 13 unique ensembles ranging from large to small boxes with a range of stick types and performance techniques.
The sound of Box Factory is familiar, yet totally unique. It is presented in a way that will feel at home if you've used any other percussion library – you can approach it in the same way as you would toms, taikos, and snares – yet it offers a certain organic, raw, and tactile sound that is unlike any conventional percussion instrument.
Whether used as the sole percussion instrument in composition (as is the case with all the demo tracks on this page), or layered with other drums, the diverse tones and flexible sound-shaping controls offered by Box Factory will be an essential sonic ingredient for anyone looking to freshen up their percussion palette.
Box Factory Sound
Fracture Sounds returned to the same concert hall where they recorded Glacier Keys, Frozen Percussion, Dulciano, and many others. Using a selection of 32 top-shelf microphones from Neumann, Coles, DPA, and Sennheiser, Fracture Sounds captured the ensembles from multiple perspectives in the room. From these recordings, the company created four distinct mixes – Natural, Aggressive, Gritty, and Snappy – giving you a diverse palette of sounds to complement any musical style.
Natural – This mix is the closest sound to the source recordings. With just some gentle processing to enhance and polish the raw recordings, the Natural mix is perfect for those situations where an organic, un-hyped sound is required.
Aggressive – With a carefully selected processing chain, the Aggressive mix turns up the heat and adds some extra dirt and girth. The heavy compression and saturation in this mix bring out the ambiance in the room mics, and this can be manipulated further with the 'Punch' and 'Decay Trim' controls to yield a wide range of results.
Gritty – This mix chain uses some pretty unusual processes (including running the signal through a bass amp!), and offers a very powerful sound with some real mojo, and a particular emphasis on the mid-range. The Gritty mix is Fracture Sounds personal favorite.
Snappy – While the Aggressive and Gritty mixes are focused on hyping the raw recordings so they sound larger than life, the Snappy mix is the opposite. This mix offers short and snappy hits with sharp transients and a less roomy sound. With an emphasis on dynamic range, the Snappy mix is super responsive under the fingers and feels great to play.
Each of the four mixes includes three individual microphone perspectives (Close, Mid, and Far). These signals can be blended with ease using the 'perspective' slider, or controlled with greater precision using the separate microphone faders, letting you dial in the perfect amount of ambiance, whether you want a dry 'studio' sound or a spacious sound that sits at the back of a mix.
Rhythm Engine
The Rhythm page contains a step sequencer for easily creating tempo-synced rhythms. Velocity and lp/hp filter cutoff can be controlled per-step by dragging across the interactive tables. When the Rhythm Engine is engaged, pressing a key will play the inputted rhythm using the articulation assigned to that key.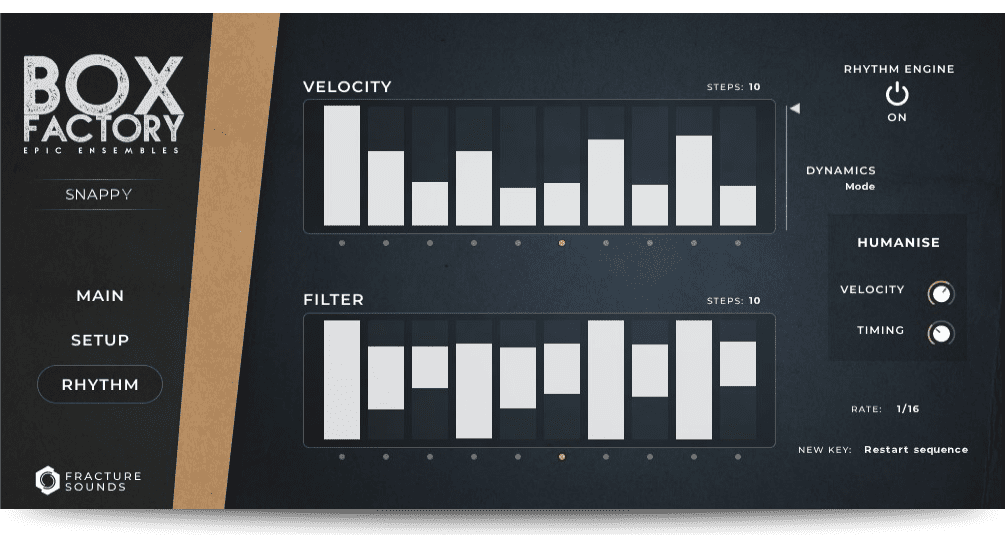 Pricing and Availability
Box Factory is available now.
As an affiliate, we may earn a commission from qualifying purchases. We get commissions for purchases made through links on this website from Amazon and other third parties.
StrongMocha is a magazine for music producers, audio engineers, and sound designers. StrongMocha Magazine provides the latest industry news, reviews of gear and software, tutorials on recording techniques, and tips for mixing.