SOLO Clarinet by Cmusic Production
Cmusic Production has released the SOLO Clarinet in B Library for Kontakt.
The SOLO Clarinet Kontakt library is designed to allow the user to realistically simulate almost any melody that a real clarinet in any style can play – whether it's jazz, classical or folk.
The Instrument was recorded using two microphones (A is a large aperture with a cardioid pattern, and B is a ribbon microphone with an eight). This allows you to change the balance between the two microphones to achieve a more suitable tone.
Legato, Portamento, Glissando Velocity control.
3-x round robin sustain non-vibrato for each note (6 layers).
Sustain vibrato for each note (5 layers).
3-x round robin staccato for each note (5 layers).
3-x round robin marcato short and long for each note (4 layers).
2/4 and 4/4 tempo sync swells (120 BPM default, 2 layers).
Rips chromatic short, medium and long (3 layers).
Crescendo short and long.
Diminuendo, pfp.
Trills HT, Trills WT, Flutter, Growl, Sliders long and short, Ends.
Fast trills between notes in octave range.
Humanize function.
3.26 GB on disc, 5 271 samples, 44.1 kHz / 24-bit.
Availability and Pricing
Available at an introductory price of $51.35 until October 30th. Requires full version of Kontakt 5.
ABBEY ROAD ONE: MYSTERIOUS REEDS – Evoke a Magical and Mysterious Air in Your Compositions!
Step into the world of Abbey Road One: Mysterious Reeds. This library is perfect for adding a touch of magic and mystery to your compositions. Featuring a wide range of textures and sounds, this library is great for all kinds of music, from orchestral pieces to film soundtracks. With its lush and evocative sounds, Abbey Road One: Mysterious Reeds will give your music a truly magical feel!
The Perfect Library for Your Next Film Score
With this fascinating backdrop to Abbey Road's famous Studio One, you can evoke a warm and mysterious atmosphere in your songs. Pairings of 2 Oboes and 2 Clarinets and 2 Clarinets and 2 Bassoons offer an intriguing alternative for a darker, more mystical sound utilized by the cream of Abbey Road film music composers.
These reeds are excellent for adding a regal tone to orchestral compositions and any other type of composition that wants to incorporate magical and perplexing textures. Mysterious Reeds, with a lush delicacy fitting the most epic of Abbey Road scores, captures the intricacies of this essential orchestral section.
Create Suspense, Drama and Intrigue in Your Music
John Williams, Howard Shore, and Jerry Goldsmith were all influenced by reed techniques utilized by composers such as John Williams, Howard Shore, and Jerry Goldsmith. Mysterious Reeds has a timeless, emotional sound that is filled with dramatic impact and is ideal for expressive works.
The Library at the Heart of It is a fascinating and mystical work, which can be utilized for both tactile effects and royal tones.
Add a Touch of Magic to Your Compositions
With Abbey Road One: Mysterious Reeds, you can evoke a warm and mysterious atmosphere in your songs. Pairings of 2 Oboes and 2 Clarinets, as well as 2 Clarinets and 2 Bassoons, offer an intriguing alternative for a darker, more mystical sound. These reeds are excellent for adding a regal tone to orchestral compositions and any other type of composition that wants to incorporate magical and perplexing textures.
Mysterious Reeds is a unique and elegant alternative to the Abbey Road One orchestral series' existing honky-tonk brass instruments. It adds an exotic, esoteric sound to the collection's already distinctive woodwind timbres in the unmistakable acoustics of Studio One at Abbey Road.
Abbey Road's Studio One
The famed Abbey Road studios are where The Beatles recorded 'Abbey Road,' 'Let It Be,' and other hit songs. Studio One, which was constructed in 1933, is recognized as one of the world's finest acoustical spaces. It has an indelible link to scores produced there that adds emotion, atmosphere, and magic to
Studio One has recorded classics like Star Wars, Lord of the Rings, Harry Potter, and Avengers: Endgame. Studio One's sound is wide screen and massive thanks to its deep tonality and well-known reverb. It truly is movie history in terms of sound.
A Mysterious Collection of Cinematic Textures and Sounds
The sound in this series is wonderful. Technically very narrow, but inexpensive and easy to acquire. A 90-piece symphonic orchestra that was our first collaboration with Abbey Road Studios, Mysterious Reeds is a standalone library based on Abbey Road One: Orchestral Foundations.
The unmistakable acoustics of Abbey Road Studio One, exceptional players, award-winning sound engineers, and priceless microphones all allow you to quickly and easily create film scores. Elevate your existing symphonic orchestra toolkit or combine it with Orchestral Foundations to craft soaring, heroic themes.
Ancient Greek Winds Nine Carefully-Sampled Traditional Greek Woodwind Instruments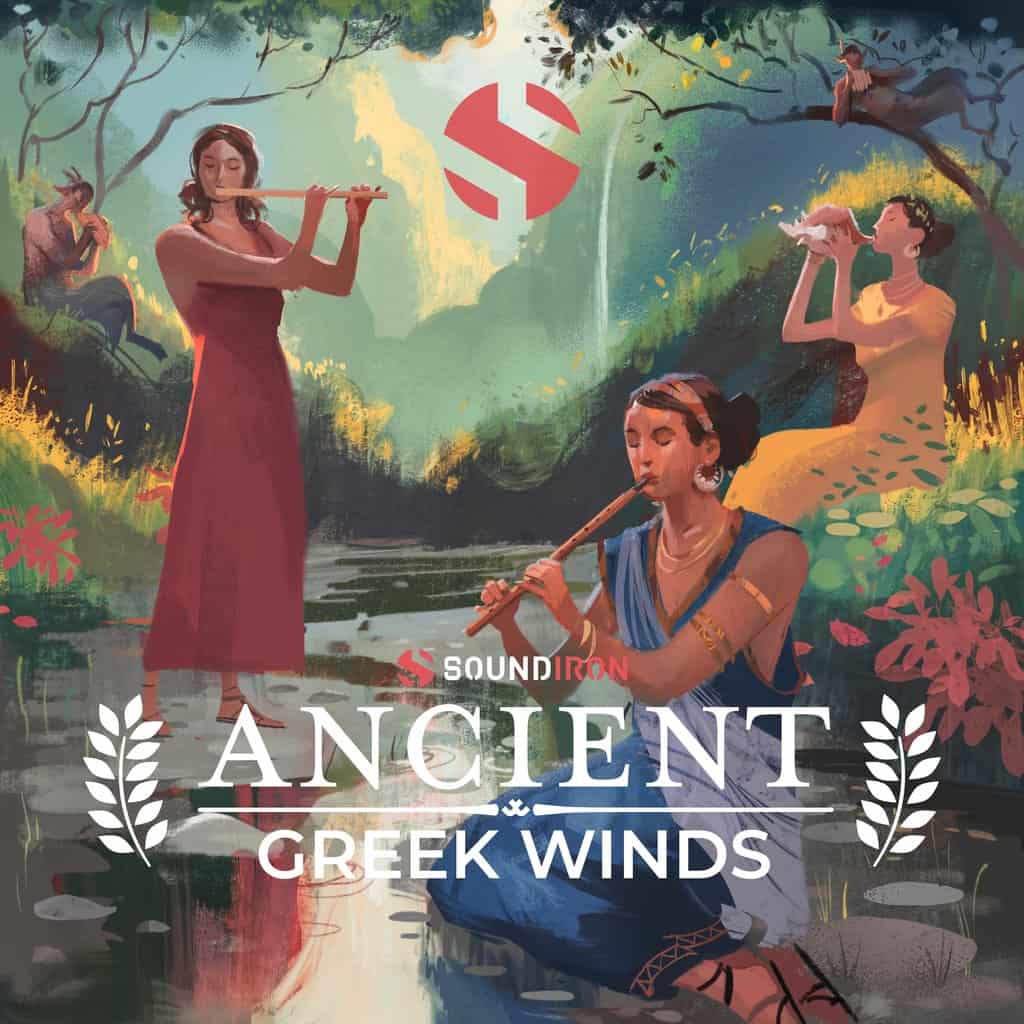 Ancient Greek Winds
Ancient Greek Winds is a collection of nine carefully sampled traditional Greek woodwind instruments capturing the essence of the classical Hellenistic period. This group of restored artifacts includes single and double-reeded aulos flutes from bass to alto, as well as conch shell horns, brass salpinx horn, pan flute, and plagiaulos. Each instrument is fully playable, with sustains, staccatos, true legato, dynamic expressions, and effects tailored to its specific characteristics. Ancient Greek Winds is the perfect melodic complement to our Ancient Greek Strings and Ancient Greek Percussion libraries. Each instrument was hand-crafted using period-accurate methods, building materials, and tools by the Athens-based historical research group LyrΑvlos, led by Panagiotis Stefos. Fashioned from wood, reeds, conch shells, and bronze, these musical treasures faithfully explore the distant musical past and would be right at home in the hands of bronze-age musicians over 2,500 years ago.
Every instrument was recorded in precise detail by producer John Valasis, with round-robin variations and multiple dynamics and voicings. You'll enjoy our flexible GUI features and a wide selection of chromatic and special effect articulations. The interface provides complete performance controls, including true legato response control, simulated portamento bending, arpeggiator, flexible step-sequencable filter, and LFO systems, and a modular DSP FX rack to shape your sound however you wish. We've also created 20 unique sound-designed ambiances directly from the raw acoustic source recordings to give you added texture and even more creative potential. Ancient Greek Winds includes 3,517 24-bit 48kHz stereo samples and weighs in at just over 4 GB.
About JOHN VALASIS
Ancient Greek Winds was recorded by John Valasis. John is a Greek-born composer, producer and sound designer. From his Athens-based studio, he delivers scoring, foley, and sound design services for many local and international clients. John's clientele includes prestigious brands like Native Instruments, Ableton, Soundiron, Virgin, Amazon Prime Video, Vice Magazine, and BBC. John is also a roster of Ninja Tune's imprint Just Isn't Music, alongside artists like Amon Tobin, Bonobo, Flying Lotus, and The Cinematic Orchestra.
Lyravlos is a historical organization, musical ensemble, and research group that recreates authentic bronze age instruments, using the same raw materials as instrument craftsmen in the height of Athens in 430 BC. They are recognized in Greece as well as abroad for a work not only of artistic and educational value but also of important accomplishments in original research. From the Athens Hall of Music and the Warsaw Opera, from the Festival of Old Music in Stockholm and Corcoran Gallery in Washington to the co-operation with the National Orchestra of Athens in the First Greek Musical Celebrations to the participation in the festivities of the 2004 Olympic Games and with Universities as the Boston University, Sorbonne, Ionian University, University of Ioannina, also with more than 400 concerts and seminars in schools of all grades, Lyravlos has become identified to realize the most well-documented effort towards the learning and promotion of the rich Ancient Greek musical tradition. The fundamental aim of Lyravlos is to revive in a scientifically documented manner and rightly promote Ancient Greek music by reconstructing the instruments that give life to the ancient sounds.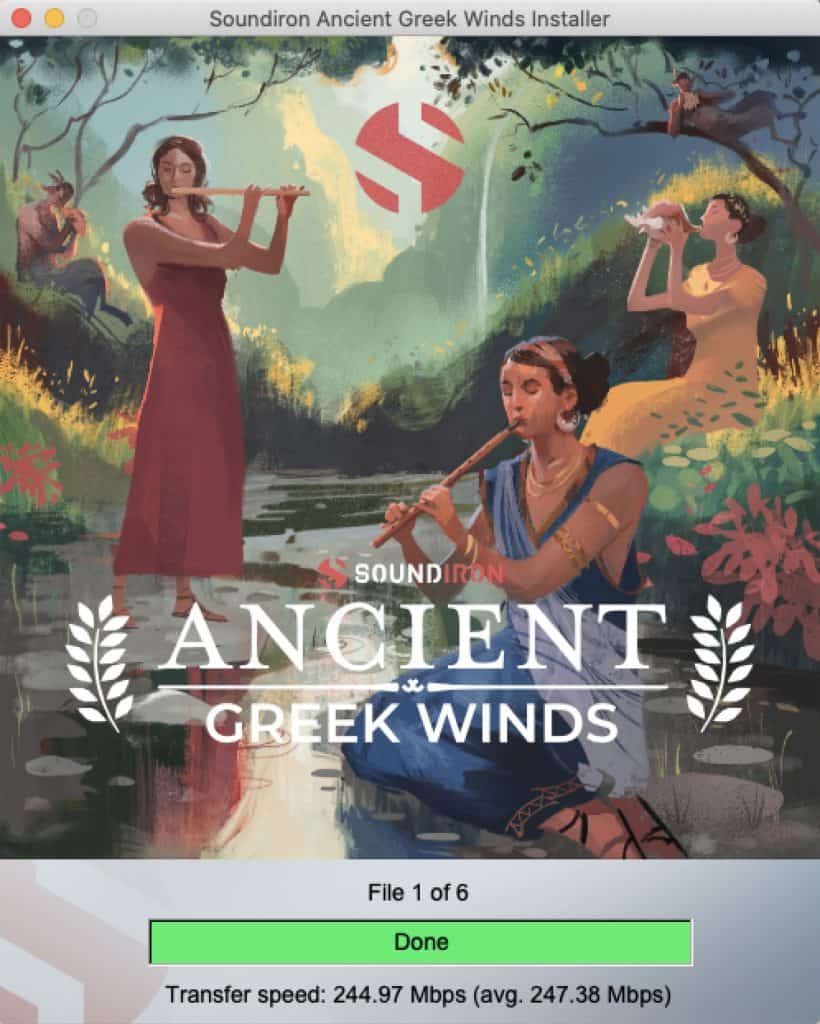 Pricing and Availability
You can purchase Ancient Greek Winds on sale now for $44.00 (MSRP $59) Hurry, Sale Ends July 20th, 2021!
Spitfire Audio's ABBEY ROAD ONE: WONDROUS FLUTES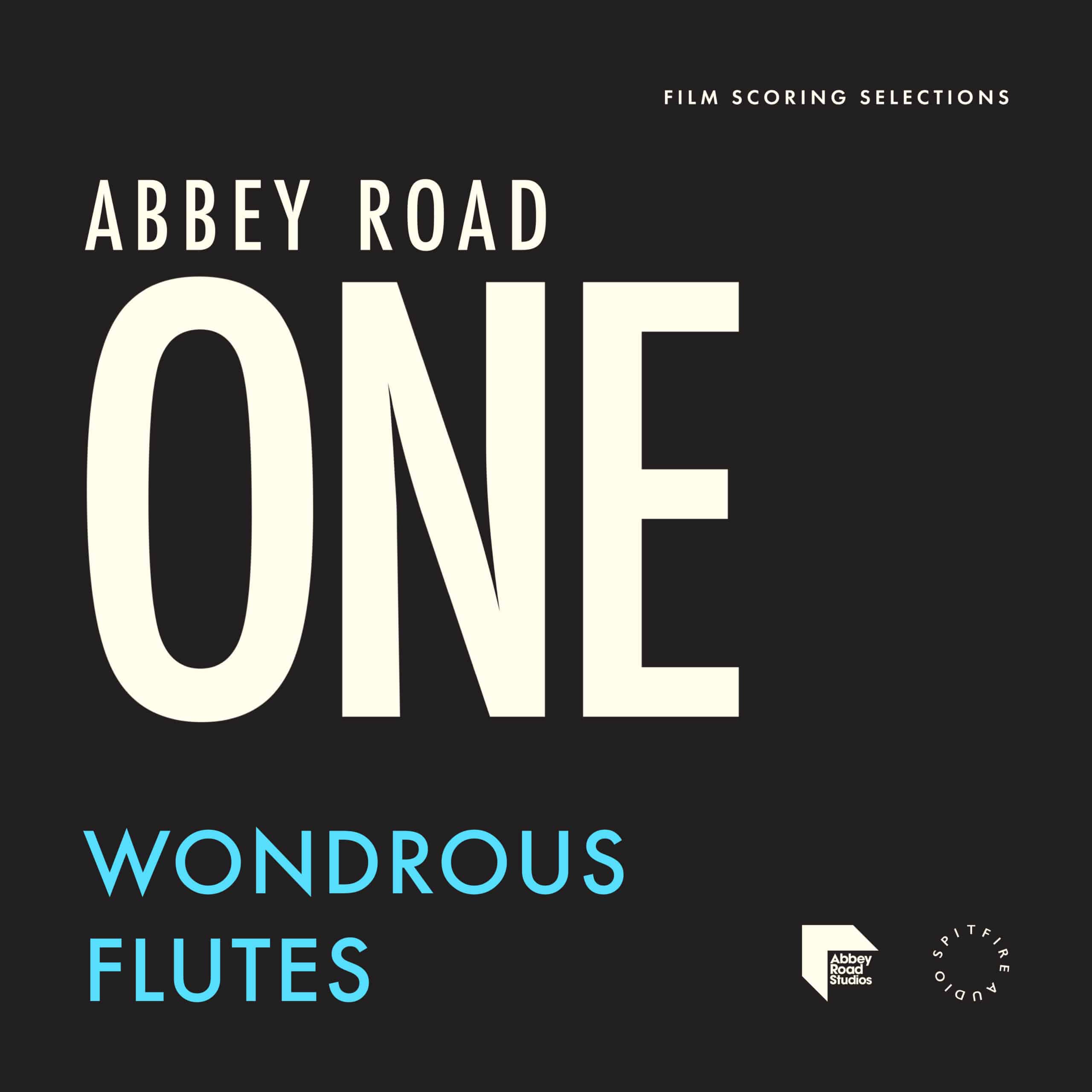 Audio's ABBEY ROAD ONE: WONDROUS FLUTES
Having successfully cemented a creative partnership with world-famous Abbey Road Studios late last year as ABBEY ROAD ONE: ORCHESTRAL FOUNDATIONS inaugurated its ABBEY ROAD ONE: FILM SCORING SELECTIONS series showcasing the foundational film scoring sound of Studio One by carefully capturing a full symphony-sized (90-plus-piece) orchestra inside the world's largest purpose-built recording studio.
ABBEY ROAD ONE: WONDROUS FLUTES following hot on the heels of the similarly smaller ABBEY ROAD ONE: SPARKLING WOODWINDS and ABBEY ROAD ONE: LEGENDARY LOW STRINGS sample libraries captured in that same studio as another customizable classic film-inspired addition to sound palettes the world over, offering a flute and piccolo pairing popularised by the likes of American musical maestro John Williams' Star Wars themes, themselves clearly counting amongst the most widely-known contributions to modern film music.
As Abbey Road Studios' Studio One is one of the world's premier destinations for film scoring, adding the emotion, mood, and magic to the greatest cinematic storytelling of the last 40 years as the world's largest purpose-built recording studio, it is hardly surprising that it recently found favour with Thomas Newman and Alan Silvestri, to name but two notable American composers who walked through its iconic doors to respectively record their pre-pandemic scores to the Oscar-winning 1917 and box office-busting Avengers: Endgame during 2019, as well as playing host to dynamic duo Stephen Barton and Gordy Haab's score to the multi-million- selling Star Wars Jedi: Fallen Order action-adventure game that same year. Yet arguably less surprising is the fact that ABBEY ROAD ONE: WONDROUS FLUTES found Spitfire Audio at Abbey Road Studios' Studio One, after which this latest addition to the sound-specialising British music technology company's classic film-inspired ABBEY ROAD ONE: FILM SCORING SELECTIONS series owes (part of) its notable name.
Working with Abbey Road Studios in a continued creative partnership putting the top-tier, sought-after sound of Studio One itself into the hands of modern-day media composers the world over, ABBEY ROAD ONE: WONDROUS FLUTES facilitates a wondrous — and wonderfully-recorded — pairing of woodwind, with a piccolo sounding an octave higher than the flutes to double the same part, producing a common, classic sound suited to all genres. Its influences clearly come from the likes of John Williams' widely-known Star Wars themes… think second theme statement by the trumpets in bars 12-17 in the opening of 1977's game-changing Star Wars: Episode IV – A New Hope, where a piccolo plays sounding an octave above two flutes. Fast-forwarding for another acclaimed example, 'This Is Berk' from the Oscar-nominated score to 2010's How to Train Your Dragon by British film composer John Powell features flutes with a piccolo playing the melody an octave above, accompanying the stirring strings between bars 46-49.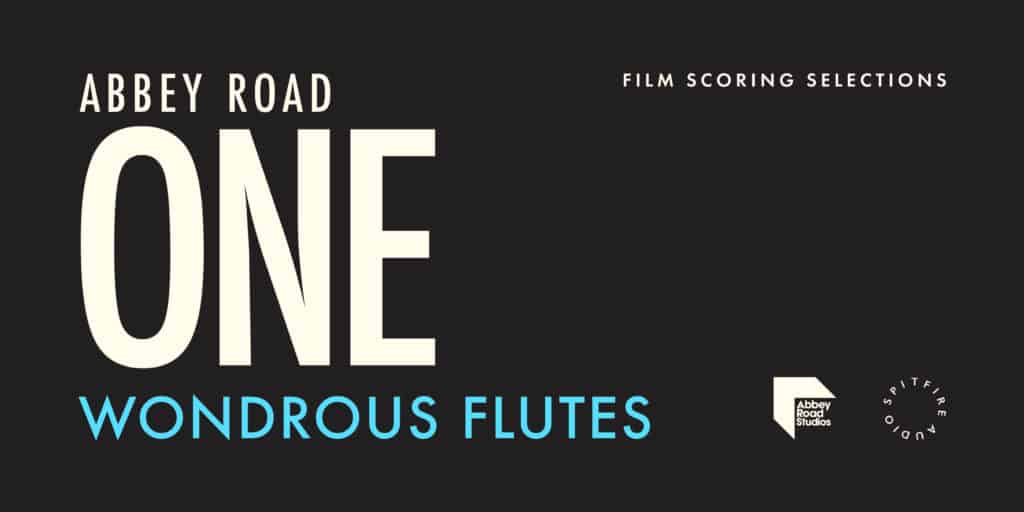 It is, indeed, a commonly-used musical device, yet one that can quickly and easily be created with ABBEY ROAD ONE: WONDROUS FLUTES. Fortunately time spent otherwise layering and mixing can be saved since this has been achieved naturally in the spacious surroundings of Studio One's renowned recording room — measuring impressively in excess of 90ft/28m by 50ft/16m — while also capturing that sought-after studio sound with a stunning-sounding selection of onboard mics and mixes options that are consistent across the whole of the ABBEY ROAD ONE: FILM SCORING SELECTIONS series, with flutes singing so beautifully in the wondrous reverberant acoustics of Studio One.
Perfectly positioned to put ABBEY ROAD ONE: WONDROUS FLUTES into its rightful place in the ABBEY ROAD ONE: FILM SCORING SELECTIONS series, Spitfire Audio co- founder and composer Paul Thomson begins by saying, "Each of these selections is designed to do a particular job incredibly well, and we've come up with new techniques for sampling, and for recording the different types of elements that we need to get the performance to be absolutely brilliant," before diving deeper: "What you're hearing here is two flutes and a piccolo an octave above them — a common pairing in the orchestral repertoire. It pretty much matches up the range of the piccolo with the range of the flute, so you're getting a very close-matched timbre between the two instruments. You've got the body and fatness of the two flutes, and then you've got the kind of extra sparkly, slightly more piercing sound of the piccolo playing the same note but an octave up, which is very useful."
Ultimately, ABBEY ROAD ONE: WONDROUS FLUTES comprises — self-explanatory— LONG, short STACCATO, short MARCATO, and various short MORDENT articulations, as well as stunning legato performances captured with Spitfire Audio's newfound approach to offer a realism like never before. Back to the performing Paul Thomson: "You'll recognise the sound of the MORDENT — a sound that's featured heavily in the score to E.T. by John Williams... we have minor and major versions of these, and not only 2nds but also the minor and major 3rds, so you've pretty much got everything that you need to cover all kinds of different combinations to make exactly the chord that you want to use for those kinds of accent parts. It's incredibly useful and performed in that style and that way that we recognise and that we hear in film scores. Our WONDROUS LEGATO is designed so that you can play beautiful, lyrical melodies with it, but it also works if you play fast — agile and scurrying for those really great runs when you need to amp up the excitement. There's a STACCATO — nice and tight, and then we have a MARCATO — a longer short note, played with much more weight at the front of the note, which gives it more of a weighty, stately kind of feel."
History has a way of taking care of itself — suffice it to say that Abbey Road Studios has history, having opened the world's first purpose-built recording studio on November 12, 1931; for its own contribution, Spitfire Audio has been busying itself with writing its own (14-year-and-counting) chapter into recording history as a British music technology company that specialises in making sounds for film composers. While wondrous thematic scoring from film composers past and present are preserved for playback on screen and on record at any time, thanks to the stunning-sounding latest library formed from Spitfire Audio's continued creative partnership with Abbey Road Studios, future film composition could well be in the hands of anyone inspired by the many mentionable Abbey Road-recorded film scores that inspired ABBEY ROAD ONE: WONDROUS FLUTES. 
Pricing and Availability
ABBEY ROAD ONE: WONDROUS FLUTES is available as an AAX-, AU-, VST2-, and VST3-compatible, NKS (Native Kontrol Standard)-a ready plug-in that loads directly into a DAW (Digital Audio Workstation) at an attractive MSRP (Manufacturer's Suggested Retail Price) of only £49.00 GBP (inc. VAT)/$49.00 USD/€49.00 EUR (inc. VAT).
As an affiliate, we may earn a commission from qualifying purchases. We get commissions for purchases made through links on this website from Amazon and other third parties.
StrongMocha is a magazine for music producers, audio engineers, and sound designers. StrongMocha Magazine provides the latest industry news, reviews of gear and software, tutorials on recording techniques, and tips for mixing.