E300 Ultra VCO Ready for Pre-Order and Available Nov. 15th, 2019
E300 Ultra VCO Available Nov. 15th, 2019
The E300 Ulta VCO is based on the 5U MOTM-300 VCO with improved enhancements and added features. Introduced in 2000, the MOTM-300 was based on a sawtooth core designed by Dave Rossum and used in the EMu modular.
The E300 still uses precision, low drift resistors, adding improved C0G ceramic timing caps, the latest in low drift and low THD OPA op-amps, and a new, unique triangle waveshaper that generates 'glitchless' triangles and sine waves.
The MOTM-300 was very sensitive to the rise time of external VCOs used to sync, and the E300 uses a much-improved sync/triggering scheme to allow any signal, with fast or slow edges, to reliably force the sync.
Availability
The E300 will also be available in black at no additional charge. Synthesis Technology targets to ship in early November to Synthesis Technology dealers.
About Synthesis Technology
Synthesis Technology was founded in 1998 with the introduction of the MOTM modular synth format. This format enabled musicians and electronics enthusiasts to build their very own DIY synthesizer, one module at a time. Although the 5U size, 1/4″ jack connections, and utilitarian black front panels recalled the Moog modular synths of the 1970s, the MOTM format improved on the modular synth concept with updated components and engineering techniques. As microcontroller technology leaped forward in the early 2000s, the all-analog MOTM lineup was augmented with digital modules such as the MOTM-650 polyphonic MIDI interface.
Poly-8 Voltage-Controlled Oscillator (VCO)
Poly-8 VCO
Wavefonix launched their latest eurorack module the Poly-8 VCO. This new eurorack module is now available to order from the online store. Poly-8 Voltage-Controlled Oscillator (VCO) represents the first in a line of 8-voice polyphonic modules developed by Wavefonix that will be released in the coming months.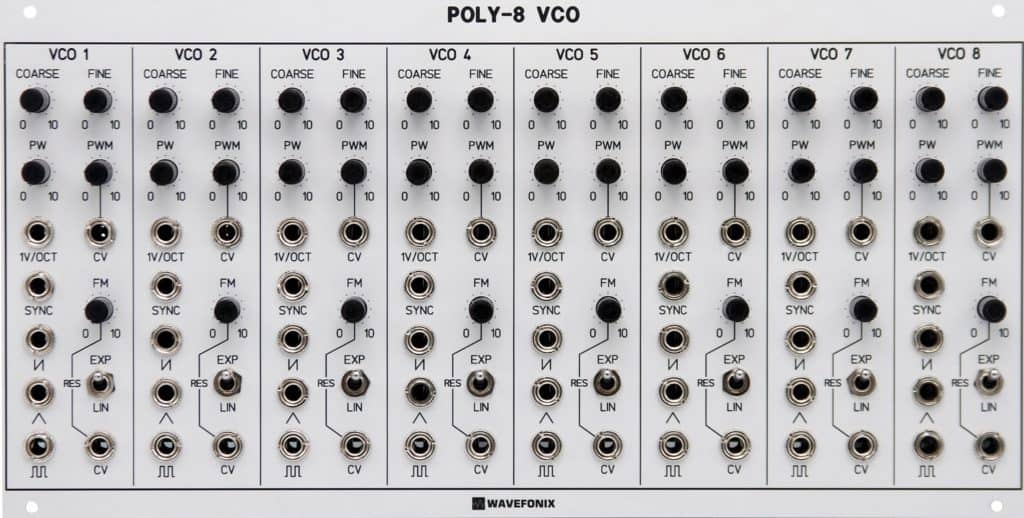 The Poly-8 VCO module is one of a kind. It is a premium polyphonic oscillator bank, comprising eight CEM3340 (Rev. G) VCOs in a clean, compact and ergonomic design. Each VCO features a vast range of modulation capabilities, including hard sync, PWM, 1V/octave and exponential/linear FM.
Each VCO provides simultaneous ramp, triangle and pulse waveform outputs. The authentic CEM3340 architecture offers an instantly recognisable, rich analog sound found in many famous synthesizers from the past, such as the Prophet 5 etc.
Premium polyphonic oscillator bank comprising eight CEM3340 (Rev. G) VCOs.
Three simultaneous, buffered 10Vpp (±5V) waveforms per VCO, including DC-coupled ramp, triangle and pulse outputs, with controllable PW and PWM CV inputs (0V to 10V). Pulse output is derived from the CEM3340's triangle waveform using external circuitry.
Individual coarse and fine frequency control knobs provide an adjustable frequency range of more than ten octaves (approximately 8Hz to 16KHz) for each VCO.
Each VCO has a wide range of modulation inputs; including hard sync (comparator-based), PWM, 1V/octave and exponential/linear FM (switchable).
Ergonomic design.
Hand-built and tested in the UK.
Pricing and Availability
Poly-8 VCO is available now.
Qu-Bit Electronix's Surface Manual Available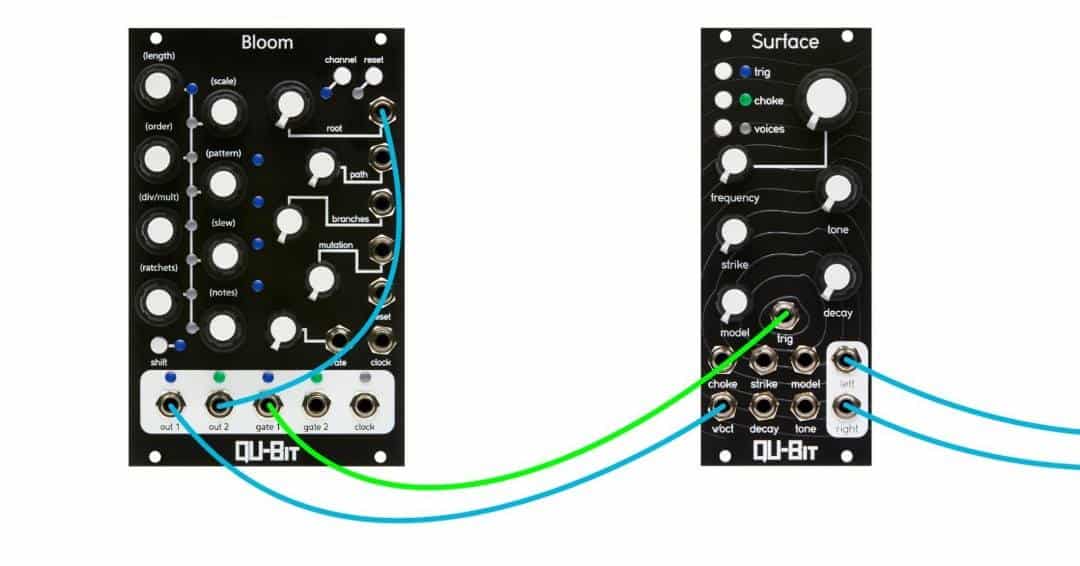 Surface Manual Available
The Surface manual is now live! Learn more about Surface's Models, Spatialization Modes, Dark Mode, and Example Patches (Strummed Guitar is above, description in the manual).
Surface provides a unique take on physical modeling which blurs the line between emulation and synthesis to create entirely new worlds of sound. 
Multi-timbral Physical Modeling Voice
Various sound models: plucked strings, prepared piano, tuned percussion, and waveguides
8 Voice Polyphony
True stereo outputs with unique spatialization modes
Download the manual here.
Maneco Labs GRONE DRONE SYNTH Now Shipping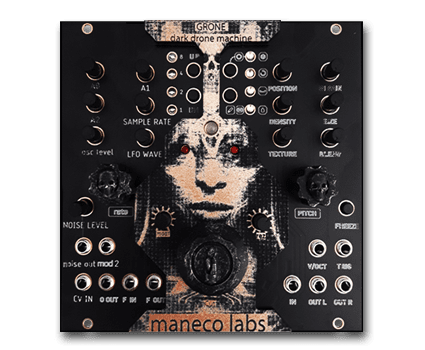 Maneco Labs GRONE DRONE SYNTH
GRONE DRONE SYNTH developed by Maneco Labs is now shipping. This module for eurorack includes a drone oscillator (VCO), Noise generator, MS20 resonant low pass filter, multi waveform LFO and an integrated Clouds clone.
Eurorack module format
Drone voice oscillator
MS20 Filter
Multi waveform LFO
Noise generator
Clouds integrated
Dark drones generator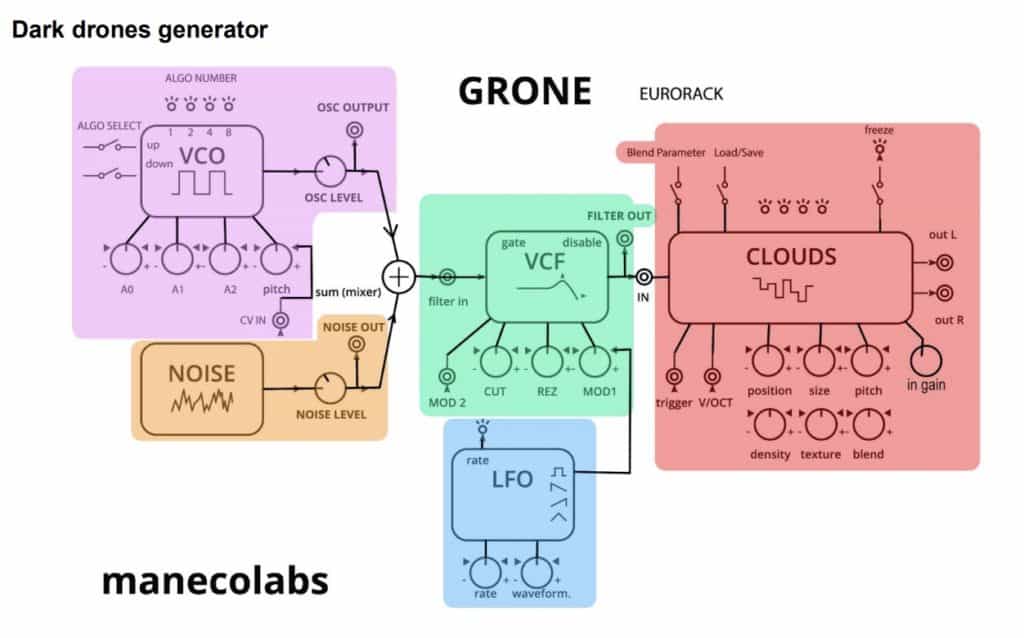 Drone VCO
Generates sound based on equations converted to analog signals , there are sixteen equations selected by Up and Down switches. Four leds indicate equation number in binary mode. Three Pots modify numbers used by the equation, A0 , A1 and A2 , fourth pot Sample Rate controls pitch and speed of the oscillation. There's an Output Level pot for the oscillator and a dedicated jack for patching the Oscillator sound to external modules.
NOISE GENERATOR
White noise with noise level pot and noise output jack.
VCF
MS20 resonant low pass filter, with CUT frequency pot control, RESONANCE, MODULATION 1 amount pot, input and output jacks and second cv input for cut off, labeled MOD2.
LFO
Low frequency oscillator routed to MOD1 from VCF, RATE and WAVEFORM shape
pots. Waveforms are ramp up, ramp down, square, triangle, sine , sweep, random levels, random
slopes.
CLOUDS
Based on MUTABLE INSTRUMENTS eurorack module , with parasites firmware , same controls from MI : Input gain, position, size, density, pitch, texture, blend , switches for blend parameter and load/save, freeze control with indicator led , same display as MI original, Dedicated audio input jack (mono) stereo output and control inputs for V/OCT and TRIGGER.

Pricing and Availability
GRONE DRONE SYNTH is available now directly or from their retailers.
As an affiliate, we may earn a commission from qualifying purchases. We get commissions for purchases made through links on this website from Amazon and other third parties.
StrongMocha is a magazine for music producers, audio engineers, and sound designers. StrongMocha Magazine provides the latest industry news, reviews of gear and software, tutorials on recording techniques, and tips for mixing.