Delta CEP A Version 1.5 released
Delta CEP A Firmware Update Version 1.5 Available
New Version 1.5 Features
SHIFT LOCK
The [SHIFT]-button can be locked to reach additional parameters more easily. Simply push [SHIFT] to lock the [SHIFT]-function. The LED flashes until the SHIFT function is unlocked again. You can unlock the [SHIFT]-button by pushing it again.
MIDI PRG CHANGE
The DELTA CEP A now reacts to program changes. Be careful with program changes. If the unit receives a program change during your sound editing, the changes will get lost.
MIXER MOD IN
The Mixer MOD Input now controls the volume and saturation of the Oscillator signal.
LFO SYNC INPUT
The LFO SYNC Input now works fine and allows for synchronizing the LFO to another LFO or to GATE signals. Remember: Hold [SHIFT] to access the synced note values of the LFO with the rate knob.
REVERB FX
Added a Stereo Reverb Algorithm to the Delta CEP A FX engine. This new effect can be added to the already implemented FXs. So you can, for example, add the Reverb to the Tape Delay or to the Chorus FX. In the section below you'll find a detailed description with the parameter mapping.
Internal LFO Routing
The LFO can now be assigned to different modulation targets without using any patch cables. That allows for assigning the LFO modulation to multiple targets simultaneously with independent modulation depths for all targets.
Internal EG routing
The envelope generator can now be assigned to different modulation targets without using any patch cables. Multiple targets can get controlled simultaneously with independent modulation depths.
Morphing extended
The already very powerful morphing function benefits from the new routing capabilities. The internal routings can be morphed! Explore a new dimension of dynamic soundscapes. Sure – the Reverb parameters can be morphed as well.
Reset all modulation routings
Sometimes you want to reset all internal modulation routings with a simple task. Hold the [EG/GATE]-button in the VCA section and tap onto the [WAVE]-button to set all modulation depths of the internal routings to zero.
Download the new version now directly here.
DELTA CEP A paraphonic semi-modular synth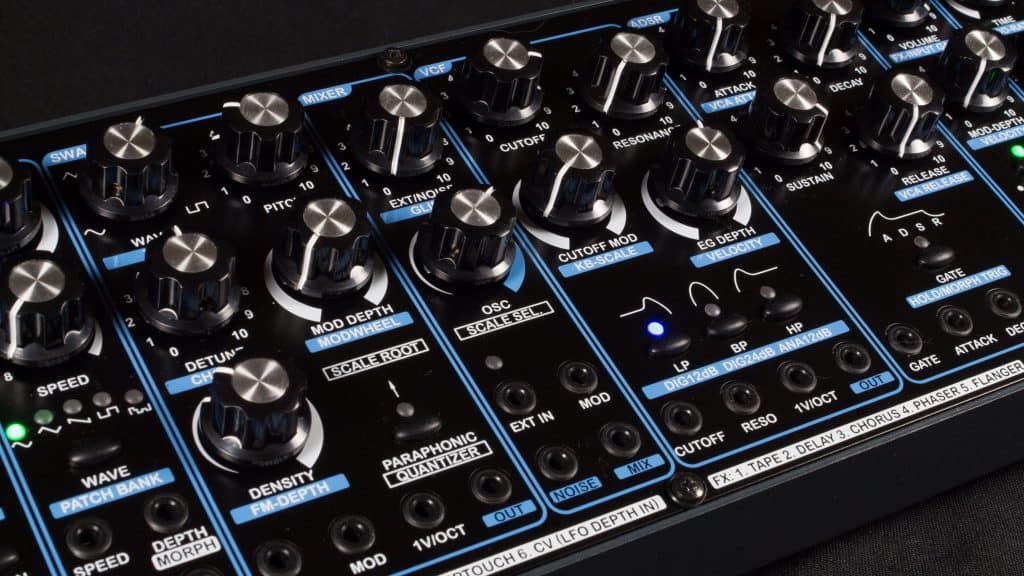 DELTA CEP A paraphonic semi-modular synthesizer is now available— serving up nine essential syntheses 'modules' blended collectively to build a powerful yet frank starting point to the ever-widening world of the Eurorack small-format modular system. Radikal Technologies' DELTA CEP A can operate as a standalone synthesizer or — when removed from the chassis — a 68HP-occupying Eurorack module forming the center of a powerful modular voice. Whichever way it is brought into play — purchasable as a desktop paraphonic semi-modular synthesizer or Eurorack paraphonic semi-modular synthesizer module, the deftly-designed DELTA CEP A is the perfect starting point for any modular user. Undeniably it lives up to the PARAPHONICMODULAR wording boldly blazoned across its featured-packed fascia.
On the face of it, a semi-modular synthesizer has hardwired connections for its most essential sound generating and altering attributes — as opposed to a modular synth system, where the user has to establish all the connections between the separate modules with patch cables to generate tones and sound effects. "So much freedom can quickly become confusing," claims that owner's manual. "That's why semi-modular systems such as the DELTA CEP A have pre-wiring, which greatly simplifies entry into the world of modular systems and, ultimately, electronic sound generation." As such, users can play the DELTA CEP A right out of the box, but, of course, can boldly go a step further and add their own patching. Perusing the DELTA CEP A's featured-packed fascia from left to right immediately introduces its uniqueness when pitched headlong into a competitive world where Eurorack edges towards ubiquity. Underpinning that uniqueness is the INTERPOLATOR. In a nutshell, this intriguing section has an ability to store so-called 'snapshots' of sound creations into the DELTA CEP A's internal memory; moreover, users can consequently play those snapshots sequentially, creating cool sonic sequences.
Saying that they can cleverly create smooth transitions from one snapshot to another, allowing for some stunning sound morphing effects! Independent from the INTERPOLATOR itself, the snapshot memories can also be used as preset memories, and are filled with wonderful sounds from Radikal Technologies' team of skilled sound designers. DELTA CEP A also packs a well-equipped MIDI (Musical Instrument Digital Interface) to CV (control voltage) interface in its aptly-monikered MIDI2CV section — significant when wanting to use the instrument in PARAPHONIC mode, meaning users can play chords, transforming the DELTA CEP A into the perfect pad and ensemble section. The MIDI2CV section helpfully has additional outputs for connecting to external Eurorack modules, and a dedicated digital bus for controlling Radikal Technologies' radical-sounding RT-311 SWARM OSCILLATOR — an advanced DSP-driven oscillator Eurorack module that, as implied by name, goes far beyond the realms of standard oscillator fare, firstly thanks to two oscillators that can both build swarms of (up to eight) oscillator 'clones' capable of being pitched in musical intervals, chords, clusters, or fat detunes, dutifully backed by having all parameter settings saveable as interpolatable snapshots, enabling even more radical results — directly with notes and chords to layer additional voices in monophonic and chords mode.
Moving more speedily along, the LFO 1 section features five waveforms, MIDI and clock synchronization, and an invertible DEPTH control for modulation purposes. Providing up to eight oscillator clones of its own, DELTA CEP A's single swarm oscillator is accessed via the SWARM OSC section; PARAPHONIC play mode (allowing four voices to be simultaneously played), PITCH quantization, and easy tuning (DETUNING) access are amongst its edited highlights. However, more familiar territory follows thereafter; the MIXER section mixes the outputs from the swarm oscillator and the noise source or an external signal for the filter. Familiarity continues with the powerful VCF (Voltage Controlled Filter) section, centered around an analog 12 dB multimode filter alongside a stereo digital emulation of that 12 dB multimode filter, plus a digital 24 dB lowpass filter. Furthermore, an ADSR section supplies an envelope generator with snappy-sounding curves, together with ATTACK and DECAY voltage control inputs. Its VCA neighbor can be controlled by either the ADSR envelope or GATE signal, while also providing external inputs for the following FX processor section — itself really representing the icing on the DELTA CEP A's advanced audio engine with mind-blowing modulated stereo delay effects, as well as chorus, flanging, and phasing par excellence!
Encompassing no fewer than 23 knobs, 14 buttons, 28 RGB LEDs, 14 outputs, and 17 inputs straightforwardly spread across its feature-packed facia, DELTA CEP A duly delivers on its potent potential for serious synthesis — still further boosted by adding additional modules. Carefully chosen connectivity provides users with welcomed freedom to integrate it into their existing Eurorack small-format modular system. Or opt to use it as an independent standalone synthesizer with Radikal Technologies' desktop-destined alternative, courtesy of the tailor-made chassis — complete with integrated stereo OUTPUT; stereo FX-INPUT; MIDI IN, OUT, and THRU; and DC 12-19V,
2A DC-IN connections, plus onboard ON/OFF switch.
DELTA CEP A is now available for purchase — priced at an RRP of €899.00 EUR/$999.00 USD (Eurorack) and €1,198.00 EUR/$1,298.00 USD (desktop) — through Radikal Technologies' growing global network of authorized dealers. For more in-depth info, please visit the dedicated DELTA CEP A webpage here.
About Radikal Technologies (www.radikaltechnologies.com)
Radikal Technologies was founded in 1995 as a pro audio equipment distribution company by present-day President Jurgen Korduletsch. Within a few years, the company moved into developing its own product designs, starting with the SAC-2K (SAC-2.2) Software Assigned Controller, an award-winning DAW (Digital Audio Workstation) control surface, supporting popular environments like Digital Performer, Logic, Pyramix, and Nuendo. Next up, a move into electronic musical instruments introduced the trailblazing SPECTRALIS ANALOG SYNTHESIZER/BEATMATRIX/FILTERBANK desktop hybrid in 2004, while more recent DSP (Digital Signal Processing) developments — combined with a relentless pursuit of perfectionism in the realm of cutting-edge sound synthesis algorithms — resulted in the aptly-named ACCELERATOR polyphonic synthesizer keyboard marvel. More recently, Radikal Technologies has been making its musical mark upon the ever-expanding Eurorack modular marketplace with worthy modules drawing upon its illustrious past while looking to the future.
As an affiliate, we may earn a commission from qualifying purchases. We get commissions for purchases made through links on this website from Amazon and other third parties.
StrongMocha is a magazine for music producers, audio engineers, and sound designers. StrongMocha Magazine provides the latest industry news, reviews of gear and software, tutorials on recording techniques, and tips for mixing.