Cosmic Harmony for Hive 2
Cosmic Harmony Soundset for U-he's Hive 2
Touch The Universe announces Cosmic Harmony for U-he's Hive 2 synthesizer, which has an impressive, modern sound with a powerful feature set and a relatively easy to use layout. The soundset is suitable for any contemporary electronic and ambient music genres, including cinematic music.
Cosmic Harmony focuses on gorgeous-sounding ethereal pads and cosmic soundscapes, as well as hard-hitting basses and blissful, plucks and leads. An optional "Expansion" version is available for an additional $5 containing 17 MIDI files taken from the audio showcases.
Soundset Details
Include 101 Presets for Hive 2
Optional – Includes 25 Midi FIles (Over 50 merged patterns) from most of the audio demos. They are named identically to the corresponding preset.
All patches are volume normalized. (They won't clip and have equal volume levels when scanning between presets)
Complex Modulation Wheel destinations for all patches. When appropriate, many patches also utilized velocity sensitivity.
Patches created in the latest version of Hive 2
Easy Installation Instruction with Images in PDF format.
Patch Breakdown (101 Patches)
Leads – 21
Pads & Atmospheres – 23
Basses – 13
Plucks and Keys – 25
Arps and Sequences – 9
Bass Sequences – 5
Drums and FX – 10
Pricing
Intro Price until November 7th, 2019: $15 for Presets and $20 for Presets and MIDI
Luminesce: Ambient Sounds with a Lo-Fi Vibe for U-he Hive
Tom Wolfe has today released Luminesce, his first soundbank for U-he Hive.
Luminesce is a soundset for U-he Hive that focuses on ambient sounds with a Lo-Fi vibe. Full of soft, subtle detuning and vintage character, Luminesce takes Hive's audio engine in unexpected directions.
From warping, serene pads to light, retro keys, Luminesce is perfect for producers of ambient music as well as film and media composers looking to add a LOFI atmosphere to their cues.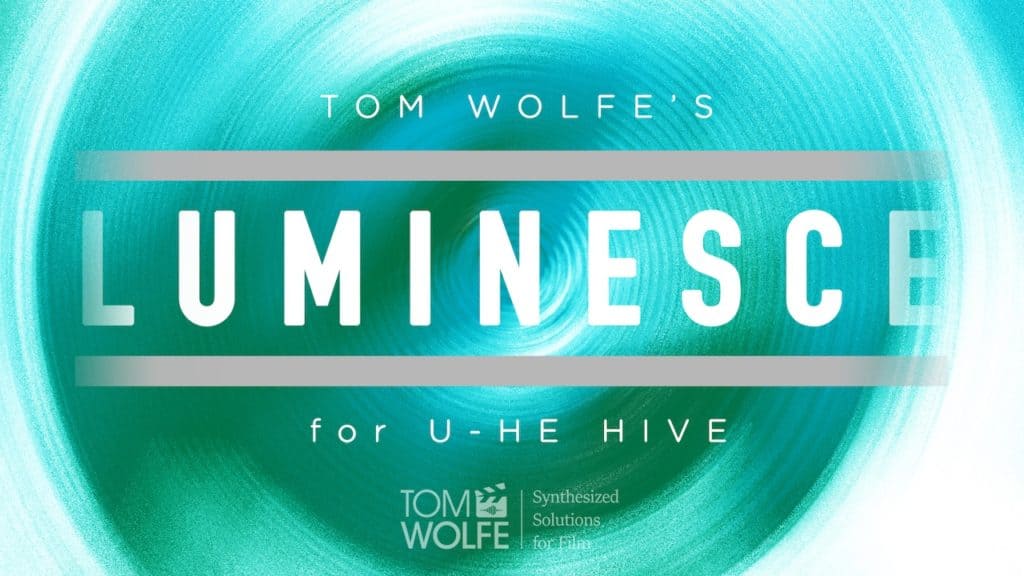 The title track is a dreamy, ambient song with a lo-fi vibe. Luminesce is a musical journey that takes Hive's audio engine in unexpected directions.
Perfect for Producers of Ambient Music
Luminesce is ideal for ambient music producers and film and media composers wanting to add a lo-fi atmosphere to their music.
Producing Ambient with U-He Hive and Luminesce
Producing ambient music can be difficult, especially if you don't have the right tools.
U-he Hive is a powerful synth with an amazing sound engine and a lot of potentials. But it's not always easy to get your head around all of its features.
Luminesce is here to help! This soundset for Hive will give you access to over 100 presets that are perfect for producing ambient sounds or adding a Lo-Fi atmosphere to your cues. With this tool at your disposal, you'll never struggle again when trying to create something new and different in the world of ambient music!
LOFI Atmosphere
In the music industry, there are different levels of quality and production known as "high fi" and "lo-fi" High fi refers to a clear, pristine sound with minimal background noise. LOFI, on the other hand, is associated with a more rough, unpolished sound. This distinction can be heard in genres like jazz and rock 'n' roll, where lo-fi recordings often have a warmer, more authentic feel.
Today, many artists are embracing the lo-fi aesthetic in their music and visuals. The trend began in the early 2010s with bands like Vampire Weekend and Grizzly Bear, who favored earthy colors and natural textures over flashy graphics. More recently, artists like King Krule and Brockhampton have brought lo-fi elements into their hip-hop and R&B music.
There are a few reasons why artists might choose to work with lo-fi materials. Some may feel that the rougher sound gives their music a more authentic feel, while others may be drawn to the nostalgic quality of older, simpler technologies. Whatever the reason, it's clear that the lo-fi aesthetic is here to stay. So if you're looking for something new and different in your music listening experience, check out some lo-fi artists!
Some popular Lo-Fi Artists include:
King Krule
Mac Demarco
Vampire Weekend
Grizzly Bear
Brockhampton etc
FAQ
Is Lo Fi Music Good for Background Noise?
Lo-fi music is generally not good for background noise. This is because lo-fi music embodies a more unpolished sound that usually takes center stage in the mix, rather than acting as a backdrop to other sounds. However, there are some exceptions such as jazz recordings where the roughness of lo-fi can add warmth and authenticity to an already established genre.
For a limited time only, Luminesce is available for the introductory price of £11.99 (regularly £19.99). Offer ends 19th January 2022. 
Synthesized Solutions for Film Synth Vault by Tom Wolfe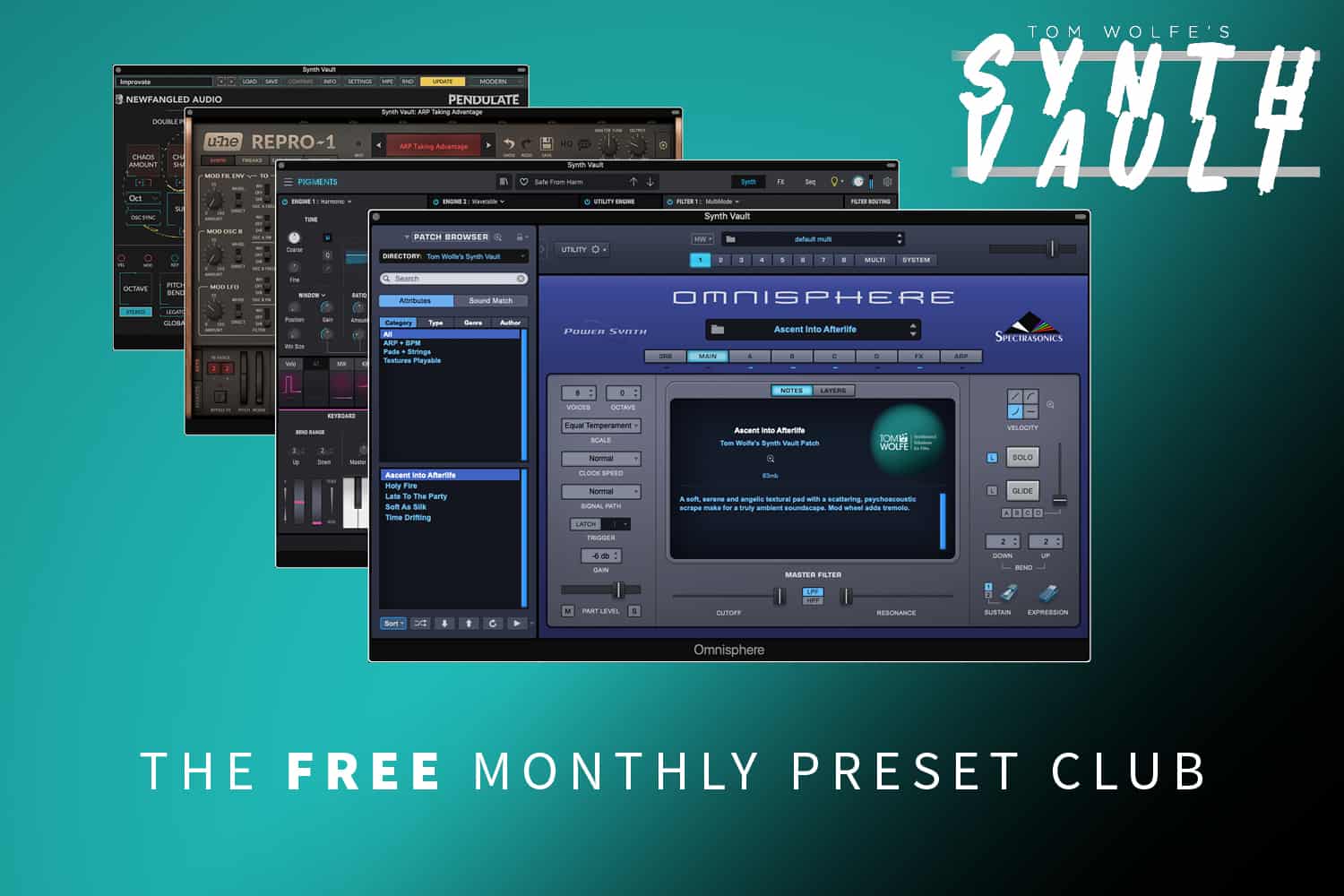 Synth Vault – a Free Monthly Preset Club
Tom Wolfe launches Synth Vault – a free monthly preset club. Sound designer Tom Wolfe has announced the launch of Synth Vault – a free monthly preset club.
With presets available for a range of software synths, members will gain access to the vault where they'll find 20 brand new presets every month – for completely free! Presets will be available for Spectrasonics Omnisphere and Arturia Pigments, as well as a different U-he synth each month.
The Vault will also include presets for a different Wildcard synth each month, with presets planned for a range of free and paid software synths including Pendulate, Vital and Knifonium. On top of this, members will have access to new sound design tutorials each month to help with creating their own presets. With Synth Vault, Tom Wolfe's aim is to provide members with an endless source of inspiration to get their creativity flowing and keep creating music.
What Members Get Each Month
Each month you'll receive 20 brand new presets for some of the biggest and best software synthesizers on the market! Use the presets to improve your sound design skills! Each month Tom Wolfe takes two of the free presets and deconstruct them on video, showing you exactly how they were made!
FREE OMNISPHERE PRESETS
Every month you'll get 5 free Omnisphere presets to use in your tracks. Presets will be in a range of styles and genres, but they'll always be diverse.
FREE PIGMENTS PRESETS
You'll also get 5 brand new presets for Arturia Pigments, each with the macros assigned so that they're easy to tweak and shape to your tracks! You might even get a free sample or wavetable.
FREE U-HE PRESETS
There will also be 5 presets for a different U-he synth each and every month. Whether it's Diva, Zebra, Repro, Hive or Bazille, you'll receive a handful of presets designed to inspire you.
FREE WILDCARD PRESETS
You'll also receive 5 presets for the monthly wildcard synth – this could be any software synth by any company, either free or paid. The only condition is – the synth has to kick some serious ass! Upcoming and past wildcard synths include Pendulate, Vital and Knifonium!
About Tom Wolfe
Tom Wolfe is a British sound designer. Also an award-winning independent film composer, Tom is a prolific voice in the synthesizer reset world and, through tomwolfe.co.uk, has released sound banks for some of the biggest and most popular software synthesizers and effects plugins on the market. With his presets being celebrated for their uniqueness, creativity, and usability by users and critics alike, Tom has worked with a number of industry-leading companies including Arturia, Kilohearts, and GForce Software. His sounds have been used by Oscar-winning film composers, Grammy-winning record producers, and AAA game composers.
Pricing and Availability
To start receiving free presets every month, sign up for the Synth Vault now at Synth Vault.
Triple Spiral Audio's New Solitary a Soundset for Hive 2
Solitary a Hive 2 Soundset
Solitary is a novel soundset for Hive 2 by Triple Spiral Audio and includes 116 presets 112 custom wavetables, and a Unify version (Great!).
Sparked by an extensive assortment of artists such as Tangerine Dream, Vangelis, Keith Emerson, Rick Wakeman, Olafur Arnalds, and many more, Solitary offers a lot of variety in sound. Steady and solid ARP's, analog pads, leads, and synths, ambient and jazzy plucks and keys, deep basses, mysterious soundscapes and textures, and a pleasing amount of inspiring pulses, bass loops, and sequences.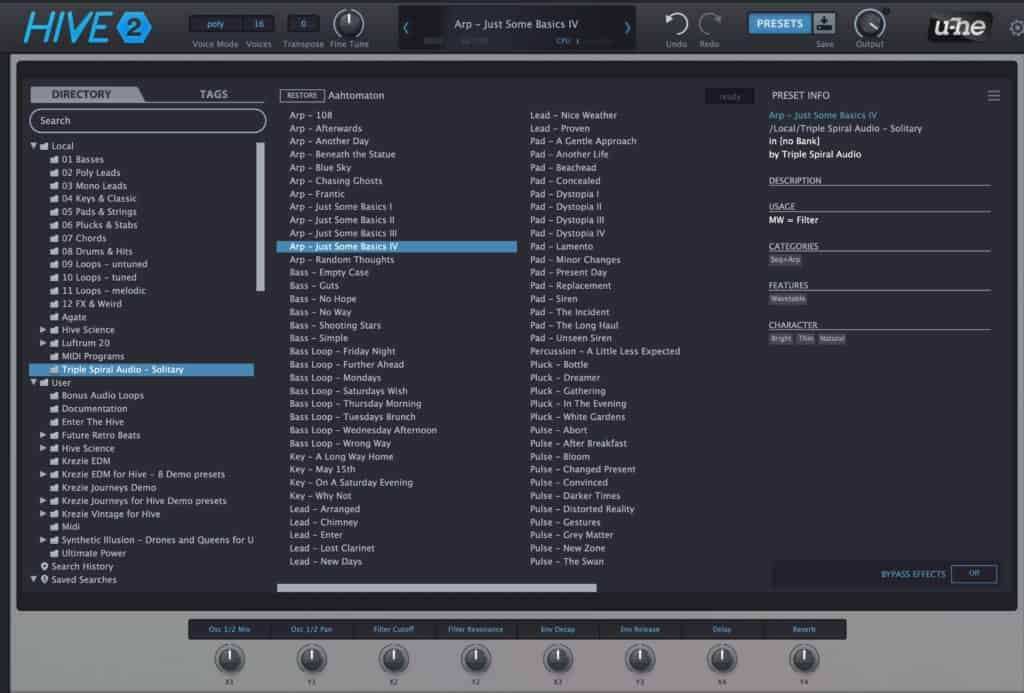 Solitary requires Hive 2.1+ and also comes also saved in Unify format.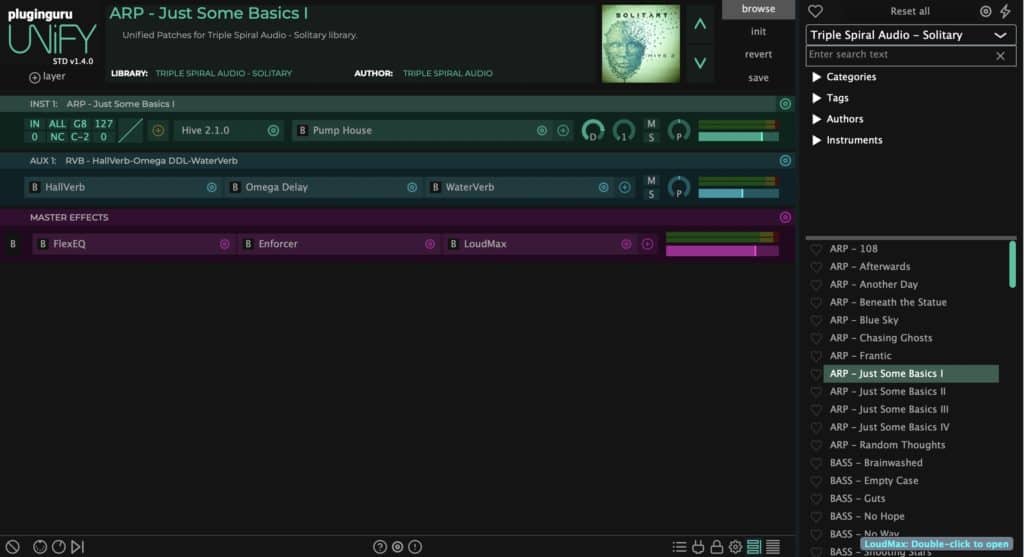 Pricing and Availability
Solitary is available now.
As an affiliate, we may earn a commission from qualifying purchases. We get commissions for purchases made through links on this website from Amazon and other third parties.
StrongMocha is a magazine for music producers, audio engineers, and sound designers. StrongMocha Magazine provides the latest industry news, reviews of gear and software, tutorials on recording techniques, and tips for mixing.