P.moon Releases 14 Modules for Voltage Modular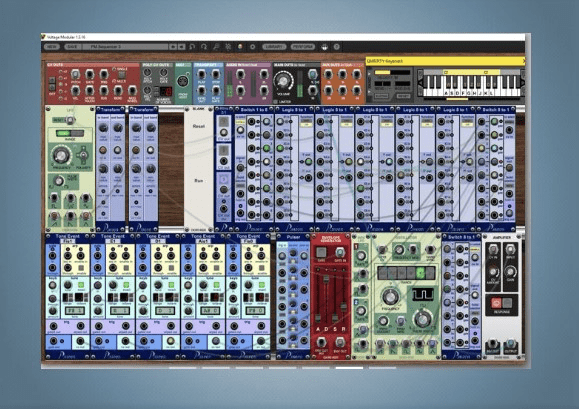 P.moon Launches 14 New Modules
Cherry Audio and P.moon, announce the release of 14 new modules for Voltage Modular. The growing Voltage Modular platform now includes over 500 modules!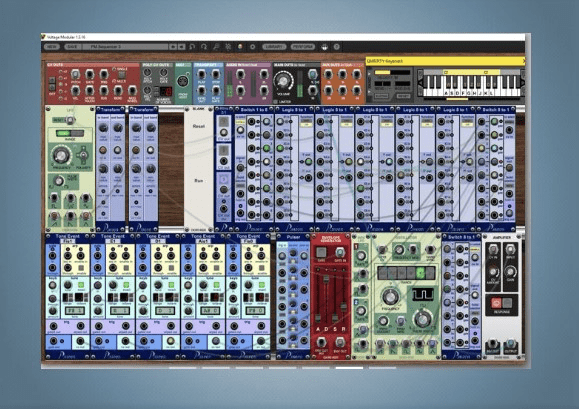 P.moon's first line of modules are cybernetic circuits mainly designed to help build up complicated control systems. Some of these modules will allow you to do some unique and creative things, like cascading sequencers and setups for complete melodies.
P.moon new modules include Pulser ($10) and Multi Divider ($10) Controllers, 2 free Button Controllers (4/2 and 2/1), a CV Meter Utility ($10), and three super-cool tool kits; Tool Set 1 ($10), Tool Set 2 ($10) and Sequencer Kit ($10).
Some libraries are free like the Buttons 4/2 and Buttons 2/1
Modular Mayhem! Black Friday Sale is Live Now!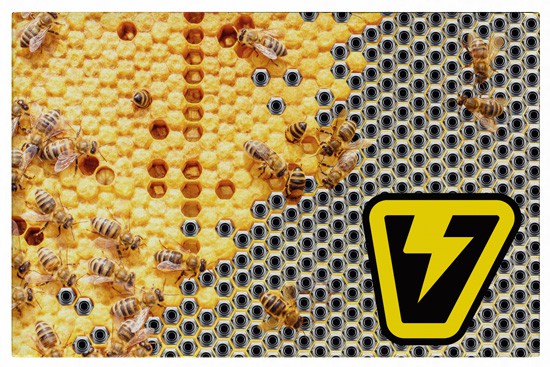 Cherry Audio's Black Friday Sale is now live and buzzing, highlighted by the release of the legendary Zeroscillator. Wait no longer, let the modular mayhem begin!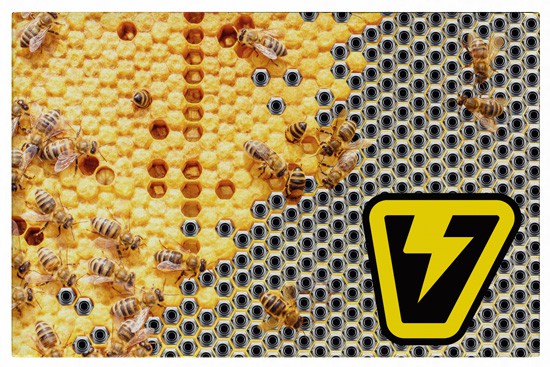 Voltage Modular prices start as low as $9.95 for the introductory Voltage Modular Nucleus package (22 modules with over 100 presets). The flagship premier package, Voltage Modular Core + Electro Drums is only $49. Including 112 modules and 385 presets, that's only $0.44 cents a module!
Already own Voltage Modular? Cherry Audio's launched deals on upgrades to Voltage Modular Core + Electro Drums. Upgrade from Ignite for only $25. Upgrade from Nucleus for only $39. Logged in to your Cherry Audio account, click on Voltage Modular Core + Electro Drums, and you will see your discounted upgrade price.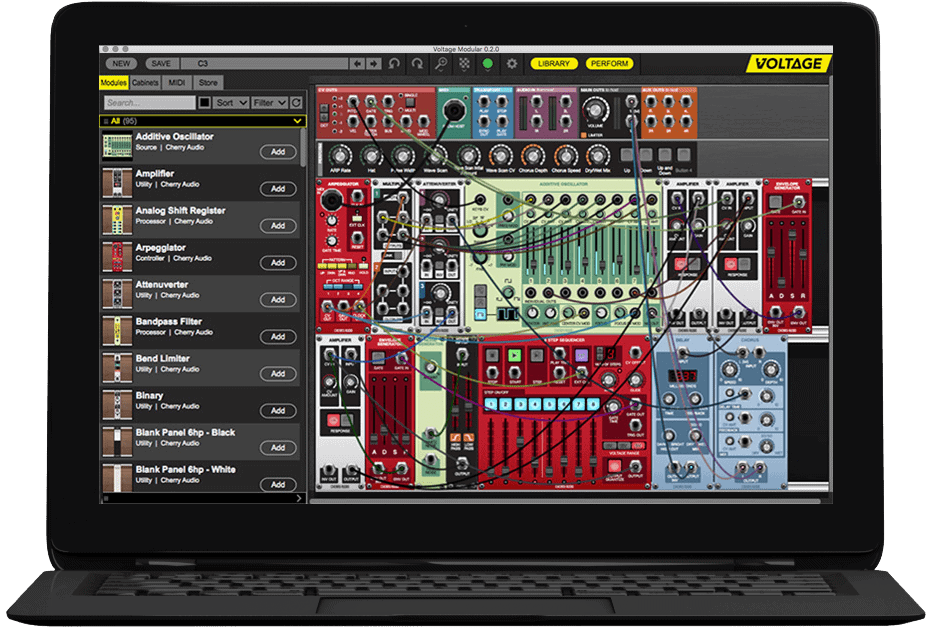 More modular mayhem! Module prices start as low as $5, featuring modules and super-saving bundles from PSP Audioware, MRB, Andrew Macaulay, Benard, HetrickCV, Vult, Insomniac, Granucon, Nekomatic, and M*4. Plus, the incredible Cherry Audio Year One Collection is on sale for only $99 (regularly $199)!
MRB releases legendary Zeroscillator for Voltage Modular!
Zeroscillator for Voltage Modular
When Mark Barton (founder of MRB) designed the legendary analog Zeroscillator in 2005, there were people saying that through-zero FM synthesis could only exist in the digital domain because it was too difficult to build it in analog. Well, that's all he needed to hear. The rest is history. Read the entire fascinating story here.
Fast forward to today, the Zeroscillator has come full circle and is back in the digital domain. By copying how the ZO works inside, the Voltage Modular version retains the unique features and analog character of the original. And of course, the polyphonic version is pure "unobtainium" in the analog world. Now you can have it all for a tiny, tiny fraction of the price! And, you can have as many of them as you want with the click of a button or by a simple drag-n-drop, all at no extra charge!
Availibility and Pricing
The Zeroscillator ($25) and Poly Zeroscillator ($30) are available separately or as a bundle ($35). Great news though! During Cherry Audio's Black Friday Celebration Sale, NOW through Cyber Monday, you can purchase BOTH modules in the Zeroscillator Bundle for only $25. Check out these audio samples in the Sounds tab. Act fast, order today! Offer ends Dec 3.
Additional Vult DSP Modules for VCV Rack and Voltage Modular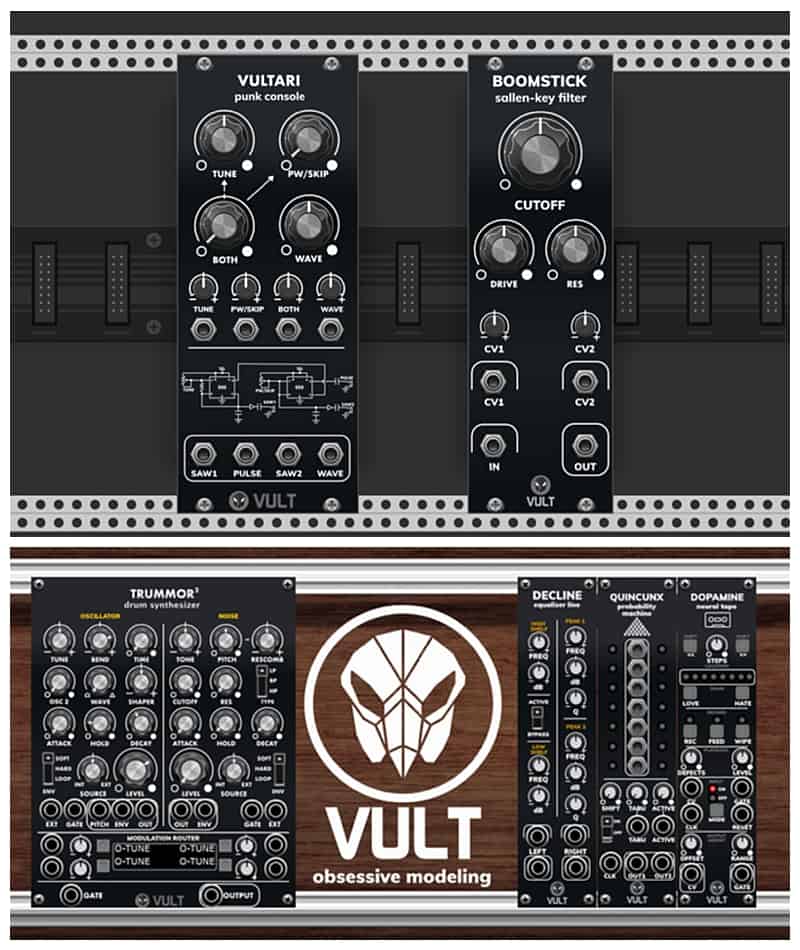 New Modules for VCV Rack and Voltage Modular
Vult DSP released new modules for both platforms. For VCV Rack Vult DSP Vultari Punk Console and Boomstick Sallen-Key filter has been added.
Vult DSP Vultari Punk Console
Vultari is a full electrical model of the Atari Punk Console. The APC circuit is an oscillator that does not follow the V/OCT convention. It's an interesting circuit to experiment with. 
Boomstick Sallen-Key filter
Boomstick is a Sallen-Key filter Vult DSP modeled with the intention of making it good sounding but still very efficient. Both new modules consume very little CPU.
Voltage Modular Releases
For Voltage Modular Vult DSP has released Trummor 2, Decline, Dopamine and Quincunx. These new modules will be part of the existing bundles. People that had purchased the bundles will get the new modules for free.
As an affiliate, we may earn a commission from qualifying purchases. We get commissions for purchases made through links on this website from Amazon and other third parties.
StrongMocha is a magazine for music producers, audio engineers, and sound designers. StrongMocha Magazine provides the latest industry news, reviews of gear and software, tutorials on recording techniques, and tips for mixing.