77% off "The Forge" by Epic Sound Lab – Normally €171 Now Only €39!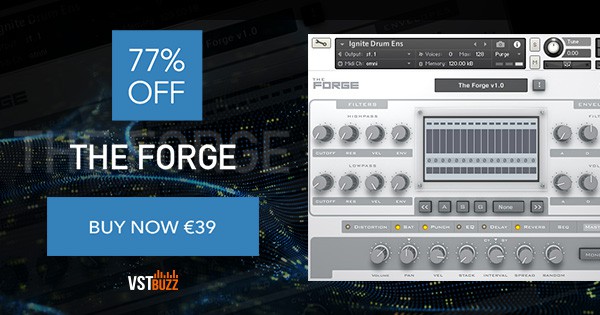 SALE on The Forge by Epic Sound Lab
The Forge (Affiliate Link) is an intuitive and powerful cinematic sample library that excels at sounds for Epic Hybrid Electronic, Orchestral and Trailer Music.
Designed to offer a flexible environment for you to customize the individual sounds to your needs, this library offers an enormous range of Loops, Drones, Drums, Impacts, SFX and more – perfect for every Film, TV and Game composer!
The sounds of The Forge (Affiliate Link) have been designed and built to enhance modern Action Movies, Cinematic Trailers, Underscore and Video Games and include a vast selection of Loops, Drones, Drums, Impacts, SFX, Melodic Instruments, Risers, Downers, Tuned Percussion and more!
3.4GB Of Cinematic Instruments, Drones, Drums, Impacts & SFX
Drones – Dark drones for horror and sci-fi
Drums – Several acoustic drums and sound designed ones, the stack function can make them sound huge!
Impacts – Aggressive and big impact sounds
Loops – Several aggressive/distorted drum, percussion and bass loops
Melodic – Atmospheric pianos, bowed classical guitar, ghost picked cello and more
SFX – A selection of atmospheric and unusual SFX
Sweeps – Noise and synth sweeps, downers and some modern hybrid synth stabs/hits
Synthetic – Contains the categories drums, arp, basic, bass, pads and poly
Tuned Percussion – Acoustic tuned percussion
The Forge (Affiliate Link) comes complete with 200 presets, which form a fantastic starting point for you to shape and manipulate the sounds.
Geared towards Film, TV, Video Game composers and Sound Designers, The Forge (Affiliate Link) provides everything you need to take those epic tracks to an entirely new level!
EPIC Soundlab Everything Bundle

If you plan to add the current bundle of high-quality libraries and tools from EPIC Soundlab you have less than 48 hours left. There are many Kontakt instruments included and if you do have Reaktor you can use the included Reaktor Ensembles. You can grab for less than 48 hours the EPIC Soundlab Everything Bundle for  $99 (Affiliate Link)
There are five products included:
The Forge (Kontakt)
A sample library aimed at Film, TV and Games composers. Includes Drones, Drums (Acoustic, Designed, Synthetic), Impacts, Melodic, Rhythmic and Warped Loops, Melodic Instruments, Risers Downers, SFX, Sweeps, Synth Arp, Synth Basic, Synth Bass, Synth Pads, Synth Poly, and Tuned Percussions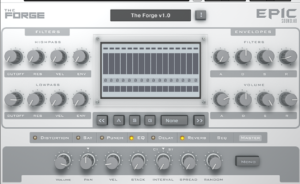 Maliki (Kontakt)
A collection of epic drum loops arranged in 20 themes
Octamorph (Reaktor 5/6)
A 4 way spectral crossmorphing tool for Reaktor
Octacontrol (Reaktor 5/6)
A 8 points MIDI Transmuter sound design tool made to control hardware and software MIDI devices.
Quadrimorph (Kontakt)
A tool for building complex soundscapes, morphing drones, shapeshifting risers and more. It contains Complex Risers, Morphing Drones, Fly-Bys, Rhythmic Morphing Drones, Rhythmic Risers, and Simple Risers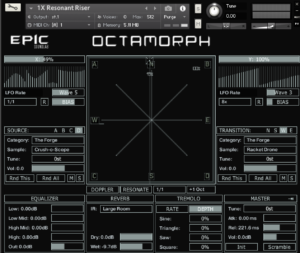 As an affiliate, we may earn a commission from qualifying purchases. We get commissions for purchases made through links on this website from Amazon and other third parties.
StrongMocha is a magazine for music producers, audio engineers, and sound designers. StrongMocha Magazine provides the latest industry news, reviews of gear and software, tutorials on recording techniques, and tips for mixing.