Free BASS for Reaktor – A dual-OSC monophonic bass synth
Free BASS for Reaktor
BASS for Reaktor is a simple two oscillator, a monophonic bass generator based on an idea by Salamanderanagram.
Presets
30 presets in three banks of ten give a flavor of the instrument. Access either from the drop-down menu or from the side pane "Embedded" under the presets menu.
The trick with this version is that you can have ALL the waves playing at once and ALL the filter types clicked in unison if you want. There are TWO oscillators with an eye-catching display that can actually help sound definition as it is super-responsive to control parameters changing. There is also a cross-fade dial to balance the two oscillators for fine definition.
With the extra addition of a comb filter and a 4 wave LFO for filter mod, the range of sounds is massive. Tuned up an octave or two (see the Lead Bank) this instrument makes a great synth weapon too.
FREE DL from NI Reaktor User Library
BASS for Reaktor is available here
Native Instruments Launches Summer of Sound Sales
Native Instruments Summer of Sound Sales Special
Many composer are waiting for this special summer sale to update to the latest Komplet Edition, now is the time! 50% off KOMPLETE 13 updates and upgrades, selected hardware and software bundles, plus half-price upgrades until June 30.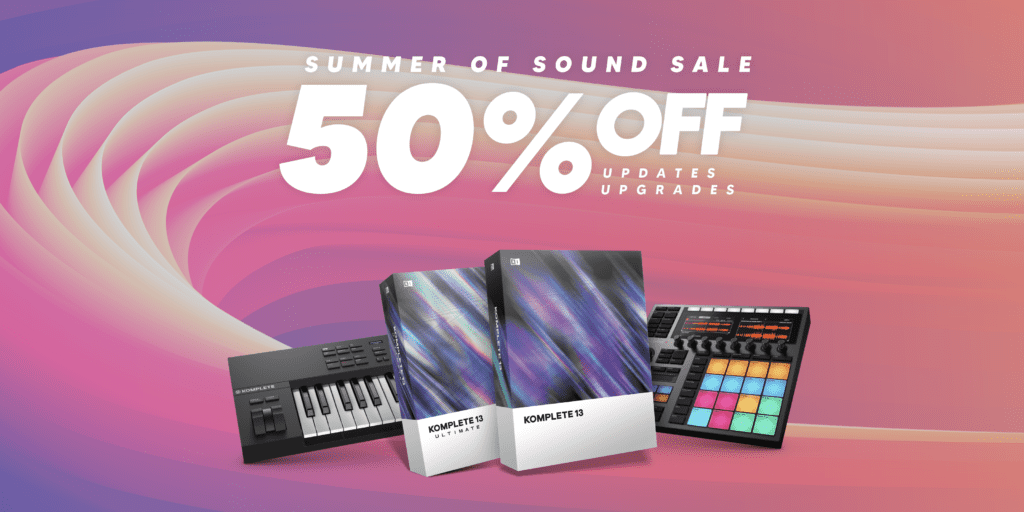 Native Instruments today kicks off its annual Summer of Sound sales special, with 50% off updates and upgrades to KOMPLETE 13 collections, individual instruments and effects, TRAKTOR PRO 3, and MASCHINE software. The offer also includes hardware bundle deals, allowing new users to save up to 499.50 USD / 59400 JPY / 449.50 GBP / 499,50 EUR / 3899.50 CNY / 524 CHF / 649 CAD / 699.50 AUD by pairing Native hardware with hand-picked software collections.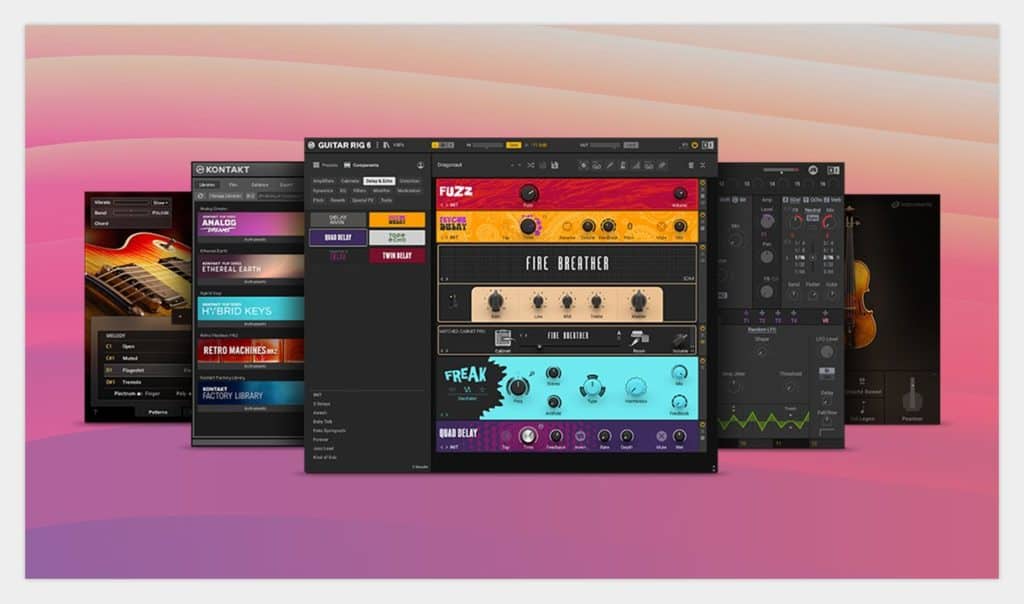 For existing KOMPLETE users, Summer of Sound is the best time to step up to the latest edition or upgrade to a larger collection. KOMPLETE 13 is the biggest edition yet, with four curated bundles of instruments, effects, sounds, and Expansions catered to every production workflow. During the promotion, users save 50% on all update/upgrade paths available to them (visible by logging into the My KOMPLETE Offers page).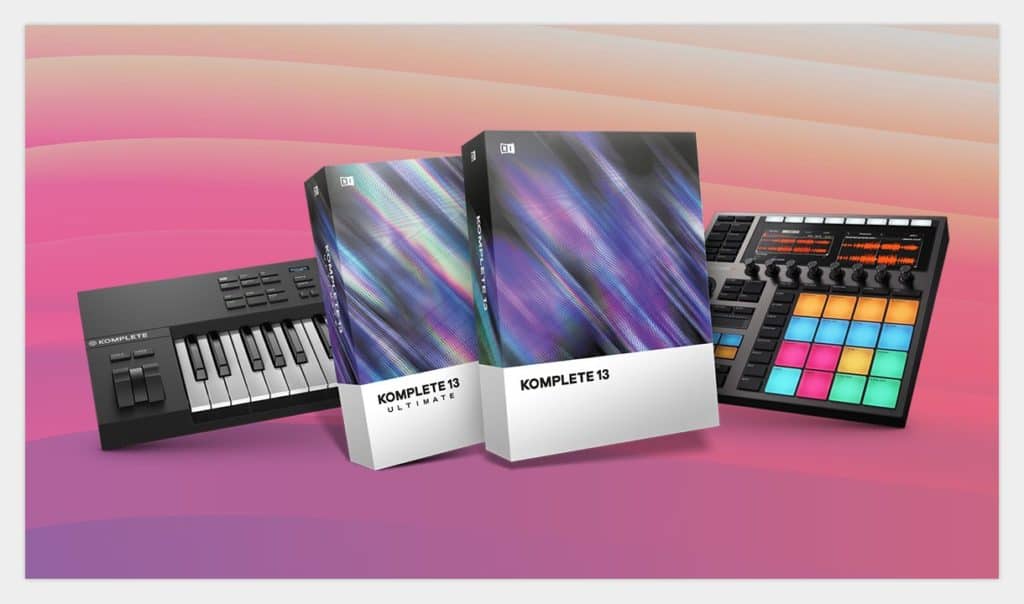 For those who don't yet own KOMPLETE, the special includes deals on hardware/software bundles, combining MASCHINE production systems, KOMPLETE KONTROL keyboards, and KOMPLETE AUDIO interfaces with software upgrades at discounts of up to 499.50 USD / 59400 JPY / 449.50 GBP / 499,50 EUR / 3899.50 CNY / 524 CHF / 649 CAD / 699.50 AUD. The full range of bundles on offer can be found here.
Upgrades and updates to the latest versions of all individual KOMPLETE instruments and effects are also half-price for the duration of Summer of Sound. This includes updates to industry-standard sampling platform KONTAKT 6 and upgrades to full versions of the free products contained in KOMPLETE START.
Owners of the original MASSIVE synth are also eligible to crossgrade to MASSIVE X for half price. Summer of Sound also includes a limited MASSIVE X crossgrade bundle for 99.50 USD / 13400 JPY / 89.50 GBP / 99,50 EUR / 799.50 CNY / 104.50 CHF / 129.50 CAD / 149.50 AUD that includes 10 MASSIVE X Expansions.
The MASCHINE 2 software update and upgrade from MASCHINE Essentials to the full factory library is also 50% off.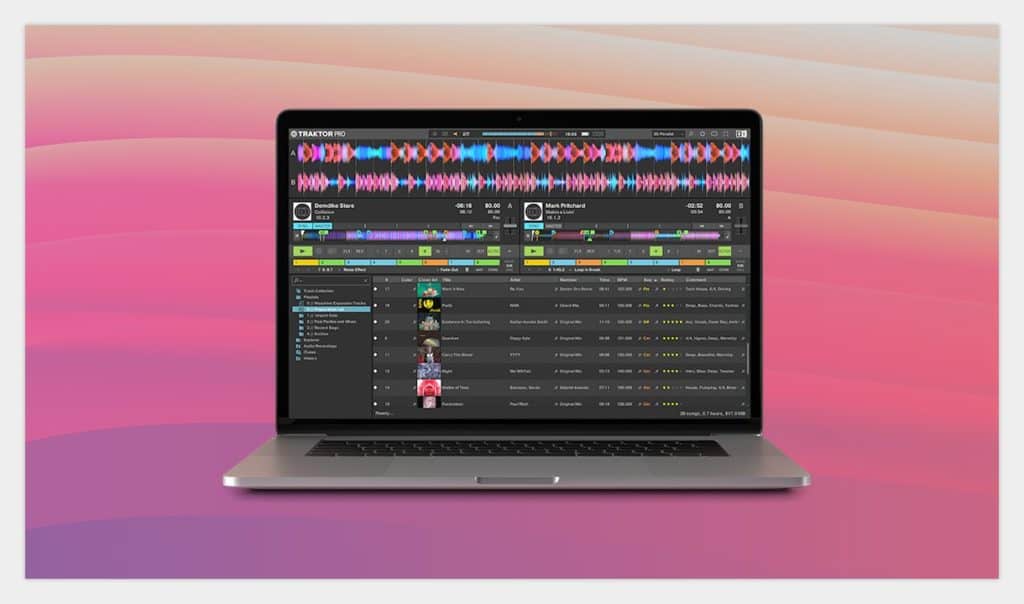 Finally, TRAKTOR PRO 3 updates for existing users of TRAKTOR desktop software are just 24.50 USD / 3300 JPY / 22.00 GBP / 24,50 EUR / 189.50 CNY / 24.50 CHF / 34.50 CAD / 39.50 AUD.
About Native Instruments
For more than 20 years, Native Instruments has been at the heart of musical innovation. We've created communities, pushed technological boundaries, and opened new creative horizons for amateurs and professionals alike. Today, driven by our mission to make music creation more inclusive and accessible, Native hardware, software, and digital services provide fully-integrated solutions for musicians, producers, and DJs of all genres and levels of experience.
Pricing and Availability
Summer of Sound begins now and runs until June 30, 2021. The Summer of Sound special offer is valid until June 30, 2021, at the Native Instruments Online Shop and at participating retailers worldwide while supplies last.
Tutorial Expert Sleepers ES8 + Native Instruments Reaktor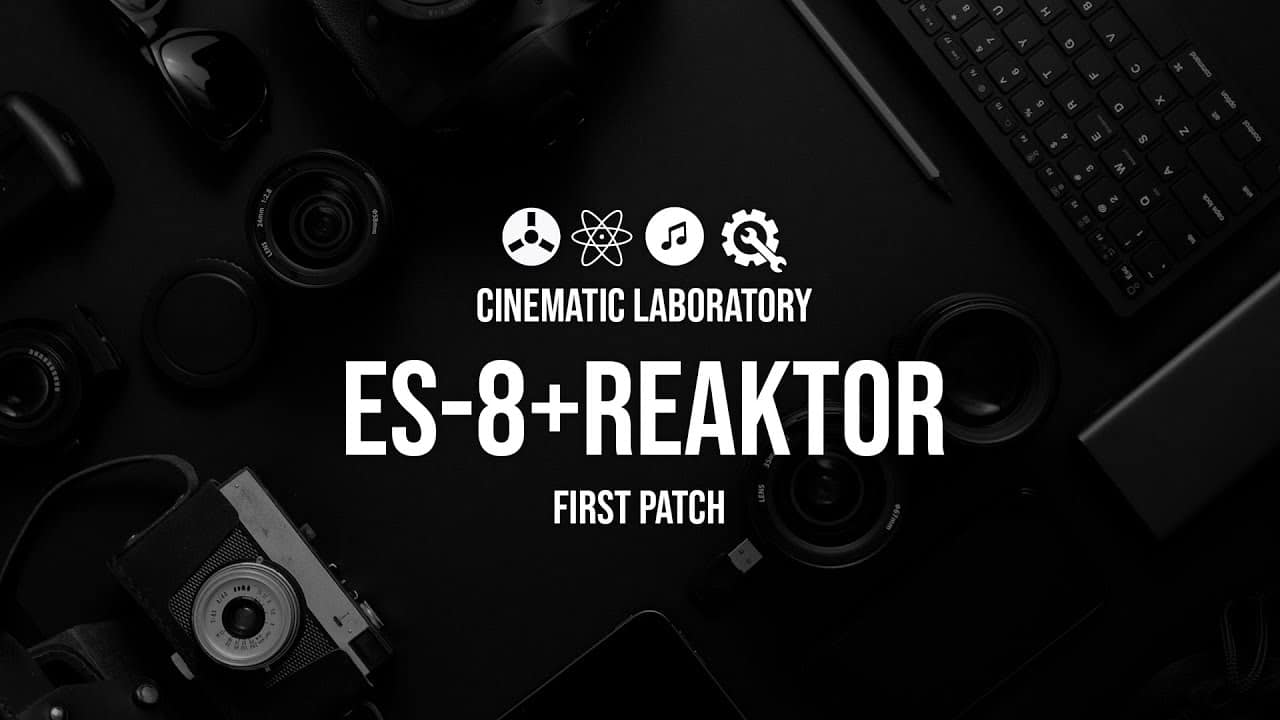 Expert Sleepers ES8 + Native Instruments Reaktor
In my humble opinion, the personal computer (mac/pc) is the most powerful modular synth you can get. You'd need a wall of modules to get even close to that processing power. The ES-8 helps you utilize that power. It's not cheap, but it can help you to start small – before you end up with that wall of modules.
ES-8 is a PC audio interface you can mount in a eurorack and share all kinds of analog and digital signals between the PC and the real world. It works well with a lot of 'virtual modular' applications like VCV-Rack, Softube & Reason. I picked Reaktor 6 because I own a license and barely used it except for exploring presets. There's a lot to learn and discover here. So I kind of feel like Omri Cohen firing up VCV for the first time. I'll definitely share some more videos about how to integrate Reaktor and the ES-8 (ES-9 is about the same, but includes speaker and headphone outputs).
Toybox Launches New Vintage Sampler User Blocks for Reaktor
Vintage Sampler & Vintage Sampler Lite (free)
These blocks have the ability to 'sample' audio from their input port (like a real hardware sampler), for independent recording and playing back of samples. The controls have been laid out to make jamming with a sample very easy and fun!
A high-quality playback engine allows click-free looping, juggling and granulizing of samples using the 'crossfade' control. Plus there are 5 different FM modes including a 'scratch' mode for scratching effect.
The blocks feature a fantastic GUI designed by Christian Schneider from Sonidiom (who also designed the GUI for the Toybox Sequential Switch, which is also in the free User Blocks Pack). Of course, being modular, all functions (including arming, recording, scratching etc.) can be modulated using the other blocks in the User Blocks Pack.
The 'Vintage Sampler' block features high quality modelling of a variety of vintage hardware samplers (not available in the 'Lite' version). A lot of work has gone into accurately emulating the signal path of several vintage units. The sampler has 5 different 'models' which can be selected from the block's 'Options' page: TOY1, TOY2, 80s, 90s and CLEAN.
Pricing and Availability
The 'Vintage Sampler Lite' block is available for free as part of the Toybox User Blocks Pack, and the 'Vintage Sampler' block can be purchased for $19 (or just $14.25 using the current SPOOKY25 discount). Reaktor 6.4 (not the player version) is required to use either block as they are both 'User Blocks'.
Enter the code SPOOKY25 at the checkout for 25% off all packs and bundles
As an affiliate, we may earn a commission from qualifying purchases. We get commissions for purchases made through links on this website from Amazon and other third parties.
StrongMocha is a magazine for music producers, audio engineers, and sound designers. StrongMocha Magazine provides the latest industry news, reviews of gear and software, tutorials on recording techniques, and tips for mixing.