TWEAKER'S BOUTIQUE BUNDLE SALE
Upgrade your music production toolset with this unique collection of creative instruments and FX from world-renowned plugin manufacturers. With these seven plugins, you will have everything you need to create professional sounding, forward-thinking productions with ease. 
In collaboration with PLUGIN BOUTIQUE, Audio Plugin Deals has launched the TWEAKER'S BOUTIQUE BUNDLE (Affiliate Link) featuring 7 of the greatest and best libraries by DENISE AUDIO, WA PRODUCTION, GLITCHMACHINES, AND SOUNDSPOT.
Originally valued at $557.00, this must-have TWEAKER'S BOUTIQUE BUNDLE (Affiliate Link) is now available for just $99.99 for a few days! This is an amazing no-brainer offer you should not miss!
The denise Bad Tape (Affiliate Link) is the next plugin from denise audio. denise like to describe it as a tape harming (#tapeharm) effect plugin. Its focus is on creating extreme tape artifacts… and man does it sound bad. The inspiration for the Bad Tape came from denise team member Enrico 'nrec' Tiberi: "I was using a lot of my old Akai 4000 DS MK2 reel to reel tape recorder pressing the tape to slow it down as an effect and that made me want a plugin that could control how to break the sound without having to use my fingers each time and without all the cables and fuss that analog hardware inevitably brings".
Combining a good old vintage tape sound with harming features makes the Bad Tape a very creative and versatile tool. Want an "out of tune and off the grid" beat or a wonky drum groove? Just keep the detune button pressed and it will create a tape-stop in real time. Press it shortly for slight slow-downs and speed-ups, or use wow and shake to make it go in and out of tune and go off-grid periodically. Use the mix knob to create tracks that are heavily saturated and detuned, with additional interesting tape artifacts like hiss, squeal and harm. The Bad Tape can be used to colour and detune your whole track, or it can be applied to just one bar at the end of a section to help introduce some variation and lead in the next section of your song.
denise Slappy (Affiliate Link) is a hysteresis saturated slapback delay for a great sound and quick results. You can use it for creating that classic slapback effect on guitar, vocals and drums.
Regular digital saturation can sound harsh in the high end. denise's hysteresis saturation, as used in their Bad Tape plugin as well, uses a smoothing algorithm that creates a warm and analogue sound known from vintage tape machines.
W.A Production InstaScale (Affiliate Link) is a newly invented, scale oriented instrument with only 16 keys to play with. But wait, is that enough? Turns out it's more than enough. Unlike the standard keyboard instruments where each key can only play a single note, Instascale has a set of smart keys, each one capable of playing different notes. The new note will be based on the given scale, last note's position and the action of the key assigned to it.
InstaScale is available as a MIDI processor plugin that can be used in any DAW that supports VST instrument plugins (with MIDI routing) or AU MIDI effect plugins, given you the freedom to play any instrument you choose without any limitations regarding the sound and hardware.
The W.A Production The King (Affiliate Link) is a Dynamically Enhanced Multi-Band Compression Plug-In designed for Mastering.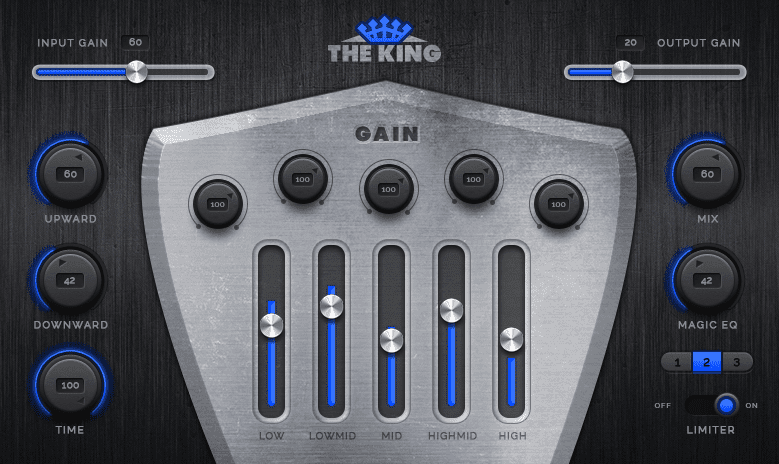 Features
5 Band Threshold knobs
5 Band Make Up Gain knobs
Input/ Output Gain
Upward Compression Knob, Downward Compression Knob
Release Time knob
Overall Plug-In Mix knob
Magic EQ with 3 different Shapes/ Curves and a built-in Limiter!
Glitchmachines Subvert (Affiliate Link) is based around 5 effects; multimode distortion, FM ring modulator, digitizer, metallizer and multimode filter, Subvert generates anything from subtle harmonics to relentlessly brutal distortions. Offering three parallel channels of each effects chain as well as a wealth of modulation and routing options, Subvert is our take on signal decimation with a twist.
Subvert's multi-channel layout and per-effect bypass option make it possible to reconfigure the order of effects in each chain in a variety of creative ways. Between the unconventional routing options, 15 effects processors, global EQ, numerous modulation options and global randomizer, Subvert makes it possible to achieve mind-bending destructive effects.
Glitchmachines Cryogen (Affiliate Link) features dual buffer effects, dual multimode filters and dual bit crusher effects. With the advent of its flexible architecture and fully modular drag & drop modulation matrix, Cryogen is capable of generating everything from subtle glitches to stunning signal mutations, making it an exciting creative tool for electronic musicians and sound designers.
Between its flexible routing matrix, multiple effects processors and extensive modulation options, Cryogen enables you to dial in vast variations of special effects. Cryogen takes buffer effects one step closer to the edge!
SoundSpot Union (Affiliate Link) is SoundSpot's next-generation wavetable synthesizer audio plugin, featuring a unique wavetable generator that lets you create harmonically rich wavetable sets from the output of Union's main oscillators: a technique frequently used by the world's best sound designers to create rich and deep sounds. Union allows you to utilize this synthesis technique with a single click of a button.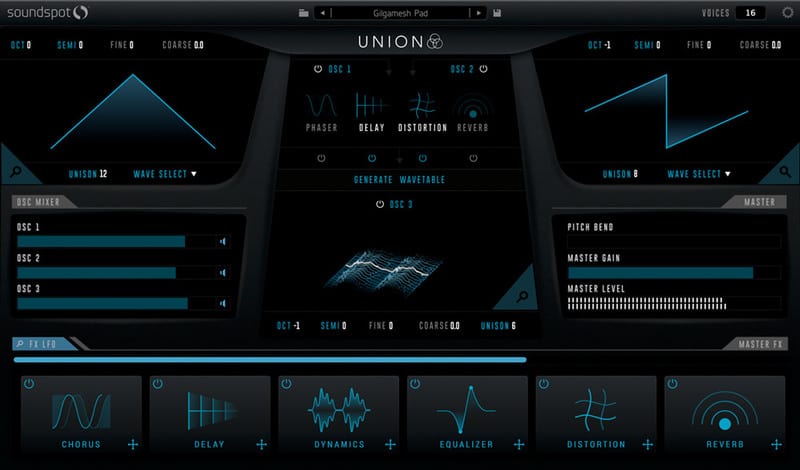 The Union plugin comes with unique features such as independent filters per oscillator, which allows a deeper control over the shaping of your sound, and a unison engine that can run up to 96 voices in a single note play.
Bad Tape by Denise Audio
Slappy by Denise Audio
Union by SoundSpot
InstaScale by WA Production
The King by WA Production
Subvert by Glitchmachines
Cryogen by Glitchmachines
Originally valued at $557.00, this must-have bundle is now available for just $99.99 (Affiliate Link) for a few days! This is an amazing no-brainer offer you should not miss!  The Tweaker Boutique Bundle (Affiliate Link) will available on March 15th, 2020. Each of these products can also be purchased individually at 50% off except Bad Tape and Slappy