MANTRA by W.A. Production – LIMITED FREE DOWNLOAD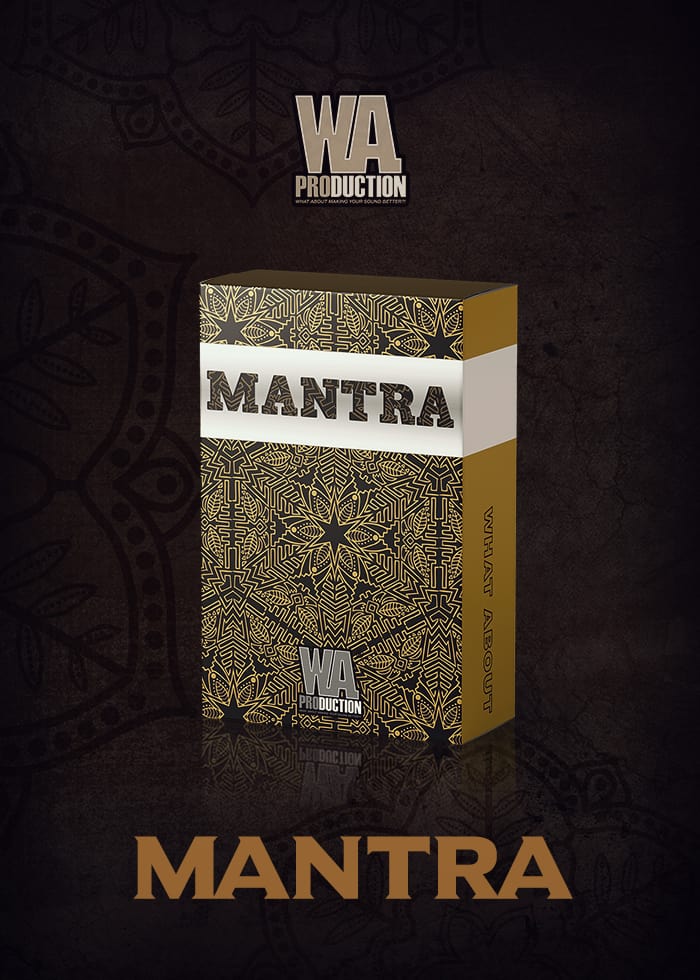 MANTRA by W.A. Production – LIMITED FREE DOWNLOAD
MANTRA (Affiliate Link) by W.A. Production weighing in at 8GB, MANTRA packs a punch with the included Construction Kits & FL Studio / Ableton Templates, Vocals, Melodies & Drums.
MANTRA Features
Genre: EDM, Trance, Vocal, Electro House, Psytrance
Type: Construction Kits, Samples & Loops, MIDI Loops, Presets Serum, DAW Templates, FL Studio, Ableton
Instrument: Drums, Guitar, Vocals, Strings, Ethnical
MANTRA is uniquely built for fans of top artists like KSHMR, Dropgun, Headhunterz, Armin Van Buuren, Timmy Trumpet and the Dharma Worldwide label who are burning up the scene with this latest mixture of tradition and innovation. An exotic state of consciousness awaits your imagination to create the most elaborately ornamented, melismatic tunes.
For just 2 weeks, get MANTRA (Affiliate Link) by W.A. Production for FREE (normally $29.90).
W.A. Production announces the availability of InstaComposer as new-generation MIDI generator
W.A. Production announces the availability of InstaComposer
W.A. Production, producers of high-end professional-sounding samples, instrument and effect plug-ins, DAW (Digital Audio Workstation) templates, and more, is proud to announce the availability of InstaComposer. A new-generation MIDI (Musical Instrument Digital Interface) generator plug-in that can conjure up Melody, Rhythm, Bass, Pad, and Chord parts at the click of a button by plying AI (Artificial Intelligence) to create real McCoy musical motifs that are genuinely gainful as the next step in automatic composition.
The InstaComposer tool essentially acts as the next step in automated composition, employing a sophisticated algorithm to identify notes, harmonies, and chords based on user preferences. Indeed, InstaComposer's innovative backbone is a behind-the-scenes decision-making matrix that produces notes using both mathematics and musical knowledge.
AI
Needless to say, AI takes into account a slew of variables that may be customized in the bottom panel of its simple GUIs (Graphical User Interface). Repetition probability (Repeat) and managing complexity of chord forms (Chords) are just two examples. Clearly, variously (Variation), strumming patterns (Strum), and note density (Population) are only a few of the many possibilities that may be altered quickly and simply, allowing an algorithm to customize a set of preferences.
Because InstaComposer is as distinctive as its user, it takes into account their chosen Scale, time signature, and riff length. Following that, they can construct new sequences for one, some, or all five of the program's built-in channels – Chan: 1, Chan: 2, Chan: 3, Chan: 4, and
The InstaComposer Editor allows you to customize the output of InstaComposer inside the interface. Finally, users are able to modify the music before it exits the plug-in, allowing them to add their own creativity and distinct style to the top of what InstaComposer has already provided. Moving, copying, and deleting notes within a typical piano-roll-style user interface is all feasible in InstaComposer.
It's also simple to copy MIDI tracks from InstaComposer into a DAW. Users may also create multi-channel instruments and send the MIDI from InstaComposer to their favorite VSTi (Virtual Studio Technology Instrument) plug-ins. Put it another way: users can view all five channels at the same time, without ever having to leave InstaComposer!
Factory Presets
InstaComposer includes a diverse range of factory presets — song-building tools that may get users up and running in little time. All of these can potentially become the basis for entire songs! There's so much compositional power at your fingertips — from composing melodies, phrases, riffs, chords, and more in different time signatures to generating automatic harmonies and chord progressions with numerous controls for probability, complexity, and variation resulting in an infinite number of possibilities at the click of a button. You'll never be trapped in a musical rut again! After all, W.A. Production comprises real-life producers partial to creating creative plug-ins to help anyone achieve studio-quality processing quickly and easily. Working with InstaComposer is a great time, whether you're a business or a school. It's also a fantastic way to get in touch with your artistic side.
Pricing and Availability
InstaComposer is available to purchase for a time-limited introductory promo price of only $20.70 USD (representing a significant 70% saving) — rising thereafter to its regular price of $99.00 USD — as 64-bit AAX-, AU-, VST-, and VST3-compatible plug-ins for macOS (10.11 or later) and 32- or 64-bit AAX-,VST-, and VST3-compatible plug-ins for Windows (7 or later) directly from W.A. Production.
80% OFF MIDIQ + Biggifier Bundle (VST, AU, AAX) by W.A. Production GET 80% OFF
MIDIQ + Biggifier Bundle
MIDIQ runs in any DAW with MIDI routing support. Place the plug-in on the generator track or use multiple instances of the plug-in assigned to different tracks (e.g. to layer the output for the creation of very unusual, highly polyphonic progressions or to generate polyrhythmic loops). Use the copy-and-paste functionality to copy parameters from one plug-in to another. Preset data is automatically saved in DAW sessions, so nothing gets lost. A simplified piano roll display shows the generated chord sequence. Chords from the piano roll can be dragged to the host sequencer.
Innovative user interface featuring a pattern definition area for chords
Individual adjustments of MIDI velocity and muting of a generated chord
Powered by intelligent algorithms for chord sequence generation
Simplified piano roll display
Factory Presets
Drag to export
Designed by artist, songwriter and producer Jonas Aden in conjunction with WA Production, the BIGGIFIER has been a long-time coming. Having released records on labels including Spinnin, Musical Freedom, Hexagon, Heldeep and STMPD, Jonas has also fine-tuned his production skills across a slew of stellar collaborations with Brooks, Mesto and Mike Williams and remixes for Katy Perry, Zedd, Tiesto, Jonas Blue and Rita Ora. All the while, behind the scenes, Jonas' co-writing and production credits include industry titans Martin Garrix, Alan Walker & ASAP Rocky.
Designed by JONAS ADEN
Artist curated bespoke FX chains
5 distinct BIGGIFIER modes with Length control
Focus on easy operation
Adjustable input and output gain
Responsive & CPU friendly
Factory presets
Full PDF Manual & Tutorial video
Catapult your projects to the next level with the MIDIQ + Biggifier Bundle by W.A. Production! Now only $20 (instead of $99.99) for a limited time.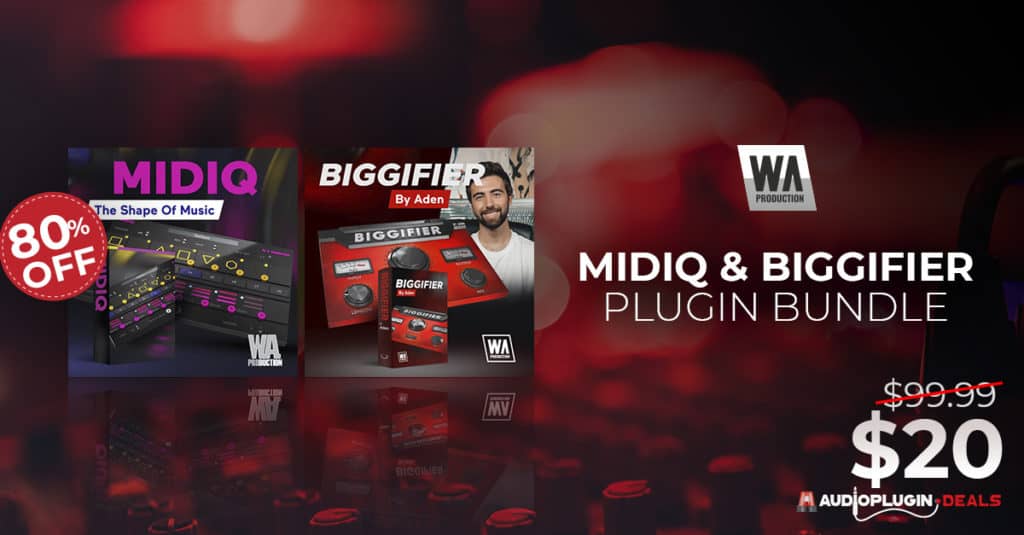 MIDIQ is an innovative MIDI sequence generator for both studio and live applications, featuring a unique and highly interactive user interface. Generating near-limitless chord sequence possibilities, MIDIQ uses a simple pattern language for the definition of repeating chords.
BIGGIFIER by Aden is a powerful one-knob that delivers an instant and addictive shot to the metaphorical arm of any sound. Jack up that wimpy kick, beef up the faintest of vocals, and juice any flaccid sample into a BIG, fat, room-filling sound.
Pricing and Availability

Originally valued at $99.99, this bundle (Affiliate Link) is now available for only $20!
85% OFF – Punch the Mutant Bundle by WA Production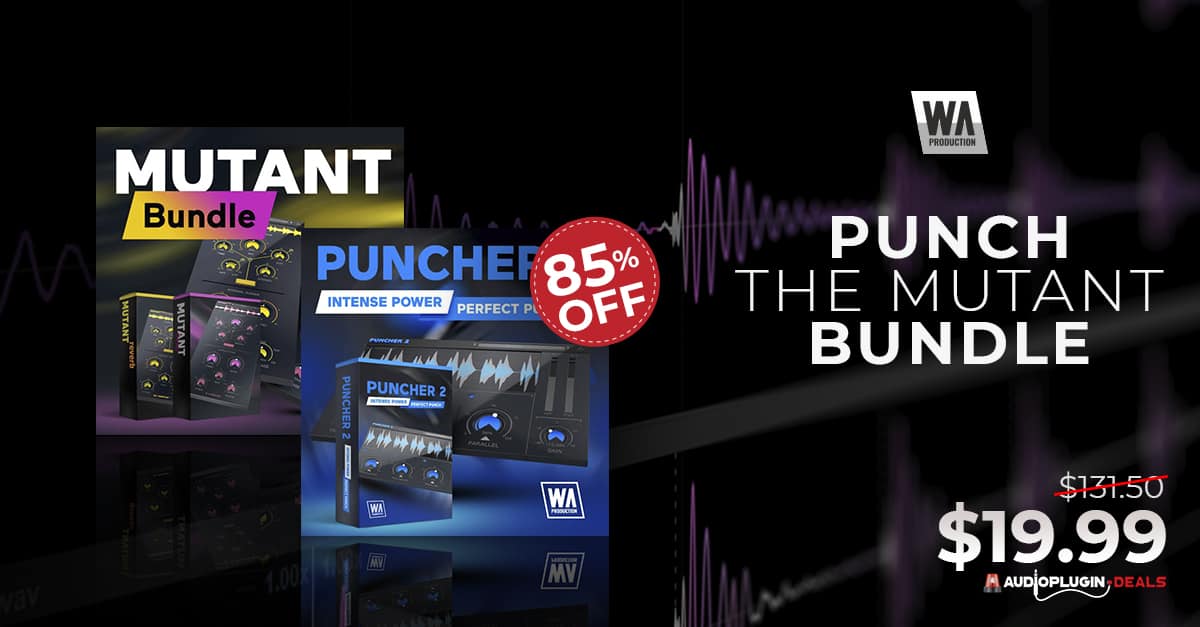 Punch the Mutant Bundle W.A. Production
For only $19.99 (instead of $131.50), get the Puncher 2 and Mutant Bundle by WA Production: Punch the Mutant Bundle W.A. Production (Affiliate Link)
Puncher 2 is a Multi-FX plug-in that will add instant power and punch to your tracks. In terms of compression, this is the all in one tool you've been dreaming of.
Puncher 2 is designed to give you absolute tonal control of transient energy so that you can customize and shape those sounds. Rather than have 3 separate units, Puncher 2 has the 3 elements you need to give your mix that clear extra punch, all in one compact plugin.
Puncher 2 Presets
9 Instrument Presets (guitar,brass,string,piano)
8 Drum Presets (deep house,dub,rock,trap)
9 Bass Synth Presets
7 Synth Lead Presets
11 Synth Presets by Genre (ambient, hip-hop, future bass)
6 vocal presets
The Mutant Bundle contains two incredible plugins: Mutant Reverb and Mutant Delay. These plugins give you more control over your soundscapes than ever before. Now, you can easily add both of these innovative plugins to your production arsenal when you pick up the Mutant Bundle today.
Mutant Delay is a host-synced delay plugin with a built-in ducker, perfect for vocal processing and many other applications. In the studio, we've lost count of the number of times we've had to set up convoluted sidechain and compression routing, just to achieve a ducked delay for our vocal lines. With Mutant Delay all that complexity is a thing of the past.
Mutant Reverb is a mono-to-stereo reverb plugin with a built-in ducker; perfect for vocals, percussion, synths and many other applications where you need precise control of reverb tails. Adding reverb to sounds gives warmth, character and places the sound in a real-world space. In just a couple of clicks you can duck the reverb processing out of the way of the original audio without any complicated side-chain or compression routing. Just plug and play.
Pricing and Availability

Originally $131.50, Punch the Mutant Bundle W.A. Production (Affiliate Link) s now available for only $19.99 for a limited time only. This is an amazing offer you should not miss!
As an affiliate, we may earn a commission from qualifying purchases. We get commissions for purchases made through links on this website from Amazon and other third parties.
StrongMocha is a magazine for music producers, audio engineers, and sound designers. StrongMocha Magazine provides the latest industry news, reviews of gear and software, tutorials on recording techniques, and tips for mixing.