New Freak (Vult DSP) Firmware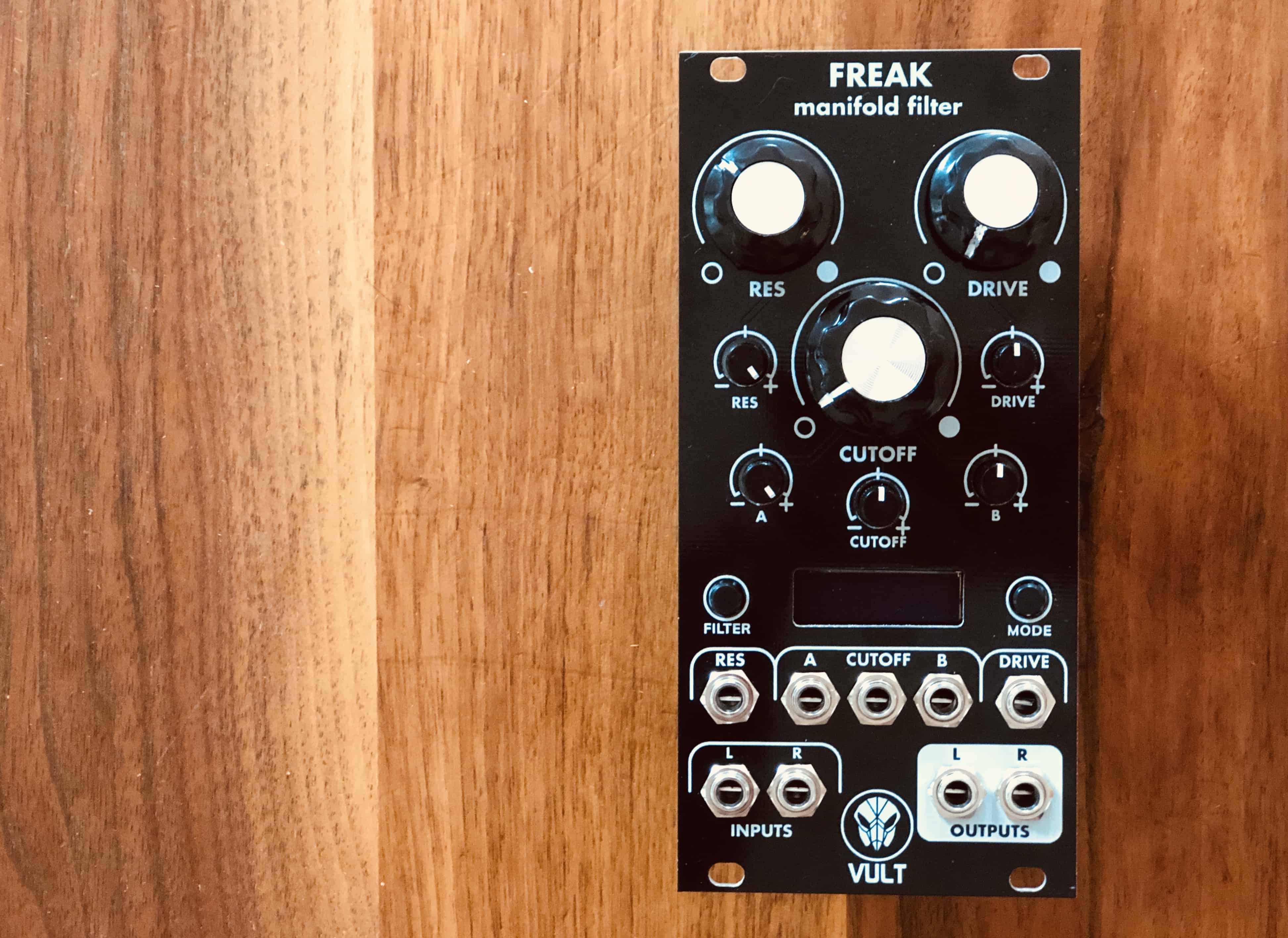 New Freak (Vult DSP) Firmware
Vult DSP announces the official release of the Freak firmware v2.1. The file has been available for a few weeks on Vult DSP GitHub.
Freak Firmware v2.1 – What's New
The new firmware adds two new models that were ported from Vult DSP's existing virtual modules.
Disjoint
This is a DJ style filter that combines a low pass and high pass filters controlled with a single knob.
Nopskate
A flip-flop octave inspired by the way the Boss OC-2 guitar pedal works.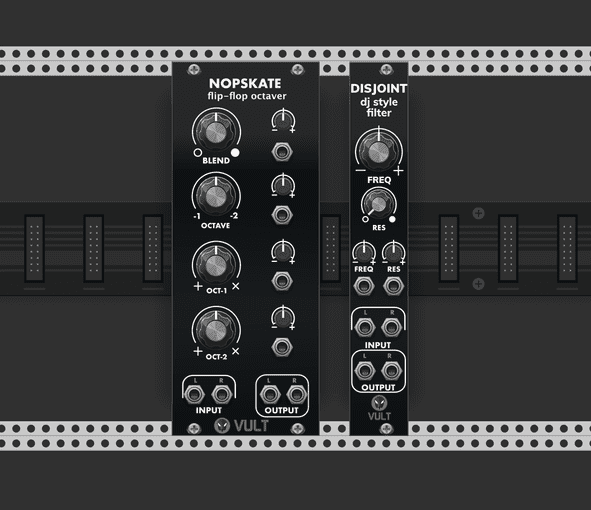 Upgrade your Freak-Firmware
You can download the firmware on the main Freak page. Vult DSP strongly recommends you use Audacity to playback the firmware file. Some people have reported to Vult DSP to update problems when using DAWs and music players.
Maneco Labs GRONE DRONE SYNTH Now Shipping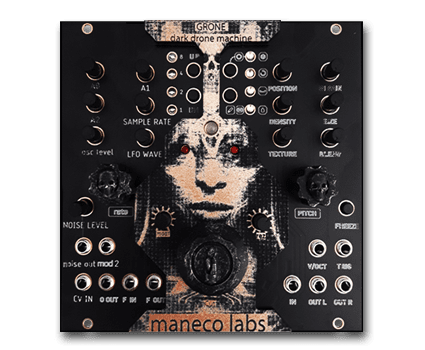 Maneco Labs GRONE DRONE SYNTH
GRONE DRONE SYNTH developed by Maneco Labs is now shipping. This module for eurorack includes a drone oscillator (VCO), Noise generator, MS20 resonant low pass filter, multi waveform LFO and an integrated Clouds clone.
Eurorack module format
Drone voice oscillator
MS20 Filter
Multi waveform LFO
Noise generator
Clouds integrated
Dark drones generator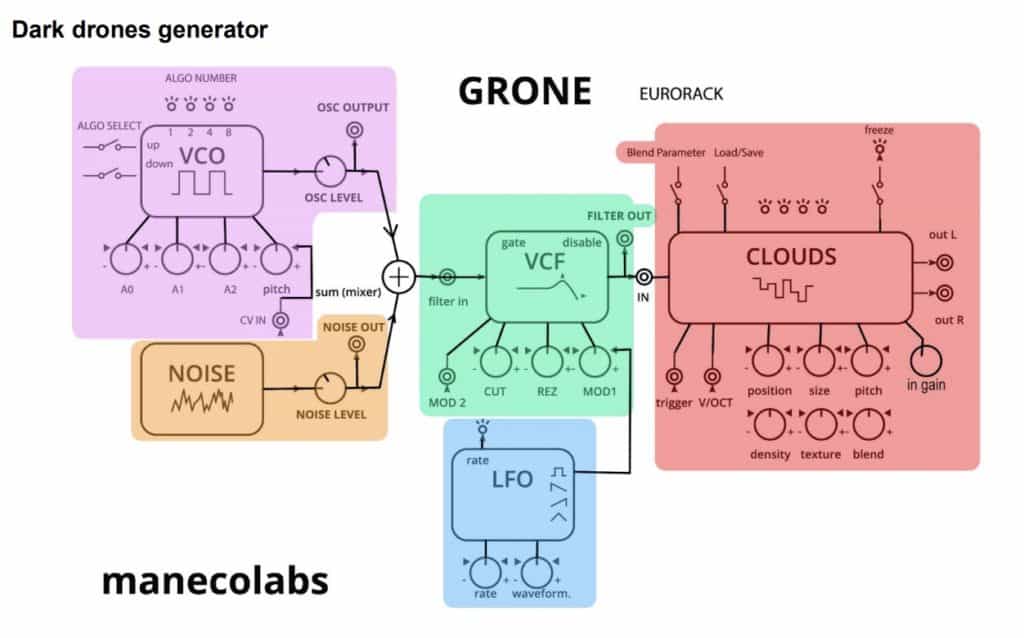 Drone VCO
Generates sound based on equations converted to analog signals , there are sixteen equations selected by Up and Down switches. Four leds indicate equation number in binary mode. Three Pots modify numbers used by the equation, A0 , A1 and A2 , fourth pot Sample Rate controls pitch and speed of the oscillation. There's an Output Level pot for the oscillator and a dedicated jack for patching the Oscillator sound to external modules.
NOISE GENERATOR
White noise with noise level pot and noise output jack.
VCF
MS20 resonant low pass filter, with CUT frequency pot control, RESONANCE, MODULATION 1 amount pot, input and output jacks and second cv input for cut off, labeled MOD2.
LFO
Low frequency oscillator routed to MOD1 from VCF, RATE and WAVEFORM shape
pots. Waveforms are ramp up, ramp down, square, triangle, sine , sweep, random levels, random
slopes.
CLOUDS
Based on MUTABLE INSTRUMENTS eurorack module , with parasites firmware , same controls from MI : Input gain, position, size, density, pitch, texture, blend , switches for blend parameter and load/save, freeze control with indicator led , same display as MI original, Dedicated audio input jack (mono) stereo output and control inputs for V/OCT and TRIGGER.

Pricing and Availability
GRONE DRONE SYNTH is available now directly or from their retailers.
Freak Firmware v2.3 and Module Availability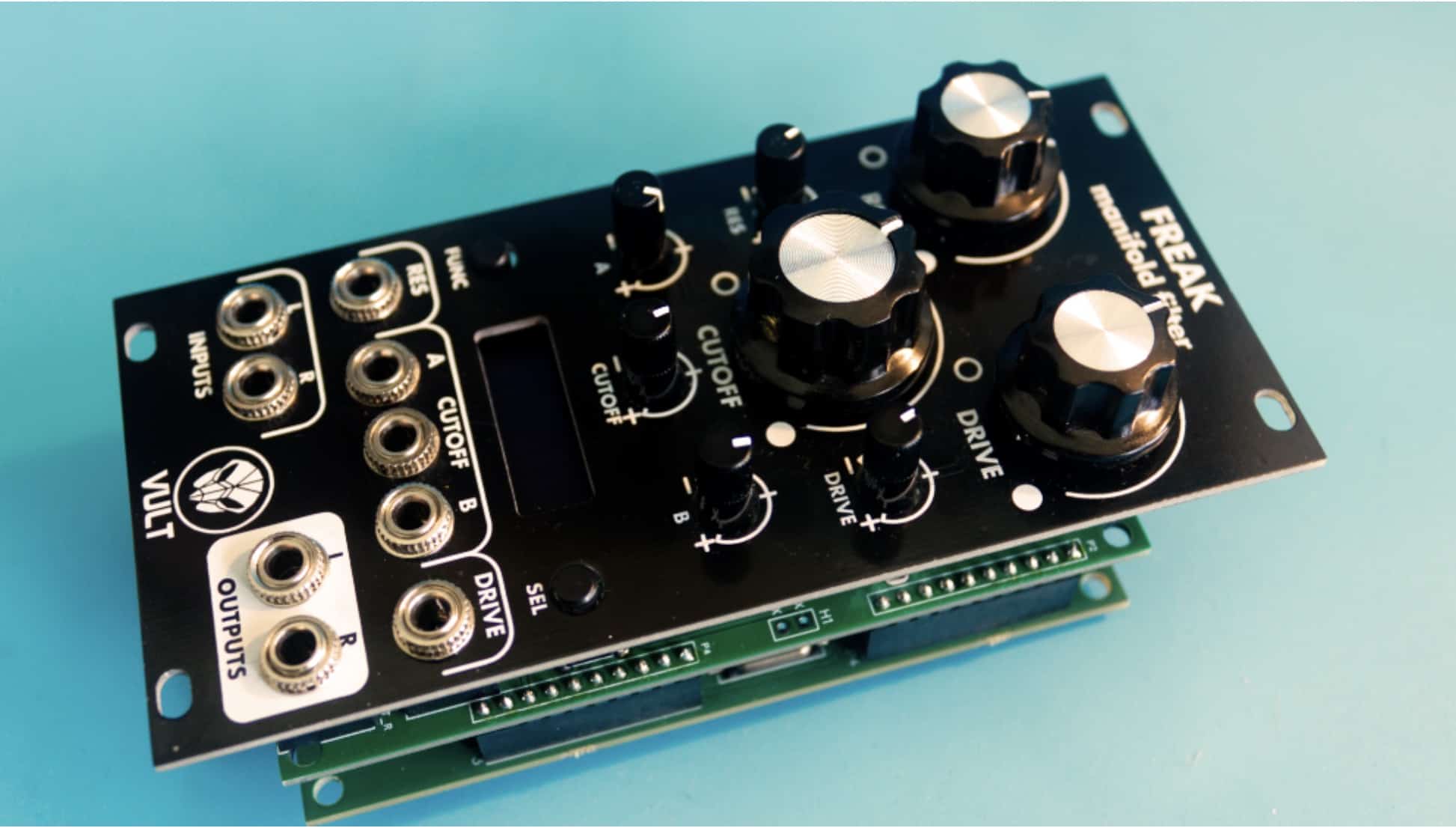 Freak Firmware v2.3 and Module Availability
The latest release of Firmware v2.3 added to the eurorack filter Freak features like Flame containing the Rodent and Cylinder models which are Vult versions of the Rat and Tube distortions.
The Freak Manifold Filter is the result of Leonardo Laguna Ruiz obsession with analog filters. The Freak module is a digital filter that simulates the sound of a variety of analog filters. It consists of two individual channels that can be operated in Stereo or Dual mode.
If you are waiting to get a Freak module, you may have noticed that VULT DSP has not had any in stock for a while. This is because some of the packages Leonardo Laguna Ruiz running VULT DSP have ordered have been delayed and Leonardo cannot gather all the components needed for the next batch. Leonardo should have enough components in his office to assemble a few modules. Please contact Leonardo if you want one and he will let you know in the coming weeks if he has it and when they can ship it. You can reach out to him via Email: leonardo@vult-dsp.com
Erica Synths Fusion System II Shipping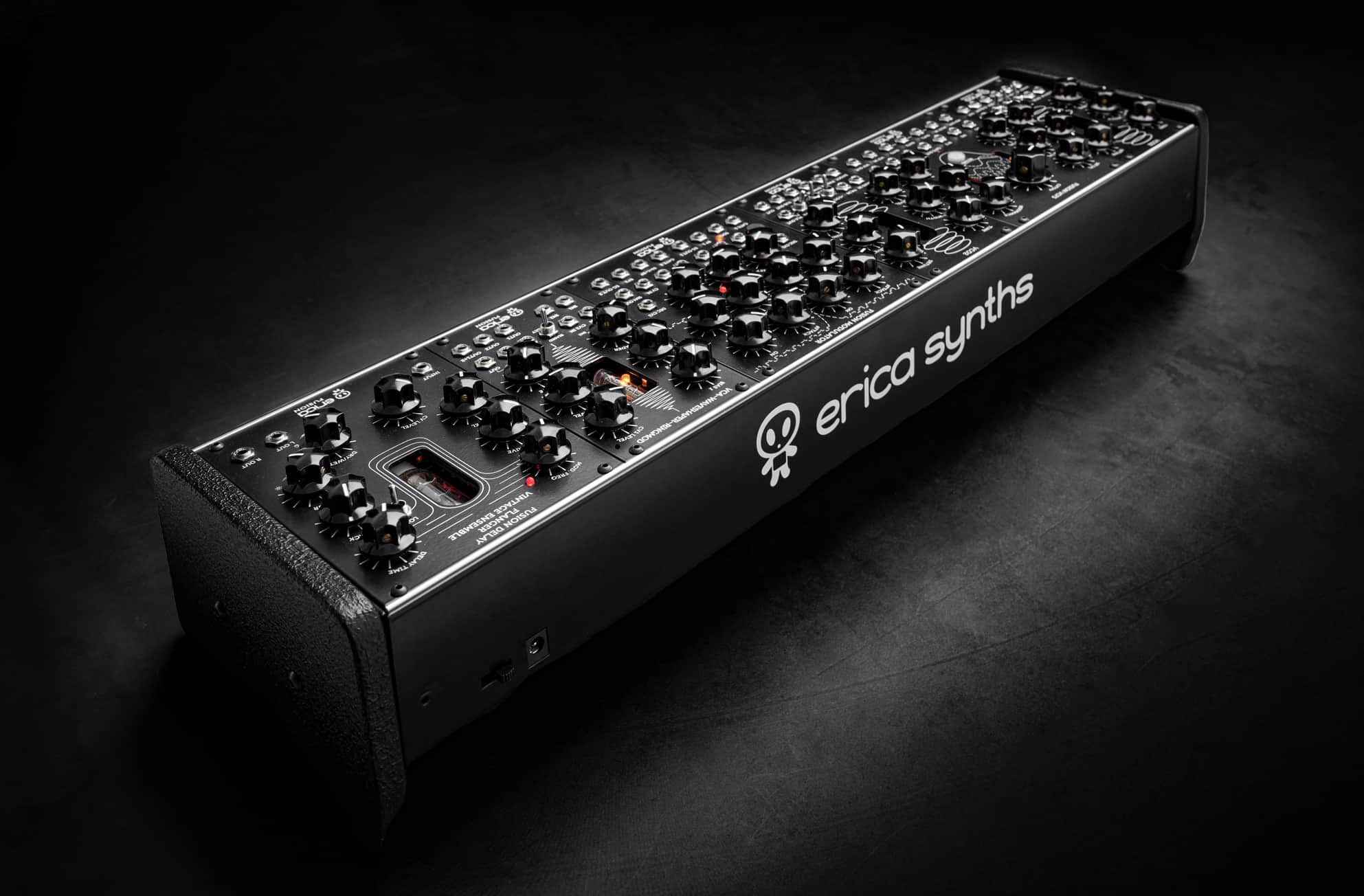 Erica Synths Fusion System II Shipping
Erica Synths is one of the few manufacturers that use vacuum tubes in eurorack modules, and those, who are familiar with tube-based modules, know that tubes can push the sound to extremes or turn it deep, saturated and complete.
They did come up with three new Fusion series modules – Fusion VCF3, Fusion Modulator (already available) and Fusion VCA/Waveshaper/Ringmodulator (available from June 16th, 2020) – to create the Erica Synths Fusion System II – a modular synthesizer for sounds of unprecedented pressure, unconventional modulations, and creativity-inspiring patching. A 104HP system has 63 patch-points for extensive experiments in sound design, all-analog signal, and CV path; it's a system for those, who take sound design seriously.
Fusion System II Includes
Two Fusion VCO2s – fully analogue sound source with three simultaneously available waveforms, transistor-based suboscillator and detune function – two BBD delay lines that make frequency shifter that is mixed back to the principal oscillator in order to emulate two detuned VCOs. Tube crunch – distinct tube overdrive – is added on the top of the mix.
Fusion VCF3 – resonant 24dB/oct lowpass filter of unique design that combines vacuum tubes and vactrols, providing distinct, soft filtering. For more versatility a CV recorder, that records motion of the potentiometer, is incorporated in the module, so you can design advanced modulation patterns.
Fusion Modulator – complex, all analogue CV source that consists of several blocks – two EMS Synthi functionality inspired looping envelope generators with simultaneous unipolar (0V-10V) and bipolar (-5V-+5V), VCA, Noise generator and Sample&Hold.
Fusion VCA/Waveshaper/Ringmodulator – a modulation source based on two miniature pentodes that operates as VCA, waveshaper and ringmodulator. With two CVs applied simultaneously to different stages of the VCA, audio rate modulations, using ringmodulator as a waveshaper it becomes surprisingly versatile sound shaping module.
Fusion Delay/Flanger/Vintage Ensemble – a distinct multifunctional analogue effects module that combines BBD chip based effects with an adjustable tube overdrive in the delay output and a feedback path for extra thickness of the sound.
104HP One Row Skiff case (with or without a lid)
20 patch cables
Pricing and Availability
Erica Synths Fusion System II is available now – RRP: 1950 (VAT excl.) – without case lid
RRP: 2030 (VAT excl.) – with the case lid
As an affiliate, we may earn a commission from qualifying purchases. We get commissions for purchases made through links on this website from Amazon and other third parties.
StrongMocha is a magazine for music producers, audio engineers, and sound designers. StrongMocha Magazine provides the latest industry news, reviews of gear and software, tutorials on recording techniques, and tips for mixing.