Hy2rogen – Future House Drops by HY2ROGEN
Hy2rogen – Future House Drops by HY2ROGEN
Following the successful recipe of HY2ROGEN (Affiliate Link) previous popular release Bass House Drops (Affiliate Link), they return to deliver a whopping 3.7GB+ monster package HY2ROGEN – Future House Drops( Affiliate Link) that slams 16 fully functional tracks right in your face!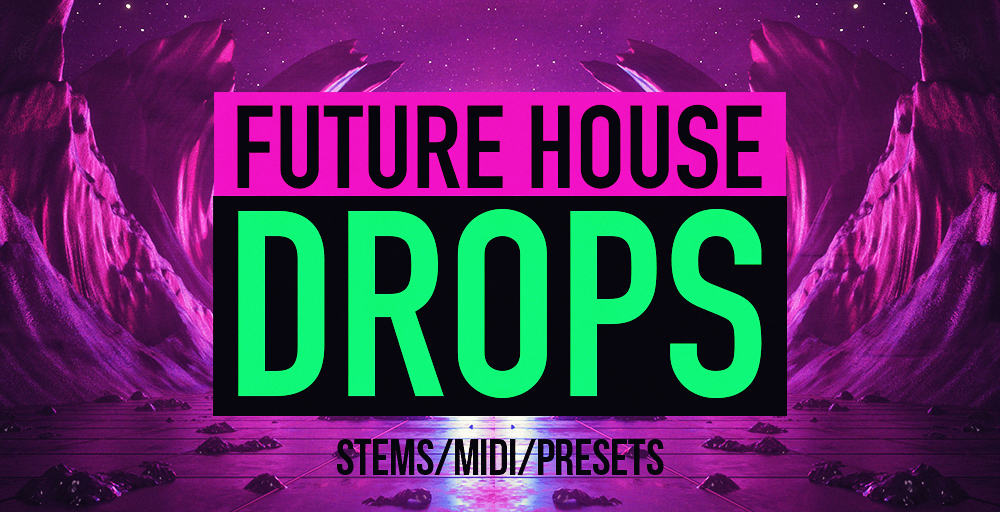 Imagine your favorite artists from Don Diablo's label – Hexagon all gathered in one place in HY2ROGEN – Future House Drops (Affiliate Link) and delivering their unique sound from start to finish going from drums, effects, fills, crazy basslines, those custom, specific leads and on the spot vocal chops. All available with Synth Presets, MIDI files, and Stems to take these ideas further…
This great addition to your library unleashes melodic ear-pleasing candy, thrusting the speakers with beautifully sculpted chords and melodies. Most of these construction kits also come equipped with breakdowns, creating momentum before the drops hit hard.
What you get is 3.7GB+ of content totaling 407 files broken down into 16 fully disclosed construction kits that come with STEMS (237 WAV files), MIDI (91 files) and SYNTH PRESETS (69 Serum, 7 VPS Avenger, 1 Spire and 2 Sylenth1 presets).
All of the audio content been exported up to 48 bars long WAV files and at a quality of 24bit 44.1Khz, with tempos ranging from 122 to 126 BPM.
The Synth Presets are also available as a separate download. These preset require the latest versions of Serum, VPS Avenger, Spire, and Sylenth1.
HY2ROGEN – Moody Trap 2
Straight from the HY2ROGEN laboratory comes volume 2 (Affiliate Link) of the sensational Moody Trap (Affiliate Link) sample pack, equipped with 1.6GB+ of hit-making prime matter.
Giving this must-have pack a quick audition will reveal the influences of popular producers and artists in the game such as Post Malone, Travis Scott, Metro Boomin, Tay Keith, Wheezy, Mike Will and many others but will also deliver a new sound direction for producers to take on when producing beats and tracks.
This new edition of Moody Trap comes packed with many flavors that will keep you hooked for months, making you come back for new ideas and track starters. Expect to find a wide range of new music loops that scream 'turn me into a banger track' while having different nuances of pianos, guitars, synths, plucks, atmospheric pitched down sounds that you will surely hum and stay with you for days.
With this new multi-spiced bad boy you get over 1.6GB+ of materials in the form of vinyl infused drum kits, mega crushing 808s, rhythm-begging melody loops and slowmo loops, must-have one-shots, ambiance effects, on the spot top loops plus individual clap & snare loops, hat loops and kick loops. We have also included MIDI files for the 808s, Melody Loops and individual drums (claps, snares, hats, kicks), giving you the freedom to take these to your favorite synths and kits. These are all the perfect tools to help you produce your next truly unique track.
The sounds have been key and tempo labelled (140 BPM) where applicable with lengths ranging from 4 to 8 bars long. The music loops have 1 extra bar to catch the reverb/delay/release tails for perfect seamless looping. These also come with DRY & WET versions to aid in making these sounds fit your projects. The beat loops are delivered in construction kit style format with all the elements broken down into stems along with a complete mix for reference (complete mix, kick, clap, snare, hat, perc, etc).
What you get is 1.6GB+ of content containing 1390 files spread around in 10 main folders that hold 70 808 loops, 30 clap & snare loops, 30 stripped down drum loops (complete kits), 91 sound effects, 30 hat loops, 30 kick loops, 202 melody loops (dry+wet), 300 one shots (808s, drum hits), 100 slowmo melody loops (only wet exports), 50 top loops along with 261 MIDI files, and 32 sampler patches (EXS24, Kontakt, NNXT, Halion).
The Apple Loops version of this sample pack is also available for purchase along with separate folder options.
HY2ROGEN – Bass House Drops 2
HY2ROGEN – Bass House Drops 2
Following the success of the previously released Bass House Drops (Affiliate Link) pack, HY2ROGEN returns to unveil Bass House Drops 2 (Affiliate Link) filled with another batch of speaker punishing material.
Tipping the scale at 1.3GB+ of content the Bass House Drops 2 (Affiliate Link) sample pack is a great addition to the first installment and comes equipped with fresh inspiration in the form of 15 fully stem-stripped construction kits delivered as WAV along with MIDI files and of course Synth Presets.
When putting this collection Bass House Drops 2 (Affiliate Link) together HY2ROGEN took inspiration from the leading artists and labels in the game, trying to give an in-depth look at their sound and how you can get an added boost to your own style. Expect to find sounds from the ultra-popular OWSLA, Musical Freedom, Hexagon, Spinnin, and beyond.
Similar to the previous release HY2ROGEN aimed to make it possible for the end user to fully customize each sound included. We equipped this bad boy with all the MIDI files and Serum synth presets for each bass and synth used. Now you can truly alter these sounds and take full control.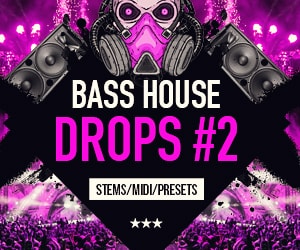 What you get is 1.3GB+ of content totaling 349 files broken down into 15 fully disclosed drops that come with STEMS (163 WAV files), MIDI (96 files) and SYNTH PRESETS (90 Serum presets).

All of the audio content has been exported as 16 bars long WAV files and at a quality of 24bit 44.1Khz. All music elements have one extra bar at the end to catch the reverb/release/delay tails.
HY2ROGEN – Massive Fills & FX Bundle
HY2ROGEN – Massive Fills & FX Bundle
HY2ROGEN returns with the latest addition to the stable – Massive Fills & FX Bundle (Affiliate Link), the final 8.9GB+ piece of the puzzle for a complete collection of inspirational sounds, another true save-up opportunity.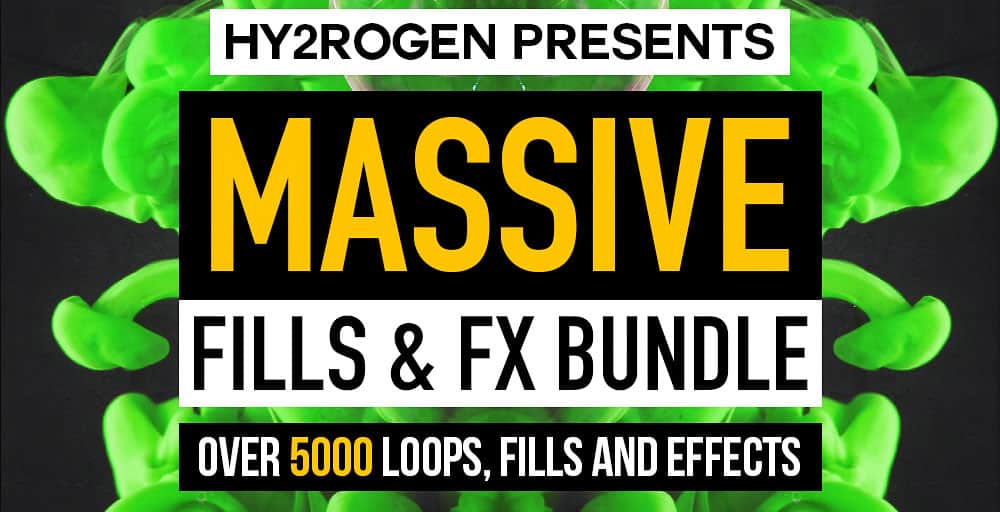 Culminating with over 10+ years of creativity and tons of sounds from the laboratory, HY2ROGEN has put together in Massive Fills & FX Bundle (Affiliate Link) this exclusive offer in the form of smashing EDM drum fills, key labeled tonal risers, downlifters, sweeps, uplifters, delay fx, classic fills, fx loops, foley, impacts and many other goodies that sum up the last decade, that you would not be able to obtain without purchasing the majority of their releases.
This whale of the Massive Fills & FX Bundle (Affiliate Link) pack comes equipped with 5200+ files of everything you need for that superior layer in terms of atmosphere, extra sauce and variation making tools with the help of sound effects, fills and additional loops for your tracks. We've got you covered with all you can eat Fills and FX in this one and they can be used in anything from house, bigroom, progressive, tech house, future, deep, bass, tropical, trap and beyond.
The collection Massive Fills & FX Bundle (Affiliate Link) contains materials from the following 51 releases: HY2ROGEN: Deep House Kits & Bits, Dirty Electro & Bass, EDM 1-4, EDM Fusion, EDM Remix Tools, Experimental Future Bass 1-2, Full Option Progressive Tech House, Future House 1-3, Future House Fiasco, Groove House, Ibiza Tech House, Intensive Progressive House, Mainroom FX 1-4, Mashed Acid House, Moody Trap, Peaktime Electro Elements, Progressive Tools 1-9, Psytrance Arena, Sound of Tomorrow, Tech House, Tech House Influenza, Tekno House Nights, Trap 1-2, Tribal Groove House, Tropical Deep House, Wobble House, Whitenoise Instrument, Essential FX 1-3, Essential Builds & Sweeps, Essential Fills Vol. 1-7.

What you get in Massive Fills & FX Bundle (Affiliate Link) is 8.9GB+ of content, totaling 5207 files that include 3305 sound effects and 1902 fills, key and tempo labeled where applicable. All of the loops have been exported at a quality of 24bit 44.1Khz. Also, the tempo range is 120-140 BPM.
As an affiliate, we may earn a commission from qualifying purchases. We get commissions for purchases made through links on this website from Amazon and other third parties.
StrongMocha is a magazine for music producers, audio engineers, and sound designers. StrongMocha Magazine provides the latest industry news, reviews of gear and software, tutorials on recording techniques, and tips for mixing.