Phosphor 3 by Audio Damage Released
Audio Damage updated Phosphor to V3, and if you own Phosphor 2, you may now download Phosphor 3 from your account. For desktop users, this is a free update. iOS Phosphor 2 owners can upgrade to Phosphor 3 for $3.99. (There is no way to do a crossgrade in the App Store, unfortunately.)
Phosphor is a polyphonic software synthesizer plugin modeled on the alphaSyntauri hardware synthesizer. Introduced in 1979, the alphaSyntauri used an Apple ][ microcomputer as its central processor and user interface. While quite modest by contemporary standards, the alphaSyntauri can create a surprising wealth of sounds easily, thanks to its simple but flexible approach to synthesis.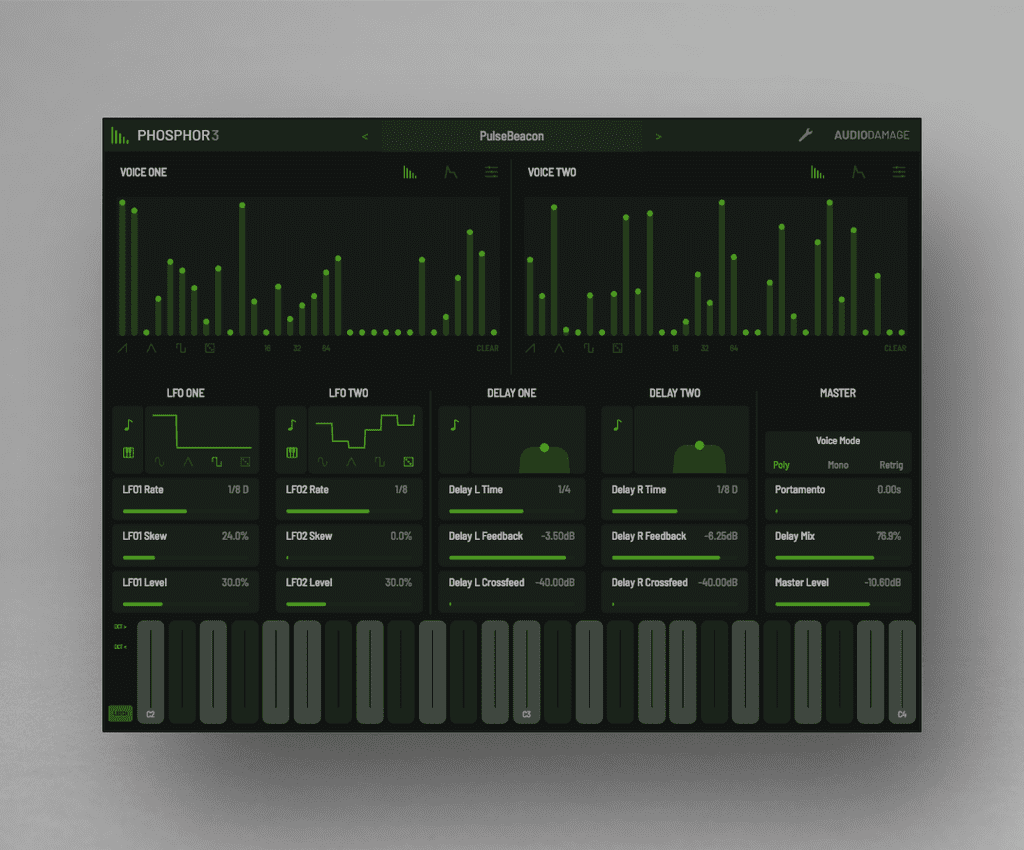 Rather than mimicking the small number of wave shapes available from the oscillators found in analog synthesizers, the alphaSyntauri's oscillators used tables of numbers—essentially samples of a single cycle of an audio wave. The tables are filled using a process known as additive synthesis. The basic idea of additive synthesis is that any sound wave can be created by adding together many sine waves of different frequencies. Each sine wave has a pure sound with no harmonics, but if you add a bunch of them together you can create complex sounds. If you use enough sine waves, and if you control their relative loudness precisely over the duration of a note, you can recreate just about any sound. For an in-depth explanation of how this works, see http://en.wikipedia.org/wiki/Additive_synthesis
Since the alphaSyntauri was limited by the computational power available in its day, it took a relatively simple approach to additive synthesis. Each oscillator's wave shape was created by adding together 16 sine waves, which we'll henceforth refer to as partials. The wave shape could not change over the duration of a note, but each oscillator's overall loudness was controlled by a separate envelope generator, and hence the timbre of the note could
be varied by mixing the two oscillators dynamically. Phosphor reproduces this system faithfully and adds several tricks of its own.
Phosphor 3 Improvements
Version 3 of Phosphor adds several new features and refinements
All new reactive UI.
MPE mode for expressive MIDI controllers.
TUN file loading.
New full-featured preset browser.
Re-written and modernized internals. 
Linux VST version added.
Phosphor 3 is a separate plugin, and will not replace Phosphor 2 in existing sessions. However, it has the ability to load Phosphor 2 presets, so your existing work is safe. 
Phosphor 3 Features
Two Voices
Each voice has a wavetable oscillator with transposition and fine-tuning controls, a noise generator, level ADSR, delay line with filter, and level and pan controls.
Additive Wavetable Oscillators
Each oscillator has 16, 32, or 64 partials with individual level sliders, preset buttons for common waveforms, and partial level randomization.
Noise Sources
White noise in regular operation or shift-register noise in vintage mode. 
ADSR x 2
One level envelope for each voice with control over the duration and curvature of the Attack, Decay and Release segments.
Vintage Modes
Introduces digital artifacts and distortion. It can be engaged individually for each oscillator and noise source.
LFO x 2
Optionally host tempo-synced Low-Frequency-Oscillators with Sine, Triangle, Rectangle, and Random shapes. Skew sliders affect waveforms differently in different modes. It can be used on a per-note basis or globally.
Modulation Panel
Quick modulation assignment via the modal panel 
Dual Delays
One optionally host-tempo synced delay effect for each voice with the feedback filter. Each voice's delay can crossfeed into the other.
TUN File Support
Load TUN-files for non-traditional/microtonal tunings.
Cross Modulation
The voices' oscillators can modulate each other's frequencies, akin to the NED Synclavier. Voices can be muted and used only exclusively as modulators, too.
Voice Modes
Poly mode, as well as mono mode without retriggering and retrigger mode. Variable portamento in mono and retrigger mode.
T-Rand modulation
Modulation source generating a bipolar random value every time a note is played.
Software Keyboard
Particularly useful on touch interfaces. Note velocity is determined by Y position.
MPE (MIDI Polyphonic Expression) 
Full MPE support with variable parameter smoothing for aftertouch. 
Factory Presets
Phosphor 3 comes with a collection of factory content, including Designer Presets from Red Means Recording and Ken Flux Pierce.
All-New Preset browser
Quick and easy preset import, export, and organization. Supports import and export of zip archives, preset copy, and paste, and arrangement of user presets in folders.
Cross-Platform Preset Format
Fully cross-platform XML-based preset-format. Work between multiple systems without troubles, make a preset on your desktop machine and paste it to the iOS version with Handoff, easily share your creations with your friends, or make a preset bundle sell.
Fully Resizable Hi-Dpi/Retina GUI
Phosphor 3's vector-based GUI is resolution-agnostic and displays the same on every system and resolution. Easily resize the UI (per instance) to match your visual needs, from postage stamp to poster-sized.
Phosphor 3 Demo Version
Audio Damage encourages you to download and try the demonstration version of Phosphor before purchasing it. The demo version of Phosphor is the same as the regular version, but has the following limitations:
Presets cannot be saved, nor can parameter values or other settings. This includes the information usually stored by your host DAW. If you save a DAW session with an instance of the demo version of Phosphor, Phosphor will revert to its default state when you reload the session.
Phosphor will cease to produce audio at all 20 minutes after you add it to your DAW session. You can remove it and add it again, but it will revert to its default state.
Availability
Phosphor 3 is available in the Audio Damage store for US$59.00 for 64-bit AAX/AU/VST/VST3 macOS 10.11+, Windows 10, and Ubuntu Linux.