Mauvio by Accusonus – Make Your Mobile Videos Sound Professional Using Simple Sliders
Mauvio by Accusonus – Make Your Mobile Videos Sound Professional Using Simple Sliders
Accusonus announce the release of Mauvio, an intuitive iOS app for mobile video creators. Mauvio helps you take the sound of your mobile videos to the next level, with minimal effort. It can be used in parallel with any video editor/app. This enables you to create professional video content from scratch, wherever you are!
How Mauvio Works
Import a video to Mauvio or record a new one directly through the app
Use Mauvio's one-slider filters to instantly repair & enhance your audio
Save the video to your Library or share it directly to social media and other video editing apps!
Mauvio filters
These filters allow you to instantly boost the quality of your voice. Accusonus is committed to bringing professional audio quality to mobile video creators. Μore filters and new creative features will be added to Mauvio in the next months!
De-noise | Bring down the noise – Instantly reduce background noise (air conditioners, computer fans, busy roads, and machinery or electric noise-like hum, buzz and hiss.)
Balance | Loud and clear – Balance out your video's uneven audio levels of speech, for more intelligibility. Maintain volume consistency throughout your video.
Enhance | Add "color" to your sound – Use the "Enhance" filter to shape your vocal tone and achieve broadcast-quality results. Give your content that "professional" touch, with a simple slider!
Volume | There's also a volume control that allows you to intelligently boost or reduce the loudness of your video, without compromising the audio quality.
Creative video ideas spark at any time and in any place. Thankfully, our smartphones are multi-media powerhouses with multi-camera setups and advanced video algorithms. But what about audio, the other 50% of your video?
Meet Mauvio, the sound studio in the palm of your hand. Mauvio brings Accusonus' professional audio tools to mobile video editing. Use Mauvio to improve the recorded sound of your video with filters that only have one control. Mauvio requires iOS 13.0 or later. Compatible with iPhone, iPad, and iPod touch.
About Accusonus
Accusonus is a team of engineers, musicians and audio experts who believe that sound design and audio repair should be fast, simple and accessible to everyone. They believe
that computers are ideal tools for creating, inspiring the content creators of the future.
That's why Accusonus developed our own patented Machine Learning and Artificial Intelligence technology in order to enable previously unimaginable sound processing workflows. Accusonus is based in Massachusetts (USA) and in Athens/Patras Greece.
Pricing and Availability
You can check out Mauvio for free, with a limited number of exports (10). The yearly subscription is USD 9.99 & the monthly subscription is USD 2.99
Nembrini Audio Chromatic Tuner Plugin – FREE Accurate Tuner Tool with a Big, Bright LED Display
Looking for the perfect tuning tool? Look no further than the Nembrini Audio Chromatic Tuner! With a big, bright LED display, this tuner is perfect for use anytime, anywhere. And with the iOS version for iPhone/iPad, you can take it with you wherever you go.
The Nembrini Audio Tuner also features calibration to any pitch standard, Drop/Capo mode for auto-transposing notes up or down to one full octave, and ±0.01 cent accuracy for ultimate tuning performance. So whether you're a beginner or a pro, the Nembrini Audio Chromatic Tuner is the perfect tool for all your tuning needs.
Nembrini Audio Chromatic Tuner Plugin
The Nembrini Audio Chromatic Tuner plugin is a fast, accurate, high-quality tuner tool with a big, bright, full-color LED display. It shows the current detected frequency and note and has an audio signal output that can be muted for silent tuning.
The ultra-precise tuner gives ±0.01 cent accuracy with calibration to any pitch – A=440 as default. Drop and capo modes are available and the Nembrini Audio Chromatic Tuner plugin allows users to transpose notes up or down up to one full octave.
Chromatic Tuner is a versatile tool that can be used for a variety of purposes. It shows the current detected frequency and note and has an audio signal output that can be muted for silent tuning. This makes it ideal for use in noisy environments, or when you want to avoid disturbing others.
Big, Bright Full Color LED Display
The iOS version can be used close to your instrument (like an guitar) and the easy to understand and read results help you in tuning your instrument.
The tuner can be calibrated to a variety of standards, making it perfect for use with a variety of instruments. Whether you're a musician or a sound engineer, Chromatic Tuner is a valuable tool that will help you keep your instruments in tune. The best is that the tool is available for free: Chromatic Tuner if you are looking for the iOS version you can download it here.
Magic Switch and Magic Dice by Baby Audio: Free AUv3 Plugins for iOS / iPadOS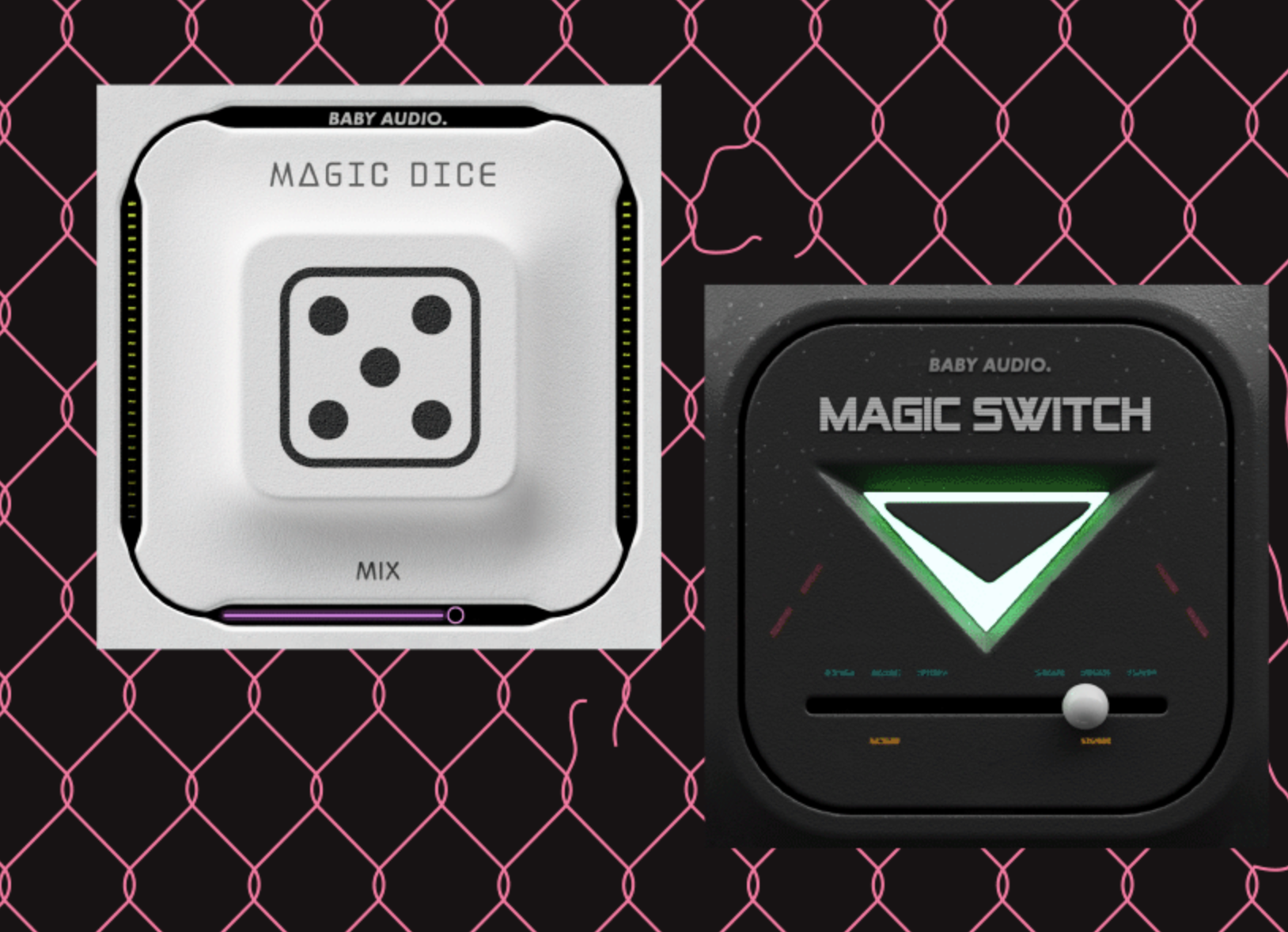 iOS / iPadOS users rejoice! Baby Audio has just released their two popular free plugins, Magic Switch and Magic Dice, as AUv3 plugins. This means that they can now be used with all AUv3-compatible DAWs on iOS and iPadOS devices. These handy little plugins are perfect for anyone who wants to add a bit of magic to their music.
Magic Switch is a powerful tool for creating instant variations in your sound. With just a few clicks, you can add echo, reverb, modulation, and more to your audio. Magic Dice is perfect for adding randomization to your sounds. Simply roll the dice and see what happens!
Both plugins are available for free download on the App Store. So what are you waiting for? Go and grab them now! And if you like what you hear, be sure to check out Baby Audio's other products. They're sure to take your music making to the next level!
Magic Dice
The BABY Audio award-winning Spaced Out plugin is used to generate the dice. It is a complimentary echo/delay, reverb, and modulation plugin. It's completely random with every new click and creates strange and dreamy wet-FX textures, so you'll never hear the same effect twice. Using it to to muddle alien modulation effects, hazy space echoes, and lush reverbs into the final sound is a great way to add personality.
Every time you click, Magic Dice creates new and unique random echo/delay, reverb, and modulation settings. More than 50 distinct effects are built into the engine, providing an infinite number of possibilities. Pristine and modern-sounding algorithm – powered by BABY Audio's Spaced Out plugin
Magic Switch
The Vintage Junos of the 1980s had a one-button chorus effect that was modeled after the classic Juno "one-button" chorus effects. Dark and out of tune, excellent for creating dimension, color, and depth to digital songs. To adjust the color, use the mix slider. The technology inside BABY Audio's Super VHS 80s retro color plugin is utilized.
The Juno-chorus isn't a complete copy of the original, but rather our own vision of the ideal one-button chorus for today's DAW world, where clean sounds are simple to come by yet genuine color is difficult to achieve. The BABY Audio Super VHS plugin was used as a source for the Beautifully Detuned, Rich and Moody Filter in the Vintage Modulation section of the Viola presets. It's gone farther than the Juno chorus in terms of vintage modulation.
BABY Audio is pleased to provide its items to the mobile music-making community. In 2021 alone, the downloads for Magic Switch and Magic Dice in their original desktop form numbered in the hundreds of thousands. Because of the high rate of popularity in comparison to other Baby Audio plug-ins, this distinction has made them the most utilized baby audio plugins ever.
You can find both plugins in the App Store:
IK Multimedia Releases SampleTron 2 for iPad
SampleTron 2 for iPad
The counterpart for iPad of IK's complete collection of vintage tape-based sampling instruments and industry-leading tape-modeling technology
IK Multimedia releases SampleTron 2 for iPad, combining the powerful sound engine of award-winning SampleTank with IK's industry-leading tape modeling technology to recreate the distinctive, ultra-vibey sounds of tape-based samplers from the '60s and '70s, along with quirky early digital sample players and vocoders.
SampleTron 2 for iPad overview
2.5GB virtual instrument collection of sought-after vintage and tape-based samplers
Over 400 tracks sampled from vintage Mellotrons, Chamberlins, Optigans and more
Each preset can load 3 tracks to split, layer and solo from over 400 available
Features 11 modern non-Tron and vintage digital sample-based instruments
Import Sample function creates user Tron sounds with IK's tape modeling DSP
Includes the full content of IK's original SampleTron updated for legacy users
11 selectable effects with Channel Strip, Tape Echo, Multimod, and new Vintage Plate
Assignable MIDI continuous controllers for use with external controllers
Works as an AUv3 instrument plug-in and as a standalone app
Ready for iOS 15 and designed to fit the form factor of the iPad screen, this comprehensive collection offers immediate support for all iPad model sizes and AU Host apps. The UI design is based on the desktop counterpart with a user-friendly approach that's custom-tailored for mobile music production and performance on the iPad.
From gothic to gritty
SampleTron 2 for iPad comes with a vast library of over 400 "tracks" that can be loaded into any preset-up to 3 at once and then individually processed with IK's cutting-edge tape modeling DSP for ultimate tone-shaping flexibility.
While an extensive collection of new, original samples of vintage Mellotron and Chamberlin are included, SampleTron 2 for iPad also shines where it processes non-Tron material. Here users will gain access to exciting new sounds with the choir, strings, brass, organ, piano, bass, and even synths and vocoders that all come included.
Also included are vintage digital sample-based instruments such as the Mattel Optigan, Vako Orchestron and 360 Systems Digital Keyboard for more creative options than any other Tron collection. In addition, users will find the full content of the much-revered original IK SampleTron product.
Authentic sound and feel
Sounding better than ever, SampleTron 2 for iPad looks the part with a gorgeous interface that's true to the original instruments. All 11 models are gloriously detailed and designed to offer the immersive experience of using actual vintage gear right on an iPad, even to the point of exposing their inner workings, all while maintaining uniform ease of use and functionality across the board.
Unique to SampleTron
All controls are intuitive to use with old-school looks on top of some ground-breaking engineering. Like the original Mellotron hardware, there are three available tracks for each preset. Users can load any of the included tracks without having to fudge the track selector to combine them.
In addition to the included library, 'Tron characteristics can be applied to any sound. User samples can now be easily loaded and mapped to take full advantage of the tape processing sound using IK's tape modeling technology. A panel of global controls along with six tape controls let users dial in exactly the right mood.
All the right tools
To fine-tune the sound further, SampleTron 2's edit mode lets users dive deep into the preset parameters with controls for volume, pan, fine-tune, transpose, and high and low note range for each Track. Additional synthesizer-style controls include a filter with selectable type and an amplitude envelope with velocity control for each track individually or all tracks combined.
Effects like no other
SampleTron 2 for iPad includes a powerful set of effects. Effects include a Channel Strip equalizer and compressor, Tape Echo, Multimod-with selectable chorus, ensemble, flanger, phaser, Uni-V and Rotary Speaker-and the new Vintage Plate Reverb that's based on the Plate algorithm developed for AmpliTube 5.
Expansive versatility
SampleTron 2 for iPad works as a standalone app or as an AUv3 instrument plug-in. Use it with popular AU host apps such as GarageBand, Cubasis, AUM, Beatmaker, Auria and more. It also supports MIDI learn and standard MIDI keyboard control for nearly all its functions. 
Take control of the SampleTron 2 app with any compatible MIDI controller and use an iPad as the brains of a portable Tron module.
Pricing and Availability
SampleTron 2 for iPad is now available on the App Store for a limited-time introductory price of $69.99 (regular price will be $99.99).
As an affiliate, we may earn a commission from qualifying purchases. We get commissions for purchases made through links on this website from Amazon and other third parties.
StrongMocha is a magazine for music producers, audio engineers, and sound designers. StrongMocha Magazine provides the latest industry news, reviews of gear and software, tutorials on recording techniques, and tips for mixing.