40% Off Brian Funk's Ableton Live Packs
40% Off Brian Funk's Ableton Live Packs
This weekend you can get any of Brian Funk's Ableton Live Packs for 40% off the normal price. Just use the code: memorial here. This offer ends Tuesday at 12:01 am EST 2020.
Free Lo-Fi 808 and Synths Ableton Live Pack
Free Ableton Live Pack and Tutorial
A few months ago Brian Funk did a presentation on using Lo-Fi recording mediums for the Philadelphia Ableton User Group.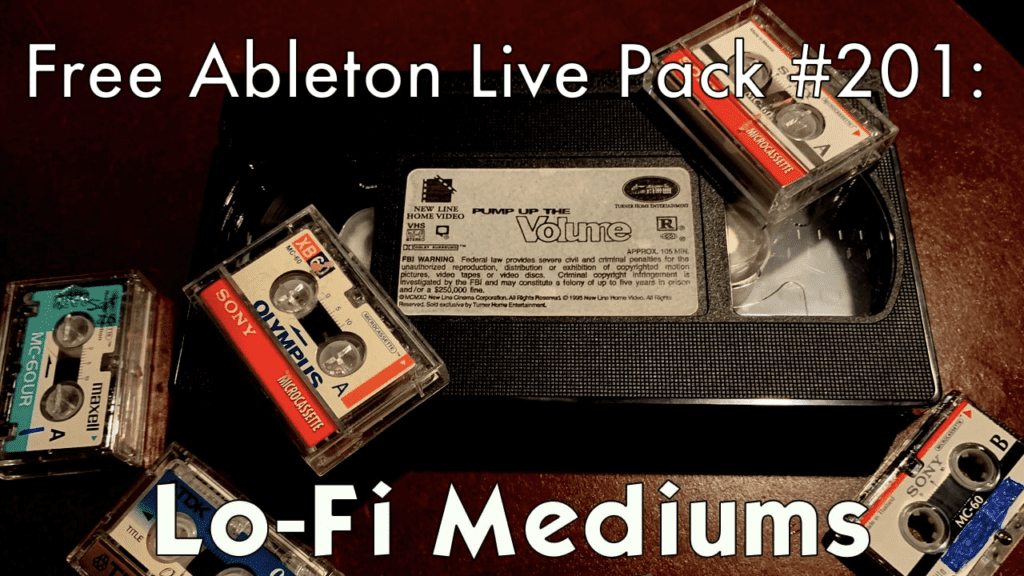 During the talk, Brian made a few Ableton Live instruments by recording samples to VHS tape and MicroCassette tape. Today Brian Funk wants to give you those instruments for free and share the video of the presentation. The download includes two synthesizer instruments and one extremely lo-fi 808 Drum Rack.
Check out the Free Lo-Fi Mediums Ableton Live Pack and Tutorial
Free Brian Funk – Exotic – Ableton Live Pack
Free Brian Funk – Exotic – Ableton Live Pack
The Isotonik Collective reach the end of their series of Stay at Home giveaways, it's been a blast…. 12 products, £900,000 worth of giveaways. They never knew how big this would get when they started and truly humbled by the response! The Isotonik Collective ends their series of giveaways with a big one, a complete Brian Funk pack, and a 50% discount on all his packs in the store.
ADM EXOTIC BY BRIAN FUNK is a collection of Instrument Racks from the "Mallet" and "Exotic" categories, offered by Brian Funk as AfroDJMac over the years. It includes 75 Exotic and 41 Mallet instruments, exemplary for when you want to explore the world and delve into some mysteriously alluring cultural vibes, grounded in an earthy spirit. If you're interested in stepping outside of typical pop/EDM tonalities, this pack will provide you with a sweet variety of instrumental textures to discover.
MALLETS are a form of melodic percussion instruments, generally consisting of tuned bars or bells made of various materials, struck with (as you would imagine) mallets. Some examples include Agogo, Chimes, Gamelan, Vibraphone, and Windchimes. Mallet instrument notes usually have a very strong initial transient attack which decays individually.
The EXOTIC category includes melodic instruments that are difficult to pigeonhole into standard sound types. Their disposition ranges from organic and earthy to outlandishly alien, sometimes venturing into the otherworldly realms of parallel dimensions. Exotic instruments are often comprised of multiple symbiotic timbres that meld together to form an intriguing admixture.
The EXOTIC pack takes these sounds, crafted from a wide variety of sources and originating from various packs, into a cohesive collection, presenting the instruments for the first time in a self-installing Ableton Live Pack. All instruments have been updated with fresh gain-staging so that hot-swapping between them always results in consistent levels. Once you install the pack, the Instrument Rack presets will be easily accessible from the Sounds category in your Live browser, neatly organized for you to jump right in and start making music. Hot-swapping between the instruments of the pack is super easy, as well as between instruments from other Ableton Live packs you have installed, or from your User Library. Sample management is taken care of for you, so you don't even have to think about it.
ADM EXOTIC contains sounds and instruments carefully and lovingly crafted by Brian Funk, an experienced Ableton Certified Trainer and curious sound designer. Each instrument was built to satisfy his own personal needs and desires in musical instrument design. ADM EXOTIC was curated and organized by Animus Invidious of PerforModule for Isotonik Studios.
ADDED BONUS!! – Every download comes with a personalised discount voucher for 50% off of the rest of the Brian Funk Packs including the Anthology!!
Pricing and Availability
ADM EXOTIC BY BRIAN FUNK is free of charge 27th MAY 2020- Once added to your account it's yours to keep.
NES Light Zapper – Free Ableton Live Pack by Brian Funk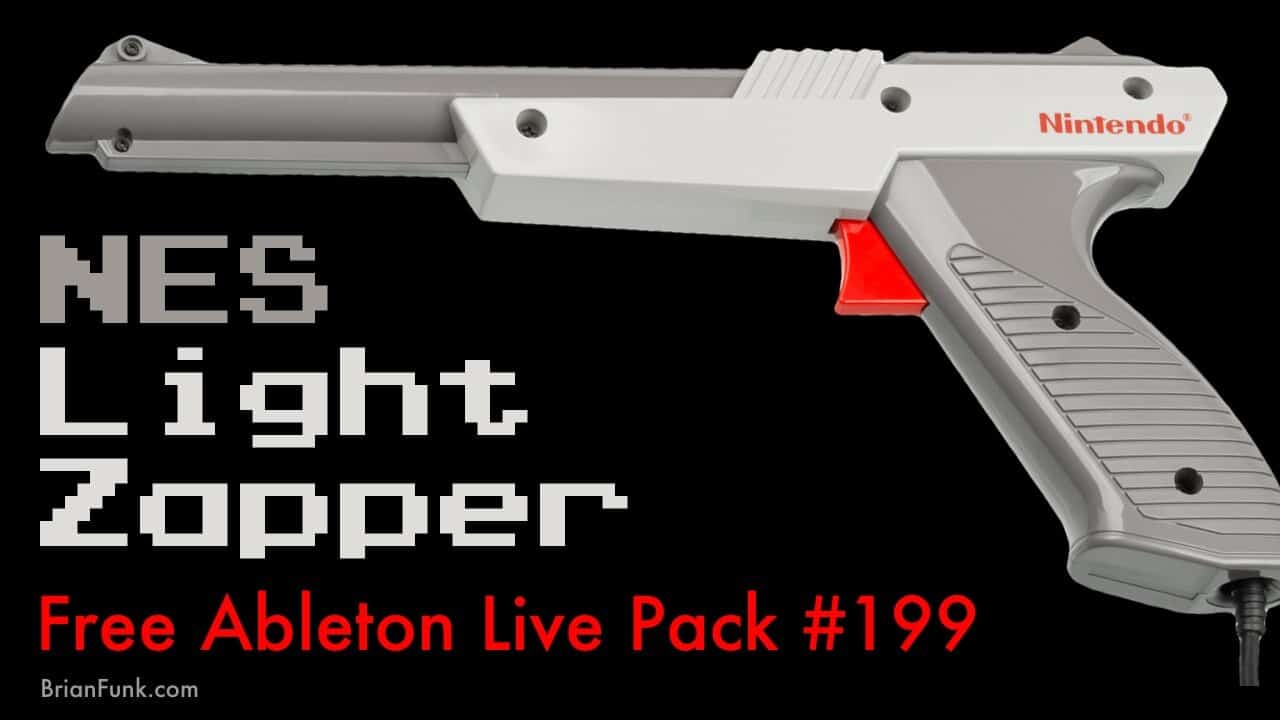 NES Light Zapper – Free Ableton Live Pack by Brian Funk
Brian Funk just released Free Ableton Live Pack #199. Nintendo's Light Zapper was an exciting part of Brian Funk's 80's childhood. While getting blown away in a wild west gun dual in Wild Gunman and desperately firing away in Duck Hunt (often at that dog that laughs at you when you miss the ducks), the sound of that trigger clicking away was embedded into Brian's brain.
If you listen closely, the spring resonates a pitch for a second or two after you fire the zapper. Brian decided to sample that ringing spring, as well as the trigger and whatever other noises he could make with it.
Brian produced three elements. A Drum Rack that is made up of the various clicks, clacks, and trigger noises. Each of the 16 sounds can be transposed, filtered, panned, and spread out in the stereo field.
A One Player instrument. This is a melodic instrument that starts with the click of the trigger and then loops the resonating spring. It has a percussive, plucking sound. You can adjust a bandpass filter with some LFO modulation, change the way the sample loops, and adjust the Attack and Release. The Macros that control these parameters have been disguised with names of Light Zapper games on the NES. This is to encourage you to listen with your ears rather than think too technically about the instrument.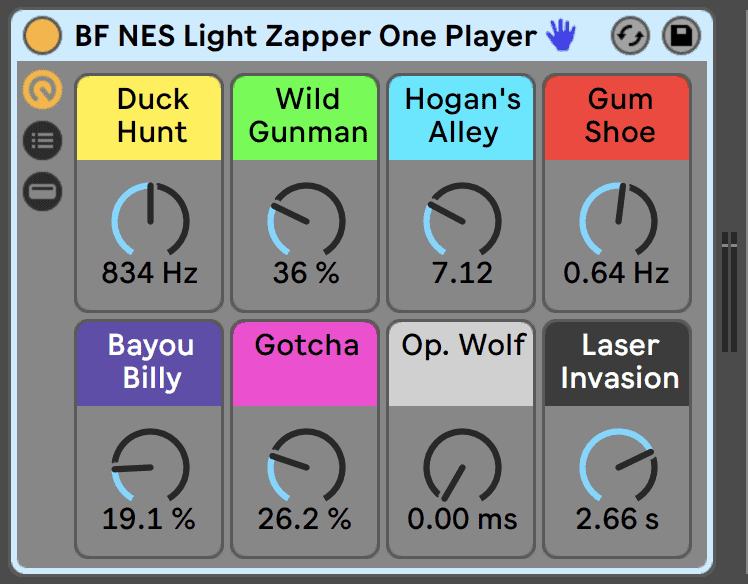 And a Two-Player Light Zapper instrument. Brian stacked two of the One Player instruments into an Instrument Rack and panned them to the left and the right. You can then adjust parameters for each layer (or "player") separately. Player One is colored grey and Player Two is colored red. You can go inside each layer for additional controls. There's a lot of room here for designing the exact sound of your next track needs.
Free Ableton Live Pack 199 – NES Light Zapper
Get the Free Ableton Live Pack #199 here.
As an affiliate, we may earn a commission from qualifying purchases. We get commissions for purchases made through links on this website from Amazon and other third parties.
StrongMocha is a magazine for music producers, audio engineers, and sound designers. StrongMocha Magazine provides the latest industry news, reviews of gear and software, tutorials on recording techniques, and tips for mixing.