Audio Damage Releases Continua Update
Continua embraces the constant, ever-changing universe of sound, rendering an unparalleled level of hands-on control to vintage analog synthesis in virtual form.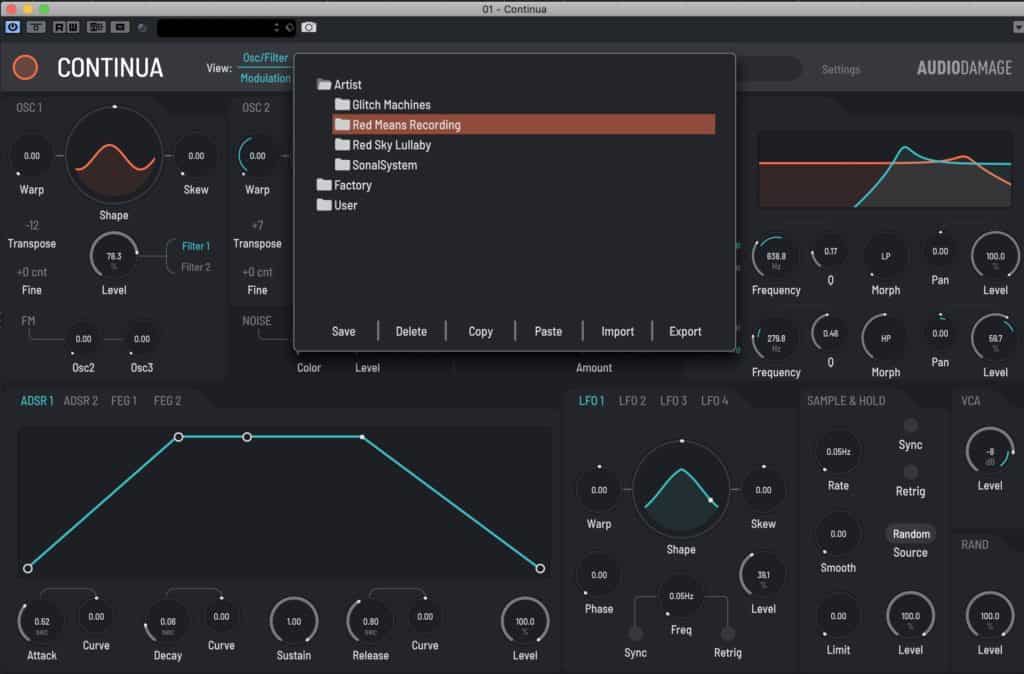 Continua advances exceeding the abilities of a regular three-oscillator subtractive synthesizer with a "morph everything" design philosophy. The oscillators and LFOs generate a nearly infinite variety of wave shapes with multiple controls for bending the shape in different ways.
The pair of analog-modeled filters seamlessly blend between the standard responses like low-pass and high-pass, creating in-between characteristics and unusual sweeps. Each time segment of the ADSR envelope generators bends between exponential, linear, and logarithmic movement, while the multi-point Flexible Envelope Generators can generate anything from short transients to long sequences.
All modulation sources can attach to nearly any knob in Continua, providing modular-like flexibility without the jungle of patch cords. Stereo chorus, delay, and reverb effects provide the finishing polish to Continua's evolving sound.
Designed from the beginning for MIDI Polyphonic Expression, Continua takes complete advantage of MPE controllers as well as traditional single-channel MIDI controllers. Continua gives usable macro knobs and XY pads for easy, custom access to multiple parameters and built-in gesture control on touch-enabled devices.
Continua V1.0.21 Updates
New Preset Manager. Due to fairly convincing evidence that the preset manager in Continua "sucked," and also apparently "wasn't good," we wrote a new one. It made its first appearance in Phosphor 3, and now is in Continua.
Fixed: LFO activity indicator did not accurately reflect the phase. Now it does.
Fixed: Only one LFO activity indicator appeared no matter how many voices were active. Now there is one for each voice.
Fixed: There was some occasionally audible stepping in the filter frequency controls. Smoothers have been added.
Fixed, Hopefully: The macOS certificate problems from the previous versions. See earlier changelog entries for this saga. If you experience any problems with Continua "disappearing" or whatever, just delete all versions (VST, VST3, AAX, and AU) and re-install and you should be back on the program. Hopefully.
Continua Features
Three Flexible Oscillators
Continuously variable morphing waveform, with warp, shape, and skew controls.
Dual Morphing Filters
Filters can be used in serial or parallel modes, and morph from lowpass through bandpass and highpass to notch in 2-pole and 4-pole configurations.
Noise Source
Noise source features a "color" control that affects tonal characteristics of the noise. 
ADSR x 2
Continua has two ADSR-style envelope generators, with a curve on attack, decay, and release.
Flexible Envelope Generator (FEG) x 2
The two FEGs are arbitrary function generators, with up to 99 steps, curve and step level control, arbitrary loop points, and host tempo sync. 
Flexible Low-Frequency Oscillator (FLFO) x 4
The four FLFOs utilize four controls (phase, shape, skew, and warp) to access a virtually limitless palette of waveforms, and feature host tempo sync and retrigger. 
Sample And Hold
The S&H mod source can sample noise (random) or any of the other mod sources, at either a user-defined rate or a musical division, and includes built-in smoothing and distance limit (for a "walk" effect).
Modulation
Every knob in Continua is a mod destination, with a very fast and simple assignment matrix access with a right-click on the knob (double-tap on iOS). 
Tuning Tables And Global Tuning Offset
Re-tune Continua to new intonations and temperaments using the open-source and easy-to-use TUN file format. A global tuning offset (default to A=440) allows you to easily retune the entire synth to match a different A frequency without using a tuning table. 
MPE (MIDI Polyphonic Expression) 
Continua understands both "legacy" MIDI and MPE. Use your Linnstrument, Roli Seaboard, Haken Continuum, Madrona Labs Soundplane, or Sensel Morph (among others) to directly access per-note pressure, pitch bend, and modulation. 
Per-Instance Settings
Continua utilizes a per-instance customization method: set MPE mode, aftertouch smoothing, pitch bend range override, tuning table, and global tuning offset for each instance in your DAW, with an option to save any state as your global starting point.
Factory Presets
Continua comes with a substantial collection of factory content, including Designer Presets from Red Means Recording, Glitch Machines, and Sonalsystem.
Cross-Platform Preset Format
Continua utilizes an XML-based preset manager. Work between multiple systems without troubles, make a preset on your desktop machine and paste it to the iOS version with Handoff, easily share your creations with your friends, or make a preset bundle to sell.
Fully Resizable Hi-Dpi/Retina GUI
Continua's vector-based GUI is resolution-agnostic, and displays the same on every system and resolution. Easily resize the UI (per instance) to match your visual needs, from postage stamp to poster-sized.