Vagabond Crystal by Atom Hub
Vagabond Crystal – Magical Sound of Caves, Crystals, and Inner-Solitude
After some months, another Atom Hub release is here! This time, bell-like kind od sounds attracted my attention. Then, somehow, the idea of caves, underground locales and fictional fauna and flora started emerging in my mind – and that became the course Atom Hub took. What you see is the result. 
Sparkling and sustained sound of metal and glass. Atmosphere and soundscapes of a fictional underground, fauna, and locales. Magical sounds of caves, crystals, and inner solitude.
Vagabond Crystal by Atom Hub offers the beautiful sound of carefully sampled real items and instruments, as well as unusual and original sound design.
The Vagabond Crystal sample library was created by Mato Huba (Atom Hub) to utilize the sounds of bells, glass, and metal objects. Various items were used and sampled: A singing bowl, Tibetan bells, a little gong, wine glasses, a dish cover, water, rocks, a synthesizer, plus hardware and software effectors. The idea was to pay homage to crystal, shiny sounds and soundscapes and… caves. Yes, these sounds, their long sustains, and sparkle instantly bring up images of caves, and of descent into their eerie depths, in Mato Huba's mind.
Mato wanders through their stony halls, corridors, and galleries, and admire the silent beauty of Mother Nature's work of art. Stalagmites and stalactites, like statues, guard the returning echoes of water drops dripping from wet, cold walls and ceilings. An underground river is taking me far away from the surface. Time is standing still in the darkness, eyes don't see. Imagination comes to life. Mato becomes a crystal who wanders through the dark, like a vagabond without a home.
Vagabond Crystal Features
16/24 bit / 44,1 kHz wav format
889 MB installed
78 basic original patches (Bells, Pads, FX, Organic)
90 derived single patches
90 derived multi patches
mostly up to 6 round robins per sample set
Flanger, Chorus, Phaser, EQ, LFO, Stereo, Cabinet, Drive, Limiter, Delay, Reverb, Attack, Release controls
Kontakt 5.8.1 and above full version required
Right out of the box, at your disposal are many presets ranging from clean bell-like types of sound to unheard, eerie evolving soundscapes. Dark and dreamy at the same time, Vagabond Crystal will take you away and ignite a spark of your inspiration.
Pricing and Availability
Right now, the sample library is available exclusively on Kontakt Hub for an intro price of £16.80 (r.p. £24.00) for six upcoming days. You are welcome to visit the page and learn more about the instrument.
The Planet Deep Scan Review – a sci-fi and dark ambient sample library by Atom Hub
The Planet Deep Scan by Atom Hub Review
The Planet Deep Scan by Atom Hub is after the previous released THE PLANET a much darker and more focused on the background library. Atom Hub did send a review copy with no strings attached.
Installation
You download the library after purchase, unpack it and use it in Kontakt 5.5.1.451 and up, the full Kontakt version is required.
Sound
The Planet Deep Scan transports a celestial body but is "scanning" the planet it with modern gear. Compare to an earlier release called the Planet the scanners went more profound this time, bringing back a lot of new data – sounds, noise, and signals. The sounds for sci-fi themed tracks and score have been carefully processed, shaped and curated.
The Planet Deep Scan concentrates on a dark, textural content intended for creating evolving sound textures and soundscapes in a vintage, lo-fi fashion. It includes dark spaceship corridors, weird signals, noises of unknown apparatuses, signs of alien lifeforms.
The Planet Deep Scan consists of 22 Kontakt-patches. Each of these patches comprises of 4 original sounds. In the DERIVED file folder, you will find 74 additional sounds from the deep derived from the basics sounds. In addition, you will find another 30 multi patches in MULTI folder – these are combinations of more than one patches, giving you even more sound designs to use immediately.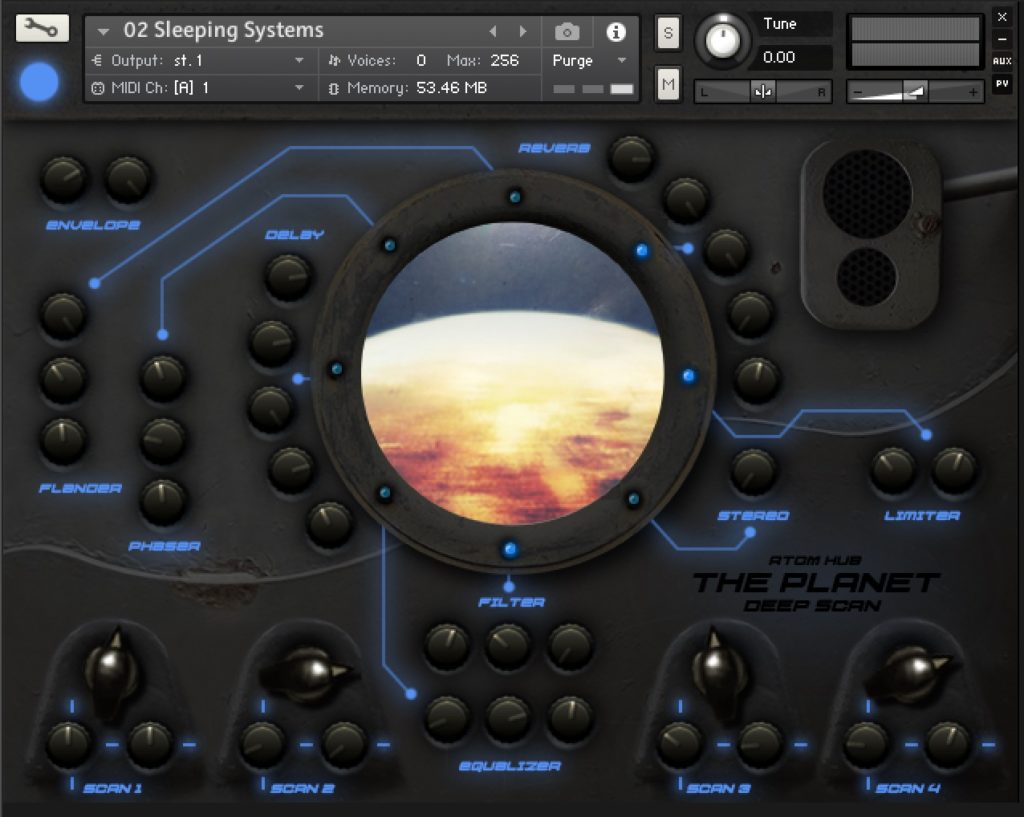 There is already a free extension available for The Planet – Deep Scan that has been approved by Atom Hub and is entirely free as of January 2019. For anyone who wants to download the expansion AmbieticA which is an impressive release with 21 new presets that include Synth Pads, Ambient Drones, and Spacey Leads here is the link.
The sound sources range from ambient pads, via lo-fi sounds, to snapping noises. Through the UI you full control each sound source to come up with a new sound you prefer.
User interface & Usability
The UI is easy to use, it supports you in fine-tuning the sounds you have "scanned". If you are looking for the manual it can be downloaded from here. The Interface gives you plenty of control to shape and control the selected sounds sources.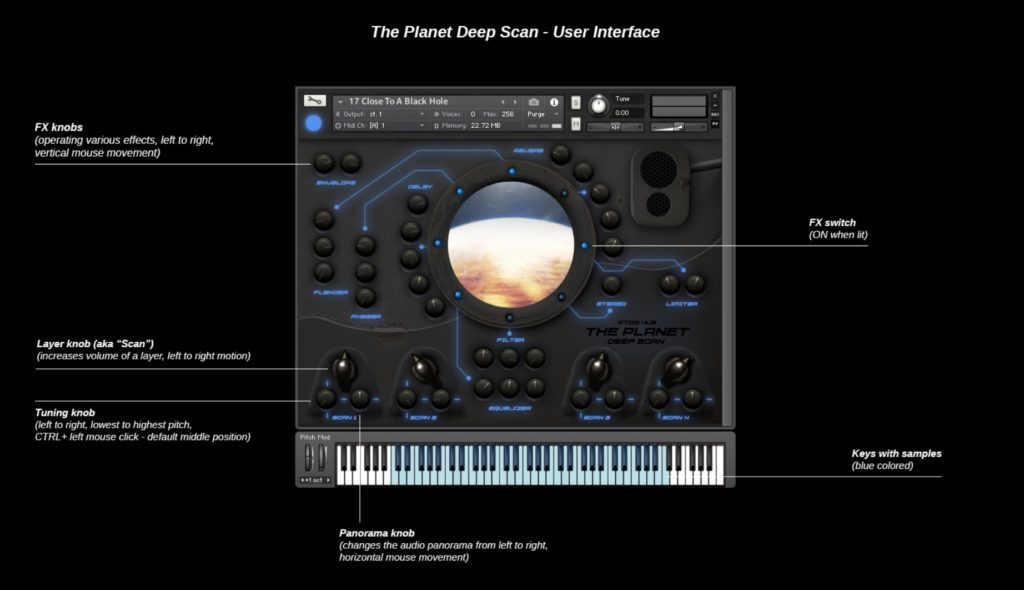 Rating:  Five out of five stars
The Planet Deep Scan is an excellent library to produce a dark atmosphere. A library you reach out for when you need to create tension, making the audience unsure about the future of the story. It is a perfect background dark mood library for your composition. If you need that kind of mood I would highly recommend diving with The Planet Deep Scan into the vintage sci-fi audio world.
The Planet Deep Scan is a really unique library with a lot of potentials to dive into the sci-fi world. It is an excellent choice for background beds on which you build the main score.
As an affiliate, we may earn a commission from qualifying purchases. We get commissions for purchases made through links on this website from Amazon and other third parties.
StrongMocha is a magazine for music producers, audio engineers, and sound designers. StrongMocha Magazine provides the latest industry news, reviews of gear and software, tutorials on recording techniques, and tips for mixing.