MeldaProduction Releases MONASTERY GRAND a Free 'Instrument'
MeldaProduction Releases MONASTERY GRAND
MonasteryGrand is a FREE stage piano sampler containing a 3.5GB hi-quality library. Samples were recorded in a monastery near Pilsen using 16 microphones. 
It was created for MSoundFactory – a modular virtual instrument platform that lets you produce and share your own instruments, use a number of included instruments or just load instruments created by other people (such as Monastery Grand). 
Users are thoughtfully freed from the tedious process of having to connect multiple module inputs and outputs since such connections are automatically made by the plug-in platform.
Put it this way: with per-voice and global modulation, full MPE (MIDI Polyphonic Expression) support, the best-sounding oscillators on the market, and a fully-modular effects engine.
MSoundFactory, meanwhile, provides hundreds of predefined sounds available via global presets, placing it in an arena already overflowing with many other (ordinary) virtual instruments
Though it is its categorized system of instruments that truly makes it stand out from (the sound of) the (competing) crowd. An 'instrument' is not just a sound that can possibly be tweaked to a degree via a few macro controls but rather a virtual instrument in its own right, replete with stand-alone settings and presets. Perhaps someone, somewhere is looking for a superlative-sounding stage piano as an MSoundFactory user? No need to look any further with the timely introduction of MeldaProduction's MONASTERY GRAND!
Duly designed with modern pop and rock music production in mind, the aptly-named 3.52GB 'instrument' in question is ideally suited to any music style.
This is based on the creator's careful curation of the best-sounding samples selected from 50GB of sound data from the several days of rigorous recording and subsequent weeks' worth of processing involved in its creation. Capturing a beautiful stage piano in a concert hall hidden within one of the monasteries near the Czech beer capital of Pilsen using over a dozen microphones.
MONASTERY GRAND users can creatively access the resultant sound of those microphones by blending the onscreen MIKES A, B, and C slider settings. MONASTERY GRAND is not only about samples, however — high quality as they audibly are, as it includes its own effects section comprising Compressor, Delay, Enhancer, and Reverb, resulting in an almost endless variety of sound… the sound of a classic instrument aimed at every music genre.
An automatic HARMONY feature is especially useful for supporting styles such as EDM (Electronic Dance Music) and Latin, as well as more mainstream pop productions. MONASTERY GRAND CREATIVE, a unique piano based on a looped version of the original MONASTERY GRAND samples, so each key can play for as long as the user wants, while also allowing four RESONATORS and a FILTER to arbitrarily transform the piano into something completely different!
About MeldaProduction
MeldaProduction was founded in 2009 by Vojtech Meluzin and is based in Prague, Czech Republic. Inspired by ancient analogue gear right through to the latest digital developments, MeldaProduction makes advanced tools for music production and audio processing with 100-plus products — including more than 30 available for free — to its notable name. Needless to say, applying innovative thinking to create sounds that matter with inspiring user interfaces that are as easy-to-use as they are versatile with never-ending improvements neatly sums up the company's gifted game plan. It is also a premier partner brand of fellow Prague-registered Limited Company United Plugins, a federation of small, independent development teams comprised of individuals involved in the music industry.
Pricing and Availability
MONASTERY GRAND is totally free for all, and available by simply downloading and installing it within MSoundFactory — also available for free, effectively, as MSoundFactory Player by simply signing up for the trial version of MSoundFactory (with all sounds and instruments included, third-party sounds fully supported, and unlimited customizations), which defaults to MSoundFactory Player (with limited sounds included, third-party sounds fully supported, and no customizations) after 15 days.
It is worth noting that MSoundFactory LE (all sounds and instruments included, third-party sounds fully supported, and limited customizations) and MSoundFactory itself are currently reduced to €99.00 EUR (inc. VAT) and €199.00 EUR (inc. VAT), respectively. Regardless of which version anyone opts for, free-for-life updates (including new instruments like MONASTERY GRAND) means MeldaProduction's MSoundFactory modular plug-in platform puts a free-flowing source of superlative sounds — sample-based or otherwise — into the hands of owners of supported Windows (Vista / 7 / 8 / 10, 32-bit or 64-bit) VST / VST3 / AAX compatible hosts (32-bit or 64-bit) and macOS (10.9+, 64-bit only) VST / VST3 / AU / AAX compatible hosts.
MONASTERY GRAND is available for free, directly downloadable — as a 3.52GB 'instrument' for installation within the MSoundFactory modular plug-in platform — from its dedicated webpage, which also includes more in-depth information, here. MSoundFactory is available to purchase for a time-limited introductory promo price of €199.00 EUR (inc. VAT) — returning to its regular price of €299.00 EUR (inc. VAT).
Melda Production MDrumReplacer Introductory Sale
Melda Production MDrumReplacer Introductory Sale
MDrumReplacer — an aptly-monikered drum replacement plug-in pairing the best drum-detecting algorithm on the market with perfectly-recorded multilayer samples as an easy-to-use tool to fix flaws, replacing weak sounding snares, lousy kicks, and such like with a chosen multilayer sample in both single drum and mixed tracks in a matter of seconds.
This is an astonishing advanced MeldaProduction MDrumReplacer. As the name suggests this sophisticated tool replaces foul drum recordings with perfectly recorded multi-layer drum samples (Available free Drum libraries contain over 80 GB of samples).
MDrumEnhancer's powerful drum-hit detector works with maximum precision. With just a little help from you, it finds the hits you wish to replace in both single instrument recordings and sometimes even mixed drum sessions. Buy MDrumReplacer (Affiliate Link) now for only €29 / $34.
Melda MReverbMB Flash Sale
Melda MReverbMB Flash Sale (Plugin Boutique Exclusive)
This reverb plugin can provide everything from extremely realistic halls to unbelievable effects.
MReverbMB (Affiliate Link) extends the possibilities well beyond that of standard quality reverbs by allowing you to process up to six distinct bands simultaneously. This reverb plugin can provide everything from extremely realistic halls to unbelievable effects. Engage your distinct originality with our reverb.
MReverbMB Features
Dual user interface – the plugin is not only extremely versatile but also quick and easy-to-use thanks to 2 graphical user interfaces. First there is a simple default one with several predefined modes, but just a few controls, which lets you start quickly and easily without any knowledge. All you need to do is choose what you want and use a few knobs. And the plugins also has an advanced mode, which provides all the extreme features the plugin offers.
Spatial positioning system – using a simple view you can easily drag the sound source and MReverbMB will set all required parameters to make it sound like it is in the specified room and position.
Fully adjustable 3-band equalizer you can use to control the sound of the reverberation signal, hence the room sound. Each band can be configured to 7 different filter types, has harmonic control and much more.
Fully algorithmic and true stereo reverb – it does not need separate plate, hall, and room algorithms. Instead it has a huge set of intuitive parameters that allow you to easily emulate any given reverb characteristic. Anything from small rooms to extremely large halls with almost infinite reverb tails…
1-6 fully configurable independent bands built on 3 perfectly transparent crossover algorithms (analog, linear-phase and hybrid) with fully adjustable limits and input gains. Includes peak meters for all bands and the master.
Continuously adjustable oscillator shape – every oscillator in our plugins is defined by a mix of predefined oscillator shapes, custom waveforms edited using our MeldaProduction Envelope System (MES), step-sequencer and several methods for algorithmic postprocessing. It is the most advanced approach for defining oscillator shapes.
4 global modulators – in each instance you can have up to 4 fully-featured modulators that can modulate any set of parameters including other modulators! In this way you can make the sound move in time, be less static and more interesting. Each modulator works as LFO, follower, midi/audio triggered ADSR envelopes, a pitch detector or even a combination.
Integrated tube saturation gives the sound a great vintage analog feel.
Full randomization – using a single button you can generate completely new settings. By clicking the button you can walk through the billions of possible settings and find the best one for you! And if that's too much, you can just hold ctrl and MReverbMB will only slightly modify existing settings.
Extremely advanced and easy-to-use user interface – our products are always designed to enhance the workflow. You can easily change all values, fine-tune each control in multiple ways. Easy orientation in a standardized GUI, textual editing and smooth visualization with almost unlimited zooming are standard in all of our plugins. Moreover our plugins are the world first (and still the only ones), which support resizable and stylable GUI's.
Automatic synchronization to host tempo – every oscillator and modulator in the plugin can automatically synchronize to the host providing as natural a sound as possible while not offending other tracks.
MIDI controllers with MIDI learn – you can map any parameter to any MIDI controller or MIDI keyboard and control it realtime or record and automate it.
Very fast, optimized for SSE and SSE2 processors.
Global preset management and online preset exchange – using a title button you can save your settings (which are shared on the computer) so you can easily access these in other songs. Moreover all plugins can automatically share your presets and download presets of other users from our servers (if this feature is enabled). We are building a community and you can be a part of it!
Fully automatable.
Save 70% off MReverbMB (Affiliate Link), exclusively at Plugin Boutique.
MSuperLooper – Next-Generation Looping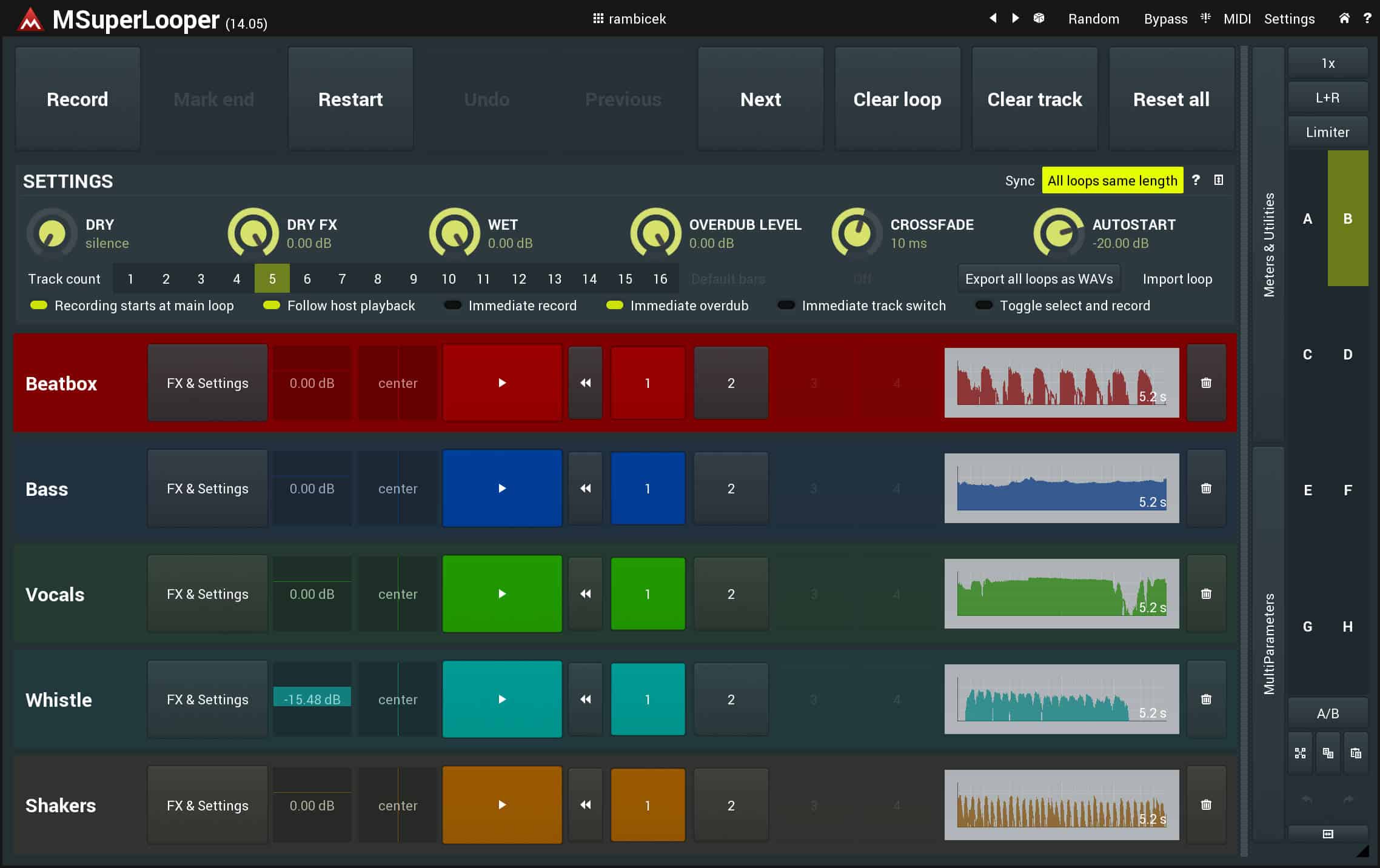 MSuperLooper by MeldaProduction
MSuperLooper is the next generation looping tool designed for live performances, capturing ideas and getting creative.
MeldaProduction released MSuperLooper — an intuitive looper that lets loops be recorded and overdubbed on the fly across up to 16 tracks with up to four loops in each, each with its own modular effect pipeline, to build complex multi-part performances in a single instance of the plug-in.
Loops, looping, and the tools to use or create them have become vitally important ingredients in modern-day music production. Placing this observation into its rightful context involves an appreciation of the wonderful world of looping — defined as recording on the fly into a seamless phrase that plays continuously over and over again, an art form which in itself dates back to the tape experiments of the formative Fifties when two ends of analogue tape were spliced together to (literally) form a closed loop. Listen to the psychedelic background sounds of The Beatles' 'Tomorrow Never Knows' — released in August 1966 as the final track on the Revolver album — as an excellent early example of musical elements foreign to pop music being brought into play thanks to tape loops.
Live looping as we now know it today owes more to British guitarist Robert Fripp's 'Frippertronics', first deployed in the Seventies as an analogue delay system concept, comprising two side-by-side reel-to-reel tape recorders configured so that the tape travels from the supply reel of the first machine to the take-up reel of the second, allowing sound recorded by the first machine to be played back on the second with the audio of the second machine then routed back to the first, causing the delayed signal (controlled by the distance between the two machines) to repeat — the number of repeats being controlled by the volume on the second machine, while new audio is mixed in with it.
Today's technology has, however, taken live looping to new heights of accessibility, creativity, and versatility. After all, loopers used to have just a single track — enough to quickly capture an idea, perhaps, but certainly not enough for a great live performance.
Live to loop today is all about workflow, which is exactly where MeldaProduction MSuperLooper comes into play as an intuitive looper that lets loops be recorded and overdubbed on the fly across up to 16 tracks with up to four loops in each, each with its own modular effect pipeline, to build complex multi-part performances in a single instance of a plug-in that supports all major hosts on Mac (64-bit only) and Windows (32-bit and 64-bit). Although automating plug-ins is usually instant, the situation is very different when making music using live loops. Indeed, it can be damn difficult or often impossible to accurately hit the first beat of a loop, which can cause particular problems when using multiple tracks.
This is why MeldaProduction has introduced its 'checkpoint' concept. Cutting to the chase, most of the fun stuff happens via MSuperLooper's big — Record, Mark end, Restart, Undo, Previous, Next, Clear loop, Clear track, and Reset all — buttons at the top of its intuitive GUI (Graphical User Interface), easily assignable to a MIDI (Musical Instrument Digital Interface) controller or other device.
Though the functionality of those buttons is self explanatory, the underlying logic behind them is actually quite complex, depending on several settings. Saying that, most of those buttons are not executed immediately but rather on the next checkpoint — simplest case, a checkpoint is a bar, so whenever one of those buttons is pushed their function occurs as soon as the current bar ends and the next bar starts. So it is easy to use MSuperLooper since there is no need to think about precise timing, and users can quickly switch between tracks when recording.
Musically, MSuperLooper can run in sync with a DAW (Digital Audio Workstation) or freely, so users can mark the master loop end point manually or lock the loop length to the host DAW's timeline. Thereafter, loops can also be flipped between forward and reverse playback at the click of a button — and all without losing sync, though the looping possibilities far from end there as each of those 16 tracks can hold up to four separate loops, making it perfectly possible to capture variations on individual parts — different lines for the verse and chorus, for example.
Elsewhere, MSuperLooper also features a full MXXX-based effects rack into which users can load an array of diverse effects processors, matched up to the MeldaProduction plug-in licenses they own already. Applying a little EQ, compression, and reverb or totally transforming a recorded loop with distortion, spectral effects, and modulation-based processing, MSuperLooper allows anyone to build their ideal effects chain on three parallel channels for the recording loop and another three for the live input.
But beyond its liberating looping workflow and supercharged effects engine, MSuperLooper is also well equipped for MIDI control. Feel free to assign notes and CCs (Control Changes) to switches, effect parameters, and more — manually or via MIDI learn — for realtime manipulation via a controller's buttons, pads, knobs, and foot switches.
MeldaProduction's MSuperLooper truly takes live looping to new heights of accessibility, creativity, and versatility. Combining quick and easy multitrack looping with powerful effects processing, it is the ultimate looper plug-in for studio and stage.
Pricing and Availability
MSuperLooper is available to purchase — as an AAX-, AU-, VST-, VST3-supporting plug-in for Mac (64-bit only) and Windows (32-bit and 64-bit) — at an introductory discounted price of €19.00 EUR (inc. VAT) until the end of July 2020 and €39.00 EUR (inc. VAT) for the duration of August 2020 — rising to the regular price of €99.00 EUR (inc. VAT), thereafter.

Please note that while many MSuperLooper effects modules are free, others need to be purchased separately; MSuperLooper follows the same system as MXXXCore, where MSuperLooper users can check which licenses they may need to unlock certain effects.
As an affiliate, we may earn a commission from qualifying purchases. We get commissions for purchases made through links on this website from Amazon and other third parties.
StrongMocha is a magazine for music producers, audio engineers, and sound designers. StrongMocha Magazine provides the latest industry news, reviews of gear and software, tutorials on recording techniques, and tips for mixing.