BALTIC SHIMMERS – Omnisphere Edition
A new incarnation of Sonic Atoms Baltic Shimmers library which now sparkles in Spectrasonics Omnishpere synthesizer. BALTIC SHIMMERS – Omnisphere Edition contains 1.5 Gb of original samples, which were inspired by the sea. There are 144 Omnisphere patches based on organic sounds: sea, birds, acoustic, and electric musical instruments.
All 144 sound sources are available inside Omnisphere to be used, repurposed, and become a foundation of even more original sounds made by You. These sounds were designed to be used in film or game underscores, but they can find their way into almost any genre.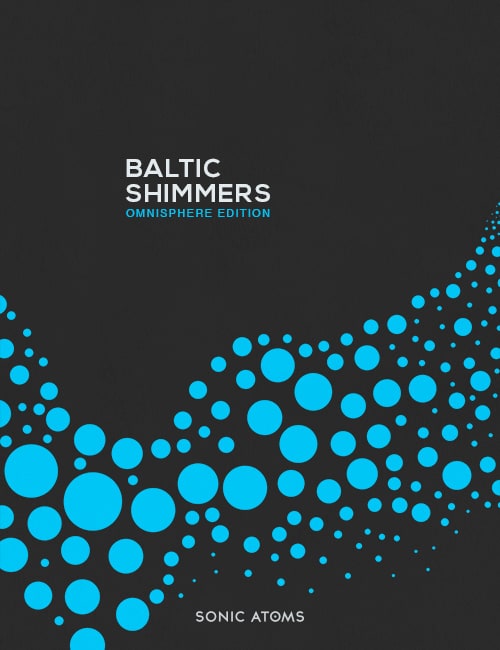 Sonic Atoms recorded very long organic textures, irregular electric cello tremolos, ukulele tremolos, or glockenspiel random notes, to name a few. Sonic Atoms processed all sounds and often combine them with sea waves or seagulls, to get original, moving, and evolving sounds. Sonic Atoms crafted every single sample carefully using creative effects and outboard. It was a long process since Sonic Atoms processed and curated hours of recordings just to select the best sounding textures and place them in Baltic Shimmers collection.
Most of our samples went through tape and after slowing down, were recorded again digitally. This process added a truly organic feel and imperfection to our sounds. You get most of Baltic Shimmers by playing very long notes. Most of the samples are very long and in combination with clever modulation onboard you may play a single note for a few minutes and it will constantly evolve. Some movements are very subtle while others can turn from even and static to detuned, wobbly, and randomly changing timbre. 
Baltic Shimmers Omnisphere Edition comes with 144 patches and 144 sound sources. The library has 3 types of sounds: Shimmers, Pads, and Drones. All sounds come from the original Baltic Shimmers sample library and were edited and looped for ease of use in the Omnisphere ecosystem.
Drones patches are made of single layer but they use very long evolving samples. Shimmers are made of much more complex samples which are played back through granular engine, which allows to blend smoothly in between various stages of complex sample.  
Pad type on the other hand is more traditional but built from 2 up to 3 layers. All patches react to mod wheel (CC1), however, behavior differs and depends on patch type.
BALTIC SHIMMERS – Omnisphere Edition Features
144 patches based on 144 original sound sources
Library requires Spectrasonics Omnisphere 2.6 synthesizer.
Baltic Shimmers Omnisphere Edition requires 1.5 GB of HDD/SSD space
Sample resolution: 48 Khz / 24 Bit stereo .wav format
Pricing and Availability
BALTIC SHIMMERS – Omnisphere Edition is available now. Everyone who purchases the original Baltic Shimmers library before the end of June 2020 will also receive Omnisphere Edition for free. After that period it will be available as a bundle.