PREMIER PERFORMANCE BUNDLE by AIR Music Tech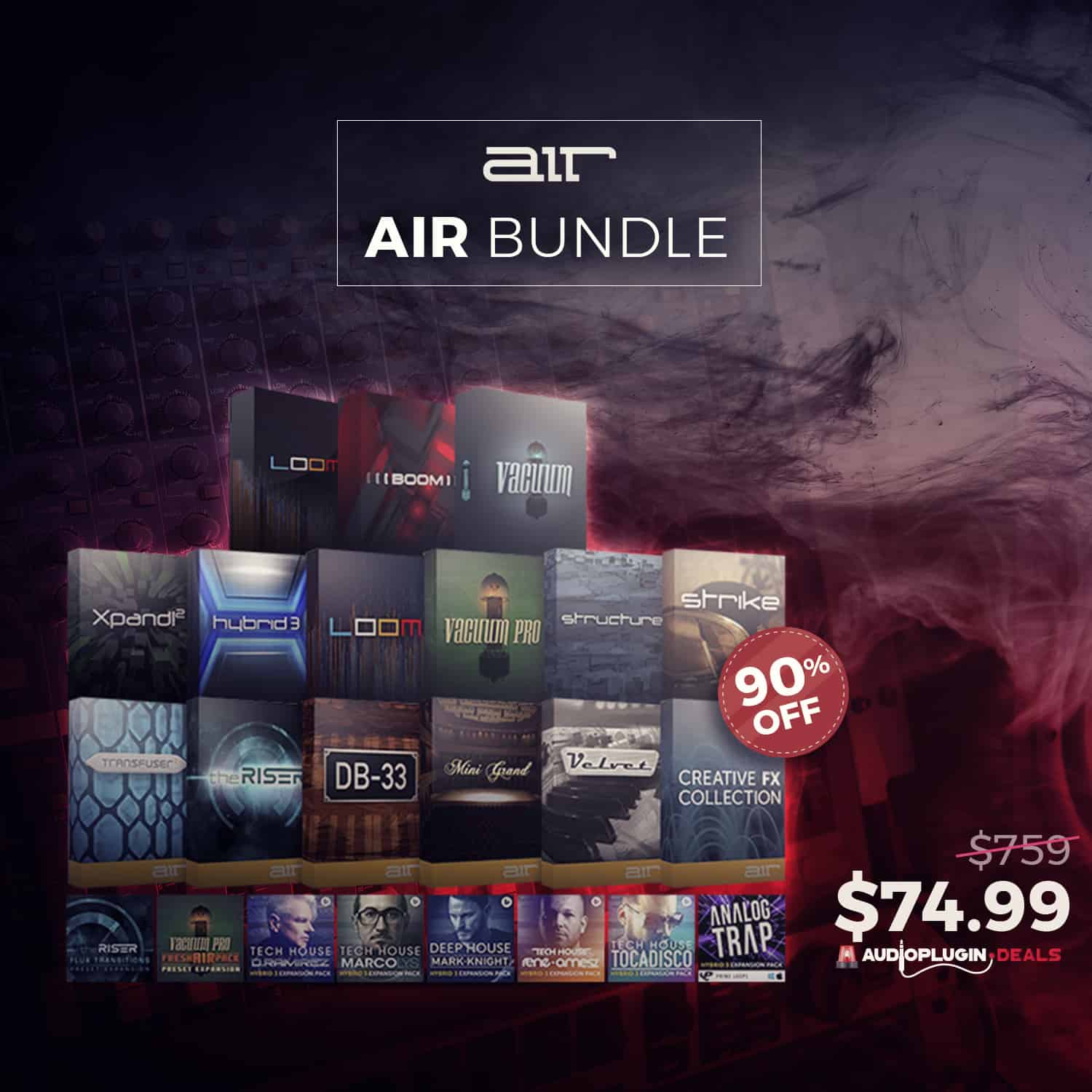 PREMIER PERFORMANCE BUNDLE by AIR Music Tech
AIR is excited to partner with Audio Plugin Deals to bring all you need to elevate your productions to the next level.
Based in Germany, AIR Music Technology started as Wizoo Sound Design, one of the earliest pioneers in virtual instrument technology. The AIR team is responsible for the core of much of the effects offerings in Avid's Pro Tools® software, and also developed a suite of award-winning virtual instruments specifically for Pro Tools.
For only $74.99 (instead of $759), get the Premier Performance Bundle from AIR Music Tech (Affiliate Link) featuring AEIP 3 Complete, LOOM II, Boom, and Vacuum.

Leveraging this history of excellence, AIR's mission is to create the world's most innovative virtual instruments, music software, and effects for all DAWS.
AIR Instrument – Expansion Pack 3 Complete
The AIEP3 Complete Instrument Pack is an inspiring collection of twenty virtual instruments and progressive sound-design tools for the modern producer, composer and performer. Developed by AIR Music Technology, the team responsible for creating the award-winning virtual instruments and core effects offered with Avid's Pro Tools software, the AIR Instrument Expansion Pack brings the world's most innovative virtual instruments to your favorite DAW.
These twenty instruments, ranging from breathtaking emulations of vintage gear, classic instruments and unique synthesis technologies, enable you to tap into familiar sounds or create something no one has ever heard before. With the AIEP3 Complete collection, if you can dream it, you can create it. There are no limits! Energize your music.
LOOM II – A Legend Evolved
Loom II takes a unique modular approach to additive synthesis, a synthesis technique that involves combining simple waveforms together to create complex sounds, by enabling anyone to select from and combine 34 editable modules. Create anything from wobbles, organs, ethereal pads, ambient soundscapes and so much more.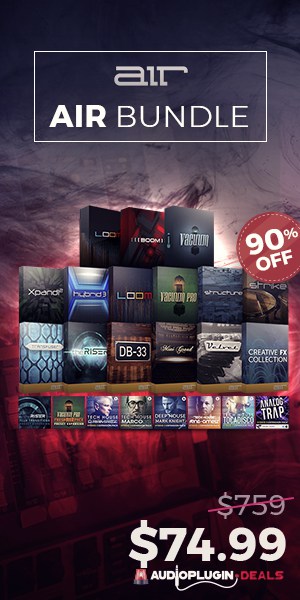 Boom – An Icon Set Free
Boom includes a diverse collection of 10 different classic electronic drum kits, offering variations on the classic 808 and 909 kits, more aggressive Dance and Urban-style kits, and a powerful retro style kit modeled on the concept of a 'CR78 merged with a 606'. Each one has been created with great attention to detail and provides a serious sonic impact.
Vacuum – Rediscover a Classic
Vacuum Classic is a monophonic vintage synthesizer featuring Vacuum Tube Synthesis
with vacuum tube circuit modeling that perfectly captures the crunchy, warm sound of the analog era. With analog oscillators, multiple filters and envelopes, and built-in audio effects, Vacuum let you dive deep.
Pricing and Availability
For only $74.99 (instead of $759), get the Premier Performance Bundle from AIR Music Tech (Affiliate Link) featuring AEIP 3 Complete, LOOM II, Boom, and Vacuum.
Legendary Stanton Manufacturer Enters inMusic's Brands Including Numark, RANE and Denon DJ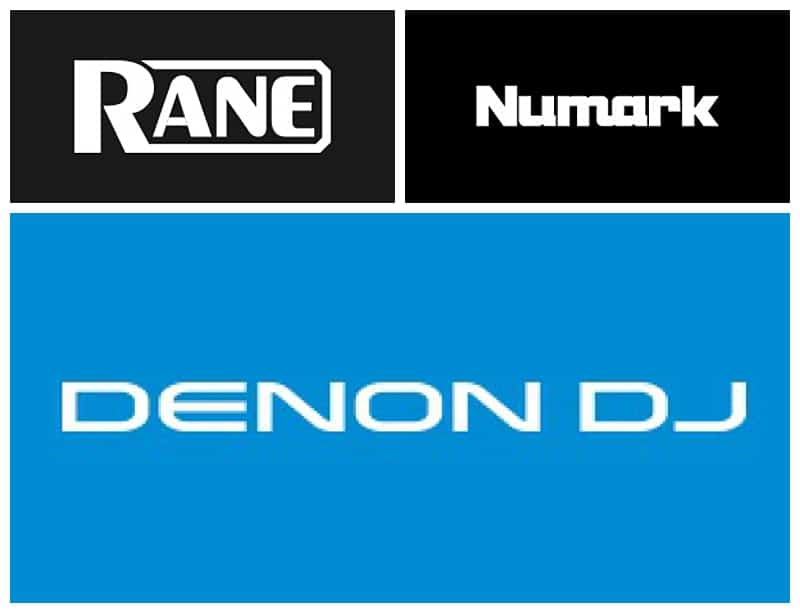 Legendary Stanton Manufacturer Enters inMusic's DJ Brands Including Numark, RANE and Denon DJ
inMusic, the global leader in music production hardware, software, and consumer electronics, today announced the acquisition of Stanton from a US-based music company, Gibson Brands, Inc.
With a legacy spanning over 70 years, Stanton is the perfect complement for inMusic's family of DJ brands. From developing the replaceable stylus and sparking a consumer market for audio equipment, to becoming an industry leader in the design and manufacturing of professional audio products for club, mobile DJs and turntablists, it is only fitting that Stanton joins the home of DJ technology leader, inMusic.
Stanton specialized in creating ground-breaking solutions for the DJ market including Final Scratch (the industry's first DVS solution), stereo cartridges designed for the working and performance DJ, and one of the first innovative standalone smart controllers, all of which makes Stanton the perfect addition to the inMusic portfolio.
inMusic is the parent company for the world's premier family of DJ brands, including Denon DJ, Numark, and RANE. Alongside these pillars of the DJ industry sits world-renowned music technology, software, and consumer electronic brands including AIR Music Technology, Akai Professional, ALTO Professional, Alesis, Denon Professional, HeadRush, ION Audio, M-Audio, Marantz Professional, MixMeister, Rane Commercial, SONiVOX, and SoundSwitch.
inMusic's world-famous, state of the art research and development teams respond dynamically to its customers with advanced technology in both software ecosystems and hardware – the perfect environment to guarantee a prosperous and innovative future for Stanton.
About inMusic
inMusic is a family of 16 premier brands that includes AIR Music Technology™, Akai Professional®, Alesis®, Alto Professional®, Denon® DJ, Denon® Professional, HeadRush®, ION® Audio, M-Audio®, Marantz® Professional, MARQ® Lighting, MixMeister®, Numark®, Rane®, SONiVOX® and SoundSwitch®.
As an affiliate, we may earn a commission from qualifying purchases. We get commissions for purchases made through links on this website from Amazon and other third parties.
StrongMocha is a magazine for music producers, audio engineers, and sound designers. StrongMocha Magazine provides the latest industry news, reviews of gear and software, tutorials on recording techniques, and tips for mixing.