TAL-Filter-II Review and Tutorial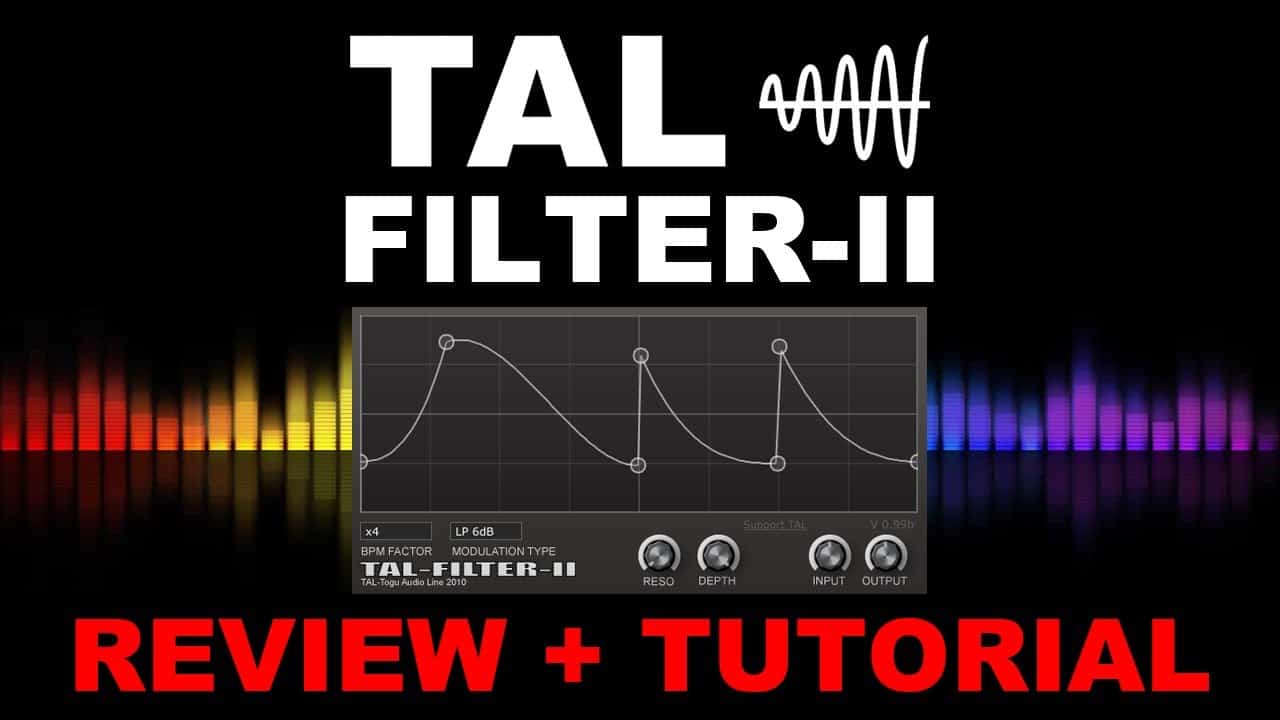 TAL-Filter-II Review and Tutorial
Filter VST's are a popular plugin for many musicians, engineers, and producers. Being able to carve out sections of high and low frequencies in a mix really helps get rid of "muddy" sounds in the track.
An envelope filter VST can also be used creatively to add unexpected flair to your song or mix. The TAL Filter 2 is a fantastic FREE plugin that allows you to do both of these things with ease. The robust feature set of TAL Filter 2 is straightforward and easy to use while still providing a wide array of flexibility and customization.
The feature of this free filter VST include:
Create host / beat synced modulations.
Easy to use graphical editor (double click deletes points, a click adds one).
4x oversampled TAL-NoiseMaker filters.
Different filter types: LP 24 dB, LP 18dB, LP 12dB, LP 6dB, HP 12 dB, BP 12dB, N 12 dB.
It's possible to saturate / distort the input signal by raising the input volume (only for filters).
Panorama modulation.
Volume modulation.
Different modulation tempo (x1, x2, .. x32).
Depth control as a simple way to control the modulation intensity.
Free as always.
TAL Filter 2 allows custom drawn envelopes with full control and customization. It really allows you to create your own unique sound. This is an exclusive feature not often found on other envelope filter plugins.
TAL Filter 2 is a wonderful creative tool, especially for EDM musicians and DJs. It allows you to draw your own unique envelopes and then automatically syncs with the tempo in your DAW. Then, choose your time factor and filter type.
This makes it easy to use and get great sounds right away.
With the low price of FREE, there is no reason to not download this nifty little envelope filter plugin and incorporate it into your own mixes.
Moebius Soundset for Roland Jupiter 8 emulation TAL-J-8
Moebius Soundset for TAL-J-8
Moebius is a new collection of 140 presets for the great Roland Jupiter 8 emulation TAL-J-8 by Togu Audio Line. The TAL-J-8 is a very accurate emulation of the popular 80's hardware synthesiser and calibrated after our own Jupiter 8 device.
Inspired by the soundtracks of Summer 84, The Knick and Stranger Things and the music of Le Matos, John Carpenter and Boards of Canada. Moebius is all about the 80s soundtracks, dark and suspenseful with a tone of nostalgia reminding old childhood memories playing VHS tapes or searching for a strange murderer in the bicycle accompained with friends.
Formed by dynamic arps and sequences, wonderful leads and pads, nostalgia keys, analog bass loops and basses, scary soundscapes and erratic, old and faulty synths. Moebius is ideal for your future music projects and soundtracks.
In addition, a lot of presets have been designed using the two-layer option of J-8 to make morphed, bigger sounds and ever-evolving yet subtle sound changes by just pressing one key. TAL J-8 is an accurate Roland Jupiter 8 emulation with carefully calibrated controls which makes a true replacement for the hardware synth with all the advantages of a software plugin. 
Pricing and Availability
Moebius is available now. You can use the intro price € 16.99 until May, 28th, 2021. Just enter the code TALISMAN in your shopping cart.
Luftrum 24 a Soundset for TAL J-8
Luftrum 24 for TAL J-8
Luftrum 24 contains 148 presets for TAL J-8 which is an emulation of the iconic Jupiter-8 hardware synth from 1981. The presets cover a wide range of genres from synthwave to 90s French house to ambient and synthpop. You can get the soundbank plus a 40% discount code to TAL J-8 in a pack at a very attractive price.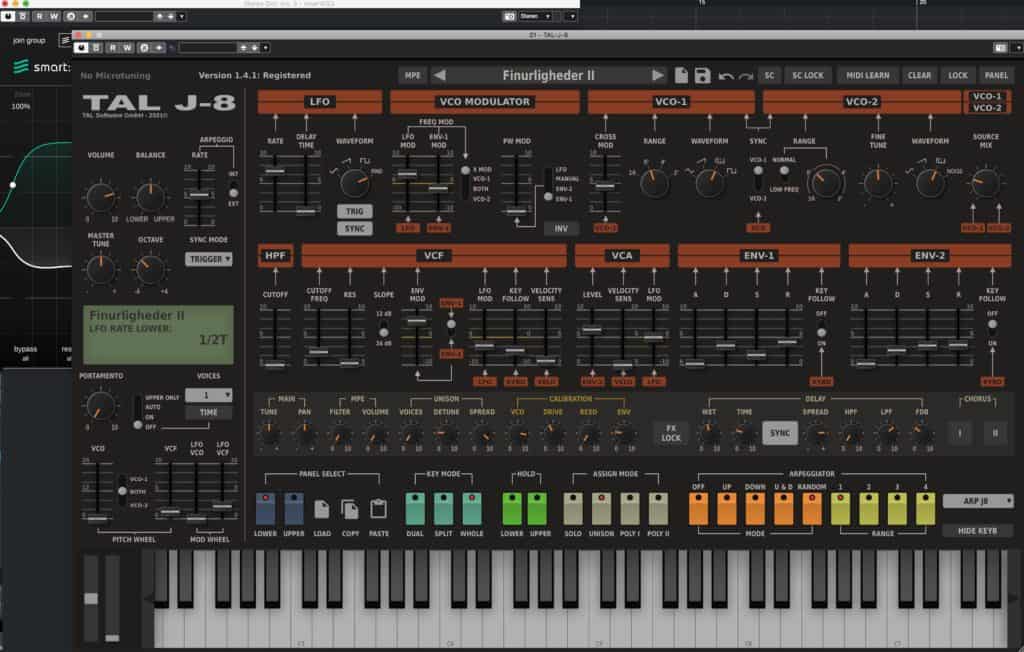 TAL J-8 is an accurate software replication of the mighty Jupiter-8 hardware synthesizer by Roland from 1981. Today, the Jupiter-8 is one of the most iconic and desirable hardware synthesizers and good units sell for up to $20.000 on auction!
The sounds in Luftrum 24 are inspired by a broad range of synth-driven artists and duos such as Daft Punk, John Carpenter, Vangelis, Perturbator, Steve Roach and The Midnight with presets ranging from soaring mono leads to dreamy pads over dark basses and delicate synth keys.
Out of the 148 presets, 40 are designed by Code Elektro a critically acclaimed synthwave sci-fi artist from Denmark, whose music best can be described as a hard mix between Carpenter Brut, SURVIVE and Tangerine Dream.
Pricing and Availability
Luftrum 24 is $37 but we have a limited offer, so you can get the soundbank plus a 40% coupon code to TAL J-8 in one pack for only $40, with the coupon code you save $32 on TAL J-8 (from $80 down to $48). That deal is a no-brainer if you do not already have the synth, but there's a limited supply and when it's gone, it's gone…
TAL-Chorus-LX Video Review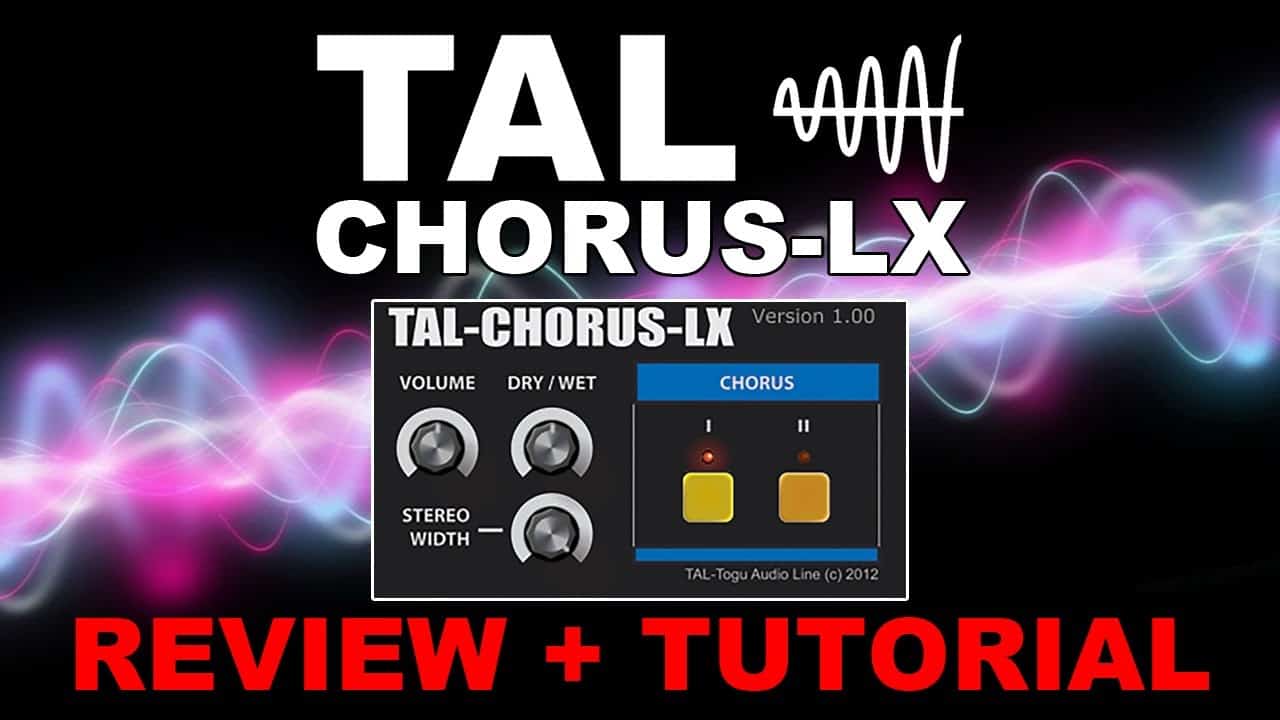 TAL-Chorus-LX Video Review
To start off – It's Free! TAL are known for many of their great plugins. The best part? A bunch of their plugins are free and are great choices even in comparison to paid plugins. TAL has definitely carved a place for themselves in the industry and you don't even need to commit to a license to experience their greatness.
In this video, we'll take a look at a very simple but effective plugin from TAL – the Chorus LX, a plugin version of the Chorus, from the Roland Juno.
TAL is a small and wonderful company in Switzerland, that creates high-quality effects and instruments and keeps the price in check. Around two-thirds of their plugins library is free and available for you to download right now and the plugins that do have a price tag are more than reasonably priced, barely reaching $50.
TAL software has been widely adopted in the industry and is known for it's authentic and high quality vintage sound. So if you're looking for an analogue sound in your digital production process, there's no better place to look.
So why should you check out this free chorus VST? Well, it's very simple and effective. Setting one widens the sound as in a great imaging tool to widen the sound of your instruments and recording.
The second, and only other option on the plugin, is a more chorus like preset, which emulates the original Roland Juno chorus – but it doesn't end there, select both of those bad boys and you're creating wonderful vintage-sounding progressions and licks without the mess, as the TAL Chorus LX is not emulating the noise that the original synth produced, which might sound as a possible negative to some, it allows you the freedom to add the noise after the fact (unfortunately not with the TAL Chorus LX itself, but it's definitely better than having to deal with the noise if you didn't want to).
And it's pretty much it! The TAL Chorus is really just that simple. It's a simple chorus VST, that delivers one of the most iconic chorus effects you'll hear in classic records and as mentioned it's a free chorus VST, which you can't really complain about, even if the effect is not what you expected, it's Free. Chorus software is widely varied in quality when it comes to what it delivers and we love this one. Is it the best free chorus VST? Well, it's definitely lxfree.
While mentioning the Roland Juno, you can't miss that TAL TAL is also known for its VST version of the famous synth the Togu Audio Line TAL U NO LX. Which is a wonderful VST if you're looking for what the Roland Juno had to offer in the form of a VST.
It's a completely rewritten emulation of the Juno 60, zero feedback delay filters, controls carefully calibrated to make the synth the best replacement for the analogue classic – and what's even better – we have a video on it, so make sure to check it out!
If you want a free version, you can always take a look at the TAL-U-No-62, which is the free predecessor to TAL-U-No-LX. It's a polyphonic virtual analogue synth that used the Juno 60 as a reference for its oscillators and filters.
And it's just the start to the impressive list of 6 paid and 11 free plugins you can find on the TAL website. Including such plugins as the TAL Filter 2, which we also made a video on, Tal Elek7ro, a free virtual analogue synth with oscillator hard sync and frequency modulation, TAL BassLine, a free virtual analogue bass synthesizer, TAL Dub (which we also made a video about), a free vintage style delay effect and much much more.
Do you know any other great free chorus plugins? Any other LX free plugins? Well, we think the Chorus LX is definitely the best chorus plugin for achieving the effect of the Roland Juno chorus settings.
As an affiliate, we may earn a commission from qualifying purchases. We get commissions for purchases made through links on this website from Amazon and other third parties.
StrongMocha is a magazine for music producers, audio engineers, and sound designers. StrongMocha Magazine provides the latest industry news, reviews of gear and software, tutorials on recording techniques, and tips for mixing.