T-RackS® Space Delay Plug-in – Iconic Tape Delay Unit Emulation
New plug-in recreates the iconic sound and character of a classic tape delay unit
IK Multimedia has released T-RackS® Space Delay for its industry standard T-RackS mixing and mastering software workstation. This new vintage tape delay/spring reverb plug-in recreates the detailed character and sound of an iconic tape echo unit heard on countless albums and can be used both as a stand-alone plug-in or inside T-RackS 5.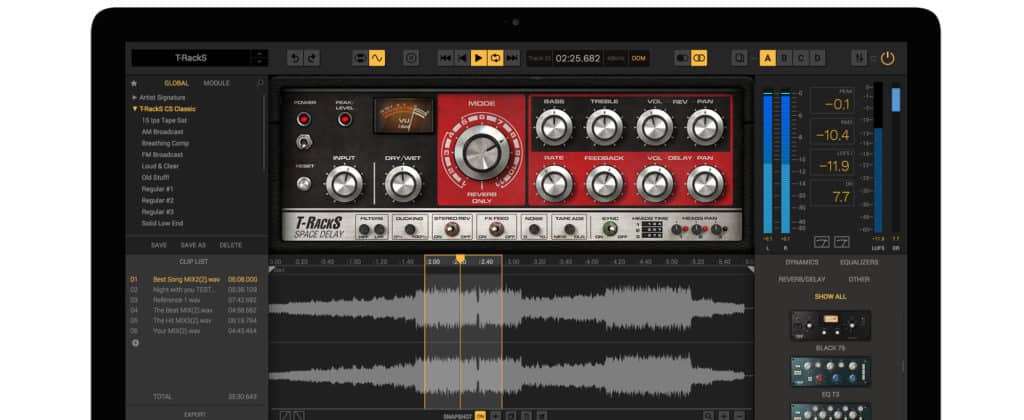 Warm, lush tape echo sound
T-RackS Space Delay offers users a chance to enjoy the flexible controls and instantly recognizable organic sound of the classic Roland® RE-201 Space Echo™ delay unit, modelled with an unprecedented level of detail.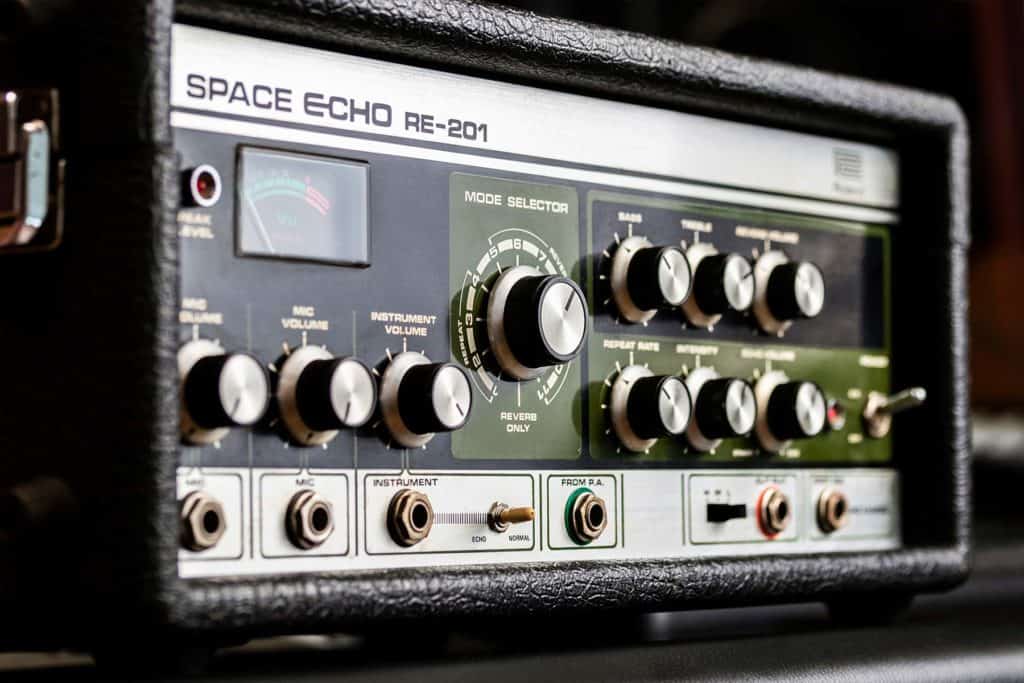 Using the same mix of dynamic convolution and physical modelling as IK's Tape Machine Collection, the T-RackS Space Delay captures the sound of this iconic effect, down to the finest detail. Just as on the original, users can enjoy experimenting with three playback heads, the variable speed motor and engage the spring reverb to create everything from subtle space to rich, swelling echos.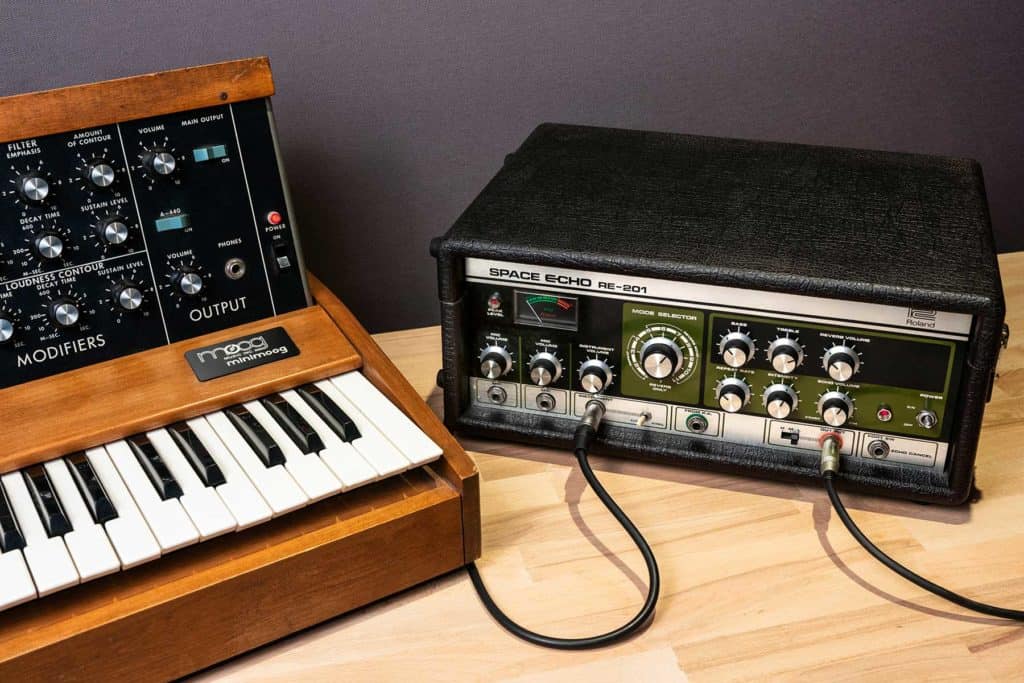 Re-creating the magic
Like the Tape Machine Collection, creating Space Delay began with an original unit restored to pristine, factory spec condition. Every design element was carefully analysed, inspected, and measured to create a precise physical model of every circuit, from the preamps to the playback heads.
The physical model, paired with a powerful dynamic convolution to capture every nuance of the spring reverb and other elements of the sound, results in breathtaking fidelity to the original unit.
Beyond Emulation
Space Delay also adds several thoughtful updates for easier integration with modern production techniques:
Stereo operation
Pan each of 3 playback heads and the spring reverb separately for immersive stereo soundscapes.
Input filters
Use the high-pass and low-pass input filters to further shape the sound before hitting the tape.
Ducking
Create dynamic echo effects or cut through a crowded mix with this convenient ducking feature.
Lo-Fi effects
Use dedicated controls for unit noise and tape age to easily add extra grit and grime to tracks for a more vintage sound.
Flexible use options
Like all T-RackS processors, T-RackS Space Delay offers two ways to work: as a single plug-in, or inside the T-RackS 5 shell itself.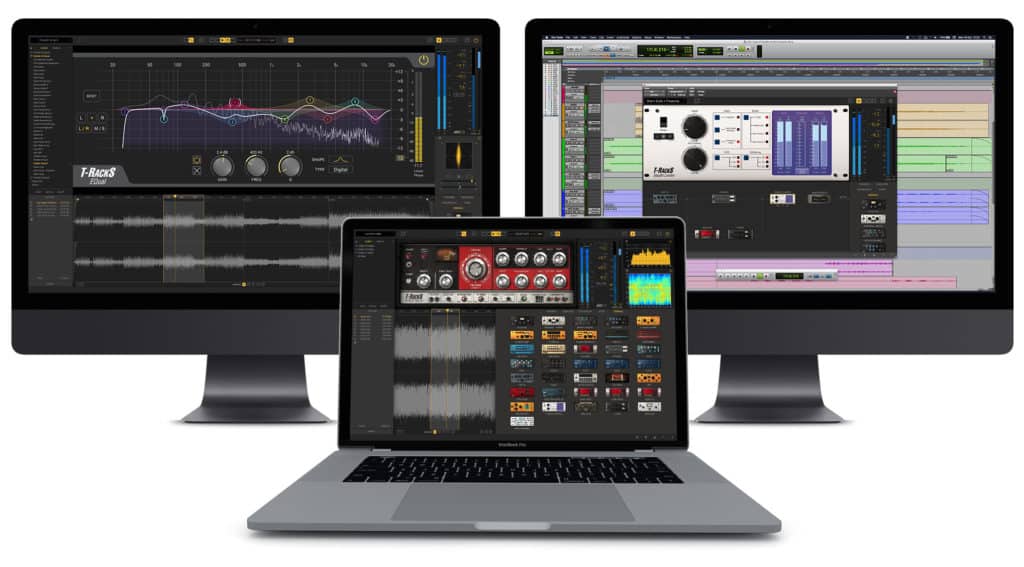 About T-RackS 5
T-RackS 5 is the latest version of IK's industry standard mixing and mastering software workstation that has been used on countless albums by top engineers for more than 20 years. This powerful modular system offers maximum versatility via 45 high-quality processors (EQs, limiters, compressors, etc) that can be used in parallel or series, in a variety of working environments. In total, T-RackS 5 offers everything needed to professionally treat and finalize audio from raw mixes to a perfect finished product. For even more professional results, each version of T-RackS 5 also offers free downloadable signature presets from some of the industry's top engineers.
A new plug-in recreates the iconic sound and character of a classic tape delay unit.
Pricing and Availability
The T-RackS Space Delay is available now in the T-RackS Custom Shop, from the IK Multimedia online store and from authorized IK dealers worldwide for $/€99.99*.
From July 16 through September 15, 2020, owners of five or more T-RackS Singles and owners of T-RackS 5 SE, T-RackS 5, T-RackS 5 Deluxe or T-RackS 5 MAX will automatically receive a 20% discount when purchasing T-RackS Space Delay through the IK Multimedia online store.
FabFilter New Timeless 3 and Vintage Tape Delay Plug-in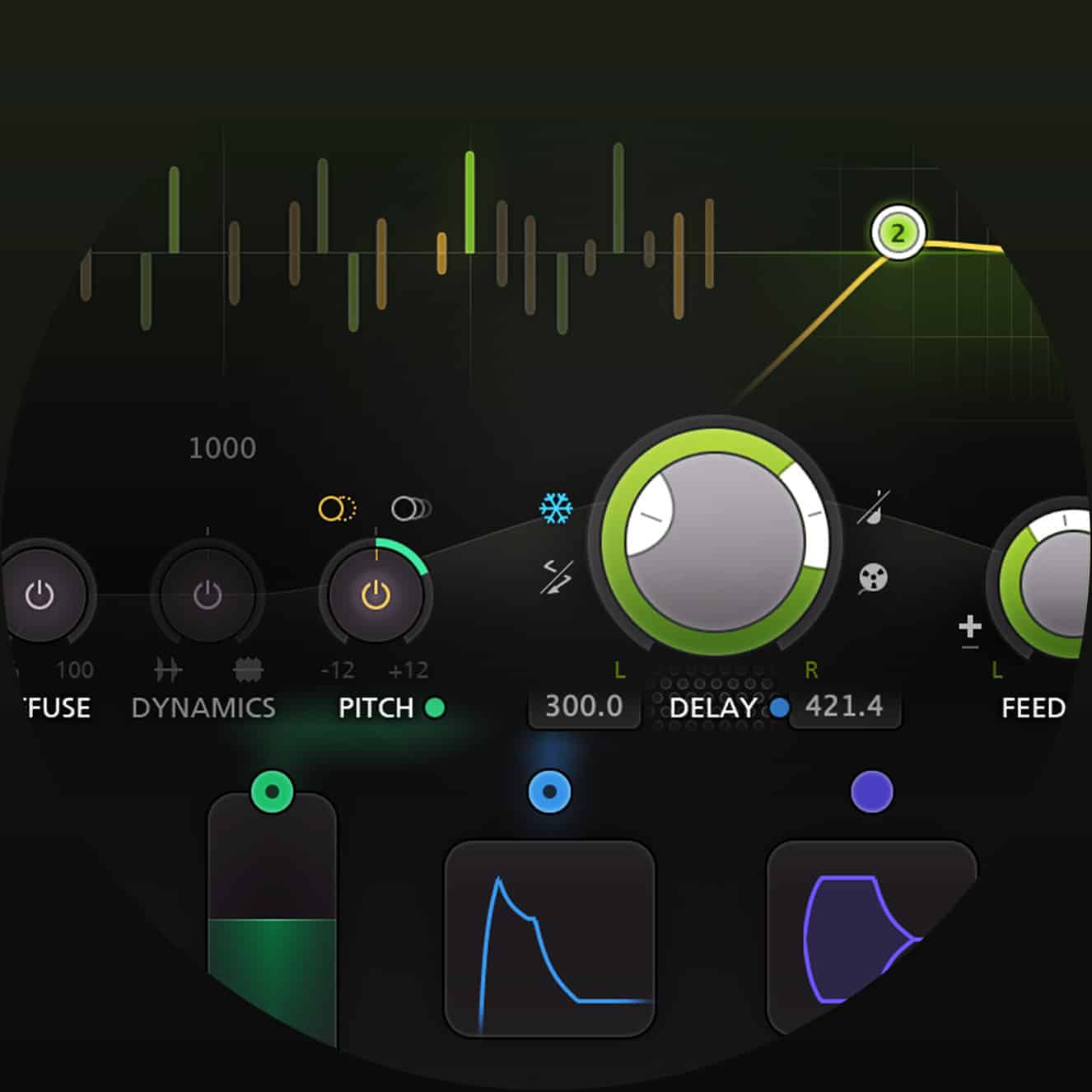 FabFilter Timeless 3
FabFilter Timeless 3 is a versatile, vintage-sounding tape delay, which will undividedly satisfy your daily delay needs. And with its unique effects, filters, tap patterns, and unlimited modulation options, you can just as quickly turn it into the ultimate sound-mangling machine!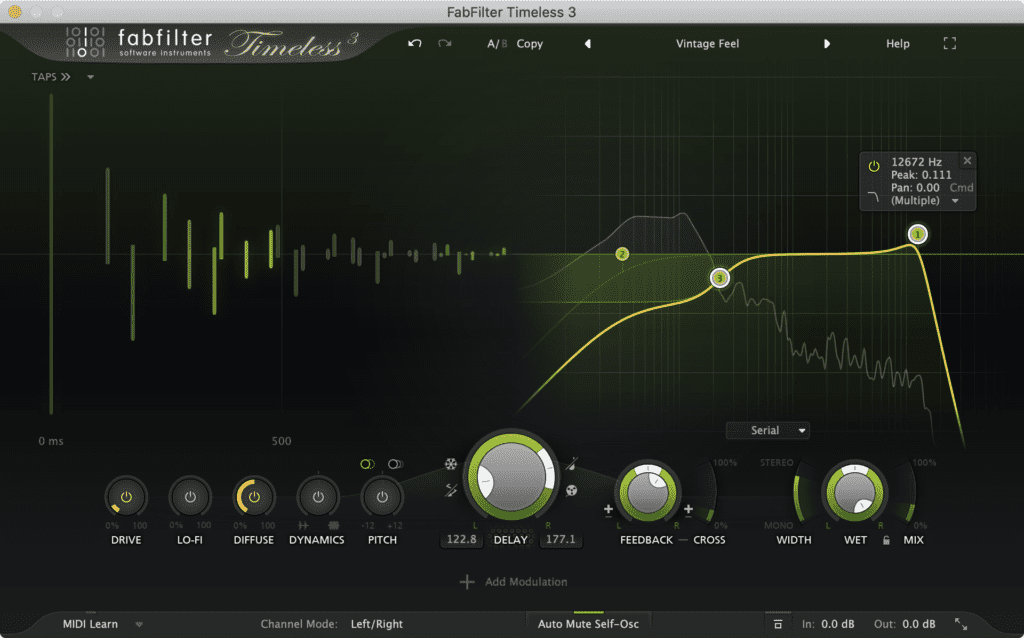 Timeless 3 introduces a streamlined new interface, five feedback circuit effects, more filters, up to 16 delay taps, improved filter, and saturation algorithms, a revised preset library, and more. With its dual-delay architecture and limitless modulation system, it's the go-to plugin for both bread-and-butter echoes and spectacular creative effects.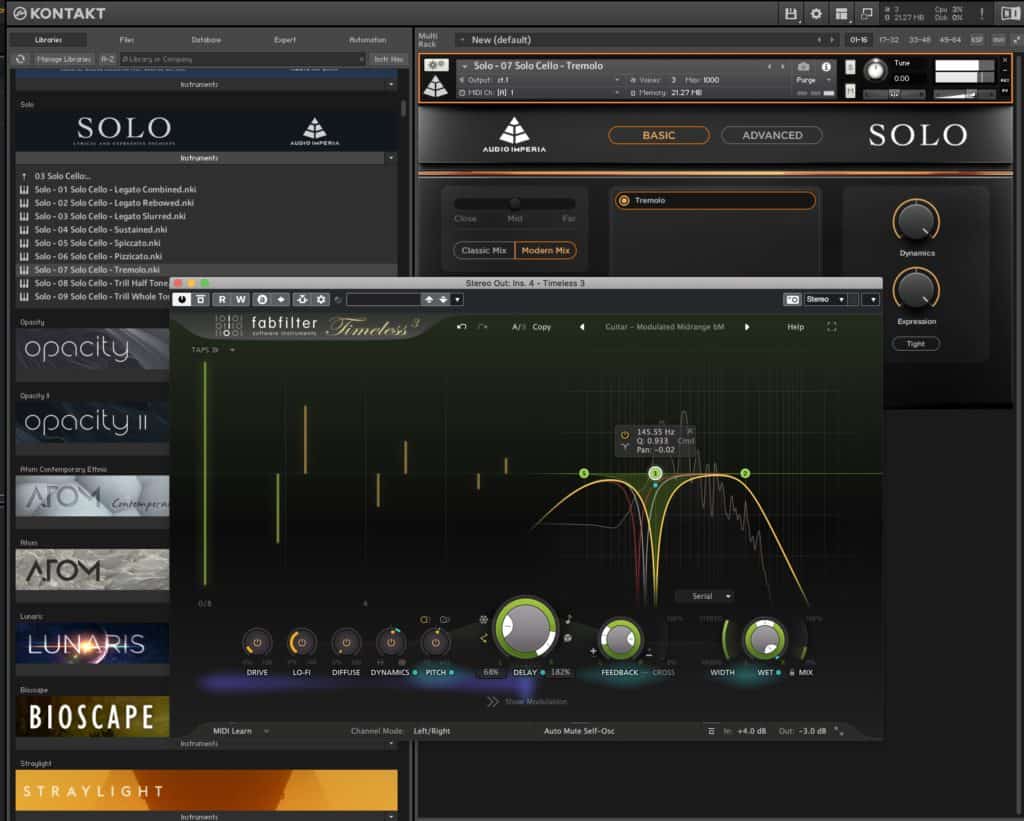 Fully redesigned, highly-simplified interface, with an easy workflow and new modulation engine
Dual delay lines (5 ms to 5 sec) with host tempo sync and panning
Tape delay or time-stretching behavior when changing the delay time
Feedback, cross-feedback, phase inversion, and ping-pong mode
Up to six analog-style multimode filters with filter panning
All-new interactive delay and filter displays simplify operation by enabling direct editing of delay times, feedback, filter frequencies, panning, and more
Create rhythmic patterns using up to 16 delay taps, which can be controlled and modulated individually
Delay freeze with modulation
Drive, Lo-Fi, Diffuse, Dynamics, and Pitch effects for processing the feedback circuit
Endless modulation options, with as many 16-step XLFOs, XY controllers, envelope generators, envelope followers, and MIDI sources as desired
Full visual feedback of modulation via parameter animation and 'source flow'
Stereo width control
Mid/side processing
Resizable interface with full-screen mode
Carefully designed and curated factory presets, plus support for earlier Timeless presets
All the usual features FabFilter users have come to expect: perfectly fine-tuned knobs and controllers, interactive MIDI Learn, undo/redo and A/B switch, Smart Parameter Interpolation for smooth parameter transitions, an extensive help file with interactive help hints, sample accurate automation, SSE optimization, and more 

Improved sound
Taking Timeless to new sonic heights — with particular attention paid to the temporal response of the feedback circuit, FabFilter has upgraded and optimized its analog-modeling algorithms from top to bottom. The results are its warmest filters and smoothest saturation yet, delivering epic echo-based effects of unrivalled clarity, presence, and character.
Stunning new interface and streamlined workflow
Timeless 3 enables users to design even the most intricate delay effects faster and more efficiently than ever. The completely redesigned interface greatly simplifies operation without compromising the feature set in any way, and is presented with a new, darker color scheme that's easier on the eye during long sessions. The all-new delay display provides intuitive visualization and tweaking of delay time, feedback, and mix settings, while the interactive filter display makes shaping the frequency response a snap, and the stunning full screen mode expands the GUI for maximum focus. Modulation sources and targets now visualize modulation signals with animated collars and tracks, and the new source flow area provides an engaging overview of all active modulations.
Five feedback path effects
Color the sound of the delays with Timeless 3's five new 'one-knob' feedback effect modules. Add analog-style saturation and digital distortion with Drive and Lo-Fi; soften, smear, and 'reverb-ify' the signal with the Diffuse knob; dial in instant compression or gating with Dynamics; and shift the feedback up to an octave up or down with the Pitch processor. Needless to say, all five are available as modulation targets, too, so it's easy to get them moving with Timeless 3's XLFOs, Envelope Followers, XY Controllers, MIDI CCs, and more.
Shape the delay with up to six filters
Tripling the number available in version 2, Timeless 3 provides six multimode filters with which to sculpt delays. Each filter is instantiated and adjusted directly in the interactive filter display, and offers a choice of high-pass, low- pass, band-pass, bell, shelf, and notch modes. Apply all six in series or parallel, or with three filters on each L/R channel for cross-feedback-enhanced stereo effects. Whether dialed in for precision equalization or modulated for acrobatic feedback manipulation, Timeless 3's filters put no limits on frequency shaping and sound incredible.
New and improved presets
The factory preset library has been rebuilt from the ground up to maximize its usability, incorporating Timeless 3's new feedback effects and filters, and reorganized to make it easier to find the effect needed for any situation. From focused instrument-specific treatments, dubbed-out echo-scapes, and spacious reverbs to a vast range of complex modulation-based special FX, the Timeless 3 preset library is bursting with inspirational setups for use in their own right, or as jumping-off points for creating original patches.
Pricing and Availability
FabFilter Timeless 3 is now available for EUR 109, USD 129, or GBP 94, supporting both Windows and macOS in VST and VST 3, Audio Units, AAX, and AudioSuite plug-in formats. Bundles with FabFilter Timeless 3 and other FabFilter plug-ins are also available. Existing FabFilter customers can purchase or upgrade to FabFilter Timeless 3 with very attractive discounts by logging into their online user account.
To make self-quarantine just a little bit easier during the COVID-19 pandemic, FabFilter offers free 30-day evaluation extensions for all their plug-ins, including Timeless 3.
Rob Papen DelSane – Disruptive Split-Personality-Styled
Rob Papen DelSane Released
It is true that the amount of Delay FX available is like the number of stars in the Milky Way! Looking at all these stars (Delays) can be overwhelming, so to keep your music production sane…Rob Papen has created DelSane. Rob Papen puts out DelSane virtual stereo delay effect plug-in with disruptive split-personality-styled behavior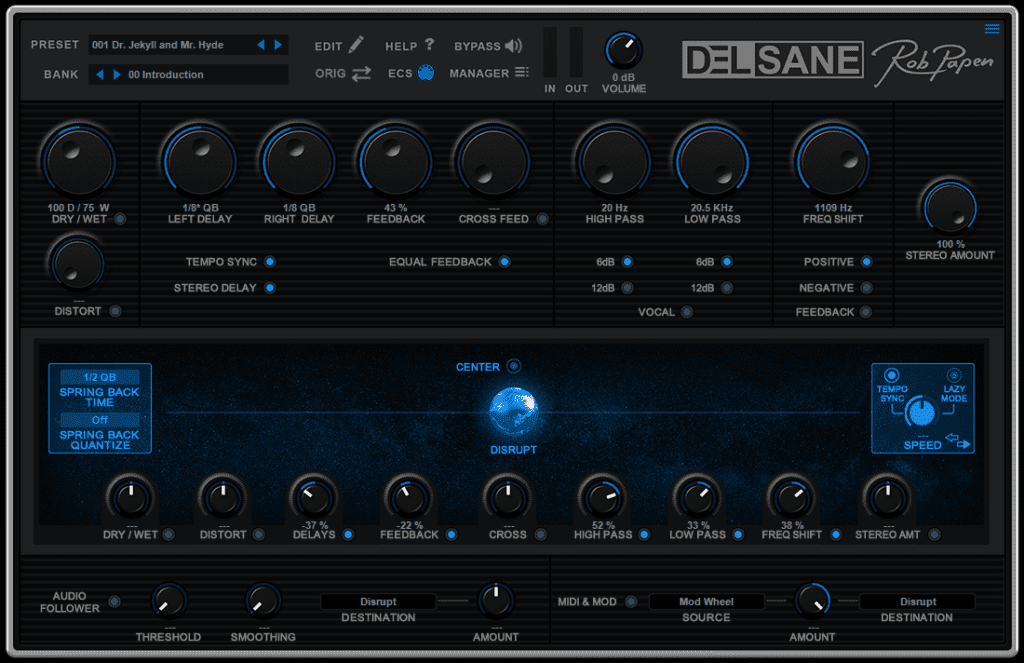 As an appropriately-named effect plug-in with a 'Dr. Jekyll and Mr. Hyde' behavioral disorder, DelSane makes musical sense when viewed from Rob Papen's perspective, positioned this way: while it is true that the abundance of delay effects already out there sometimes seems like trying to count the number of stars in the Milky Way, which can be overwhelming, DelSane was duly designed as a way of staying sane when navigating increasingly-insane modern music production waters as an easy-to-use, lovely-sounding stereo tape delay plug-in. Perversely, perhaps, it could be considered insane if Rob Papen's latest product did not offer something special, as is the Dutch virtual synthesizer, instrument, and effect plug-in developer's modus operandi. On the face of it, then, it is called DelSane since it is possible to imagine dropping 'Del' in favor of 'In' as insane-sounding delay types can also be created!
The concept of DelSane is two-sided. The first (sane) side is a smooth-sounding Tape Delay which can be easily used as a Stereo or Mono Delay in your music production or as (insane) a creative, think out of the box Delay FX device.
The layout is easy to understand and this DelSane can be your basic go-to Delay plug-in for many future music productions.
GUI sizes: 100%, 125%, 150% and 200%.
The cool 'Equal Feedback' feature gives the Stereo Delay a smooth equal Left and Right tail Feedback.
If you need a bit of edge added to the Delay sound, the 'Distortion' parameter is also available.
To alienate the Delay sound even more we added the 'Frequency Shift' feature.
The creative side of DelSane is the 'Disrupt Sphere-Slider'. This Sphere-Slider can be connected to the various Delay parameters and by moving the Sphere-Slider, you can change multiple Delay parameters in a dynamic way. Also, if you move the Sphere-Slider, it can move back to the center in a tempo-based way which we call the 'Spring' feature. Very dynamic changing Delays are possible using this 'Disrupt' feature!
To avoid muscle pain… you also can use the 'Lazy Mode' so that the movement of the Sphere-Slider can be automated in different directions, which allows you to also create Flanger, Chorus or creative new types of modulation sounds.
There is an 'Audio Follower' which can be used to influence various Delay parameters including the 'Sphere-Slider Disrupt' parameter itself!
The 'MIDI & MOD' control section can be used to influence various DelSane parameters including the 'Disrupt Sphere-Slider'!
So, either way…for a sane top sounding Tape Delay or crazy insane changing Delay, RP-DelSane is your go-to Delay for years to come 😀
Central to the insanely creative DelSane is its eye-catching DISRUPT spherical slider. Since said slider is connected to the various delay parameters, it is possible to change multiple parameters in a dynamic way when moved. It is also Spring featured, so can be made to spring back into the Center position in a tempo-based manner, making for very dynamically-changing disruptive 'insane' delay types — and all without recording innumerable parameters, paralleling trying to count those Milky Way stars!
So think of DelSane as a two-sided — split-personality-style — concept with the first (sane) side being a smooth-sounding tape delay that can be easily used as a stereo or mono delay and the second (insane) side acting as a creative conduit to thinking out of the box with delay effects.
Either way, DelSane it surely set to become a go-to delay plug-in perfectly suited to any music production, thanks to its easy-to-understand layout presented as an easy-on-the eye GUI (Graphical User Interface) that is resizable from 100% to 200% in four incremental steps.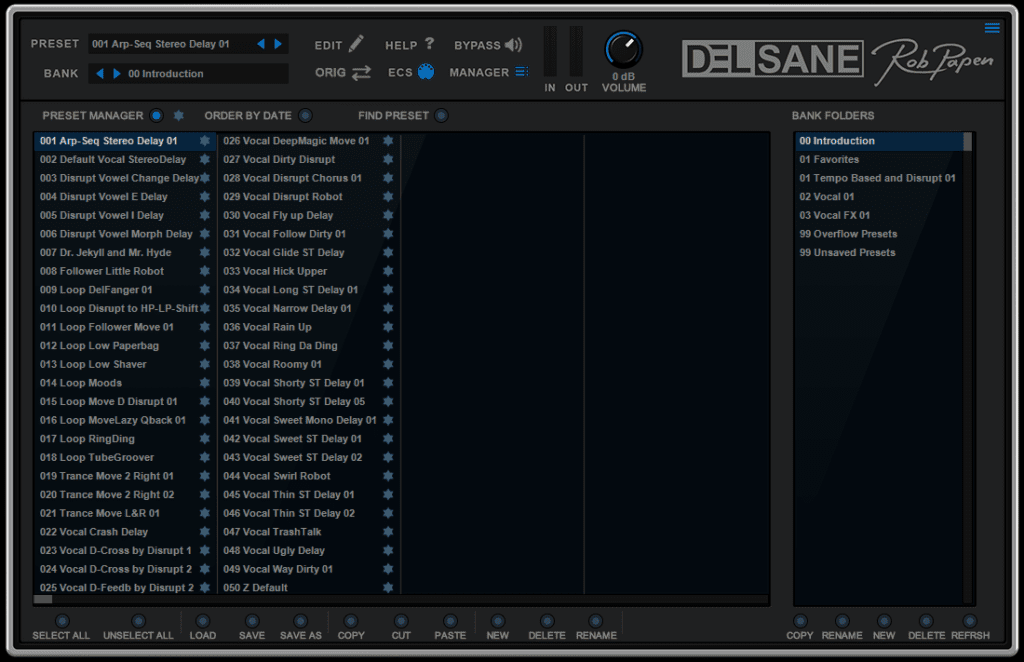 Further features well worth highlighting here include a cool EQUAL FEEDBACK function — providing the STEREO DELAY with an equally smooth left and right feedback tail; DISTORT — adding a bit of a distorted edge to the delayed sound; and FREQ SHIFT — alienating the delayed sound still further.
Easing the delayed sound's passage into modern music production waters — whether sane or otherwise — while avoiding any muscle pain in the process, activating the LAZY MODE automates the movement of the DISRUPT spherical slider in different directions, duly allowing for the creation of chorus, flanger, or new types of modulation effects, while an AUDIO FOLLOWER function facilitates influencing various delay parameters — including the DISRUPT spherical slider itself! Meanwhile, MIDI & MOD makes for further flexibility when it comes to influencing those various delay parameters.
So 'sanity' and 'insanity' is available in abundance when working with DelSane — so much so that Dr. Jekyll and Mr. Hyde would surely approve… if involved in modern music production!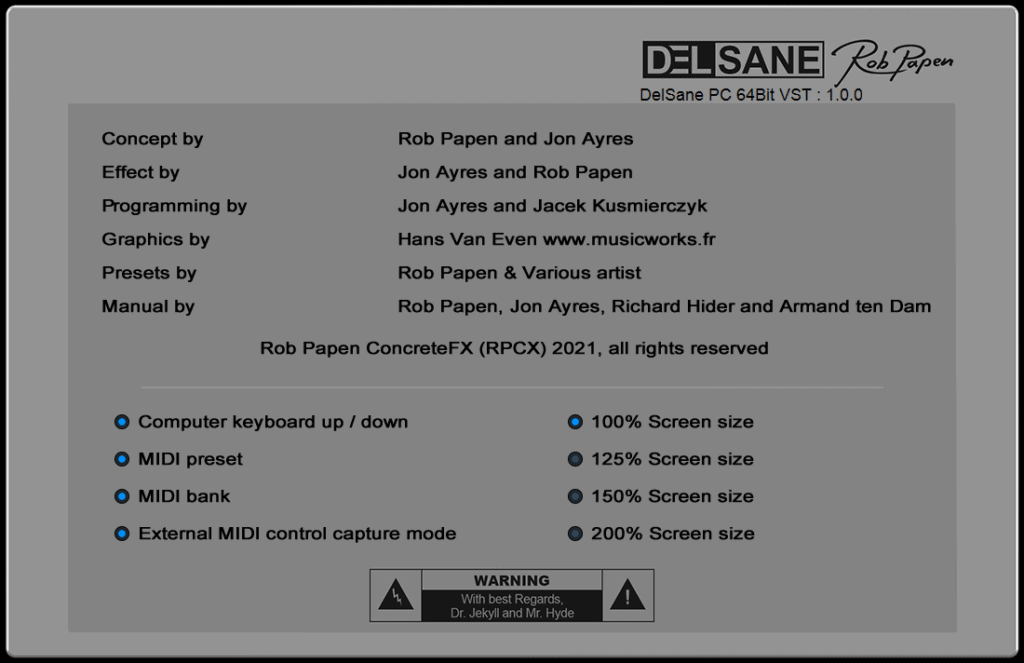 Pricing and Availability
DelSane is available as a 64-bit AAX-, AU-, and VST-compatible effect plug-in for Mac (OS X 10.12 – macOS 11) and as a 32- and 64-bit VST- compatible effect plug-in for PC (Windows 7/8/10) — with 64-bit AAX compatibility available for PT 12 or higher (PC) — at a time-limited introductory promo price of €29.00 EUR/$29.00 USD until May 15, 2021 — rising thereafter to a MAP (Minimum Advertised Price) of €35.00 EUR/ $35.00 USD — from authorized Rob Papen dealers worldwide or as a download directly from Rob Papen itself for the same pricing.
While DelSane is not included in the latest version of the eXplorer 6 bundle, Rob Papen is offering DelSane for free to anyone that purchases — or upgrades to — eXplorer 6 between now and May 31, 2021.
ValhallaDelay Updated Adds New Quartz and PhaserDDL Modes
ValhallaDelay Updated to 2.0.8
The ValhallaDelay 2.0.8 update adds two new delay modes: Quartz & PhaserDDL
New Quartz Mode
Quartz is a delay mode as transparent as its namesake. The Quartz mode takes the filtering out of the feedback loop, and incorporates a nearly colorless limiter, so your repeats can be as bright and shiny as you want them to be. Perfect for looping, clean echoes, bright flanging, and all sorts of pristine sounds.
PhaserDDL Mode
PhaserDDL incorporates a digital delay with a 4/6/12 stage phase shifter on the outputs. The phase shifters are in the feedback loops, which results in psychedelic echoes with long delays. Turn the delay time and delay feedback down to zero, and PhaserDDL is a great stand-alone phaser. The Age knob is swapped out for a Res knob, to control the phase resonance.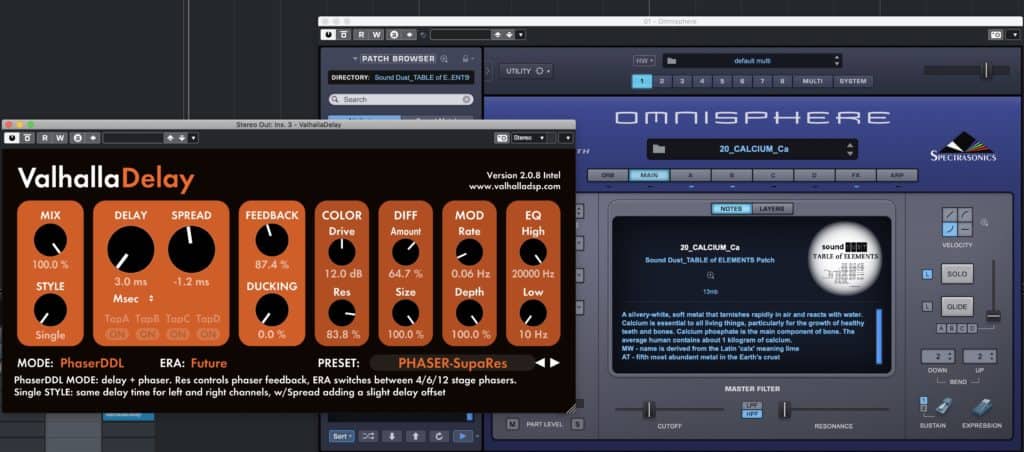 Single: same modulation for left and right channels 
Dual: quadrature modulation (0 degrees in left, 90 degrees in right)
Ratio: antiphase modulation (0 degrees in left, 180 degrees in right)
PingPong: antiphase modulation (0 degrees in left, 180 degrees in right)
Quad: 4 separate phase shifters, each running at a different rate, and each with antiphase modulation (0 degrees in left, 180 degrees in right). Select two or more Taps for a lush combination of phase shifting, or all 4 for a dense phase shifted stew.
Pricing and Availability
The 2.0.8 update of ValhallaDelay is available to demo and purchase today. If you already own ValhallaDelay, the FREE update can be found by logging into your user account. 
As an affiliate, we may earn a commission from qualifying purchases. We get commissions for purchases made through links on this website from Amazon and other third parties.
StrongMocha is a magazine for music producers, audio engineers, and sound designers. StrongMocha Magazine provides the latest industry news, reviews of gear and software, tutorials on recording techniques, and tips for mixing.