PlugInGuru Unify 1.1.10 UPDATE
Unify is a TOTALLY UNIQUE Plug-In that combines over 50 plug-ins when installed, producing over 500 John Lehmkuhl designed patches with a powerful HOST plug-in that can load all of your Instruments, Audio Effects and MIDI Effects in a  flexible and fun environment! It also comes with 505 patches and over 3.5GB of samples from John's 12 PlugInGuru sample-based libraries that were originally designed for Omnisphere 2.
Version 1.1 brings 2 new MIDI Effects to the family: MIDIBox and JitterBox. 4 new reverb audio effects are also added in this free update along with interface enhancements and a bunch of new capabilities! Seamless Play is one of the coolest things – you can now right+click on any patch and load it INTO your existing patch and it will do this with no audio glitch! You don't really need playlists or a Live button when you can seamlessly load ANY Patch using ANY PlugIn at ANYTIME into Unify 1.1. It's a complete game changer!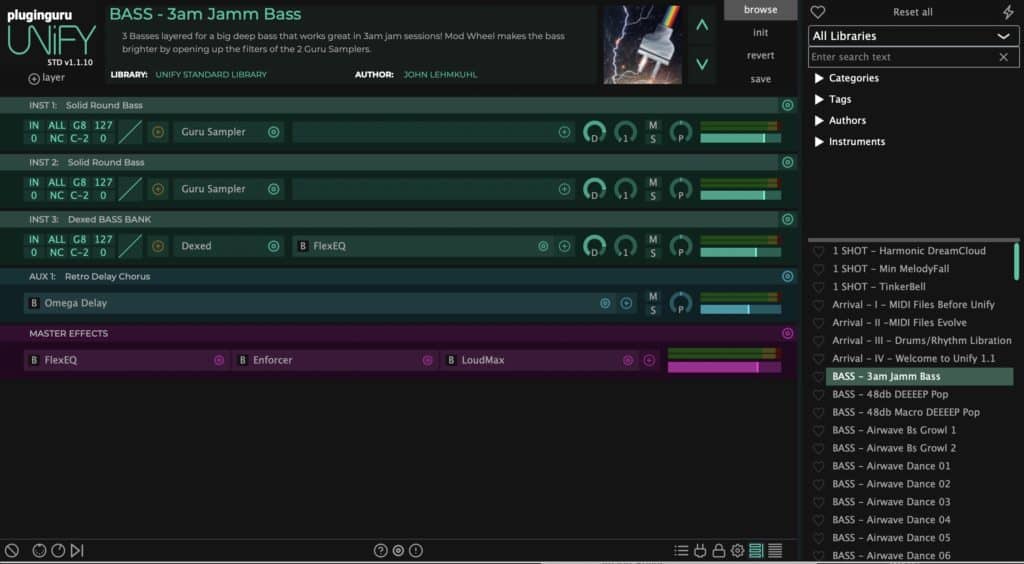 This update is recommended for all Unify users. It includes a number of new features, some of which are not yet documented in the online manual. Keep checking; the manual will be updated ASAP.
Version 1.1.10
Drag/drop to reorder layers:

Linked parameter paths will be re-numbered automatically.

Velocity-based fading for layer note-range bounds:

Key-range part of title strip does not extend under ops button
Active key range is always shown, and right-mouse can be used at any time
Double-clicking right mouse button (or left + Ctrl) resets whatever would be changed by a drag, depending on other modifier keys:

No modifier: reset to min or max
Option/Alt: reset fade region to zero width
Shift: reset fade curvature to zero

MIDI bank/patch selection based on user-edited "bank" text files:

Plain text files in MIDI Bank Files folder under main Unify data folder.
Files are named e.g. BB_SS.txt where BB is bank number 1-128 (MIDI CC#0 values 0-127) and SS is sub-bank number 1-128 (MIDI CC#32 values 0-127).
Blank lines and lines beginning with # sign are ignored (comments).
Active lines consist of a patch number (1-128) followed by the name of a patch (spelling must be exact) OR name of a patch file (ending in .unify or .upf.

PolyBox: New "Random" checkbox activates layers in random order, instead of strict round-robin.
MIDIBox: Output note-range defaults to C1-C6 instead of C-2 to G8.
Patch loading:

A patch-load request (by mouse click or MIDI) will be ignored if it occurs less than 500 milliseconds after the previous patch change.
This avoids multiple redundant patch loads due to accidental double-clicking, or rapid-fire MIDI events.

Sorted lists in patch browser: All lists in the patch browser (libraries, tags, etc.) are explicitly sorted.

In previous versions, lists were generated in the order the items appeared in the patch database, which was usually sorted alphabetically, but this was not guaranteed.

MIDI CC-assignments can be saved for embedded Unify instances only.

This allows e.g. MIDI CC messages generated by MIDI effects in the outer Unify to be linked to macro knobs in the embedded instance.

MIDI Monitor has new option to filter by MIDI channel:

Default setting is "ALL".
Active key range is always shown, and right-mouse can be used at any time
Channels 1 through 16 may also be selected.

Copy/Paste plug-in state: special handling for embedded Unify instances.

If the plug-in is an embedded Unify VST instance, its state will be decoded before putting it onto the clipboard.
The instance can then be swapped for a built-in Unify instance, and the state pasted directly in.
This is to faciliate quick conversion of older patches built with the Unify VST, to use the newer built-in format.

Guru Sampler: now has a "reverse playback" option.
Miscellaneous:

Layer-stack scroll position no longer resets when Unify window is resized.
MIDIBox: bar count, start bar number are retained after loading a new MIDI file, unless they are not valid for that file.
MIDI Monitor: Display updates when GUI is opened, Clear button resets relative event-times.

Bug fixes (partial list):

Previous Unify versions would crash if more than 1,000 layer presets were defined. This limit has been raised to 100,000.
Fixed bug which caused crashing when loading patches with Kontakt instances.
Numerous issues involving linked parameters.
Fixed bug which caused non-4/4 MIDI files to play incorrectly.
Pricing and Availability
f you purchased Unify from anywhere other than PlugInGuru.com, you can get the updates HERE. If you purchased from PlugInGuru.com, log into your account and the links are on the "MY ACCOUNT" page to download.