WOW2 – Creative Multi-Filter box by Sugar Bytes
WOW2 is a versatile filter plug-in with a future-dripping user interface, 21 incredible filter types and the famous vowel mode. With distortions that cover your tracks with gas and put them on fire. Modulations that cause more trouble than your modular dark room. And finally, that warm and juicy sound, that you were looking for.
WOW2 Features
21 Filter Types
LFO, Env.-Follower, Step Seq. & Wobble
Non Aliasing
Distortion with 3 Overdrives & 4 Digital Functions
Distortion Pre- or Post Filter Units
Envelope Follower with Frequency Detection
9 human vocal Sounds in Vowel Filter
Dynamic Oversampling across the board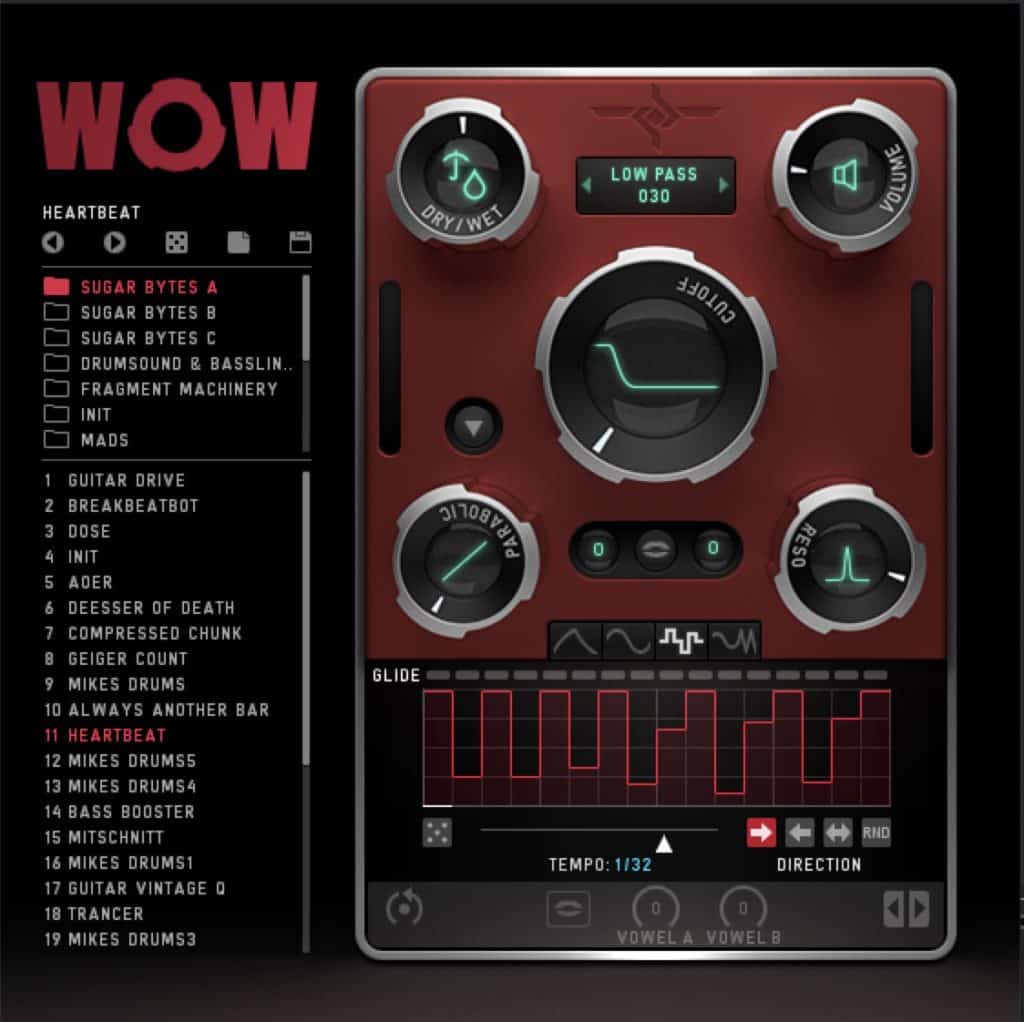 All 21 filters produce a stunning analogue sound with huge resolution and free of any aliasing. From singing Comb to a steep 8-pole Lowpass from dirty Diode MS to the gnarly 030. WOW2 offers all the filters you can wish for. And all of them work in Vowel Mode, showing off the wide variety of humanoid sounds.
The extraordinary modulation system multiplies the posibilities to modular level: for instance with modulatable modulators.
The presets are a good place to start. Or try a steep 8-pole LP on a bass and taste that bubbly, smacky sound.
WOW's Talkbox
WOW's talkbox lets you pick any two vowels out of a choice of nine.
Swing the cutoff between two vowels to create formant-shaping effects on your dry signal. Modulate the cutoff (or the selected vowels themselves…) for distinct chorus and flanger effects. Works best with Comb or Bandpass combined on high resonance settings!
The vowels are: [i:] as in seat, [e] as in hen, [æ] as in fat, [y] as in tu (French), [ə] as in the, [ɑ] as in father, [ɔ] as in awe, [o] as in copy, and [u] as in boot.
Pricing and Availability
WOW2 – Creative Multi-Filterbox (Affiliate Link) is be available for just $49.99 until September 17th, 2020