Cableguys Released Updated HalfTime v1.1
HalfTime v1.1
Enter a world of spaced-out, slowed-down sound with HalfTime, the only plugin 100% dedicated to half-speed effects, in use by Armin van Buuren, David Guetta, members of 808 Mafia, The Chemical Brothers, and more. HalfTime transforms any audio into a dark, downtempo version of itself, giving your tracks a huge mood and atmosphere. Lead synths mutate into heavyweight EDM bass monsters. Plinky piano lines become haunting slow-mo trap melodies. Percussion thickens, expanding to reveal new rhythmic possibilities.
New in HalfTime v1.1 (Released October 22, 2020)
New: Scaling support for 75%-200%.
New: Retina/HiDPI graphics support.
New: Help '?' button for direct access to the in-built Quick Tutorial.
New: PDF manual and 'How To Use HalfTime' video manual, both accessible via Main Menu.
New: SHIFT-drag on Band Split slider for precise adjustments.
Improved: Interpolation algorithm improved, giving 2x faster CPU performance than before.
Fixed: Band split frequencies could be inverted/swapped by automation, giving unexpected results. (Note: In the rare case that this has happened in an existing project, there may be an audible difference due to the incorrect Band frequencies in version 1.0.1)
Fixed: Sometimes the wrong control was highlighted after making adjustments.

Pricing and Availability
Log In the user are to download HalfTime v1.1
Review ShaperBox 2 by Cableguys Extended Video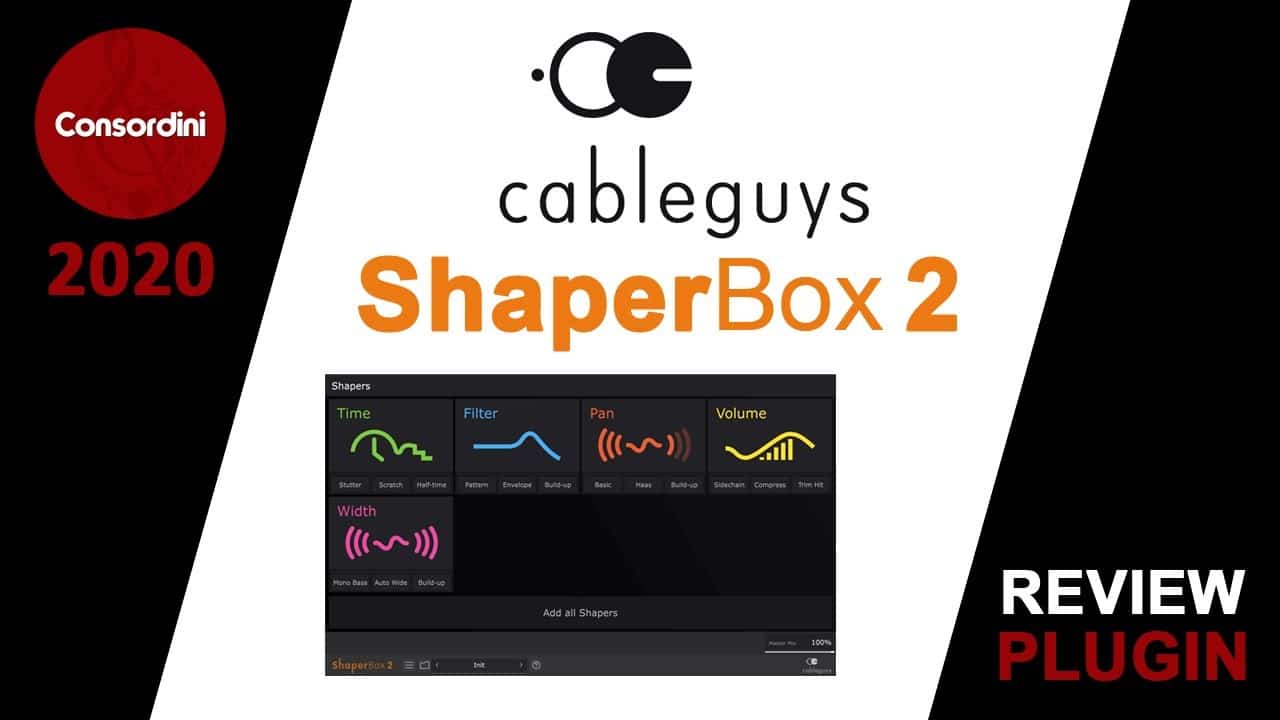 ShaperBox 2 Video Review
In this video, we will take a look at a six in one plugin from Cableguys, the Cableguys ShaperBox 2.
The ShaperBox 2 includes six effects from Cableguys, including Time (TimeShaper 2), Filter (FilterShaper Core 2), Crush (CrushShaper), Pan (PanShaper 3), Volume (VolumeShaper 6) and Width (WidthShaper 2).
These six effects help you shape your sound in different interesting ways, creating musical and rhythmical effects.
But what it is mainly famous for – ShaperBox 2 sidechain, endorsed by such musicians as Madeon and David Guetta. But what is the full package of the ShaperBox 2 bundle?
Well, with the VolumeShaper, you can create very effective and precise sidechains, to create headroom for your bassline, allowing you to push your mix more and get a louder, cleaner result.
With the PanShaper, allows you to make your mono drums or loops stereo, by panning the frequencies left and right, you can isolate the higher frequencies, choose the pattern, control the speed of it and how strong it is, on paper, turning your mono drums stereo.
Combining just these two will make your drums punchier, more dynamic and crisp. When applied to melodies, additional movement in the higher frequencies can create a somewhat of a sparkling effect, make it more alive or go all out and make it go crazy.
Moving on with the drums and onto the FilterShaper, you can isolate sounds from loops, for example, if you find a nice drum pattern and you really like the drum kick, you can create an accurate shape to isolate the kick, so you can grab it for yourself and with some minimal reverb, bring it back to life.
And now for TimeShaper works as a virtual timetable, scratching spinning and turning, allowing you to creatively work with samples and vocals. And now for the big finale.
Grab a single bass or synth stab, put the entire ShaperBox onto it and using all of the tools included, create a melody out of thin air.
Adjusting all the added effects, alining them in order, as they don't work simultaneously, but in an order one after each other, like most effect racks, making the workflow natural and creative.
And out of a single stab, you have an entire drop. An amazing package of plugins that work great and are powerful and accurate.
And don't be deterred, if you just want to get used to the plugins, you can do so by using the ShaperBox 2 presets, which are great and crafted with care. But how about the cost?
Well, the ShaperBox 2 plugin will cost you around $100, which is an amazing deal, as the full price of all the effects will round up at around $224, making the bundle half the price, so grab it while you can!
But not only that, you can download a free trial and if you find yourself only needing a certain few effects from the collection, you are free to buy them separately.
TimeShaper2, FilterShaper Core 2 and CrushShaper will cost you $44, the VolumeShaper 6 and PanShaper 3 will cost you $34 and the WidthShaper 2 will cost you $24, rounding up to a total of $224, the bundle price for ShaperBox 2 (Affiliate Link) which once again turn the price point of $100 a steal!
The entire bundle comes at a 55% discount in total. The Shaperbox 2 VST has carved its way into the industry with high-quality plugins, presets and just altogether great polish and effective design.
And in this ShaperBox 2 review, we look at just what exactly you can achieve and get with this bundle, which once again, is a lot!
With a great list of industry veteran endorsements, with comments such as "I simply can't do without", you know this product is here to stay while delivering top of the line performance.
CrushShaper – The Ultimate Creative Bitcrusher by Cableguys
CrushShaper – The Ultimate Creative Bitcrusher
Cableguys released CrushShaper, a creative bit crusher.
Design rhythmic distortion patterns, per-note multiband crushing, retro lo-fi FX, hi-fi enhancements and more – all powered by Cableguys' easy drawable LFOs and flexible envelope followers. Running in Cableguys' new ShaperBox 2 multi-effects plugin, you can buy CrushShaper on its own or as part of the ShaperBox 2 Bundle. Already own ShaperBox 2 Bundle? Then CrushShaper is free for you!
ShaperBox 2 by Cableguys Version 2.0.1 Available
ShaperBox 2 by Cableguys Updated
ShaperBox 2 (Affiliate Link) was updated by the by Cableguys team and includes mow new key feature like a resizable interface and draggable parameters
New in Version 2.0.1
New: Resizable interface. Select from 75% up to 200% in main menu (next to ShaperBox 2 logo).
New: Draggable parameters in FilterShaper Core 2. Drag on the Cutoff or Resonance tile to shift the entire LFO wave up/down.
New: Draggable Mid band. Drag anywhere inside the Mid band to set High/Low Split frequencies as one. Double-click to reset to single-band setup.
Fixed: Under certain circumstances, audible clicks could occur at the end of the LFO wave when using "MIDI Trigger > On (1-Shot)" mode.
Fixed: ShaperBox 2 is now notarized for macOS Catalina, allowing installation by double-clicking the .pkg file.
Fixed: Various minor issues.
ShaperBox 2
With five powerful Cableguys effects – TimeShaper 2, VolumeShaper 6, FilterShaper Core 2, PanShaper 3 and WidthShaper 2. ShaperBox 2 creates amazing musical, rhythmic effects and helps solve complex mix problems.
Get louder, tighter mixes: Get pro impact and clarity, and add 'bounce' with easy multiband sidechaining in VolumeShaper.
Expand your stereo range: Inject stereo movement just where it's needed – animate hi-hats, shuffle synths, and more
Make drums punch harder: Edit transients and trim flabby hits with Pens in VolumeShaper 6. Dial-in hard-hitting visual compression.
Make synths sparkle: From subtle movement to glitchy ear-candy, combine Shapers to make your synth lines dance.
Design motion-packed riffs: Get creative! Turn single notes into crazy TimeShaper 2 melodies, add pumping filter patterns, and more.
Generate addictive hooks: Stuck for a hook? Feed your loops into ShaperBox 2 for wild variations you'd never have thought of.
Isolate drum hits: Extract kicks and other percussive hits with precision filtering. Then use them in your own tracks.
Creatively twist vocals: Add time-bending stutters, pitch-warping scratches & tape-stops, real-time reverses, and more.
Availibility
ShaperBox 2 is currently on sale at Plugin Boutique (Affiliate Link)
As an affiliate, we may earn a commission from qualifying purchases. We get commissions for purchases made through links on this website from Amazon and other third parties.
StrongMocha is a magazine for music producers, audio engineers, and sound designers. StrongMocha Magazine provides the latest industry news, reviews of gear and software, tutorials on recording techniques, and tips for mixing.