NotePerformer 3.3.2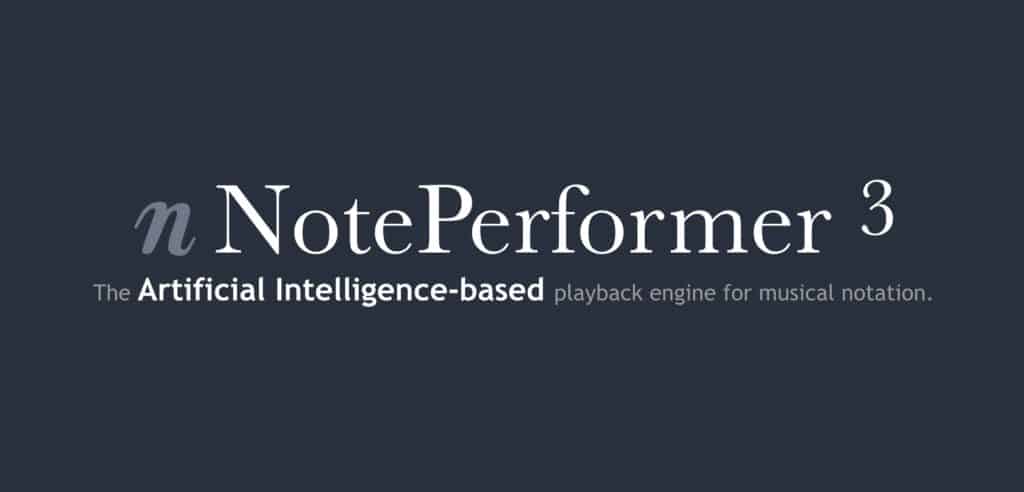 NotePerformer Features
Full orchestral sound library
NotePerformer includes its own sounds, encompassing a large-scale modern symphonic orchestra.
Intelligent musical phrasing
NotePerformer analyses your score and performs all instruments with natural musical phrasing.
Simple installation and easy to use
NotePerformer is very easy to install and is no more difficult to use than the built-in sounds of your notation software.
Award-winning technical support
Wallander Instruments aim for their software to be more rewarding to work with than any other solution for playback. If you experience issues, please let us know your thoughts.
Fast access to all sounds
No more waiting for samples to load while working with scores. Their streamlined sounds load much quicker.
Patented virtual instrument technologiesWallander Instruments use their own in-house technologies, bridging the gap between samples and synthesis.
Fixed problem with "always tenuto" not working

The switch for turning on tenuto permanently (CC #108, value 1) didn't work as expected.
The bug was fixed.
To download this free update, please visit http://www.wallanderinstruments.com/update
NotePerformer 3.3.2 Features
In Dorico on Windows, there's no longer a bug where NotePerformer could put the Steinberg ASIO driver into a state of malfunction

Due to a bug in NotePerformer, the ASIO driver for Dorico could be sent into a state of malfunction, producing only a strange "carpet of sound" during playback. The bug was fixed.
In Finale, percussion sounds in the lowest octave now work

Sounds in the lowest octave of the orchestral percussion map wouldn't trigger, because they collided with the key switches. The problem was fixed.
In Sibelius, strings and woodwinds now ignore "let ring"

Strings and woodwinds no longer respond to sustain pedal messages. This could previously trigger a never-ending build-up of sound when writing "let ring" in Sibelius. This is a relatively common technique for contrabass pizzicato.
The problem doesn't apply to Finale or Dorico, because these notation programs don't automatically respond to "let ring" (sustain pedal down). When they are manually set up to send a sustain pedal event, the fix will naturally apply also to these notation programs.
Log files now rotate

To make it easier for us to track down bugs during the startup of notation programs, NotePerformer now rotates older log files. The files are in order (starting with the most recent log file)
NotePerformer64.log
NotePerformer64.log.1
NotePerformer64.log.2
NotePerformer64.log.3
Dorico 3.5-specific expression map was added

Our expression map was updated to take advantage of some of the new features in Dorico 3.5, and the installer was updated to reflect these version changes.
Exclusion groups for hi-hat were fixed

When updating the drum sets to General MIDI mapping, in a previous version, the exclusion groups for hi-hat closed/open were damaged, such that the closed hi-hat would no longer terminate the open hi-hat sound. The problem was fixed.
Triangle round-robin repeat speed was tweaked

When playing triangle strokes, the instrument no longer rotates between left/right strokes unless there's a very fast repeat.
In Finale, Dynamics for mandolin and banjo now works

Mandolin and banjo did not respond to dynamics in Finale. This discrepancy was corrected for.
The "bowed marimba" mixer override now works, also in Finale & Dorico

The marimba (bowed) override used to set the bowed xylophone program, rather than the bowed marimba (the problem did not apply to Sibelius, where sounds are assigned from the Sibelius mixer). The problem was fixed.
In Finale & Dorico, the bowed xylophone is now the fallback sound for the glass harmonica

NotePerformer will now automatically fall back to the bowed xylophone sound when picking the glass harmonica instrument in Finale or Dorico.
(In Sibelius, the fallback sounds are determined by Sibelius. In order to achieve the same thing in Sibelius, the bowed xylophone sound needs to be manually assigned from the Sibelius mixer.)

In Finale,"custom XX" percussion sounds now have names

Unpitched percussion sounds in NotePerformer, which don't have a natural mapping in Finale, are configured to use the Custom 1, Custom 2, … sound slots. These sound slots have now also been supplemented with custom names in Finale, making them easier to utilize in practice.
Fixed bug with long notes during MIDI input

During MIDI keyboard input, notes would sometimes playback longer than expected. The problem was fixed.
In Dorico, "dead notes" for guitar are now mapped

In Dorico, guitar notes set to the "dead note" technique (X notehead) are now performed as a muted note.
In Dorico 3.5, jazz articulations are now mapped

Starting from Dorico 3.5, jazz articulations should now playback.
Finger cymbals "open stroke" sound was added

An "open" finger cymbals sound was added to the percussion map, on MIDI NOTE 111.
In Sibelius, the standard finger cymbal is now an open stroke. The muted sound requires manual mapping.
In Finale, the standard finger cymbal is now an open stroke. The muted sound was mapped to the "Finger Cymbals Muted Clap" type in Finale.
In Dorico, the "Natural" technique is now an open stroke. The muted sound was mapped to the "Muted" technique.
Fixed trill playback for woodwinds and brass in Sibelius

In Sibelius, wind instruments wouldn't always perform trills in a slurred fashion.
This problem was resolved by an update to the Sound Set.