Modal Electronics New Synthesizer COBALT8
COBALT8 – 8 Voice 37-Key Extended Virtual-Analog Synthesiser 
The British synthesizer manufacturer Modal Electronics announces the availability of COBALT8 — an immensely powerful, eight-voice extended VA (Virtual-Analogue) synthesizer that brings traditional and entirely new analog-style sound textures to modern music creation and production as an innovative.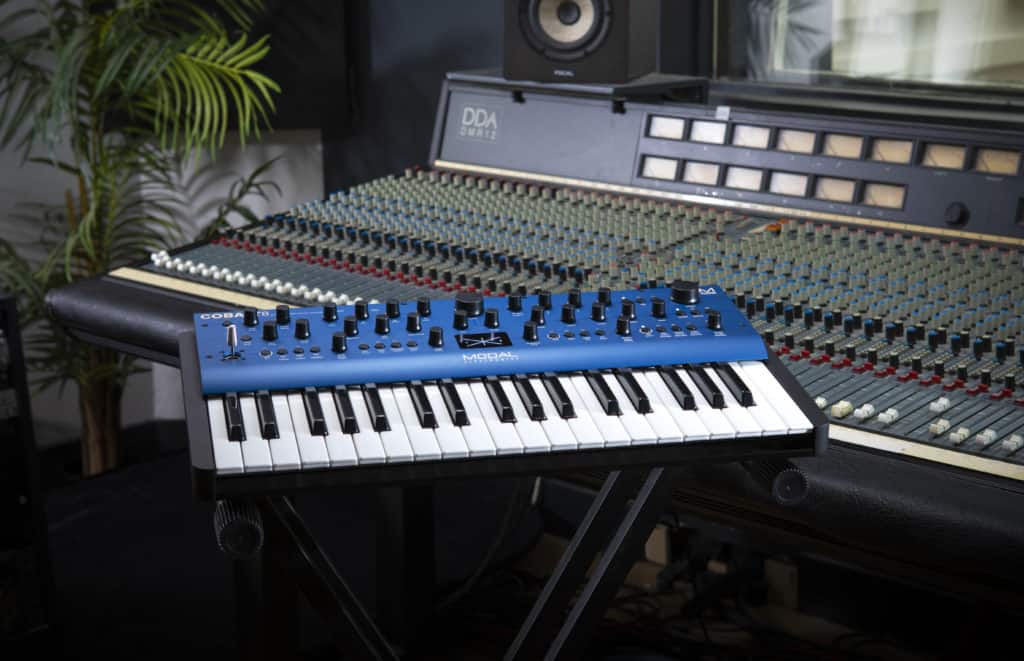 Advanced synthesis concept comprising two-oscillator groups with selectable algorithms in self-contained elements empowering multiple oscillator modulations, an all-new 4-pole morphable ladder filter with switchable configurations, an unparalleled modulation engine, and much more besides, extending far beyond the limits of its analog forefathers.
Creatively kickstarting a new synthesiser series by building on the tradition of warm and punchy analogue-style synth sounds seeded by bygone legendary synthesisers, COBALT8 creatively unlocks the full potential of analogue waveforms with up to 64 high-resolution VA oscillators with extended drift — up to eight for each of its eight true polyphonic voices. The two independent and self-contained Osc (oscillator) groups include sine, pulse, triangle, and sawtooth waveforms alongside 34 unique algorithms allowing for complex analogue synthesis techniques, built-in cross-modulation (sync, ring modulation, and more), PWM (Pulse Width Modulation), smooth morphing between VA waves, bit crushing, and filtered noise — unlike any other VA synthesiser before it, increasing creative options for new-generation synth sounds. Speaking of which, Algorithm1 and Algorithm2 each have an associated simple-to- use pair of controls — A1 and B1, A2 and B2 — chosen to suit the particular algorithm or character, providing musicians with the power of traditionally complex oscillator modulations or processes spontaneously.
But beyond COBALT8's innovative oscillator engine an all-new 4-pole morphable ladder Filter — with Cutoff (frequency), Res (resonance), and Morph controls — has been added by Modal Electronics to inject more warmth and bite into the creative proceedings. Put it this way: with four switchable filter modes to play with, getting creative with the Notch filter or forming unusual synth textures with the Phasor, for instance, is only part of the story since two different characteristics are also available to instil a more subtle behaviour or process the sound with sheer raw power.
Pushing onwards and upwards to tap into its unparalleled Mod (modulation) engine, COBALT8's three dedicated envelope generators for the filter (FEG), amplitude (AEG), and modulation (MEG) are all accessible independently or simultaneously, with negative (reverse) versions for the modulation and filter envelopes, enabling extensive control over dynamics and expression. Switchable envelope types provide greater options for tailoring them to suit specific sound purposes. The three — two polyphonic — audio-rate LFOs (Low-Frequency Oscillators) can be routed to a multitude of destinations using the sophisticated modulation matrix with eight assignable modulation slots and four additional fixed modulation routings with 12 modulation sources and 55 modulation destinations, duly supporting easy assignments of complex routings to keep the sound evolving.
Elsewhere, the integrated 512-note realtime/step sequencer (Seq) features four powerful animation lanes — Anim1, Anim2, Anim3, and Amin4, letting users compose and create complex melodic patterns with ease. Indeed, its polyphonic 64-note step mode (with eight notes per step) enables easy step input for note and animation values. Meanwhile, multiple sequencer trigger modes coupled with the powerful onboard arpeggiator (Arp) — programmable up to 32 steps with rest capability (and up to 2,048 steps before repeating) — alongside other fanciful features (such as chord hold, inversions, transpose, sustain, and latch) all serve to further enhance COBALT8 playability.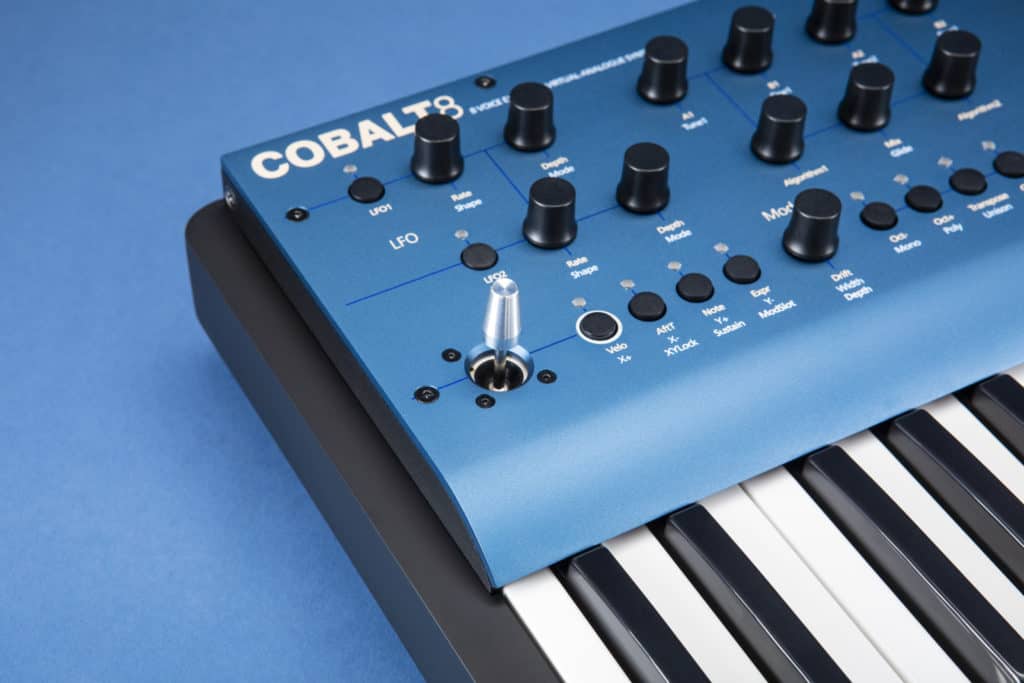 Performance-wise, professional keyboard players will, of course, cherish COBALT8's rugged, road-ready steel and aluminium chassis and premium FATAR TP/9S 37-note full-size key bed. Better still, the velocity-sensitive keys themselves support aftertouch and deliver smooth action with which to express powerful performances, while COBALT8 itself supports MPE (MIDI Polyphonic Expression) for next-generation expressive creativity. COBALT8's 29 endless encoders (enabling realtime CC), 24 buttons, and a virtually 'lockable' four-axis joystick (assignable to a wide range of modulation destinations) provide direct tactile control over all crucial parameters for instant sound adjustments and changes, ably aided by a large 1.54-inch OLED display for instant visual feedback at all times. And all attractively presented in a compact — 55.5 cm/21.9" (L) x 30 cm/11.8" (W) x 10 cm/3.9" — form factor, flexibility and portability guaranteed. Glide/portamento (with both legato and staccato mode), and multiple — Mono, Poly, Unison (2, 4, and 8), and Stack (2 and 4) — keyboard modes are also at hand, as is stereo Width voice control.
Readily reshaping sounds is also achievable using COBALT8's three phenomenally powerful, independent, and user- configurable DSP-driven effects engines (FX1, FX2, and FX3), in-depth programming provided. Polish to suit with 11 available algorithms adding character and depth — namely, Chorus, Flanger (Pos), Flanger (Neg), LoFi, Ping-Pong Delay, Phaser, Reverb, Rotary, Stereo Delay, Tremolo, and X-Over Delay.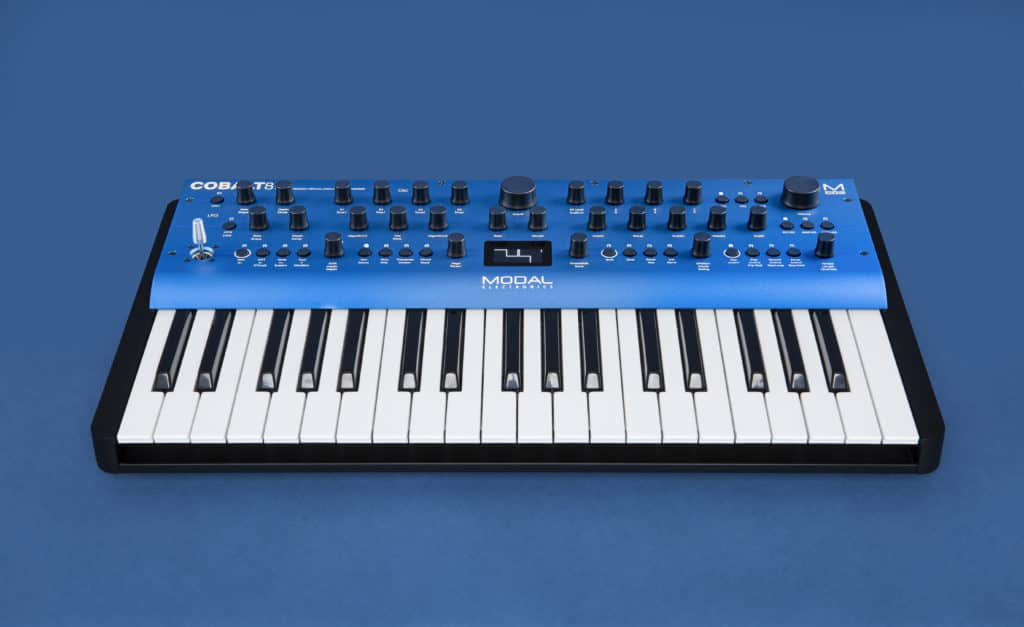 COBALT8's capacity for storing patches, sequences, and effects creations is outstanding. Out of the box, 300 of the total 500 patches are filled with factory creations, carefully programmed by some of the most accomplished sound designers in the world, with eight 'Quick Recall' slots always accessible from the front panel for fast loading of favourite patches. Performance enhancements continue with 100 sequences that can be linked to any patch for fast loading of arrangements alongside 100 customised effects configurations.
Thanks to two (Right and Left Mono) unbalanced 6.3 mm (1/4") TS audio outputs, a 6.3 mm (1/4") stereo Headphones output, a 3.5 mm (1/8") stereo Audio In (with an ability to route incoming audio through the effects), 6.3 mm (1/4") Expression and Sustain pedal connections, 3.5 mm (1/8") analogue clock Sync In and Sync Out connections (configured to the Teenage Engineering/Korg specification), MIDI In and MIDI Out DIN connections, and also a class-compliant USB MIDI connection to a host tablet or computer, COBALT8 is a perfect fit for any live performance or studio setup.
Saying that the free MODALapp brings the comfort of screen-based editing on a computer or mobile device to COBALT8 (and all other Modal Electronics hardware). Available as a standalone app for macOS (10.10 or above), Windows (8 or above), iOS (12 or above), iPadOS (13 or above), and Android (6 or above), and also in VST3/AU macOS (10.10 or above) and VST3 Windows (8 or above) plug-in formats for keeping users in the flow while producing music with any compatible DAW (Digital Audio Workstation) software, it is the perfect companion for synth enthusiasts looking to dive deep into all sound forming and performance parameters to create their own signature sounds, and to backup and manage patches and sequences.
Musically meeting the requirements of next-generation electronic musicians, synth aficionados, and producers alike, COBALT8 is, indeed, an immensely powerful, eight-voice extended VA synthesizer with which Modal Electronics has creatively kickstarted a new synthesizer series.
Pricing and Availability
COBALT8 will soon be shipping and available through selected Modal Electronics dealers worldwide in November 2020 with an RRP (Recommended Retail Price) of £579.99 GBP (including VAT), MSRP (Manufacturer's Suggested Retail Price) of €649.99 EUR (including 20% VAT), and a MAP (Minimum Advertised Price) of $749.99 USD.
Modal Electronics Updated AlgoRhythms
AlgoRhythms by Modal Electronics
Modal Electronics, a leading global synthesizer manufacturer, has just announced an all-new sound library for the feature-packed COBALT Series synthesizers–algorithms. Leaning on the recent v1.1 COBALT Series firmware update, this rhythmic-centered patch collection is set to spice user's productions and performances with polyrhythmic flavor.
Complete with aftertouch, an expensive mod-matrix, and 3-clock syllable LFOs (2 polyphonic and 1 global), there's no denying the COBALT Series' rhythmic presets scattered throughout the factory preset banks separate from the pack. Building on this legacy, Modal Electronics set their sound design team a challenge. Arm the Modal Community with a preset pack brimming with pulsating textures, reactive to the subtle inflection of truly expressive performance, and mapped for tactile control to switch their sound up on the fly. The result: AlgoRhythms. A collection of 30 unique sounds, 20 sequences, 25 rhythmic sounds, and 5 uber-expressive performance-centric patches, that showcase the sheer power the firmware v1.1 update provides.
From pulsating beds, to edgy leads and driving basses, everything the forward-thinking creative is included to pepper their production with the power of polyrhythms. Head over to the Modal Electronics Blog to download this free pack today.
Expansive production- & performance-ready free sound library comprising 30 unique sounds, 20 sequences, 25 rhythmic sounds and 5 uber-expressive performance centric patches for the COBALT Series
New in Firmware v1.1
With the introduction of COBALT8 Firmware v1.1, users have access to six new unique algorithms firmly focussed on FM and AM oscillation models, complete with dual controls for precise sound sculpting capability.
These new algorithms include
FM Saw:Square: Frequency Modulation using a Sawtooth as the carrier and a Square as the modulator with full control over FM Depth (A) and Modulator Frequency Ratio (B)
FM Square:Square: Frequency Modulation using a Square as both the carrier and modulator with full control over FM Depth (A) and Modulator Frequency Ratio (B)
FM Tri:Square: Frequency Modulation using a Triangle as the carrier and a Square as the modulator with full control over FM Depth (A) and Modulator Frequency Ratio (B)
Noise AM Saw: Sawtooth Wave amplitude modulated by a filtered noise source with full control over AM Depth (A) and Noise filter cutoff (B)
Noise AM Square: Square Wave amplitude modulated by a filtered noise source with full control over AM Depth (A) and Noise filter cutoff (B)
Noise AM Tri: Triangle Wave amplitude modulated by a filtered noise source with full control over AM Depth (A) and Noise filter cutoff (B)
About the COBALT Series
Building on the tradition of iconic, warm, and punchy analog-style synth sounds, the COBALT Series unlocks the full creative potential of analog waveforms. This family of powerful, inspiring instruments reinvents the aesthetics of analog sound, inviting musicians, producers and sound designers to explore a new era of virtual-analog synthesizer textures – far beyond the limits of their analog contemporaries.
Leaning on a unique, innovative oscillator engine complete with 40 algorithms, the COBALT Series adds a new morphable 4-Pole Ladder Filter. This, combined with Modal's unparalleled modulation options, an inspiring real-time / step sequencer, the energizing arpeggiator, the Premium FATAR key-bed (COBALT8 and COBALT8X models only), MPE, studio-quality effects, and 1:1 MODALapp integration, makes the COBALT Series ideal for creatives that demand a versatile electronic music instrument to play vintage, or the most leading-edge, sounds
Eight true polyphonic voices tempt players to layout the wide string or rich synth pad chords, while a monophonic bass or lead patch, played with 64 oscillators can shake the walls of every stadium. Combine this with avant-garde sound-forming features, and the COBALT Series empowers every synth enthusiast with sounds that no other synthesizer can touch. This is truly Beyond Analogue.
Pricing and Availability
In addition, Firmware v1.1 adds a raft of new feature updates and workflow enhancements including a Master Clock Mode to continually send MIDI clock information to compatible studio peripherals. For a full breakdown of the enhancements facilitated by Firmware Update 1.1, please visit. The COBALT Series is available in 3 models, each tailored to suit your workflow – the COBALT8 37-key variant, the COBALT8X 61-key variant, and the COBALT8M desktop module.
Modal SKULPTsynth SE is Shipping Internationally
Modal SKULPTsynth SE
Modal SKULPTsynth SE a 4-voice, go-anywhere virtual-analog synthesizer with MPE support is now available from Modal Electronics stockists globally. SKULPTsynth SE is based on the legacy of the original SKUPTsynthesiser, it inherits a slim form factor but comes with traditionally colored, black, and white touch keypads, easier-to-read front panel descriptors, and improved built quality.
Modal Electronics, a leading global synthesizer manufacturer, has just confirmed the immediate availability of the SKULPTsynth SE – 4 Voice Virtual-Analogue Synthesiser from all Modal resellers internationally. Fusing a slim form factor with traditionally colored, black, and white touch keypads, easier-to-read front panel descriptors, and improved built quality, SKULPTsynth SE provides the ultimate platform to create without limitation, wherever your creativity takes you.
Under the hood, SKULPTsynth SE features a next-generation synth engine powered by dual WAVE groups per voice, each with four oscillators (a total of 8 oscillators per voice) that allow users to meticulously craft flavourful sonic fundamentals. Timbre adjustment is a breeze thanks to SKULPT SE's state-variable 2-pole filters that morph from low pass through to bandpass and high pass. With its resonance feature, it picks out rich harmonics at high resonance levels. Shape your sound for optimum articulation with three envelopes that provide extensive control of the dynamics and expressive output of the sound. Finally, two LFOs, one global and one polyphonic, can be synced to internal or external tempo, and the integrated delay and distortion effects give even more options to craft your signature sound.
For extended expressive capability, SKULPT SE supports MPE and is the most affordable MPE hardware synthesiser available on the market today. For creators seeking new musical ways to perform with synthesiser sounds, this MPE support, fused with the integrated real-time sequencer and arpeggiator, are the perfect platforms for immersive, expressive jam sessions.
Packed with 127 all new expertly curated patches, SKULPT SE offers a vast library of contemporary sounds applicable to all genres. Moreover, it is fully backward compatible with the original SKULPTsynthesiser, providing access to the full back catalogue of patches available from Modal's website and 3rd party sound designers. Managing and creating patches couldn't be simpler courtesy of the MODALapp, available for all major computer and mobile platforms as a free download from the Modal website.
SKULPT SE supports MPE and offers musicians creative new musical ways to perform with synthesizer sounds, and therefore, SKULPT SE the most affordable MPE hardware synthesizer available today. The integrated real-time sequencer and arpeggiator are acclaimed performance features and invite to immersive jam sessions. Up to 4 SKULPT or SKULPT SE can be poly-chained to form a massive 16-voice virtual-analog sound engine.
The integrated Arp and 256-note Sequencer allow playing rhythmic patterns and melodies automatically. SKULPT supports MPE for next-generation expressive performances. Musicians, DJs, and producers find 128 exciting preset sounds to start their synth adventure right out of the box. The free MODALapp and MODALplugin for all primary computer and mobile platforms integrate easily with any VST3 and AU compatible recording environment.
With 127 brand-new patches, SKULPT SE offers a vast library of contemporary sounds that uplift every track. Fully backward compatible, SKULPT SE users can load any patch from the original SKULPT available from Modal's website and 3rd party sound designers. Using the free MODALapp, available from Modal Electronics' website, sound editing and sound management is easy and straightforward. MODALapp runs on all major computer and mobile platforms and offers integration in AU and VST3 DAW environments, respectively.
Specifications
4 voice – 32 oscillator virtual analogue synthesizer
8 oscillators per voice with 2 selectable morphable waveforms
Mixer stage for OSC levels along with FM, PWM, tuning, and Ring Modulation options
Monophonic, Duophonic, and Polyphonic modes available
Multi option Unison/spread to detune the 32 oscillators for a huge sound
8 slot modulation matrix with 8 sources and 37 destinations
3 x envelope generators for Filter, Amplitude, and Modulation
2 x audio rate LFOs, one global and one polyphonic
The real-time sequencer that will record up to 256 notes and up to 4 parameters of the animation
Fully-featured arpeggiator with division, direction, octave, bipolar swing and sustain
controls
Resonant filter that can be morphed from low pass, through bandpass, to high pass
Delay and distortion (waveshaping overdrive, not bitcrushing) effects
Optional MIDI clock sync for LFOs and Delay
128 patch and 64 sequence storage locations
16 key touch MIDI keyboard
Supports MPE-compatible MIDI controllers, allowing you to apply polyphonic control and
expression to individual notes.
MIDI DIN In and Out – Analogue clock sync In and Out connections
Class-compliant MIDI provided over USB connection to host computer or tablet
Headphone and line output
Power by USB or 6 x AA batteries
Optional software editor available for macOS, Windows, IOS, and Android
Portable and compact design
Dimensions: 255mm x 135m x 68mm (10"x5 1/2"x 3")
Powered by USB or 6 x AA batteries, SKULPTsynth SE is the ultimate synth weapon for music creation in every scenario, whether it is in the studio, DJ live sets, DAW-less jams or on the road.
About Modal Electronics
Founded in 2015 and headquartered in Bristol, UK, Modal Electronics is redefining modern synthesiser technology for musicians, producers and performers. Guided by the philosophy to create "Machines for Musicians," Modal Electronics combines sophisticated analogue and digital circuitry in their products. Synthesisers from Modal Electronics contributed to countless hit records and top movie scores, and are used in recording studios and on live-performance stages around the world.
Pricing and Availability
SKULPTsynth SE is available immediately via a wide network of authorized Modal retailers globally. Suggested retail prices are £169.99 (UK, incl. VAT), 199.99 € (incl. 20% VAT) and $199.99 (US MAP).
Modal Cobalt8 – Symbiosis 50 Presets Launch
Modal Cobalt8 – Symbiosis 50 Presets
"Symbiosis" soundset with one of the deepest patches you heard on Modal Cobalt 8. "Symbiosis" is devoted to organic & motion sounds ready to go in your action track.
The are here: CS-80 Bladerunner String, 2049 Bladerunner String, MS-20 Lead, Juno-60 String, Moog Bass, OB-8 Swells. 
Massive Strings
Deep Pads
Organic Leads
Monstrous Basses
Modular Arps
Cosmic Plucks
50 patches are ready to breathe new colors into your music and inspire creativity.
Pricing and Availability
Symbiosis is available now.
As an affiliate, we may earn a commission from qualifying purchases. We get commissions for purchases made through links on this website from Amazon and other third parties.
StrongMocha is a magazine for music producers, audio engineers, and sound designers. StrongMocha Magazine provides the latest industry news, reviews of gear and software, tutorials on recording techniques, and tips for mixing.