Lo-Fi Bundle – FX Bundle by Exclusive Bundles
Lo-Fi Bundle
FX Bundle (Affiliate Link) by Exclusive Bundles+ (Affiliate Link) is available at Plugin Boutique.
Wavesfactory Cassette (Affiliate Link) is an audio plugin that imparts the unique character and sonic imprint of an often maligned recording medium, one that offers a sound like nothing else. This is not a tape machine, this is a time machine.
Feel the lo-fi magic of the VHS era — with six unique effects in one strange plugin: Baby Audio Super VHS (Affiliate Link). The effects that come together to form this one-of-a-kind plugin include noise generation, saturation, sample rate reduction, chorus, and reverb.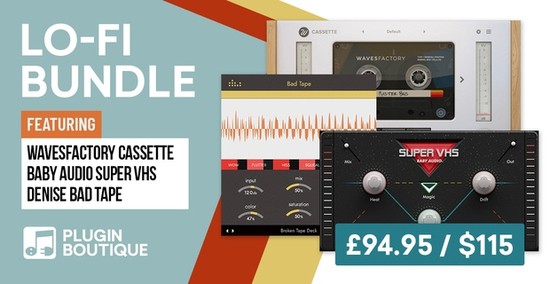 Push the limits of how warped and saturated your audio can get with Denise Bad Tape (Affiliate Link). The extreme 'Tape-Harming' effects inside of this plugin will allow you to go out of tune and off of the grid.