Checking Out Sordina
Sordina is an effects plugin from LibreWave which emulates the sound of a muted instrument, so you don't need to buy an entirely new library to get a realistic muted brass sound! If you are a brass player, you can use this plugin on your recordings as well, and get a realistic and effective muted sound without having to go out and buy a mute for your instrument!
For only $14.99 (normally $94.34), get Sordina, a muted instrument emulator by LIBREWAVE!
Sordina (Affiliate Link) is an instrument mute emulator. It allows you to apply a wide range of mutes to your unmuted virtual instruments or live recordings.
The best way to understand exactly what it does is to hear it in action, so check out the video!
There are presets for various instruments, such as the trumpet trombone, and french horn, as well as saxophones, tubas, flugelhorns, and more! There are a variety of muted sounds to choose from as well, from bucket and cup mutes, to stops for the french horn, to the iconic Harmon mute which can get a "wah wah" type effect (think of Charlie Browns teacher, or the "failure" trombone sound effect we hear so often in cartoons).
Sordina (Affiliate Link) contains over 120 different brass and saxophone mutes. All of these have been carefully organized into a three-tier preset browser. It's easy to find the mute you are looking for by navigating the menus or using the built-in text search. You can also mark your favorite mutes to make it even quicker to find them.
Sordina (Affiliate Link) works by using detailed impulse responses created through the analysis of real-world recordings of muted and un-muted instruments. The results are very accurate reproductions of the genuine mutes.
Pricing and Availability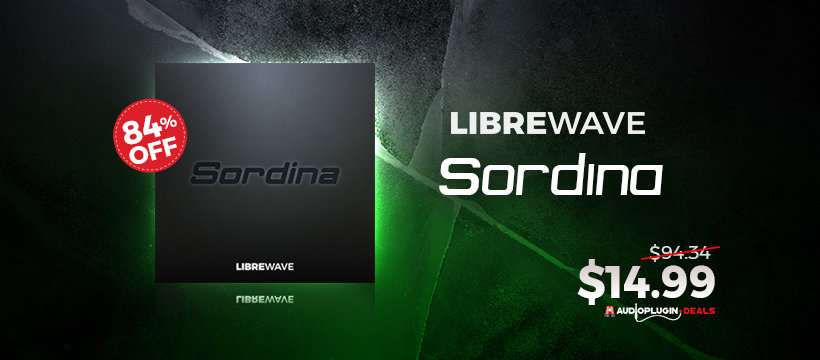 Get Sordina (Affiliate Link) for only $14.99 – limited time offer, don't miss out! Offer valid until January 17th, 2021