50% OFF Eduardo Tarilonte Voices Bundle by Best Service
For only $199, get the Eduardo Tarilonte Voices Bundle (Affiliate Link) featuring 2 extremely powerful and versatile vocal libraries: Cantus and Mystica!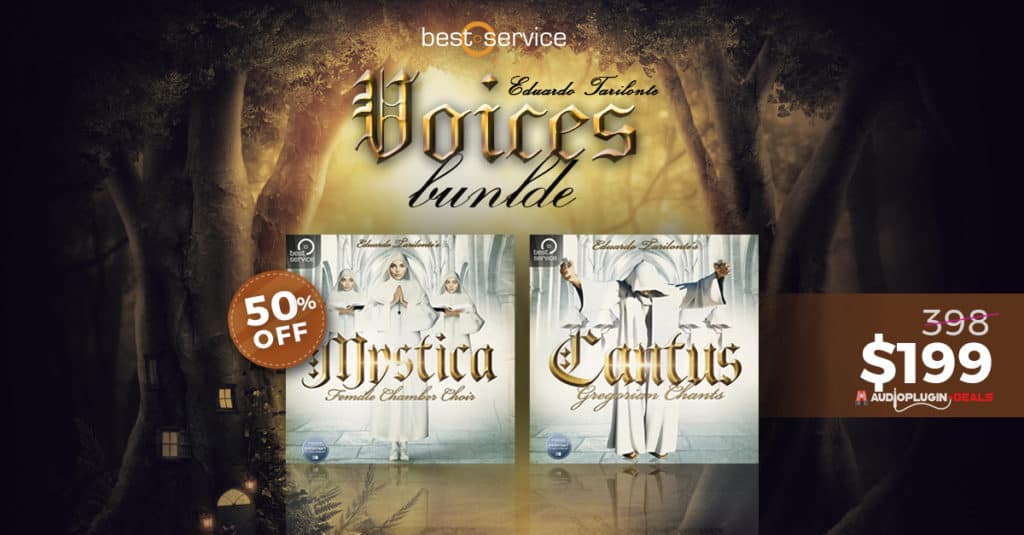 Cantus and Mystica are two beautiful choir libraries from Eduardo Tarilonte and Best Service. Far from your typical male and female choir libraries, Cantus offers the stunning sound of a Gregorian Monk choir, complete with tons of phrases and words to use to create your own sequences, or you can use some of the pre-recorded phrases for a more natural and realistic performance.
You can choose between legato mode, which offers multiple legato syllables such as "ah", "oh", and "mm", and you also have polyphonic mode which allows you to play chords and piece together your own phrases using the built in sequencer. You can choose between different speeds for the phrases, as well as playing them staccato for a quicker, more precise sound.
Mystica offers many of the same features, this time with a female chamber choir. Both of the libraries are absolutely beautiful and have a very ancient, spiritual, and magical quality to them. As usual with the libraries from Eduardo Tarilonte, you get some amazing sound scapes as well! Check out the sounds and don't miss this amazing deal.
You can also buy either Cantus or Mystica (Affiliate Link) separately or the Eduardo Tarilonte Voices Bundle (Affiliate Link).
Pricing and Availability
Originally $398, this must-have Eduardo Tarilonte Voices Bundle (Affiliate Link) is now available for just $199 for a few days. This is an amazing no-brainer offer you should not miss!