Tonsturm's Fight Extension an Advanced Foley Sound Library
TONSTURM SFX FIGHT EXTENSION Foley Library Released
Supercharge your fight sound effects with our newest collection of PUNCHES, GRABS, SPLISHES, SMACKS, SLAPS, and supersonic WHIP CRACKS. This is the extension library to Tonsturm's "THE FIGHT" SFX library. While the original excels at the more meaty, organic, and beefy sounds this extension library delivers more heavy, punchy, and smack fight sound effects.
A carefully chosen palette of cloth materials, big resonating cases and boxes, soaked fringes, knurled wood sticks and perforated metal profiles. To top it all of we recorded various types of whips in collaboration with a professional circus artist to cover a wide variety of air ripping whip cracks. All recorded in various types of whips in collaboration with a professional circus artist to cover a wide variety of air ripping whip cracks.
To feature different spaces the whip cracks but also the fight whooshes were recorded in different recording environments: Foley studio, big recording studio room, reverby hallways and in the field.
TONSTURM teamed up with Torus Film Postproduction Cologne, Riverside Studios Cologne, and Charles Monroe from circus CHARLES MONROE when creating the "Fight Extension" library.
Pricing and Availability
Buy the "Fight Extension" library. Introductory offer until March 2nd, 2021! Or bundle up with the "The Fight" and "Fight Extension" library in a bundle and get a higher discount. ( EARLY BIRD DISCOUNT! $89,00 US Excl. VAT -Regular $129,00 US Excl. Vat)
)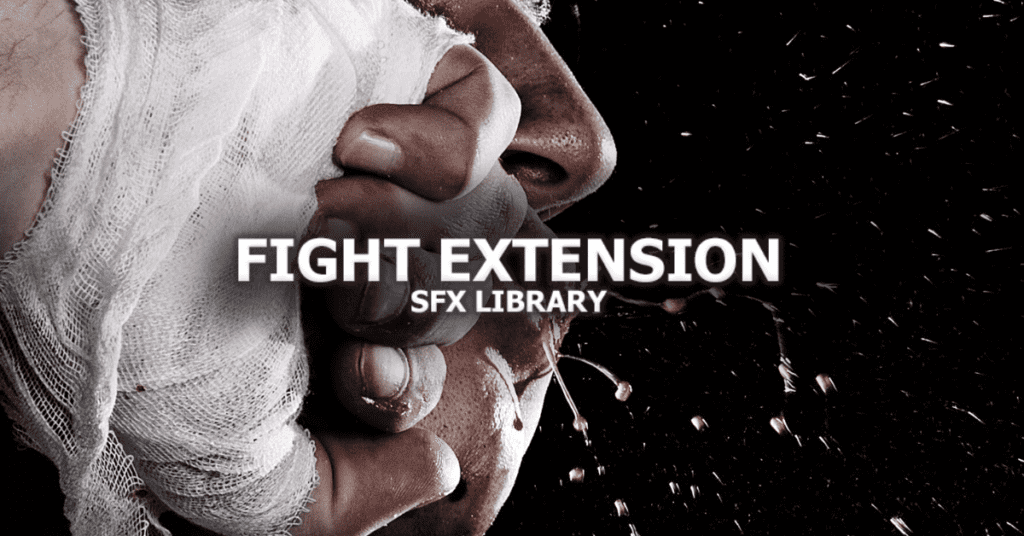 40% off Tonsturm RAGING FIRE Library is on sale until November 30th!
As the November dark sale is in effect over at Tonsturm, we would like to mention some of our favorite libraries that are currently on offer – all until December 1st, 2021.
The RAGING FIRE library offers a whopping 40% off for this month only!
Tapio Liukkonen from Finland
Tonsturm is one of the most innovative sound design companies in existence, and they teamed up with Tapio Liukkonen from Finland to create this library. The custom builds gasoline flamethrower he contributed provided some incredible fire streams that you'll hear for yourself.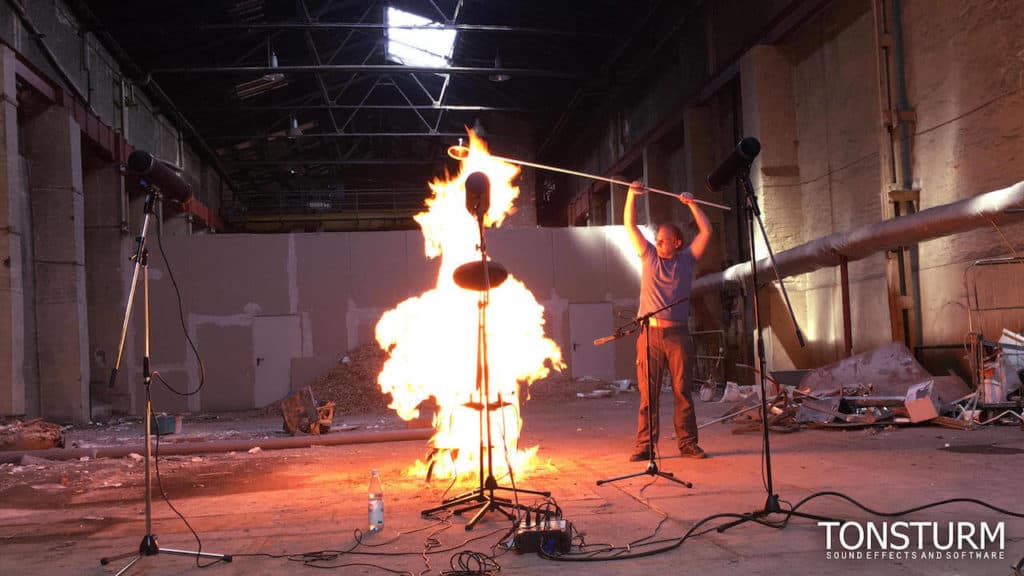 Inspired by Richard Devine
Inspired by Richard Devine, Tonsturm also recorded burning wood embers underwater. Tonsturm captured the weirdest chirping and clattering from an out-of-this-world jungle chorus with our Ambient ASF-1 MarkII hydrophones on a nine-day recording session in Borneo!
Burning during countless sessions
Countless recording sessions took place to serve you the most impressive fire sound effects library available. You can find sounds that will make your next project pop with creativity and power, including:
A pile of wood burning in a fireplace; Water boiling on an open flame or gas stovetop; Crushing ice as it falls through deep snowfall more than 40 feet straight down onto the hard ground where volunteers gather around trying not to be hit by flying chunks of frozen water vapor moisture!
Some of the included effects were recorded in acoustically diverse environments like abandoned protection bunkers and industry halls. Huge fireballs whoosh bursts gasoline trails black power or various torches lycopodium flashes were captured by microphones positioned for an engaging sound design experience on both exterior shots as well interior ones too!
Sound of the festival
The sound of the festival was covered by multiple microphone setups featuring different flavors and perspectives. There were AKG, Schoeps Sennheiser microphones to capture every aspect from near field audio recordings or instrumentals at the head level through tree canopy's with Shure Beta 57A's pointing up high; even subwoofers made themselves heard when needed!
With permission from the local police department, Tonsturm was able to arrange an insane recording session where Tonsturm totally burned down 3 cars and their interior fittings. This allowed for a better sound in all three bands' recordings!
Subtle Air Motions Ambiance Library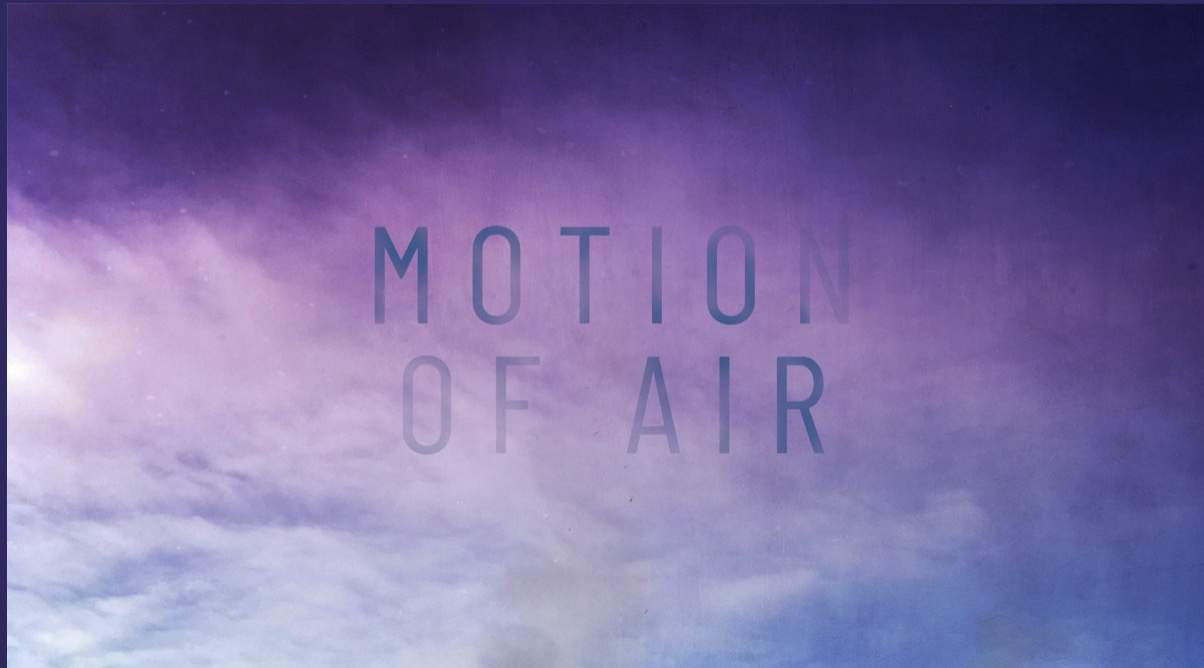 MOTION OF AIR AMBIENCE LIBRARY is a library of TONSTURM's subtle and steady air motion ambiances. Toned recordings with a broad range of wind energy contrast in different flavors of air, like Tension, Calm, Enthusiastic, and Relaxed. This library contains all the atmospheres you need to create an immersive experience for your project.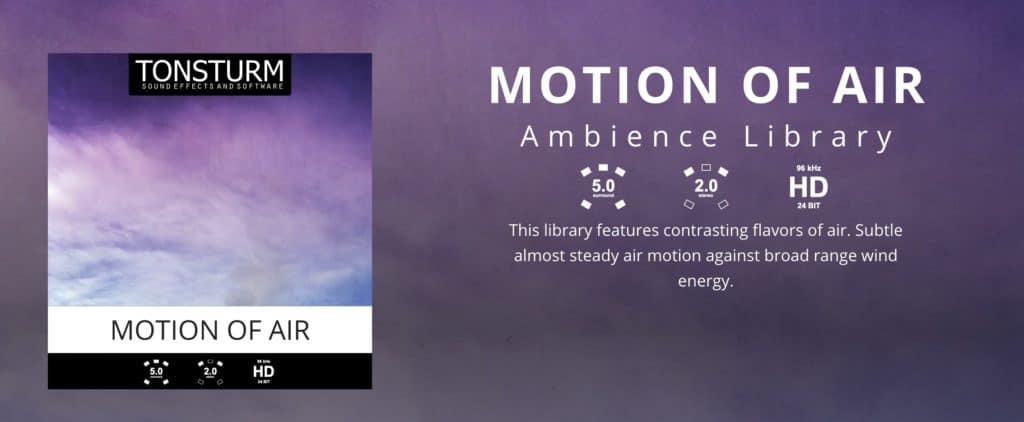 What is the motion of wind?
Air sounds for outdoor settings are one of the more challenging aspects of sound design. It's generally a good idea to have at least one sound effect in each scene that captures the pace of action. If you're using field recordings, they should be loud enough that your audience can hear them while reading on an airplane or in a car. It's also essential to have some variety in the background noises so people don't get bored with them while looking at the scene.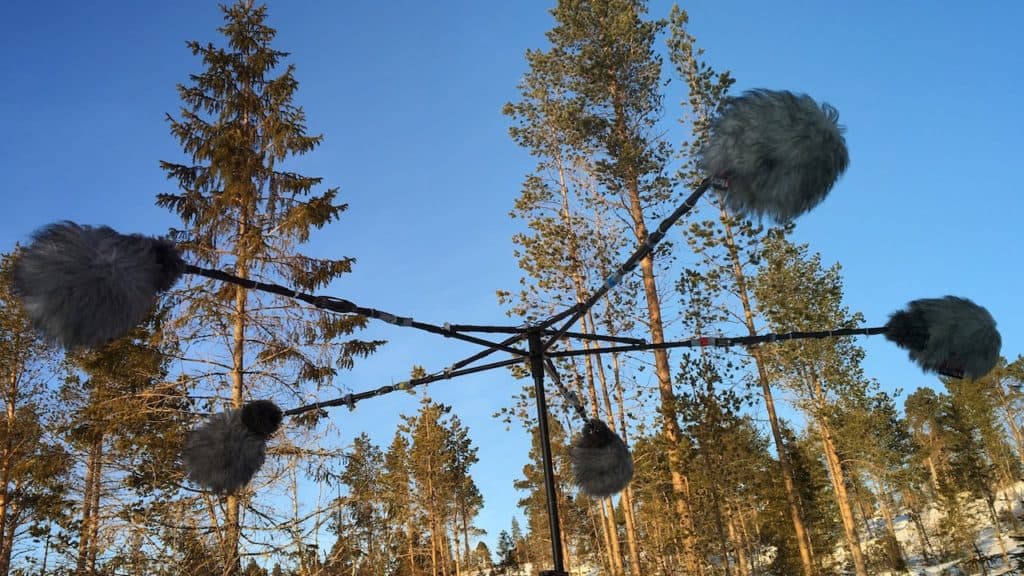 How did TONSTURM create this library? TONSTURM recorded subtle motions of wind by using long exposure sounds to capture steady air motion over a broad range of wind energy. This means that you can use these recordings for both outdoor and indoor environments, where people will be hearing medium-distance sound effects. TONSTURM has assigned wind energy to each one of these recordings by using different tonal characteristics that are associated with various forms of emotional expression.
A TONSTURM library is useful for creating an immersive atmosphere in your project, whether you're working on a film, TV series, or any kind of video game.
The Silence soundpack has 21 differently beautiful sounding air sounds, some just quiet, some with a very light motion of the wind. 
Sustaining a large amount of wind noise in an open area, such as a field or meadow, will result in the noises being perceived to be less. In fact, they'll appear rather thin and wispy. If you're recording near bare or conifer trees, on the other hand, the wind sounds more broad, constant, and loud. TONSTURM managed to cover everything from subtle air to stormy wind.  The sounds can help you produce a nice and smooth background track, or let it rage.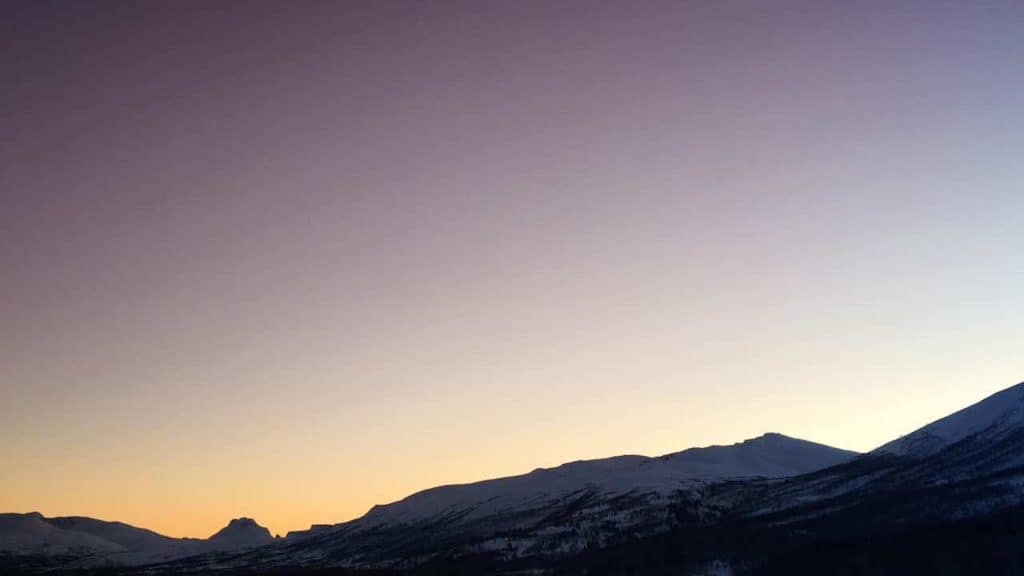 How do you make a wind sound?
Wind noise is a lot more difficult to capture than just a couple of footsteps. The wind has a broad range of wind energy, and it can do a lot more than just rustle the leaves on the trees. It's always going to be faster depending on where you are, but it also varies in strength, from light breezes to thunderstorms. TONSTURM managed to capture all of these different varieties of sound so that people can use them for their projects, whether they need subtle background noises or plenty of stormy sounds. TONSTURM's library is available for download on their website.
What TONSTURM does best is capturing different varieties of wind noise, without being too loud or quiet. TONSTURM has also assigned each recording with a certain emotion that can help inspire your own projects when you're working on them. If TONSTURM's sounds are too busy for you, TONSTURM also has a selection of light air ambiances in their library.
Extremely clean sound
All TONSTURM recordings have an extremely clean sound because they were captured through long exposure methods to capture the subtleties of wind energy over time. TONSTURM's recording sessions were also captured using Tascam DR-07MKII portable stereo recorders with MKH 8040 microphones. TONSTURM has used these recording devices to capture the ambient sounds of air ambiance in some very interesting places, like caves and ponds.
The TONSTURM recordings were done at 96 kHz/24 bits.
TONSTURM sees "Motion Of Air" as the perfect companion to their Rushing Wind and Gusty Wind sound packs. The silent air and the broader wind sounds complement our natural wind libraries quite well.
Pricing and Availability
MOTION OF AIR is available as a 2.0 STEREO or 5.0 SURROUND version. I would recommend to go or the 5.0 SURROUND version, even if you do not work with surround/atmos today. See also Logic Pro- Dolby Atmos and Spatial Audio now built into Logic Pro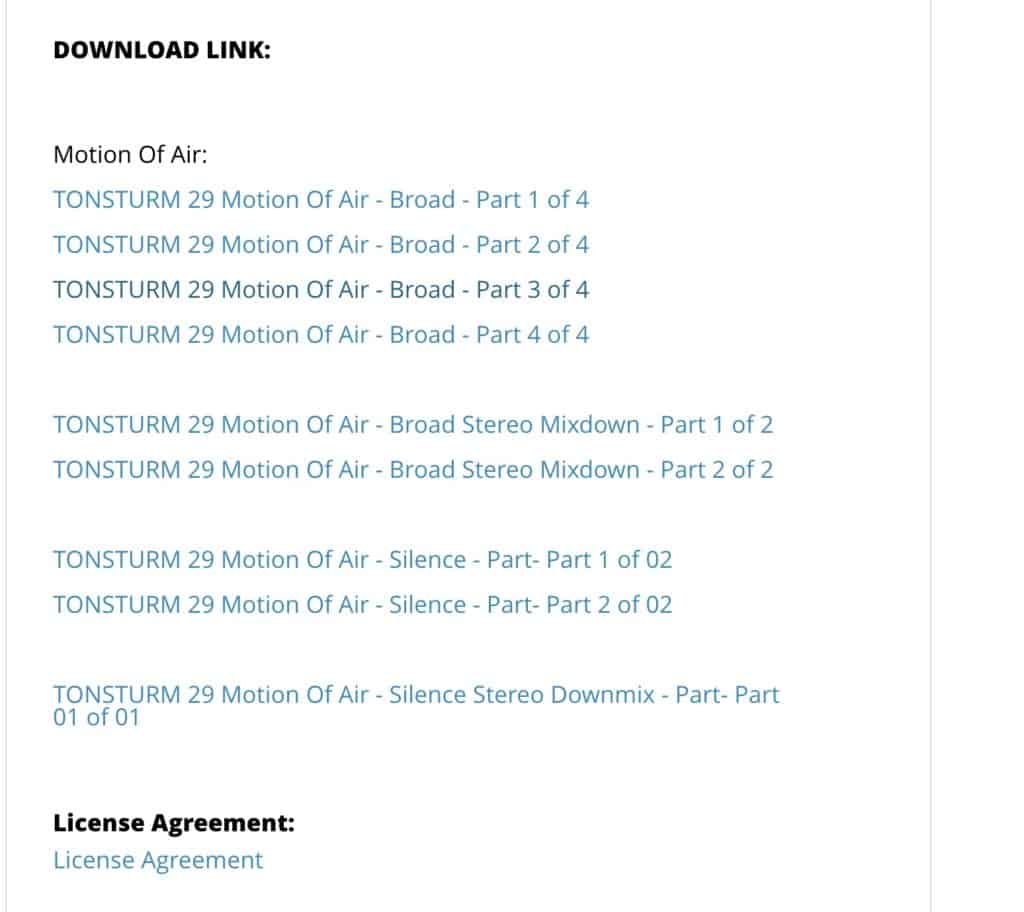 TONSTURM New INDOOR EXPLOSIONS Effects Library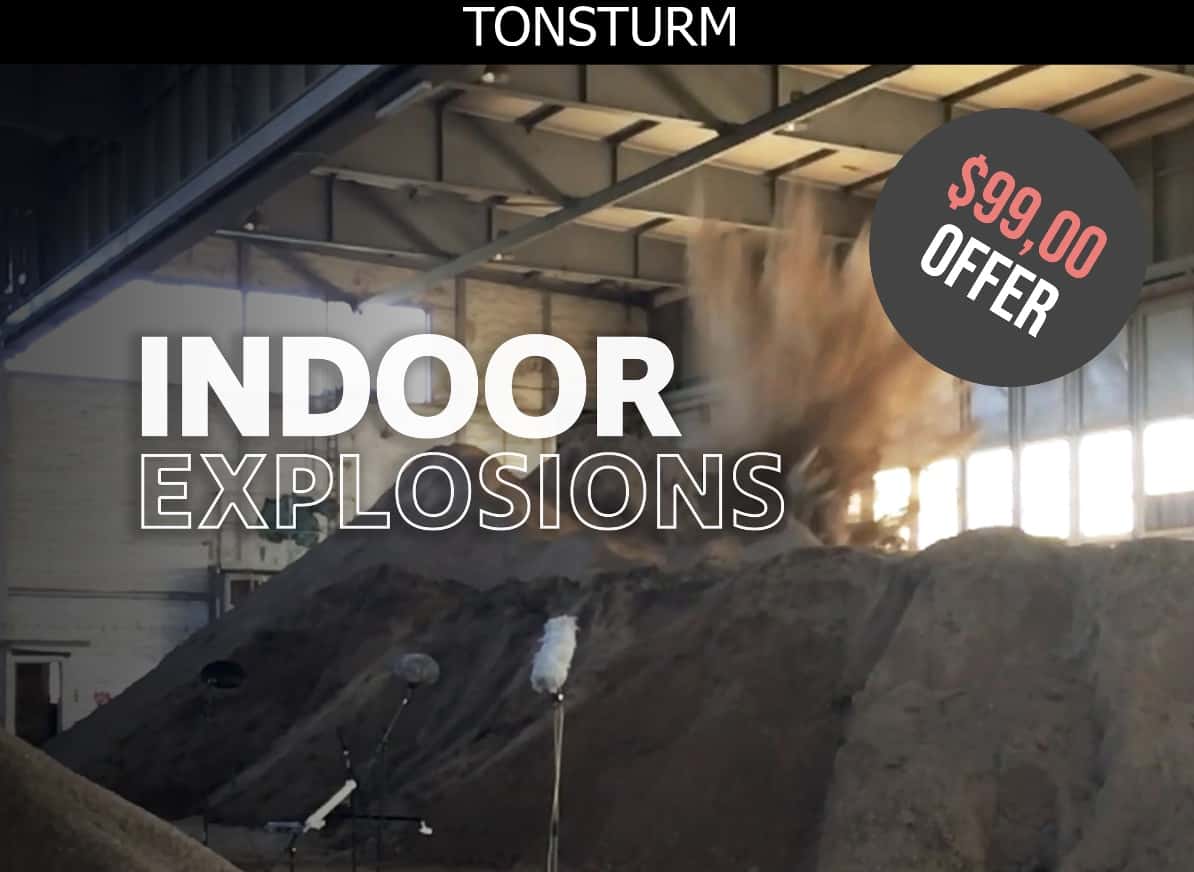 INDOOR EXPLOSIONS SFX LIBRARY
INDOOR EXPLOSIONS feature massive explosion effects performed and recorded inside huge halls, shattered hallways, and narrow corridors. Producing breathtaking detonation effects with extra meaty reverb tails.
The main challenge for TONSTURM actually was to get permission to perform big explosion effects inside a building. After long research, TONSTURM found an abandoned flight hanger – the perfect location with different sized rooms providing a huge variety of indoor acoustic space where TONSTURM could romp around with their explosives.
TONSTURM recorded this library with professional sound design work in mind and captured every explosion with multiple channels, featuring different microphone characteristics and perspectives. Besides the many close and medium perspective options to pick from, this library also provides beautiful sounding 5.0 omnichannel recordings captured from the distance.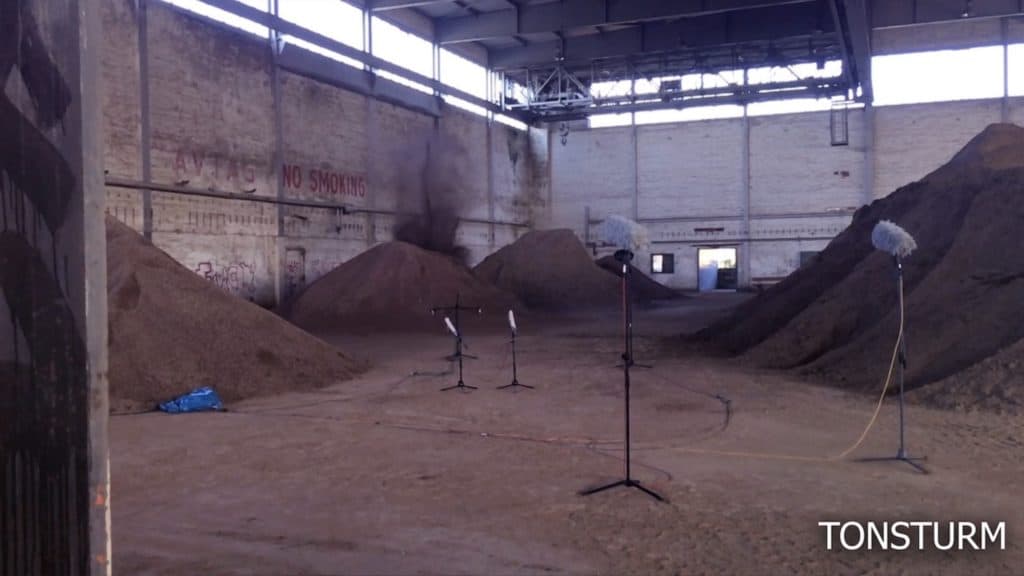 Designed Versions
Together with the source recordings TONSTURM also deliver a carefully crafted set of designed explosion effects by only using the source material.
Pricing and Availability
INDOOR EXPLOSIONS is available now. take advantage of the EARLY BIRD DISCOUNT: $99,00 US Excl. VAT (Regular $159,00 US Excl. Vat)
As an affiliate, we may earn a commission from qualifying purchases. We get commissions for purchases made through links on this website from Amazon and other third parties.
StrongMocha is a magazine for music producers, audio engineers, and sound designers. StrongMocha Magazine provides the latest industry news, reviews of gear and software, tutorials on recording techniques, and tips for mixing.