Scenic Vibrations have a unique sound that is perfect for cinematic and atmospheric sound design. Create tension for drama, the ambiance in an emotional passage, and even evoke dread in a horror setting. This customizable VST/AU synthesizer is based on a set of unique 'sustain' recordings by sound design veteran, Si Begg.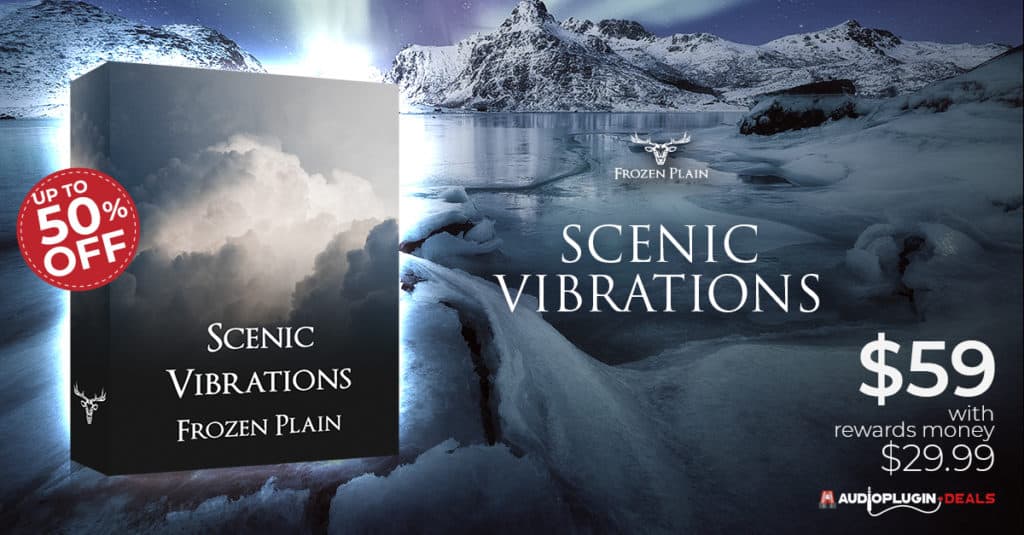 An Organic Synth
The sound of Scenic Vibrations is primarily organic in nature – with intriguing harmonics and natural swells of intensity. But at the same time, it is not wholly familiar to the ear. This dual-character makes Scenic Vibrations fit well with both your synthetic sound design and real instrumentation. As well as a companion synth, Scenic Vibrations can take the lead too. Melodic lines played with Scenic Vibrations are ear-catching and thoroughly unique sounding.
For as low as $29.99 with your rewards, get Scenic Vibrations (Affiliate Link), a picturesque tonal resonations Synth by Frozen Plain!
Surface Transducer
The 30 instruments that make up Scenic Vibrations are created from a set of recordings of metal objects resonating with a surface transducer. Objects such as sheets of metal, koto strings, bass guitar strings and suspended steel frames were used. A surface transducer is a small electronic device that can be placed onto any resonant surface. When a signal is sent to the device, it causes the surface to audibly vibrate and resonate; in essence, turning the object into a speaker. Each sample is roughly 20 seconds long and has been tuned and made into a seamless loop.
30 Categorised Instruments
Each sample has been made into a separate 'instrument' in Mirage. This means you can control each aspect separately, and layer up different sounds in Mirage's three-layer architecture. These instruments are conveniently categorised based on timbre.
The first category is called Basic, which contains waveform-like samples. These samples don't have a massive amount of movement in them. They are the bedrock sounds, perfect for blending with other layers.
Secondly is the Core category. This is the largest. It features a set of tonal resonations, most of which are musically consonant. Here you will find fluttering vibrations, swelling oscillations, and tonal hums.
Lastly is the Dark category. This contains sounds that are more edgy, experimental, and sometimes dissonant. These are an excellent component for creating dark ambiances and tension.


Customisable Sound Design
It is easy to create custom sounds or edit presets with Scenic Vibrations. Mirage, the VST/AU engine that powers it, features a three-layer core. On each layer, you can load up one of the 30 instruments and control its volume envelope, EQ, LFO, pitch and much more. By blending together multiple sounds, you can create new timbres. And with the 'randomise all instruments' button, you can quickly trial a whole new set of instruments and see what fits in your track.
Sound Design by Si Begg, utilising two decades of experience
Si Begg has been working in the music industry for over two decades. His work recently has been in part on wide-ranging scores for film, TV and trailers, including Netflix show Lovesick. His technical skill and ear for usable sound design shine through in Scenic Vibrations. The sampling, editing and lots of the presets are made by him. Scenic Vibrations already plays a part in his professional work.
Over 100 presets
Scenic Vibrations comes with everything you need for adding production-ready sounds to your track. Just use the preset browser to try some of the included 107 factories presets which were designed by Si Begg and Sam Windell. There are many types of sounds among these. Including suspenseful keys, dark ambiances, fluttering pads, and droning bass-pads. Once you find the sound you like, it is possible to further customize it with Mirage's easy-to-use interface.
Included are over 100 presets featuring intriguing tonal keys, dark pads, basses and pulsing rhythms. Scenic Vibrations is powered by Frozen Plain's sample-based synthesis engine, Mirage.
Pricing and Availability
Get Scenic Vibrations (Affiliate Link) for as low as $29.99 using your rewards balance if available to you.