Orbita – Turn Color and Gesture Device
Who said interesting objects should sit silently on a shelf? Creative technology studio Playtronica announces their newest device Orbita: a playful music device that lets you access creativity through sound and colors.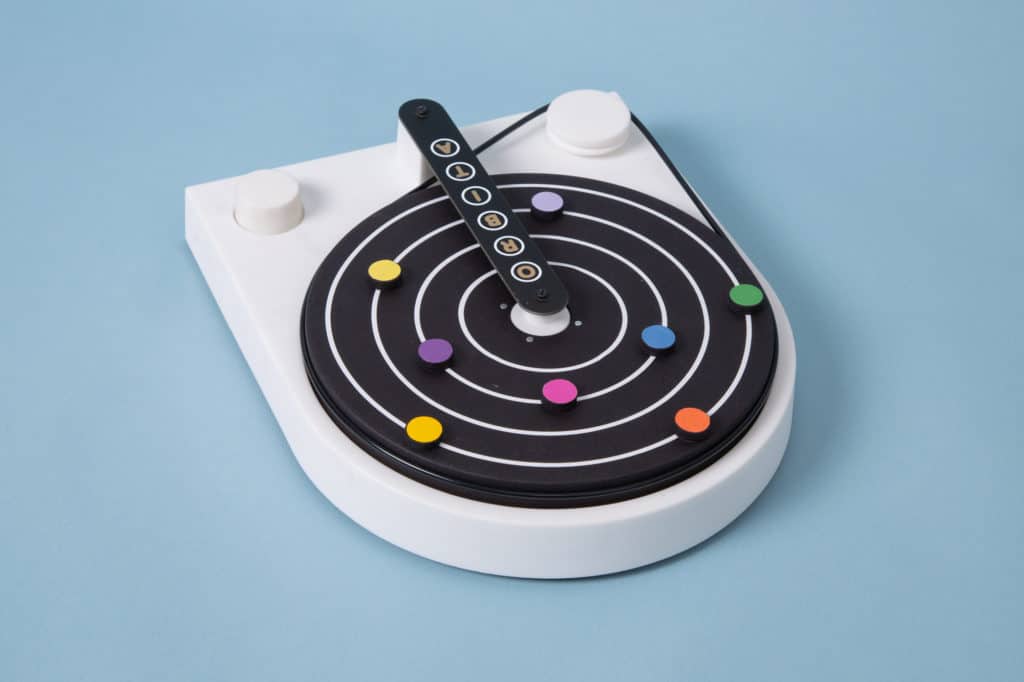 While connected to a mobile device, tablet, or computer, Orbita lets people create music through spontaneous gestures. For the electronic musician, Orbita is an intuitive controller and innovative sound generator. For the music enthusiast, Orbita is a fun and exciting way to interact with music, wrapped in a modern gamelike form.
Devices that Inspired Orbita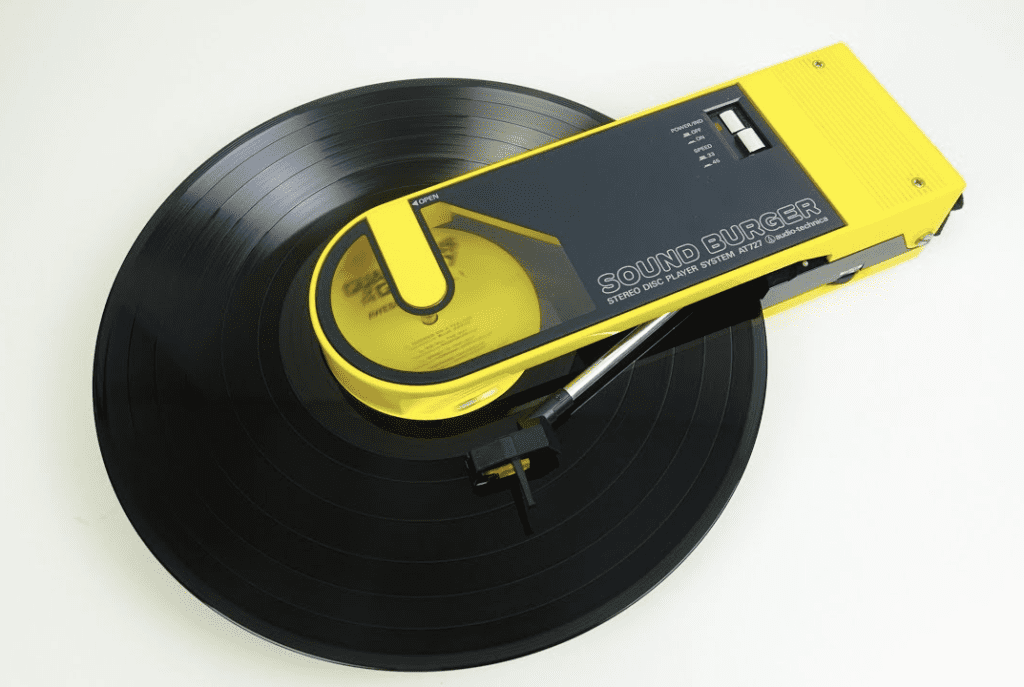 Sound Burger by Audio Technica – This portable and the wireless record player is a proto-Walkman of sorts. Looks more like a sandwich to us, though.
Frekvens Record Player by IKEA – IKEA's spirit of minimalism and applied it to household music equipment.
Easy Record Maker by Yuri Suzuki and Gakken – Here's your chance to engrave your very own lo-fi records. A dream come true for those who grew up restricted to our parents' dusty vinyl collections.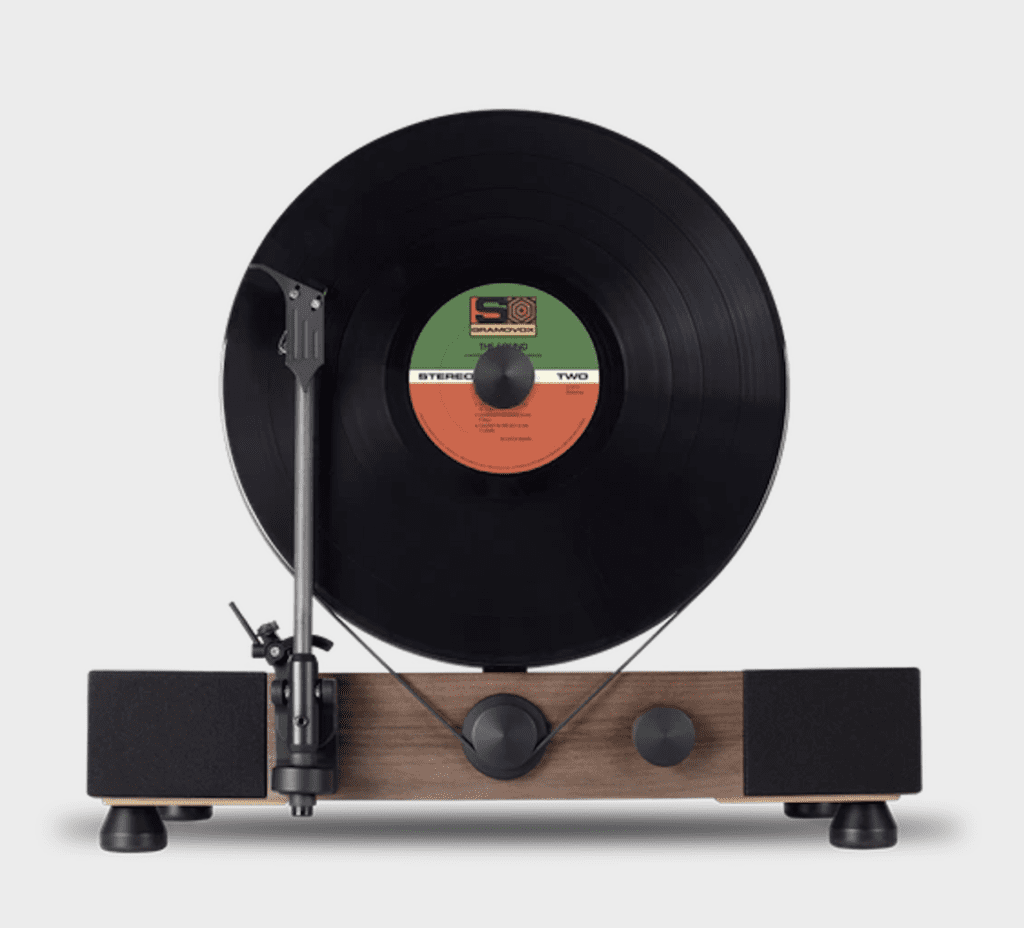 Floating Record Vertical Turntable – How aesthetically pleasing is a smoothly spinning record? A vertical design gives records the display they deserve in the living room.
Sasha Pas, founder of Playtronica: "In Playtronica's universe, everything should sound. Our past products, TouchMe and Playtron, let people turn any object into an instrument – even touching another person. With Orbita, we bring sound to color through a device that can be used for education, performance, meditation, or just jamming with friends."
Playtronica's team of designers, artists, and technologists set out to create an elegant object that evokes creativity and wonder by allowing people to see the world like a synesthete.
The result is the Orbita plug-and-play instrument which gives parents, children, and music lovers a way to create music visually and intuitively. By arranging magnets on a spinning disc, the device morphs the idea of sequencing and music creation with the light touch of a game. In standalone mode, via a minimalist interface, synths, and samples are triggered from Playtronica's proprietary Web App and are seamlessly blended. The depth and approach are scalable to the skill of the "player". With this ease of use, Orbita is chic, clever, and addictive.
When the trigger discs are placed on the Orbita turntable, there can be four track "orbits" at play allowing for the expressive and spontaneous triggering of sounds. To further the excitement, there is a "scratch mode" and timing can be adjusted with the spinning wheel like a classic turntable pitch control. The musical combinations are endless. It is USB-C Midi compatible and works easily with all music software and any computer tablet or phone.
Playtronica's devices require no prior music knowledge but are also beloved by the most ardent music geeks as the Playtronica range is easily integrated into all contemporary electronic interfaces. Orbita comes with a USB-C cable, a set of magnets, and color stickers.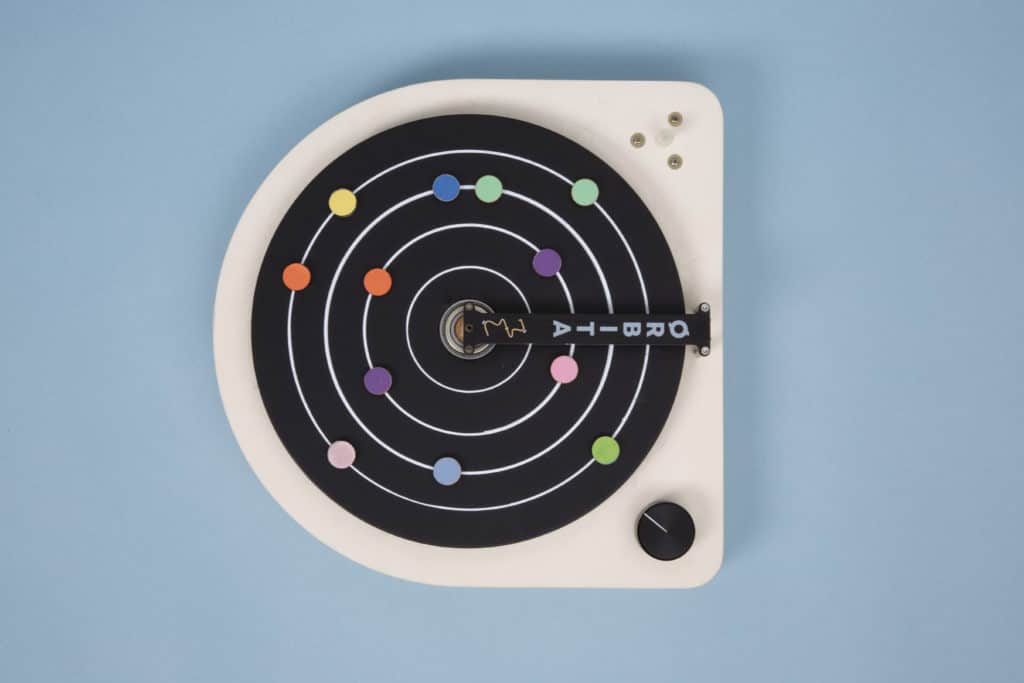 Orbita Creators
Original design was created by Stockholm-based Axel Bluhme, concept and engineering part Sami Sabik, product design and design for manufacturing Olaf Thiele.
About Playtronica
Playtronica was created in 2014 to beat a fresh path for musical education and to invent instruments from everyday life. Playtronica's goal is to remodel the synergy between the physical and digital worlds thanks to the power of sound and touch. Playtronica explores and arouses curiosity by using music, play and, creative opportunities. With a simple human touch, objects then turn into sounds.
Playtronica was founded by theatre producer Sasha Pas and the team is composed of creative technologist Andrey Manirko, sound designer and composer Olga Maximova, and devices designed by Aglaya Demidenko. Playtronica events and exhibitions in Europe are curated by Vincent De Malherbe. The team has previously collaborated with brands such as Hermes, Issey Miyake, Ikea, and Nike, and museums like Centre Pompidou, Palais de Tokyo, Exploratorium, Tretyakov Gallery and, Garage Museum.  The company is based in Paris with satellites in Berlin and Moscow. 
The result is the unification of art and audio manipulation through play for young and old, amateur and professional, and Orbita will be available for pre-order from April 29th, 2021. Priced at 250 Euros approximately.