IR001 GLASS Impulse Responses by HISS and a ROAR
IR001 GLASS Impulse Response Library
HISS and a ROAR's first experience with the idea of using IRs captured from within small objects came from Claustrophobia, an IR set recorded & released by Fokk van Saane. Back in 2004 while Tim Prebble running HISS and a ROAR has been working on the horror film Boogeyman, Tim needed to create a sound for an occasionally evil plasma ball. After syncing and manipulating electrical sounds the final aspect that set Tim's sounds into the plasma ball was the use of a small glass object IR.

The glass resonance imparted on Tim sounds really sold the reality of the sound design. Ever since Tim wanted to explore this territory further, and it was only when collecting and recording props for the glass sound FX libraries that he decided to pursue it. The result is the newly released IR001 GLASS Impulse Response Library. In total the IR001 GLASS Impulse Response Library collection contains 345 Impulse Responses.
Thanks to great plugins like Altiverb, Reveberate, TL Space, etc you will no doubt be aware of the use of Impulse Responses to apply the reverberation of acoustic spaces. But convolution can also be applied to smaller acoustic spaces, and while recording the two glass FX libraries HISS and a ROAR slowly assembled a collection of glass objects, and HISS and a ROAR just released their first IR Library.
Glass Object IR
32 Empty Glass Object IRs were captured using an MKH8020 mic. The two yard glasses (& other narrow neck bottles) were captured using a DPA4060 mic. These objects can be thought of as a tiny concert hall, with small scale room modes and peaky resonance with a glassy tone. The IRs tend to be short & high frequency, with the total volume and the size of the neck contributing to their tonality.
Pitch shifted IRs at half speed & quarter speed
As with all convolution, frequencies that are common to the source and the IR are accentuated, for example, if you convolve a sub bass sound with a violin you get nothing. So as an experiment Tim tried pitch-shifting the 32 Glass Object IRs, and at both half speed and quarter speed the spectrum of the resonance is lowered into potentially useful range, and of course elongated.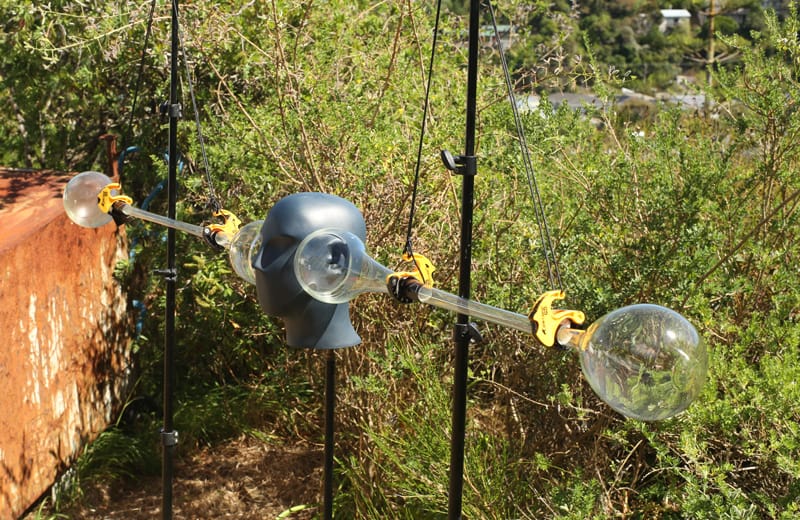 Underwater IRs
Next each of the objects were filled with water and underwater IRs were captured using a hydrophone. As water is denser than air, the speed of sound is faster which equates to higher frequency, faster reflections and strangely harmonic ringy IRs. Pitch shifted underwater IRs at half speed & quarter speed are also included.
Jelly IRs
Three of the objects were filled with jelly, and IRs were captured with the hydrophone set in three flavours of jelly. Pitch shifted Jelly IRs at half speed & quarter speed are also included. Jelly causes strange harmonic resonance.
Iterated IRs
While working on this collection Tim was reminded of the fascinating work by Alvin Lucier – I Am Sitting In A Room, where Lucier played a recording of his voice into a room, captured the room sound and then replayed it into the room, again recording it. As the process is repeated again and again, the dialogue becomes entirely unintelligible as the iterated room acoustic slowly becomes a harmonic drone.
To achieve this with an IR, Tim iterated the process of playing the captured IR back into the object. As a test, he iterated ten times and found the IRs rapidly became diffuse and accentuated tonal resonance, with blurred transients. Some iterated IRs almost sounding like harmonic feedback while others latched on to low frequencies. Based on the results Tim decided to include the first and third iterations.
Pricing and Availability
IR001 GLASS Impulse Response Library is available now. For 33% early bird discount please use Coupon Code 'PING' at checkout.
This discount expires April 26th, 2021.
SOFA SMASH Sound Foley: The Ultimate Sound Effects Library for Creating Practical Destruction Sounds by Hissandaroar
In filmmaking, the sound is often just as important as visual elements. The right soundtrack can set the tone for a scene, create suspense, or provide comic relief.
This sound library offers a variety of suspended tension hits that can add an extra layer of excitement to your next film score or trailer music. You can find the perfect sound for any scene.
Whether you're looking for a lighthearted hit or something more intense, this library has you covered. So next time you're scoring a film or trailer, be sure to check out this sound library for all your suspended tension needs.
Looking to add some realistic destruction sounds to your next project? Look no further than the SD052 SOFA SMASH SFX Library sound effects library! This comprehensive collection of sound effects features recordings of two old, leather sofas being destroyed.
This library has everything you need to create convincing destruction sounds from hits and impacts to drops and throws. In addition, the library also includes studio recordings of leather creaks, flicks, moves, and shakes. So whether you're looking for exterior or interior sounds, the SD052 SOFA SMASH SFX Library sound effects library has you covered!
SD052 SOFA SMASH SFX Library
When it comes to creating realistic sound effects, sometimes you have to go to extreme lengths.
For the SD052 SOFA SMASH SFX Library, two old leather sofas were destroyed in order to capture the various sounds of hits, breaks, and impacts. Drops, throws, and drags were also recorded before the sofas were deconstructed into their constituent parts via rips, tears, and general demolition.
The leather covering was recovered and studio recordings were made of leather creaks, flicks, moves, and shakes. Then exterior recordings were made with leather hits & drag on concrete, as well as flicks, shakes, and moves.
Other useful elements included stabs and slicing leather, suspended tension hits (taut and "flappy") as well as rattles, hits, and moves with the four metal feet from the second sofa. Rips and tears with unique tonality were also recorded with the supporting nylon fabric.
The recordings will be edited and processed to create a unique library of sounds that can be used in a variety of ways, from Foley and sound design to creating ambiances and BGMs.
Tons of different sound effects were captured, making this one of the most comprehensive libraries of its kind. Whether you're working on a film, video game, or another project, the SD052 SOFA SMASH SFX Library will help you create the most realistic soundscape possible.
While pining over leather, a useful UnitFX Library was also recorded with two leather jackets. For additional information, please see UFX017 LEATHER JACKET
Leather Jacket Sound Foley: A Unique Asset for Sound Effects by Hissandaroar
There's something about a leather jacket that just makes you feel powerful. It's no wonder that so many sound effects designers use this unique material to add an extra layer of realism to their work.
In this blog post, we'll discuss the different ways you can use a leather jacket to create sound effects, and we'll give you some tips on how to make the most of this versatile asset.
Leather Jacket Creates a Mixture of Sounds
A leather jacket can be used to create a variety of sound effects. For example, by gently tapping the sides of the jacket, you can create a sound reminiscent of raindrops falling on a window. Or, by crumpling up the jacket and then shaking it, you can create a sound like thunder rumbling in the distance.
Likewise, by running your fingers along the inside of the jacket, you can create a variety of eerie, creepy sounds that are perfect for Halloween. In short, UFX017 LEATHER JACKET sound library of a recorded leather jacket is a versatile tool for creating sound effects that can add atmosphere and dimension to any film or audio production.
Tim Prebble's (Hissandaroar) Leather Jacket
When Tim Prebble bought his first leather jacket, he had no idea that he would one day become obsessed with the material. But over the years, he has come to appreciate the unique properties of leather.
Leather is strong yet flexible, durable yet soft, and it develops a rich patina over time. Tim's first jacket was made from a beautifully soft hide, and it quickly became his favorite piece of clothing. It was comfortable and stylish, and it served him well for many years.
But as Tim's obsession with leather grew, he realized that he wanted to record the sound of leather in all its subtlety and complexity. So he set out to create a library of leather sounds, using two of his own jackets as the source material. The result is a fascinating collection of sounds that captures the unique character of this remarkable material. Thanks to Tim's obsession, we can now enjoy the sound of leather in all its richness and detail. Who knows what Tim will be obsessing about next?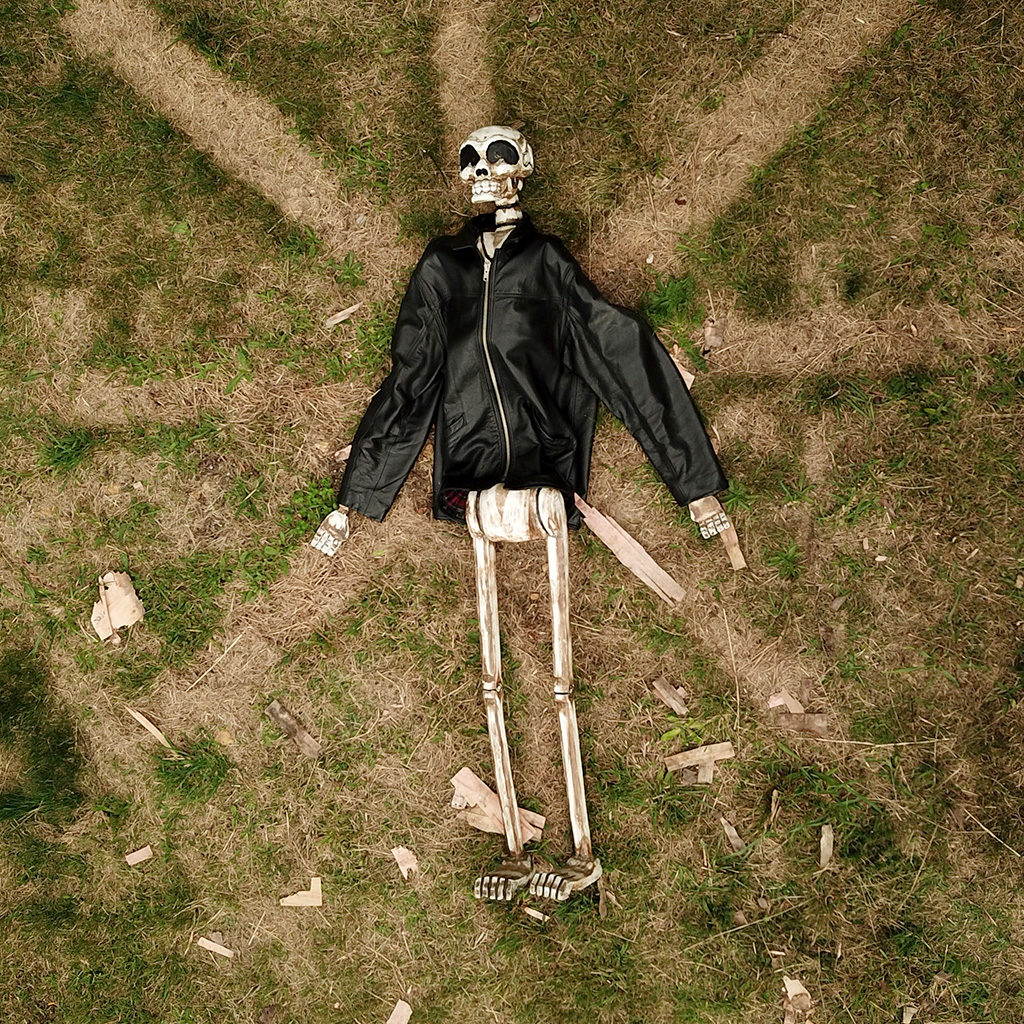 Tim's heavy-duty biker's leather jacket is a beautiful thing. It's big and bulky, with big zips and beautiful red tartan lining. But it's not just a pretty face; this jacket has been through some tough times. Tim and his jacket have had some great adventures together, but both are now retired.
Thanks to their age, they produce some lovely characterful leather creaks, but they're far more subtle than the heavy leather in the SOFA library. Even though they're retired, Tim and his jacket still have plenty of life left in them. They may not be able to take on the world like they used to, but they can still enjoy each other's company and create some amazing memories.
UFX017 LEATHER JACKET is available now. It is a 1.28GB download • 2.02GB as 82 x 24bit 96kHz .WAV files with metadata & photos. For a 33% Early Bird Discount please use coupon code: "RIP", the discount expires May 22nd, 2022.
AMB019 RAIN RHYTHMS: A Crossover Library of Ambience and Polyrhythmic Patterns
AMB019 RAIN RHYTHMS, This library is a crossover between an ambiance library and a polyrhythmic pattern library! Selected from over 14 hours of multitrack recordings, captured during two days of Summer rain.
By strategically placing inverted metal trashcans below cracks in the clear light roof of the porch at the back of Tim Prebble's house, the leaking drips perform very interesting rhythms.

Rain Rhythms
This unique library combines elements of an ambiance collection and a polyrhythmic pattern collection! Over 14 hours of multitrackers were chosen from over 14 hours of Summer rain recordings.
If you're looking for an innovative way to add some musical flare to your next party, try using inverted metal trashcans as rain drums. The clear roof of your porch will allow the raindrops to fall directly into the cans, producing a variety of different sounds depending on their size and position.
By strategically positioning the cans beneath the roof, you can create a unique rhythm that is sure to impress your guests. And best of all, this musical arrangement is completely free! So next time it rains, be sure to take advantage of this natural phenomenon by turning your porch into a makeshift drum set.
The library is arranged chronologically, with 12 selections from my earliest recordings up to my most recent ones. Each selection is 5 minutes long and presents a different facet of my work with MKH8040 microphones.
The first recording captures the general ambiance of my work environment, while the second one features the MKH8050 inside a single trashcan, pounded out a beat. Each subsequent recording features a different sound or technique that I have explored with these versatile microphones.
As a result, the library provides a comprehensive overview of my work with MKH8040 microphones and is an invaluable resource for anyone interested in exploring their potential. Thanks for listening!
Following that, there were 17 sequences of 5-minute selections recorded with three trashcan mics throughout the course of a full day's work.
Each multitrack selection has the starting and ending BPM as well as the intensity and shift in speeds, making it easier to assess. Get AMB019 RAIN RHYTHMS today.
As an affiliate, we may earn a commission from qualifying purchases. We get commissions for purchases made through links on this website from Amazon and other third parties.
StrongMocha is a magazine for music producers, audio engineers, and sound designers. StrongMocha Magazine provides the latest industry news, reviews of gear and software, tutorials on recording techniques, and tips for mixing.