14 NEW PLUGINS AND THE FIRST EVER VOCAL TUNER FOR STANDALONE DEVICES
The most advanced MPC 2.10 standalone firmware brings 14 new plugins including the first-ever AIR Vocal Insert Effects Suite for MPC One, MPC Live II, MPC X, and MPC Desktop Software. The news MPC 2.10 offers a powerfully creative standalone music-making experience.
MPC 2.10 Highlights
4 New Plugin Instruments: Hype, Solina, Odyssey, and Mellotron
New AIR Vocal Insert Effect Suite w/ Automatic Vocal Tuning, AIR Doubler and AIR Harmonizer Plugins
USB Class Compliant Audio Interface Support
7 new Insert Effects including Half Speed, Diode Clipper, Stutter and more
MPC Drum and Keygroup Engine Enhancements including Akai Pro Sample Tail, Dedicated Pitch Envelope, and Keygroup Portamento
10 New Drum Pad Effects including Ringmod, Bitcrush, Decimator and more
New Sample Key Detection

Standalone Vocal Plugin Power
MPC 2.10 rises with the new AIR Vocal Suite. MPC users have a dedicated set of plugins to record and produce the perfect vocal recordings, right from the standalone MPC devices. AIR Vocal Tuner, the first-ever vocal tuner for standalone, empowers users to dial in vocal tracks with powerful pitch correction. Whether the need is a subtle fix for a pitchy note or that modern automatically tuned vocal sound, AIR Vocal Tuner is a powerful tool for vocal production.
Loading the AIR Vocal Doubler plugin adds dimension and thickness to any vocal track. Quickly achieve a layered sound, or a wide stereo spread for bigger, more present vocals that cut through the mix. When one voice isn't cutting it, the AIR Vocal Harmonizer plugin will instantly create rich, layered harmonies. Transform single voice tracks into full, 4-part vocal backing sections without having to record, edit or stack multiple takes – keeping you locked in the creative seat without interruption.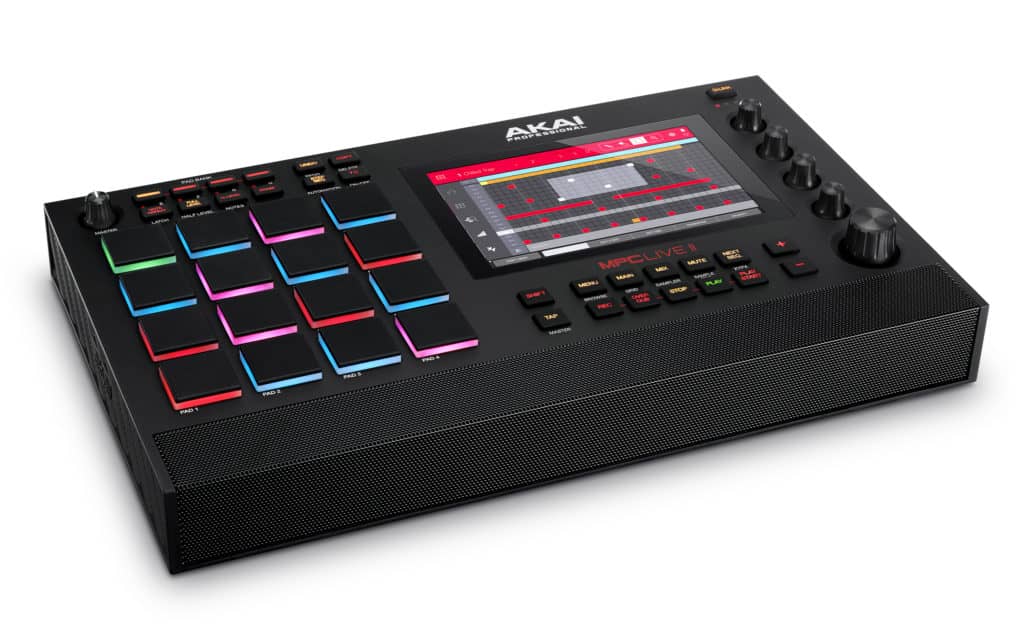 New Plugin Instruments with World-class Sound Engines
MPC 2.10 adds four new plugin instruments sure to bring a surge of creative sonic inspiration. AIR Hype plugin from the Akai Pro FORCE steps onto the MPC stage for the first time with over 1500 presets including pianos, analog synths, Wavetable Pads, leads, FM plucked instruments and more. Creating custom signature sounds is easy with detailed macro controls to modify and save a wide range of parameters from the vibrant stock preset library.
AIR Mellotron is a recreation of the classic tape-based keyboard machine, equally suited to a wide variety of modern sounds. With a vibrant GUI, users can dial in intricate textures and tones never before imaginable, right on their MPC. MPC also adds AIR Solina, a software plugin version of the legendary string machine. Play a single synth part, or layer multiple tones for a massively rich and full ensemble. Mellotron and Solina include the new built-in AIR Flavor effects panel to add a wide variety of LoFi textures to all the synth sounds. Experiment with radio or phone simulations, distortion, tape flutter, and more to add new characters into your sounds.
Additionally, MPC 2.10 adds the WayOutWare Odyssey plugin instrument – a faithful recreation of the all-time favorite analog duophonic synth. Odyssey was created using circuit-modeled oscillators and filters and adds a fully automated GUI. This powerfully versatile synth plugin completes the MPC synth engine collection now including an array of 8 powerful plugin instruments.
MPC 2.10 also adds 7 new Insert Effects plugins: Half-Speed, Stutter, Diode Clipper, AIR Diffuser Delay, Granulator, Sample Delay, and AIR Limiter – which lends itself well to MPC standalone mastering capabilities. 10 new Drum Pad Effects are also included to mangle and distort audio in a myriad of ways – a truly unmatched arsenal of standalone tools to fuel your creativity and your music creation.
More Effects, More Connections, More Power
The standalone MPC now supports USB Class Compliant audio interface devices. Connect any eligible audio interface and enjoy up to 32-Inputs and 32-Outputs. Increase your input count to record more tracks on your MPC One, or expand the outputs of your MPC Live II and MPC X to route audio into your favorite analog outboard gear, all via a single USB cable.

With the 2.10 features update being the most significant in MPC history, the standalone MPC experience has evolved exponentially. Akai Professional, Senior Product Manager Dan Gill stated, "The MPC Feature Update 2.10 is the most significant firmware/software release we have ever delivered. Being first to market with a vocal processing suite— including an automatic vocal tuning plugin for standalone MPC users is exciting and something we have worked hard on. Combining that with 14 new plugins and the ability to connect up to 32 inputs and outputs with Class Compliant USB devices untaps new creative potential for MPC users."
Pricing and Availability
MPC 2.10 is available now. It is a free update for MPC One, MPC Live, MPC Live II, MPC X, and MPC2 Desktop users.