Soundiron Releases Canjo
Canjo is a handmade single-stringed fretted instrument made from a wood stick, string tuner, and tin can. The can resonates with a twangy and metallic tone and sounds like a cross between a banjo and mountain dulcimer. It is typically held like a guitar, but can also be played on a table or lap. The canjo is fretted diatonically with a 12 note range, making it perfect for pluckin' folk melodies on the back porch or around a campfire.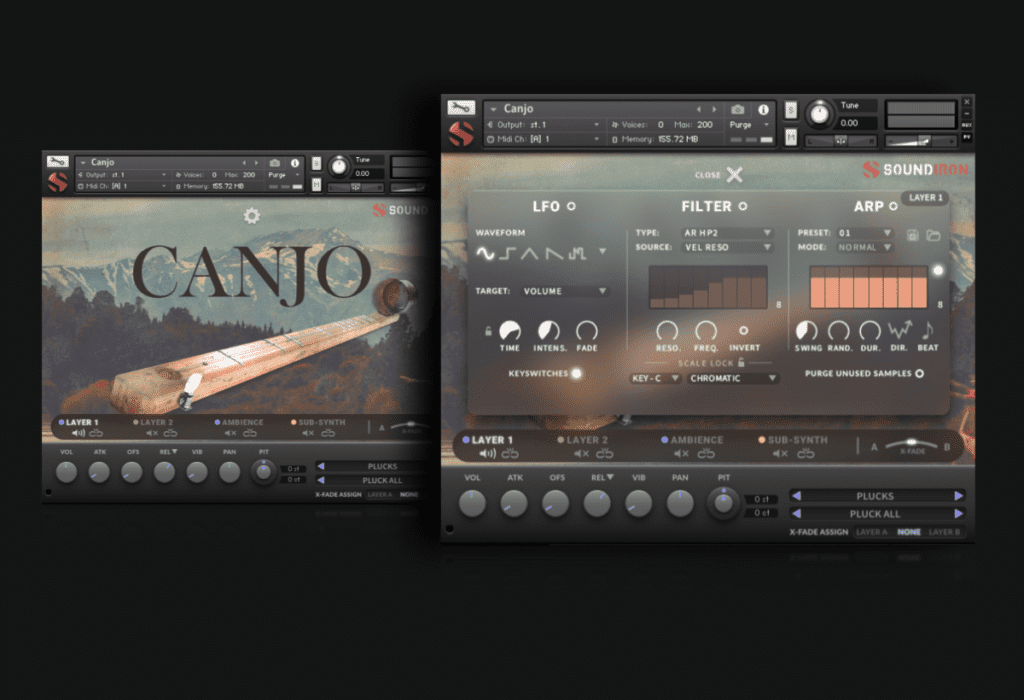 Canjo Features
One master NKI instrument bank in open Kontakt format
Canjo plucks, slides, bowed sustains and staccatos
20 Ambience patches created from the source content
24 bit / 48 kHz uncompressed PCM wav samples
22 Custom Sound-Designed FX and Ambient presets
859 Stereo WAV files
801 MB installed
Flexible and intuitive multi-layer user interface controls, with LFO, filter, glide, and arpeggiator
Full FX rack with convolution reverb with custom rooms, halls, chambers & FX environments
In true Soundiron fashion, Soundiron tinkered to stretch canjo's sonic abilities to its limits, capturing fully playable picked plucks, smooth plucks, harsh plucks, slides, bowed sustains, staccatos, and spiccatos. After that, they created a wide selection of ambient soundscapes, pads, and drones from the source content to make the library even more versatile. This canjo is equally comfortable playing traditional Americana or masquerading as a convincing brittle viola, cheap slide guitar, or melancholy erhu.
The Kontakt interface includes a suite of automation-ready sound-shaping controls to give you total creative flexibility. You have control over swell, attack, release, offset, vibrato, filter, pitch (coarse & fine), articulation switching, cross-fading and layering, and so much more. We've also included 20 unique sound-designed custom FX presets to give you lots of creative options.
This library comes with an adaptable LFO system, with selectable LFO shape, modulation target parameter, speed, intensity, tempo-syncing, and fade-in time. You can also apply your choice of 12 lowpasses, high-pass, and FX filters, with assignable modulation targets such as velocity, mod-wheel, expression, after-touch, key position, and step-sequencer table control. Soundiron's customizable arpeggiator offers a velocity table and control over arp direction, timing, swing, randomization, and duration. Soundiron included a key and scale lock system to constrain your notes to common scales and keys for easy melodic composition and live performance.
The interface is rounded out by Soundiron's modular FX rack panel, with 18 different DSP effect modules that you can assign in any of 10 available slots, in any order that you wish. You'll find classic phaser, flanger, delay, distortion, amp and cab simulators, compressors, EQ, rotator and so much more. The Reverb effect includes Soundiron's favorite convolution reverb impulse responses, including 99 different rooms, halls, chambers, and outdoor environments, plus another 40 custom FX impulses to radically transform the sound and open up whole new worlds of musical possibility. Soundiron added a great bank of FX rack chain factory presets to get you started!