«Probability» – Behringer Crave: Generative Patches + Patterns
Generative Patches + Patterns – Probability
«Probability» is a collection of 20 generative patches + patterns. This genre of sound design is very popular inside modular culture, and Crave suggests a good set of features to enter this club.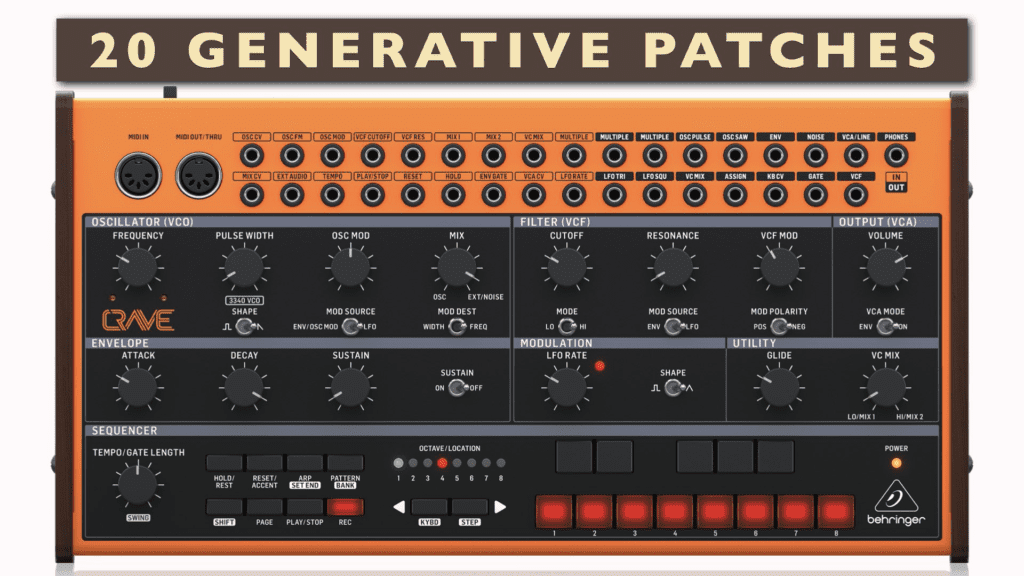 Controlled chaos and randomness, probability, non-repetitiveness, tempo break, pattern uniqueness, short and long sounds alternation, unexpected changes, silence and density, harmonic and fx-like tones, freaky splashes during a sequence – all these things are included in the soundset.
Pricing and Availability
Probability is available now.
2600 – Turning to the Dark Side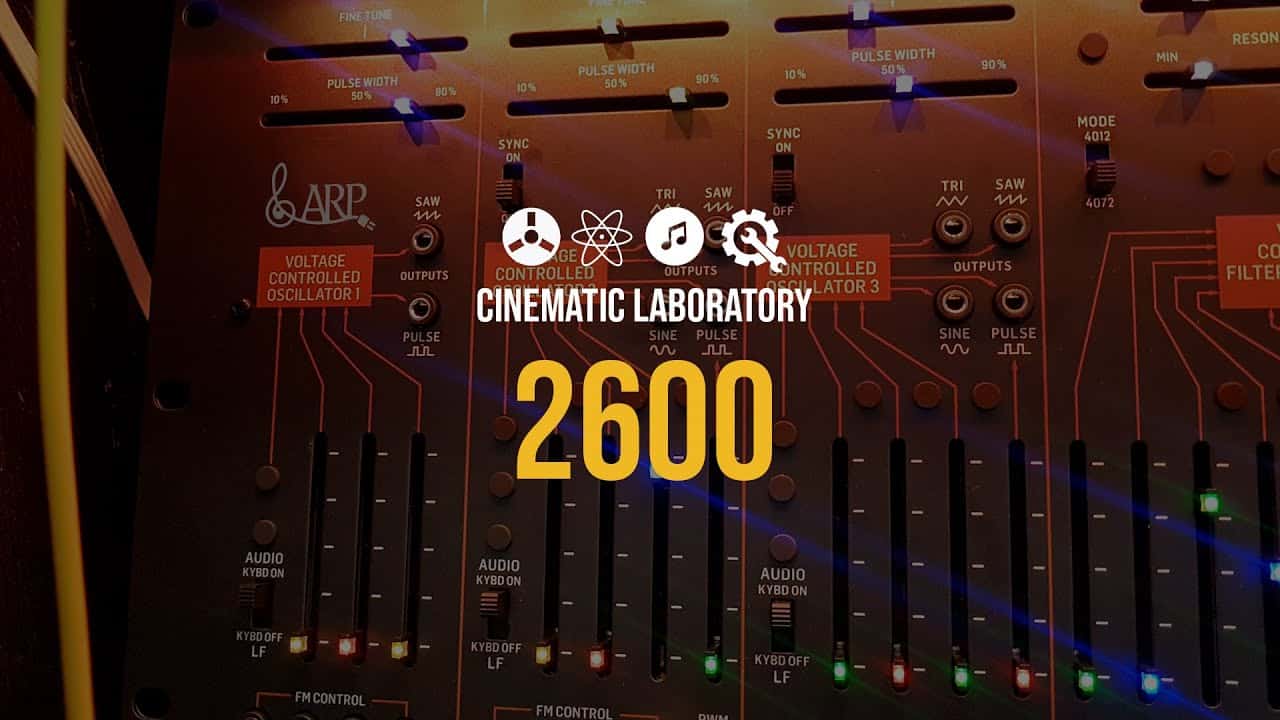 Turning to the Dark Side
The ARP 2600 has been on my bucket list since I was a kid but I don't think I'd ever buy a dusty 70's classic for 10K. I have room nor budget for it (or the Korg reissue) either. So when this particular 2600 came out, I could not resist. It feels a bit like turning to the Dark Side. But we just can't blame the devil for every guilty pleasure we give in to.
Pricing and Availability
Behringer Looming BCR32 MIDI Sequencer & Controller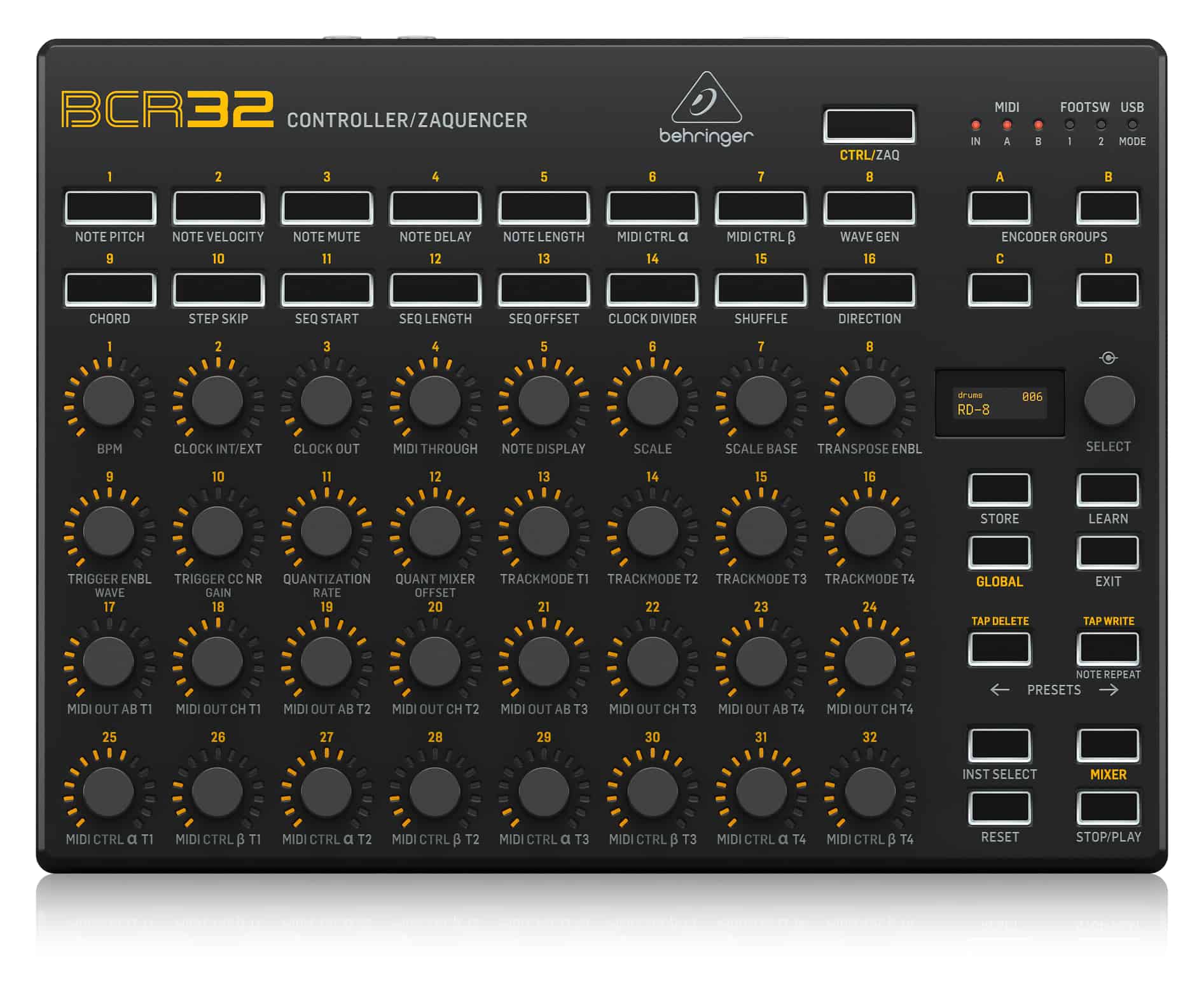 Behringer BCR32
Do you know that the original BCR2000 is actually 15 years old? The original designers Bert and Thomas are still with Behringer and thrilled that their baby gets a second life. BCR32 is targeting a released price of $149 USD. You can contribute your feedback for the brand-new development on Facebook here.
Possible BCR32 Features
USB/MIDI Controller/Sequencer with 32 Multi-Purpose Encoders and Polyphonic 32-Step / 4-Track Zaquencer
Universal USB/MIDI controller for triggering audio clips, MIDI events or any MIDI equipment
Highly-acclaimed Zaquencer from ZAQ Audio for unmatched sequencer performance
Compatible with popular DAWs or other music production software
32 multi-purpose encoders for custom assignment of parameters
4 virtual groups and 8 dual-mode encoders with push function
20 programmable buttons, assignable as note on/off, control and program change, MMC and system exclusive data
All panel elements are freely assignable, manually or via user-friendly learn mode
32-step, 4-track Zaquencer featuring mono/polyphonic drum and note tracks
Storage of all global parameters and up to 192 patterns, each consisting of 4 tracks
2 independent MIDI controls per track (program change, aftertouch, pitch bend, CCs)
4 CV/Gate and Sync connectors for controlling synthesizers, drum machines and other equipment
2 assignable footswitch connectors for handsfree control
Multi-function OLED display for easy control of all parameters
High visibility multi-color LED feedback to show status of all controls
1 MIDI input and 2 MIDI output connectors to serve as additional USB to MIDI interface for a Keyboard
MIDI input with merge function for cascading several control units
Compatible with Apple iPad* via USB Camera Adapter (not included)
Class-compliant MIDI/USB protocol for "plug and play" operation
3-year extended warranty upon registration
Behringer Looking into New Eurorack Drum Sequencer
Behringer RS-9
Behringer released a design draft of a modern drum sequencer based on their upcoming RD-9. It's meant for Eurorack and comes with 11 trigger outputs. Behringer believes they could offer the eurorack drum sequencer for US$ 149. That price would be a game-changer from a price point and a treat to many existing much higher priced modules.
I would be interested in this drum sequencer, if you also want to share your views, pls go to Facebook and let Behringer know. The company did set up a FB post and requires your input.
As an affiliate, we may earn a commission from qualifying purchases. We get commissions for purchases made through links on this website from Amazon and other third parties.
StrongMocha is a magazine for music producers, audio engineers, and sound designers. StrongMocha Magazine provides the latest industry news, reviews of gear and software, tutorials on recording techniques, and tips for mixing.