Polyend Tracker Fast Track to Creativity
Tracker has long been a vital component of computer music. During the early 1980s, home computers were on the rise. The Apple Macintosh computer, released in 1984, was the first widely accessible personal computer with the ability to play games. The Amiga and Atari ST became popular among gamers, but they also offered a wide range of sophisticated programs for a variety of applications ranging from software development to music production. This machine introduced First Tracker. Stay on track Polyend Tracker, you can be smooth, lightweight, and portable.
Polyend breathed freshness and life into outmoded technology with his unique hardware tracker instrument.
The keyboard's keys are placed in a good position for quick typing. High-res, clean and bright screen makes it simple to use. It works quickly and responsively with only one key. 48 Backlight silicone pads allow for fast notes, pattern value entry, and visual feedback.
The Polyend is a very flexible keyboard controller with adjustable scales. It's made of metal and is big and sturdy. Fast scrolling or fine adjustment is possible thanks to its characteristics. The Tracker has features that would make it ideal for any project, such as live looping, automation control, hardware mixer, etc.
The vertical timeline, the powerful sequencing software, and the mechanical keyboard are complemented by an improved user interface for producing and performing music at the highest level.
The Artist Edition – Bogdan Raczynski, Legowelt, and Pete Cannon
I personally bought it over a year ago, it was the black edition, I love the custom look versions that have been released. With special vinyl album releases, Polyend launched the Limited Artist Edition Tracker series.
The Artist Edition series is made up of three different versions, each dedicated to a single artist and limited to 300 units. Polyend produced artist edition Tracker of artists such as Bogdan Raczynski, Legowelt, and Pete Cannon.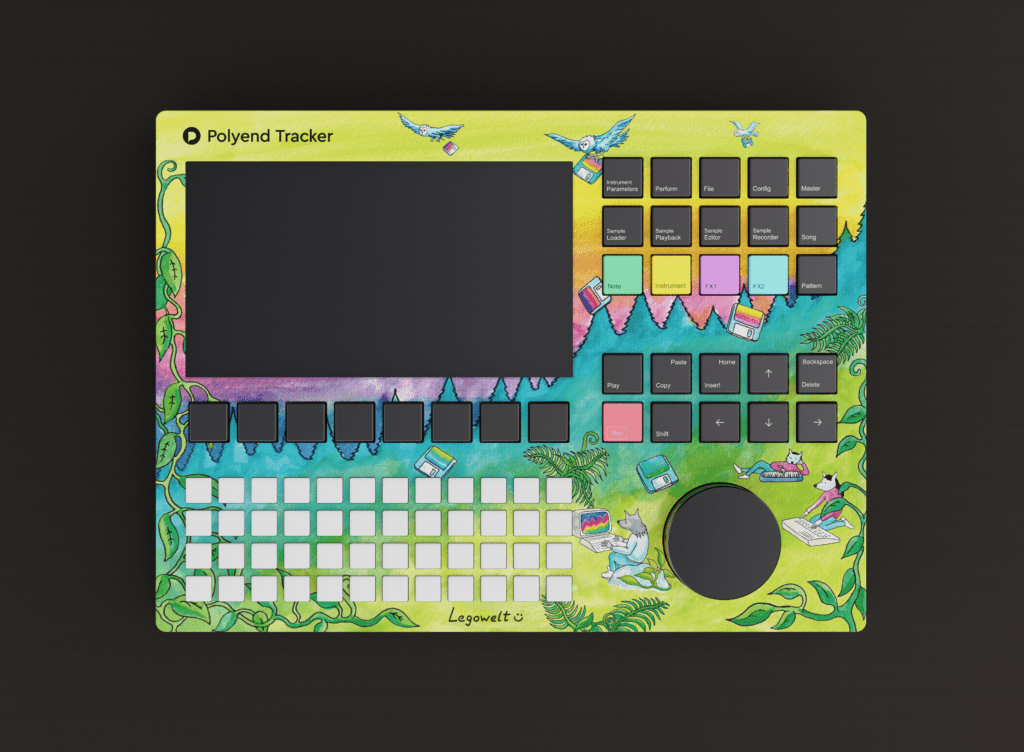 Polyend Tracker is for people who want to make their own music easily. Its fresh look and quality materials will inspire you to take your music production skills to the next level. The impressive screen shows all relevant information needed for intuitive operation.
Go Vertical with Polyend's Sleek, Modern Hardware Tracker
The first tracker software was developed in 1986. This spreadsheet is more akin to a data moving than music composition. The efficiency of this design was aided by its distinctiveness, which allowed for truly streamlined workflows. The vertical column arrangement provided visibility to each component in a composition. It also gave you a great deal of freedom for sound design, allowing you to alter samples at will.
The Polyend is a tracker keyboard that has been created to provide a simple and intuitive tool for creating electronic music, with a wide set of functions. It comes together perfectly with the Polyend Studio software to give you a musical instrument that can be used from composing right through to sharing your work.
The Polyend Tracker interface really makes using the tracker style sequencer easy. It is an intuíautive sound module controlled by a newly designed input interface to perform your music in a new and intuitive way. If you are an artist of the globally connected music world you enjoy play samples, shaping sounds with a variety of powerful sound design tools, all to boost your creative process with the new classic tracker.
Polyend Tracker the New Classic
View four tracks on the View 4 Tracks Simulations. Don't be fooled by a regular tracker. Polyend Tracker incorporates a beautiful and vibrant OLED display for a clear overview.
Polyend's New Classic Tracker is a new classic in terms of design and sound quality, but also with a user interface that is both easy to learn and operate, which makes the tracker-style sequencer more accessible than ever before. It provides an extensive set of tools to create amazing music.
The Polyend Tracking System, which retains the traditional fast workflow while incorporating modern technology, is armed with contemporary armament. Ease of creation: Automated addition, randomization, probability rendering, live recording effects per step, Batch Parameter editing, micro-tune, and micro-clocking roll adjustments. Polyend's Tracker is a revolutionary tool for creating and performing music.
Polyend Tracker: The Best Of Both Worlds
The basic principle behind modern MIDI production: create and play. Polyend's unique approach to music production gives you brilliant tools for any style of music, from hip-hop beats to house grooves, from techno-trance lines to retro sounds.
With your finger on the pulse of electronic music, Polyend's Tracker offers you every tool at your fingertips to create contemporary compositions that are easy to play and sound great. Combined with our unique controller, this Tracker is a must-have for any serious musician. It offers you countless possibilities for creating your own music.
The Polyend Tracker is easy to use thanks to its optimized workflow and the clear display that allows users to view 4 tracks at one time. Trackers are used by all musicians who want to control their musical creations quickly and intuitively while saving work in progress for later playback. It also takes advantage of the latest technologies to make sure you get your favorite sounds with ease.
Polyend is a vibrant technology company that creates hardware and software for musicians, DJs, engineers, producers, and other professionals who are passionate about creating music.
At their core are experienced sound engineers with many years of experience working on some of the most successful console games in history, who decided to give their clients the opportunity to create music on their own with powerful tools that are easy to use.
Polyend's mission is to provide both professionals and enthusiastic beginners alike with cutting-edge hardware and software tools for making music, which is designed around a clear and bright vision: Electronica should be available for everyone.
It may be used as a sound module controlled by any other external MIDI software or hardware devices as well.
Polyend makes technology that is easy to use, easy to understand, and just works. You can use the bidirectional MIDI functionality to sequence and control external gear and connect your very own Best Drum Machines to this compact standalone workstation.
The compact and sturdy design makes it a perfect companion for music creation whenever and wherever you desire. When you are performing with it for some time you will not miss a mechanical keyboard which you may use with other instruments. The fundamental elements and quintessential characteristics of a typical tracker are found in Polyend Tracker. This one could be an excellent first hardware tracker and the compact form factor makes it a great companion.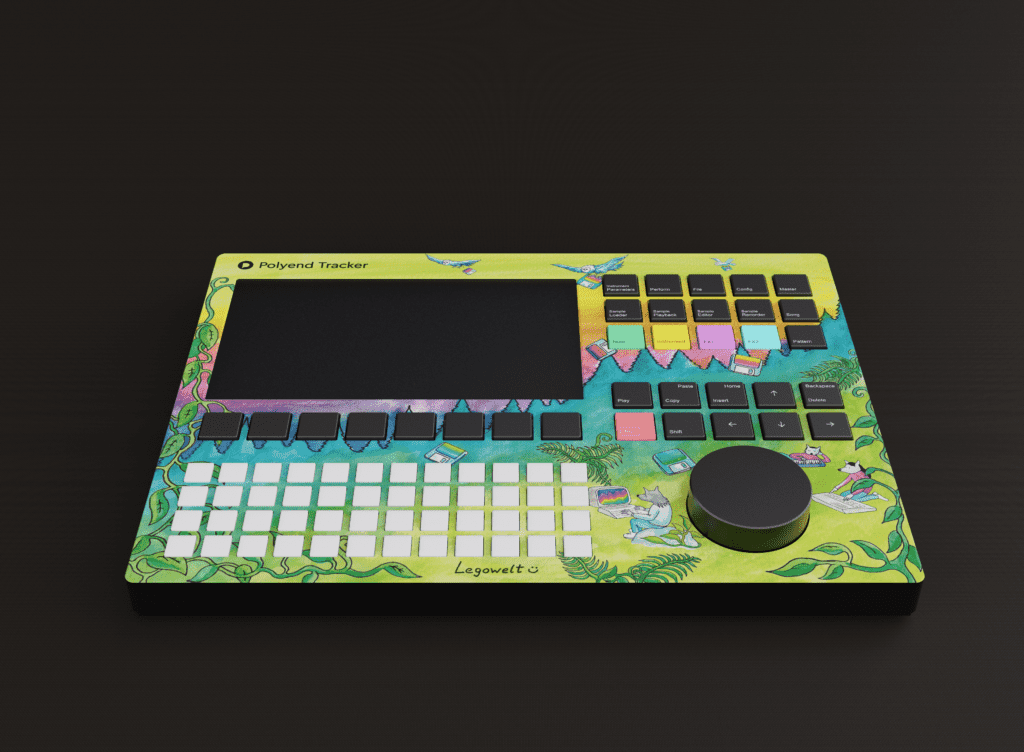 Midi-Equipped and Performance-Ready
The Poly End Tracker is a tracker that retains the fundamental characteristics of other trackers while expanding their possibilities in nearly every area. The Polyend Tracker, unlike many trackers, works with the complete device system and supports music and video integration.
Use them in sequence with hardware synths, or utilize DAWs to control them. Poly End Tracker specializes on a live performance level and plays more of a song than simply plays back. It has a punch effect and automatic editing, allowing real-time modification and remixing that hasn't been possible before with software trackers.
Endless Sound Manipulation
Poly end trackers are, for the most part, sampled instruments that may be used to make recordings. It has a lot of storage capacity, too. Tracker enables you to save sample samples to a MicroSD card.
You can collect air samples with a radio transmitter. It's a lot of fun to use the built-in FM radio to sample music.  The Output jack port transmits all signals output through the cable connected to it as an FM radio antenna.
Samples loaded into the Polyend Tracker sample pool are interpolated. You may manually trim your samples or set up your own tracking system after receiving them. Then you'll need Trackers' deep toolkit to reshape, handle, and transform a sample. There are also a lot of opportunities for editing and processing your samples as if they were digital. You may record new samples using line or microphone inputs, or utilize the built-in FM radio.
Build Massive Patterns
Polyend Tracks has a total of 48 instruments and 128 actions, so you'll need to come up with the music yourself! They all play in well-known vertical columns, which tracker users claim are the most efficient and successful method of producing electronic songs.
The Polyend Tracker features a number of composition-related functions like automated pattern generation, per-step effect, sample rolling, and batch and global parameter editing, in addition to samples.
Polyend Tracker FAQ
What Does Polyend Tracker Do?
The sequencer for a single step is built into the portable eight-track groove box – one. You may arrange sequences to make entire songs in the song mode, then export them as polished pieces. It captures sounds, edits them, and converts them to playable synthesized files.
How Does Polyend Tracker Work?
Polyend's synthesizers are some of the best-sounding synths you'll ever hear. Each instrument has its own effect, panoramic parameter, and global effects – up to six per step. It can import WAV files in 8, 12, 16 & 24 bit with sample rates between 6-100kHz.
Polyend also has a number of sample-based instruments, which allow you to choose from hundreds of recall samples and then shape them into sounds that are truly wonderful. You can then use the trackers' sequencers to create patterns dynamically that go along with your new samples on the fly.
Does Polyend Tracker Have a Synth?
This is a standalone album maker that can be carried everywhere you want. Sampler Wavetable and Granulate Syntheses FM radios with endless inspiration.
The Polyend Tracker Synth is one of the most powerful and easy-to-use synthesizers on the market. It's perfect for both professionals and beginners, with its intuitive design and wide range of features. The synth is perfect for creating music on the go, and its portability makes it the perfect tool for musicians who need to be able to take their music with them wherever they go.
What Is a Tracker Sequencer?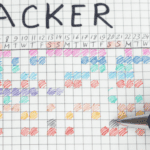 Short music trackers, which may be utilized by a computer program to make music by mixing audio and video with other music, are available. Music is represented by separate, distinct notes on numerous channels and at different chronological points on a vertically linked timeline.
How Do You Load Samples Into Polyend Tracker?
Record audio from sample recordings > set source > set gain > recorded > cropped and saved. Select Audio / Audio / Sound > Open Samples Loader keys on an SD card > Add samples to Project instruments using Copy from Left to Right.
How Do You Reset a Polyend Tracker?
Simply hit the hidden reset button to reset the unit automatically if you pick the latest firmware.
How Do I Install Firmware on Polyend Tracker?
To copy the firmware files or any other files to the Tracker's microSD card, use one of the following options:
Attached microSD card USB dongle, reader,
Polyend Tool,
Find the latest official firmware release here.
Obtain the beta firmware version files here.
In Case of Trouble
The first and simplest action to try is to disconnect the USB C cable connector from its port on the back panel of the instrument. This usually helps. Another thing to do in such a case is to try the config reset in the Config/Firmware section.
But if your device lost power during the upgrade, the SD file structure was damaged, or the firmware doesn't boot up for any other reason, you can perform one of the two emergency flashing procedures as follows:
First method:
just simply press the hidden reset button on the back panel of the instrument and it will automatically flash with a randomly picked firmware .ptf file from the SD card Firmware/ folder.
Second method:
download the Polyend Tool,
download a known working firmware file either from the Polyend website or one of the previous beta .ptf files,
remove the SD card from the Tracker,
connect your Tracker directly to your computer with a USB cable (avoid USB hubs and dongles),
power up the Tracker,
in the Polyend Tool, choose the .ptf file you want to flash with,
use a pin to press the hidden Reset button next to the Tracker's USB C port,
wait for the firmware update to complete,
if it's at 100% but the device didn't reboot on its own, do it manually,
re-insert the SD card to the Tracker's slot,
What Is Midi Tracker?
The computer can then be used to combine the MIDI tracks. Information for notes and recording noises are included. The term "MIDi" refers to Digital Instrumentation Music Input. It's easy to modify MIDI songs on a computer. The MIDI files end with ".mid"
What Is a Midi Sequencer Used For?
The MIDI Sequencer was created with the sole purpose of recording and editing musical performances without the use of any audio inputs. Keyboard instruments are used to represent the performance, which may be viewed in chronological order.
Is a Tracker a Daw?
Trackers can write old school material in the 80's and so can a traditional DAW.
What Is the Difference Between a Tracker and Daw?
A MIDI tracker is different than a digital audio workstation (DAW) because it functions with sound modules, not real-time recorded or sequenced sound. A traditional tracker relies on samples to produce sounds.
Is Polyend Tracker Portable?
The small size of the device and its lightweight construction make it easy to transport. The powerful and compact design makes it a useful musical companion at any time or place. It's also readily accessible thanks to its lightweight nature. This highly efficient battery can be simply connected to any USB outlet, so you can take it with you anywhere.
Does Polyend Tracker have a battery?
Polyend Tracker has no batteries in its system but it is running at 5 V 1A. It should also be powered using some decent battery brick. A basic 20kmAh battery brick will keep Tracker running throughout the day and even nights depending upon the load.
What Is a Synth Tracker?
The portable eight-track groove box has programmable sequencers that go up to 128 steps. You then arrange your sequences to create the whole song composition, teach it to master it, and export it as polished parts. Samples are recorded, edited, and converted into synthesized sounds using the software.
What Is a Tracker Instrument?
Music trackers (shortened versions of trackers) are music sequencers that may be used to create and record songs for a variety of purposes. The songs are represented as individual musical instruments that are placed on several channels at distinct times in history. Music trackers are generally numerically oriented and include numbers as the user interfaces for them.
Polyend Tracker with Eurorack
With a Polyend Tracker and a eurorack, you can have a powerful music production studio that's easy to use and takes up very little space. The Polyend Poly 2 is a polyphonic MIDI to CV converter that may be used to connect any hardware or software device into your Eurorack system. Polyend Poly 2 is different from Polyend Tracker.
Polyend Tracker vs Deluge vs Octatrack vs Digitakt
There are many different music trackers on the market, but two of the most popular ones are Polyend Tracker and Renoise. They both have their pros and cons, but ultimately it comes down to personal preference.
Polyend Tracker is a very lightweight and portable tracker that is easy to use. It has a simple interface and is great for beginners. However, it does not have as many features as Renoise.
Deluge is a more advanced tracker that has more features than Polyend Tracker. It is more difficult to use but offers a lot more flexibility for advanced users. The same is pretty much true on a large scale comparing the Polyend Tracker vs Octatrack or Digitakt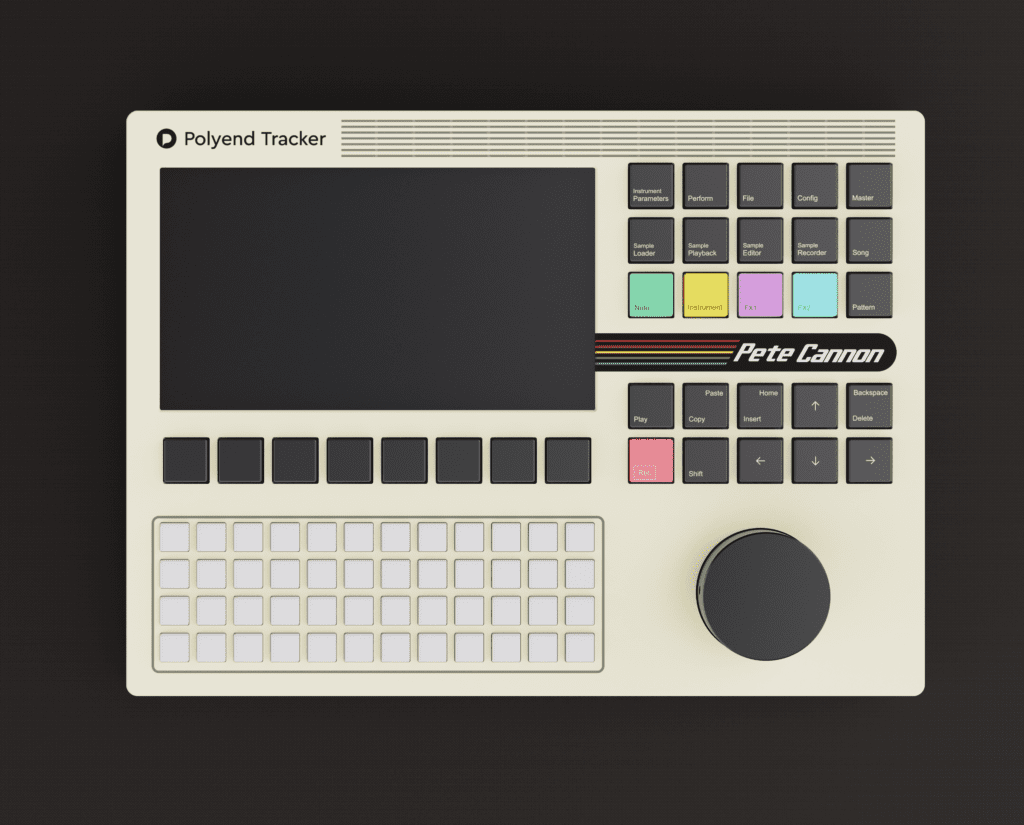 Where Can You Get Polyend Tracker?
Polyend devices are available for purchase at authorized dealers and websites or amazon.